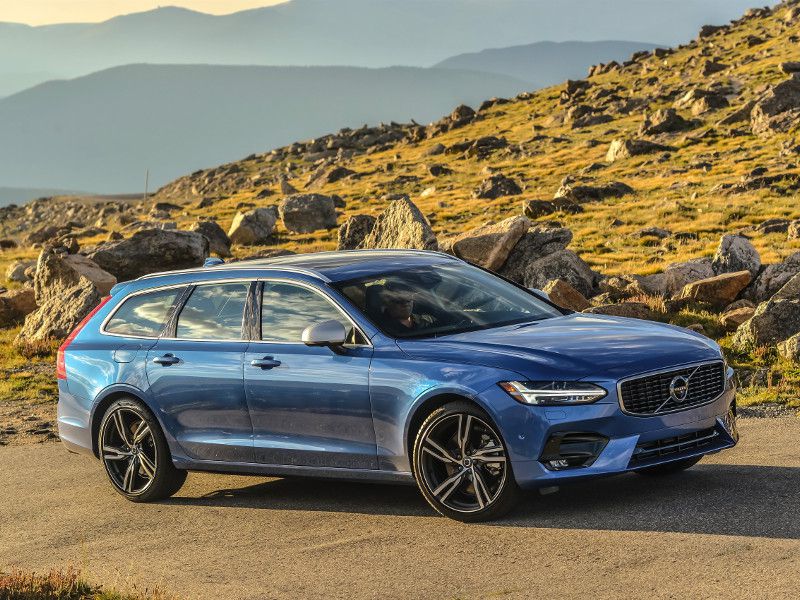 2018 Volvo V90 T6R side ・ Photo by Volvo
Perhaps the most surprising thing about our list of the 10 best luxury station wagons for 2019 is that there are 10 of them in the first place. It wasn't that long ago that long-roof models seemed to be on the verge of extinction. They're not exactly common today, yet a new generation of lifted wagons — patterned on the original Subaru Outback — seems to be turning things around.
Luxury station wagons seem to have a new approach to naming, too. The old-school "station" wagons have been replaced by vehicles like Sports Wagons, SportWagens, Sportbrakes, and Sport Turismos. Now, you may be detecting a theme here, yet for all their sportiness, all of these vehicles still retain traditional versatility with plenty of cargo room. One even offers way-back third-row seats for a true station wagon ownership experience.
2019 Volvo V60
Volvo has a long history with this body style, and the brand provides two of the best luxury station wagons for 2019. We'll start with the 2019 Volvo V60, which is the long-roof version of the dynamic S60 mid-size sedan.
The V60 is also long on upscale features, thanks to available Nappa leather upholstery and a trifecta of climate-based comforts: The range-topping Inscription trim showcases heated and ventilated front seats, heated rear seats, and a heated steering wheel. Genuine wood inlays set off the cabin, and the optional 1,100-watt Bowers & Wilkins audio system can likely set off nearby car alarms. The V60 earns its wagon credibility with 23.2 cubic feet of cargo space behind the back seats and 50.9 in total.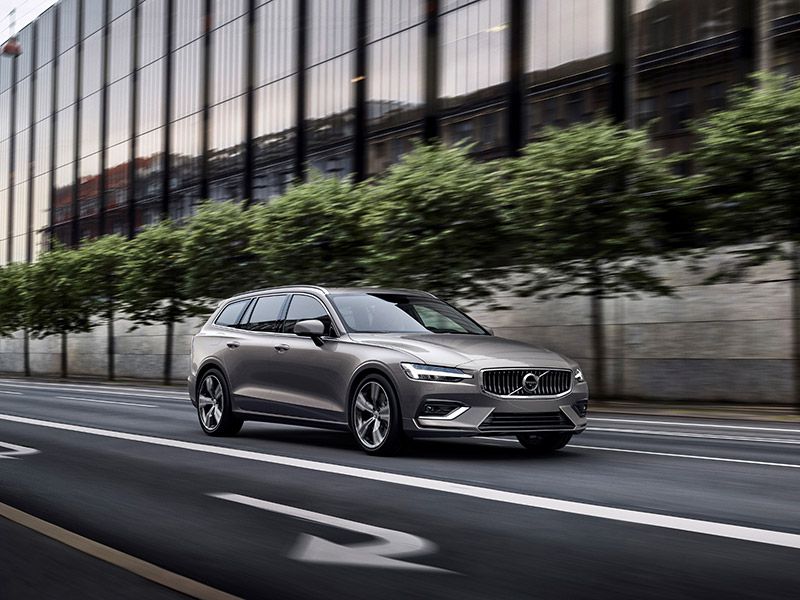 Photo by Volvo
2019 Volvo V90
The best luxury station wagons for 2019 also include the 2019 Volvo V90. This model literally expands on the V60 by supplying 34 cubic feet of storage in the rear cargo hold or 54 cubic feet of space with the rear seatbacks folded.
Since the V90 is based on the Volvo brand's S90 flagship sedan, it also ups the ante for premium equipment. For Volvo's full-size wagon, you can get the same Nappa leather upholstery, climate-controlled front seats, heated back seats, and heated steering wheel as the mid-size S60, but the V90's front seats can further give a soothing massage. The bigger vehicle then turns the volume up to 11 with an available Bang & Olufsen sound system that packs 1,400 watts of power.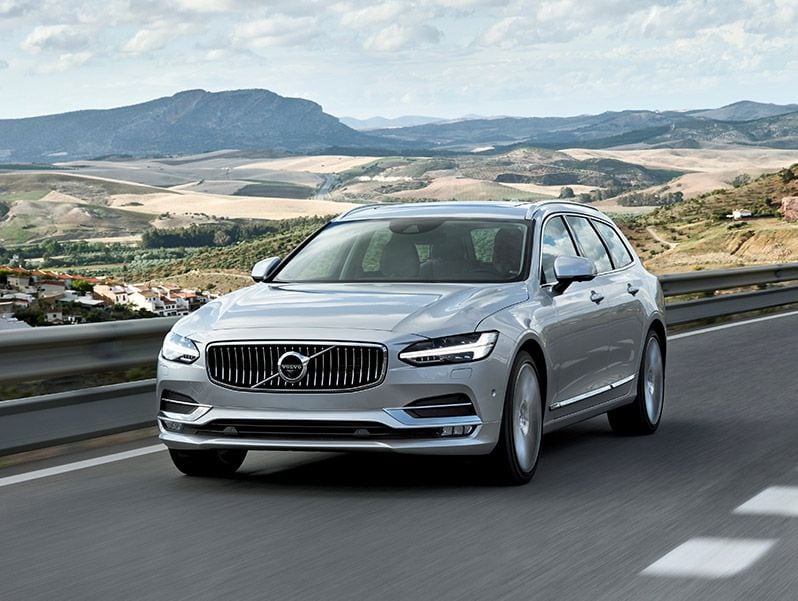 Photo by Volvo
2019 Buick Regal TourX
Buick calls it a crossover, but the Regal TourX is definitely one of the best luxury station wagons for 2019. It's just that the car wears rugged body cladding and rides on standard all-wheel drive. Otherwise, the TourX is essentially a wagon-ized edition of the Buick Regal mid-size sport sedan — which is meant as a complIment.
The TourX still benefits from Buick's "QuietTuning" process, for a hushed cabin, and it can be ordered with heated leather-appointed front seats and a heated leather-wrapped steering wheel. High-end technologies such as mobile Wi-Fi, Android Auto, Apple CarPlay, and automatic emergency braking are optional as well. As part of its sporty nature, the TourX carries a turbocharged 2.0-liter four-cylinder engine with 250 horsepower and 295 pound-feet of torque.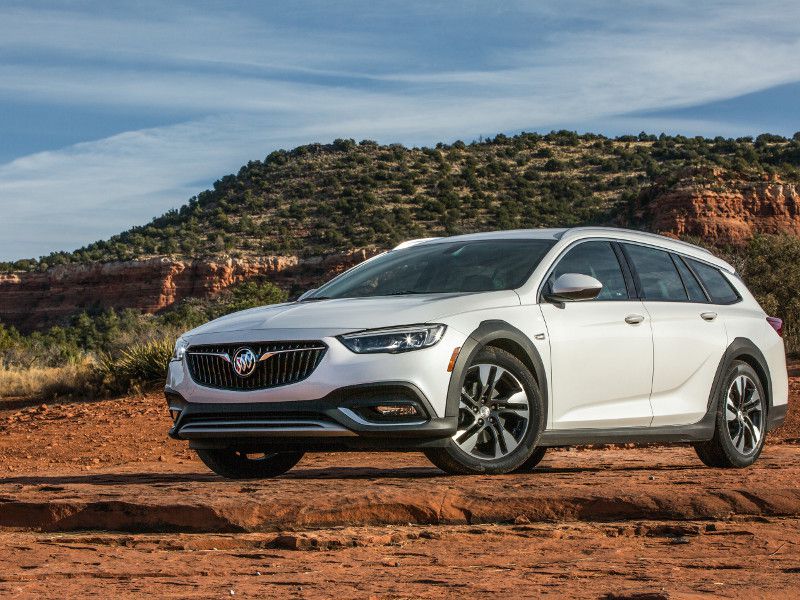 Photo by General Motors
2019 Mini Clubman
We also consider the 2019 MINI Clubman to be one of the best luxury station wagons for 2019. So, this is obviously a small car. But it's big for a Mini and can fit 17.5 cubic feet of cargo when all five seats are in use. The Clubman also has a larger total storage capacity than a Honda Civic hatchback — despite being nearly 10 inches shorter in length.
In addition, the Clubman takes full advantage of the fact that Mini is currently owned by BMW. That means you can enjoy a premium ownership experience backed by a funky yet sophisticated interior, heated leather-trimmed seats, and a Harman Kardon audio system. Premium performance comes with the John Cooper Works trim and its 228-horsepower turbo engine.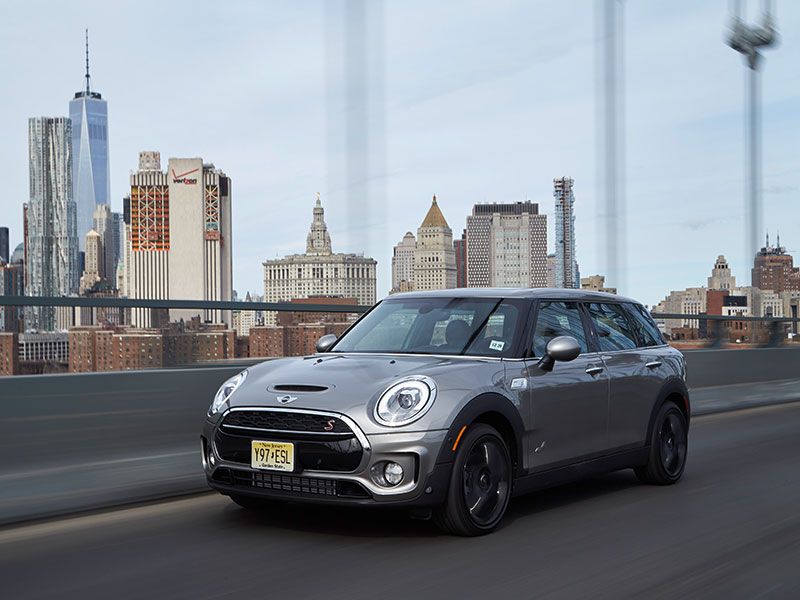 Photo by MINI
2019 Audi A4 Allroad
Because Mini is owned by BMW, and the Buick Regal TourX is based on the Opel Insignia, it turns out that six of the best luxury station wagons for 2019 have German roots. This includes the 2019 Audi A4 allroad, which puts a rugged spin on the Audi A4 wagon. (Don't look for that last model at new-car dealerships, though, since Audi doesn't import it to the United States right now).
As for the A4 Allroad, it boasts black moldings, standard "Quattro" all-wheel drive, and a maximum cargo rating of 58.5 cubic feet. You can also outfit the car for maximum luxury with all the expected high goodies. The highlights? Climate-controlled leather front seats, heated rear seats, and a 12.3-inch all-digital instrument panel.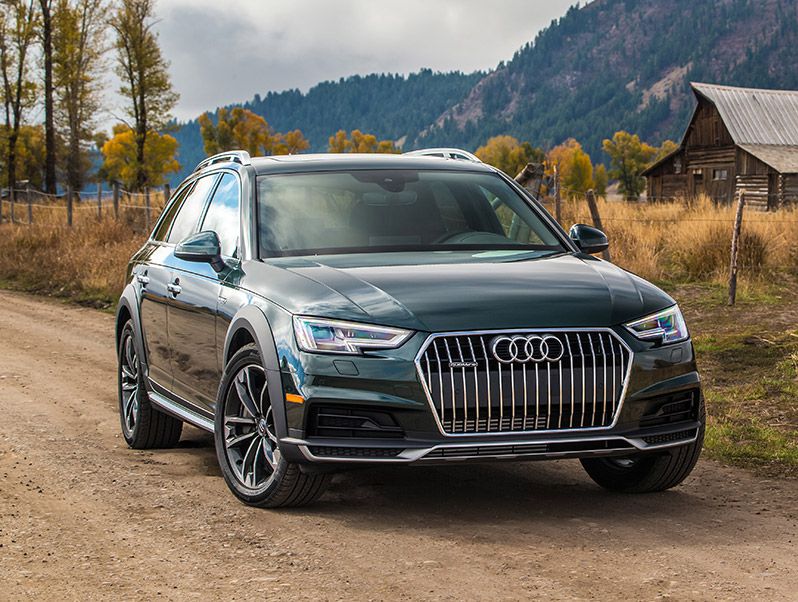 Photo by Audi
2019 BMW 3 Series Sports Wagon
The best luxury station wagons for 2019 can be pretty athletic, and the BMW 3 Series Sports Wagon is a prime example. That's partly because the Sports Wagon rides on the same platform as the iconic 3 Series sport sedan. Also helping matters: an optional Track Handling package with performance-tuned steering, braking, and suspension systems.
Of course, our focus today is on luxury. To score well in that category, the 3 Series Sports Wagon checks the boxes for real leather upholstery, genuine wood cabin accents, carbon-fiber mirror caps, Harman Kardon audio, and heat for the front seats, rear seats, and steering wheel. Cargo capacities range from 27.5 cubic feet with the rear seats up to 61.5 cubic feet with those seats folded.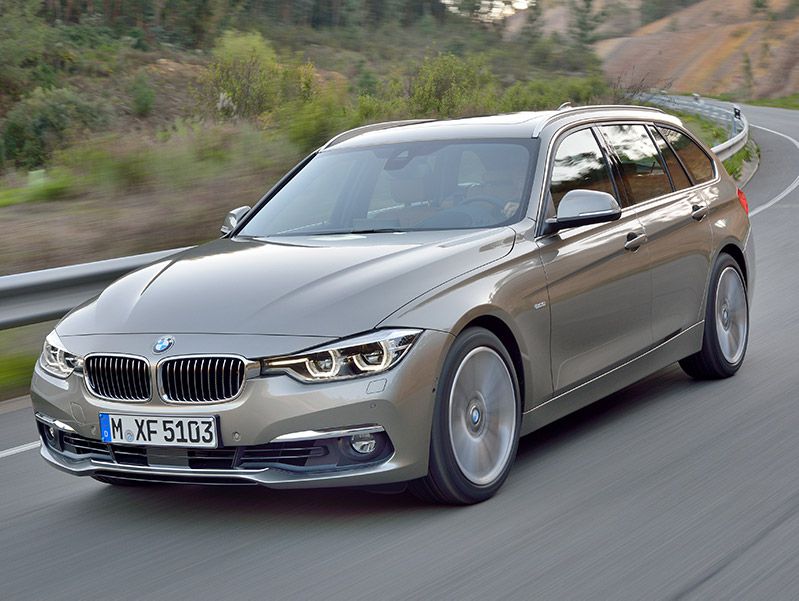 Photo by BMW
2019 Porsche Panamera Sport Turismo
Right off the bat, the 2019 Porsche Panamera Sport Turismo provides 18.3 cubic feet of storage behind the rear seats, and folding the back seats will let you handle up to 49 cubic feet of gear.
Porsche also coddles you with heat and ventilation for both the front and rear seats. The driver and front passenger seats can raise the bar with a relaxing massage function. The exciting stuff is under the hood, where you can choose between three powertrains. Leading the way is a twin-turbocharged V8 that's good for 550 horsepower, a top speed of 188 mph, and a 0 to 60 time of 3.6 seconds.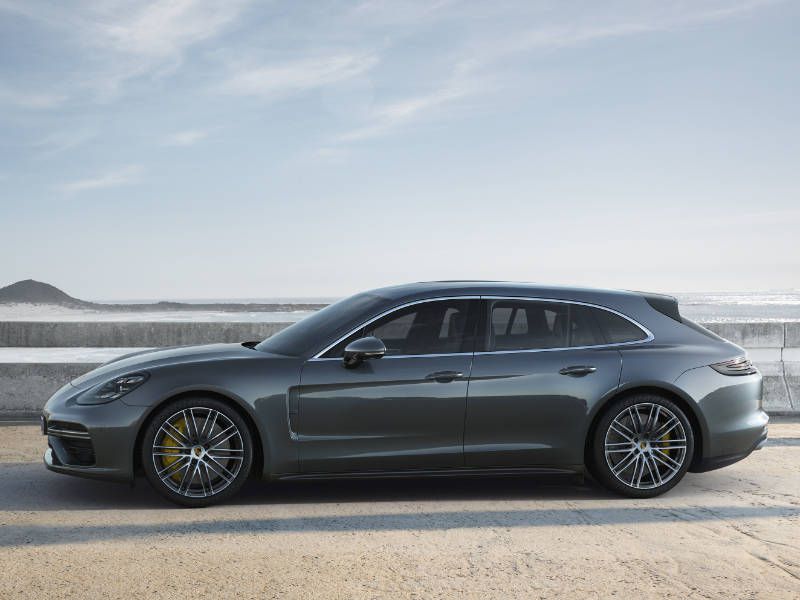 Photo by Porsche
2019 Mercedes-Benz E 450 4Matic Wagon
Although the best luxury station wagons for 2019 are almost all five-seat models, there is a notable exception: The Mercedes-Benz E-Class wagon offers two rear-facing kid-size seats that flip up from the rear cargo floor. With the third-row seats folded away, the E 450 wagon can fit 35 cubic feet of gear. This can expand to 64 cubic feet by also folding the second-row seats.
For exceptional levels of luxury, the cabin can be detailed with natural materials like soft leather and matte or gloss wood, and the front row is especially comforting. There you can find massage-function seats with both heating and ventilation. The high-performance variant, the E 63 S wagon, packs a 603-horsepower twin-turbo V8 and goes from 0 to 60 in 3.4 seconds.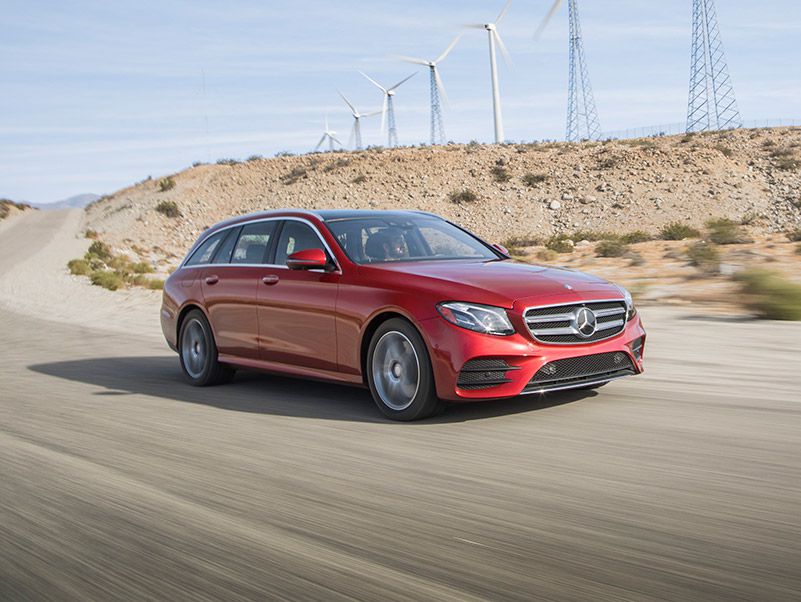 Photo by Mercedes-Benz
2019 Jaguar XF Sportbrake
Don't forget to visit your local Jaguar dealership if you're comparing the best luxury station wagons for 2019. That's where you can test drive the 2019 Jaguar XF Sportbrake. According to the Big Cat brand, it's a modern evolution of the horse-drawn "shooting-brake" wagon that was used to transport hunters and their hardware in the pre-car days.
With the Sportbrake, however, you can hitch up 380 horses — plus 332 pound-feet of torque — courtesy of an available supercharged V6 engine. The car can also swallow close to 70 cubic feet of cargo whether you're headed out for deer season or just going to the grocery store. And XF Sportbrake is certainly more luxurious than the typical horse-and-buggy setup, offering all the best in British elegance.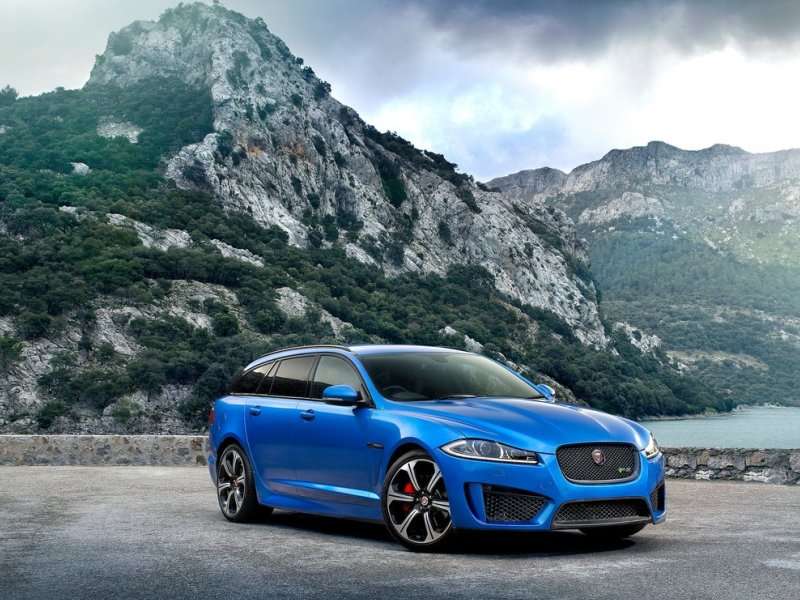 Photo by Jaguar
2019 Ferrari GTC4Lusso
Before Jaguar, it was actually Ferrari that helped launch the shooting-brake revival with the two-door FF in 2011. The automaker's latest evolution of that body style, the Ferrari GTC4Lusso, closes out our list of the best luxury station wagons for 2019. It continues to feature a wagon-like appearance along with an artistically crafted interior. For instance, the cockpit is covered in rich leather surfaces and accented by exotic carbon-fiber trim.
The GTC4Lusso can also leverage its station-wagon styling to hold more than 28 cubic feet of cargo with its two rear seats folded. No, it's not the most cargo space, but remember, Ferrari had to leave room at the other end of the vehicle for a massive 680-horsepower V12 engine.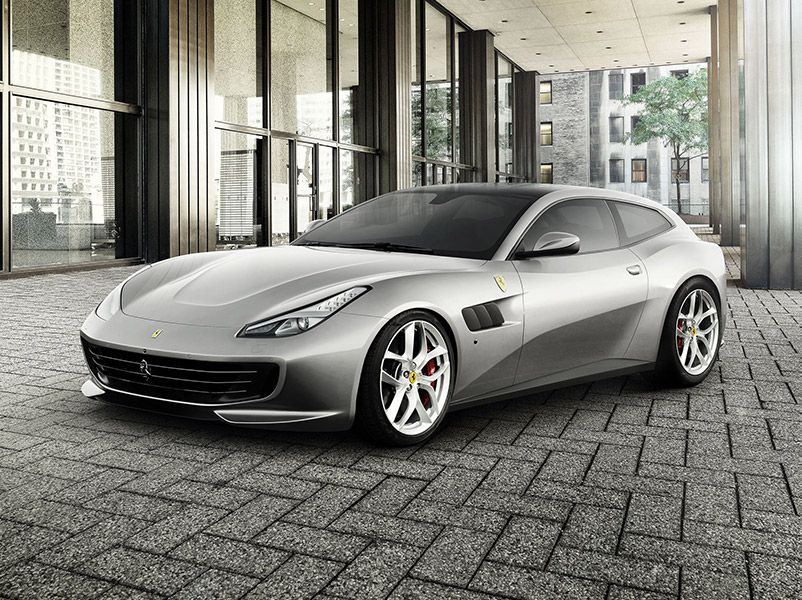 Photo by Ferrari