2013 Nissan Versa Sedan Still No. 1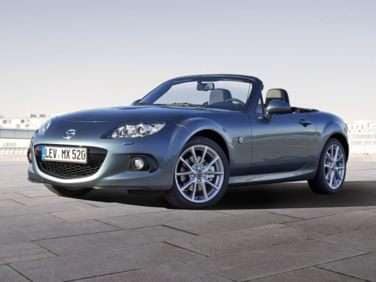 With the average price of a new vehicle today climbing above the $30,000 mark, even drivers so cheap they can't afford to pay attention might want to take notice of the Autobytel "Best Cheap New Cars of 2013" list. It's a roster of the lowest-cost entries in some of the nation's top car segments, ranging from subcompacts like the 2013 Nissan Versa Sedan—which continues its run as the least expensive new car currently on the market—all the way up to a full-size sedan that combines 300 hp and 30 mpg. And naturally we'll showcase some green choices on the best cheap cars team, including electric and hybrid cars that can be had for under $20K.
In fact, eight of the 10 of the best cheap new cars for 2013 can be configured under that point, and all are thousands of dollars below the industry's average transaction price.
Autobytel's cheapest choices include …
Best Cheap New Cars 2013: 2013 Nissan Versa Sedan
Although the MSRP of the 2013 Nissan Versa Sedan has climbed to $11,990, the car still holds the title as the cheapest of the Best Cheap New Cars for 2013. But while it may have a little price, it has a surprisingly large interior. Boasting more than 90 cubic feet of passenger volume, the subcompact Versa Sedan has about the same amount of cabin space as the larger entries in the compact class, while actually providing more trunk space than some of the compacts, too.
Of course, said cabin doesn't deliver much in the way of bells and whistles, but it does deliver standard features like an AM/FM/CD audio system and air conditioning, and, like most of the best cheap cars, fairly strong EPA grades. Thus, in its entry-level setup, the Versa Sedan relies on a 1.6-liter I4 and five-speed manual transmission to serve up 109 hp, 107 lb.-ft. of torque and an EPA line of 27 mpg city/36 mpg highway/30 mpg combined.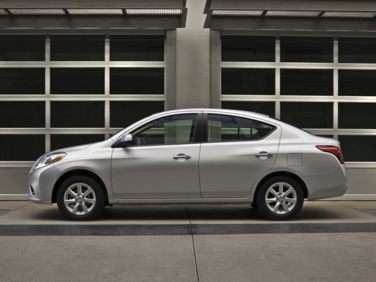 Best Cheap New Cars 2013: 2013 Ford Fiesta
While Nissan nabbed the "best cheap cars" crown among subcompact sedans, the Versa hatch gets waylaid by the 2013 Ford Fiesta in the subcompact hatchback class. With a sticker price that opens at $14,200, the Blue Oval's baby hatch is a fairly significant $470 less than its Nissan rival. Further, the Fiesta also is more fuel efficient in its base trim level, boasting a fuel-economy score of 29 mpg city/39 mpg highway/33 mpg combined, and it's more powerful, too, developing 120 hp and 112 lb.-ft. of torque from its 1.6-liter I4.
But Ford didn't sacrifice content to earn its spot on the list of Best Cheap New Cars of 2013. The Fiesta entry model includes both "must have" features like an AM/FM sound system with four speakers and air conditioning, and also a front center storage console, power door locks, carpeted floormats, rear-seat heat vents, power-adjustable outside mirrors with integrated blind-spot mirrors, a rear spoiler, and a stylish cabin with metallic trim and soft-touch door-panel inserts.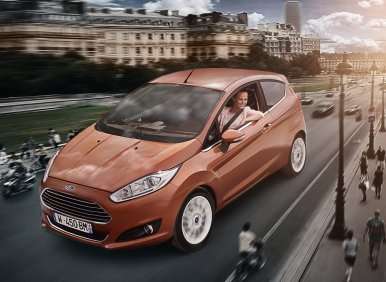 Best Cheap New Cars 2013: 2013 Kia Forte
The 2013 Kia Forte—like a few other of our best cheap cars—provides a particularly notable opportunity to ramp up the cheapness factor even beyond its already best-in-segment starting price. That's because the Forte is in the last few months of its life cycle, which means Kia dealers should be ready and willing to sell the car below its $15,400 MSRP.
And that, in turn, means access to an AM/FM/CD/MP3/SiriusXM audio system with USB and auxiliary jacks, as well as Bluetooth technology, steering-wheel-mounted audio/cruise controls, climate control with rear-seat heat ducts, auto-off halogen headlights, and a six-way adjustable driver's seat.
The Forte features surprisingly peppy performance, too, thanks to a 156-hp I4 engine that displaces 2.0 liters and is mated to a six-speed manual transmission. Fuel-efficiency ratings for the compact sedan winner of our Best Cheap New Cars 2013 comparo come out to 25 mnpg city/34 mpg highway/29 mpg combined.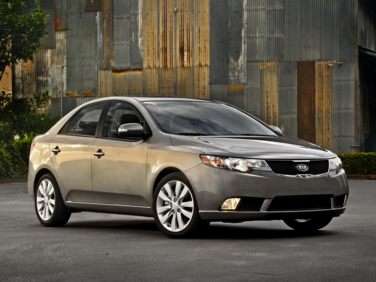 Best Cheap New Cars 2013: 2013 Dodge Avenger/Chrysler 200
A pair of vehicles from the Chrysler group finished in a tie as Best Cheap New Cars of 2013 in the mid-size segment—rewarding buyers with a four-figure pricing advantage over the rest of the mainstream mid-sizers.
However, while both the 200 and Avenger are kitted out with air conditioning and sound systems, so they are eminently livable choices, shoppers also should note that the fuel-efficiency gap between the duo and their next-gen competitors is fairly large as well. With their 2.4-liter I4 engines mated to four-speed automatic transmissions, the cars return 21 mpg city/29 mpg highway/24 mpg combined; the EPA line of the Toyota Camry, by way of comparison, runs 25/35/28 with a six-speed autobox.
On the other hand, because the Camry starts at $22,235, owners of the best cheap new cars from Dodge and Chrysler would have an extra $3,240 in their bank accounts to make up the difference.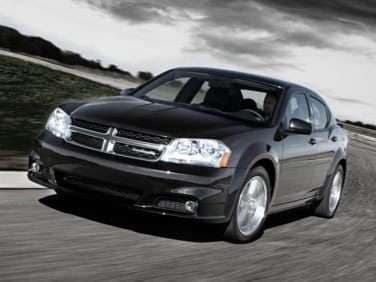 Best Cheap New Cars 2013: 2013 Chevrolet Impala
Like the Kia Forte, the 2013 Chevrolet Impala starts by making the best cheap cars roster based on its MSRP—in the Chevy's case, $25,860—but owners should have no problem going even cheaper since a completely redesigned version is set to bow for the 2014 model year.
The Impala isn't just cheap, either. It offers one of the top value propositions in the industry, highlighted by a powertrain that combines an advanced 3.6-liter direct-injection V6 that's married to a six-speed automatic transmission to produce 300 hp; that power is then complemented by EPA grades that reach 30 mpg highway. The result? Not only is the Impala the leader among the best cheap new cars of 2013 in the full-size segment in terms of price, it also bests cars like the 2013 Ford Taurus for power and fuel efficiency, too.
Plus, the Impala comes standard with advantages like Bluetooth for hands-free calling, GM's OnStar service, 16-inch aluminum wheels, power door locks and windows, a six-way power-adjustable driver's seat, a multi-function steering wheel and keyless entry.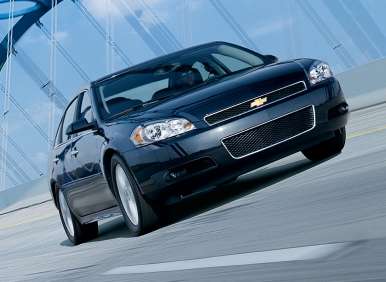 Best Cheap New Cars 2013: 2013 Mazda MX-5 Miata
Yes, Autobytel's roster of the best cheap new cars for 2013 includes something for enthusiasts as well: The 2013 Mazda MX-5 Miata. Also ranking as the lowest-cost convertible on the list, the Miata is priced from $23,720, which includes one of the industry's easiest-to-operate convertible soft tops, a retractable wind blocker for open-air driving, power windows and power locks, air conditioning, keyless entry, a leather-wrapped steering wheel, a six-speaker sound system, halogen headlights and fog lights, and soft-touch materials on its center console and armrests.
Backed by a responsive 167-hp, 2.0-liter I4 engine with variable valve timing, and riding on a sophisticated suspension, the Miata also brings both aggressive performance and a trophy case full of hardware to the best cheap cars team. But it's still plenty efficient, as shown by its EPA ratings of 22 mpg city/28 mpg highway/25 mpg combined.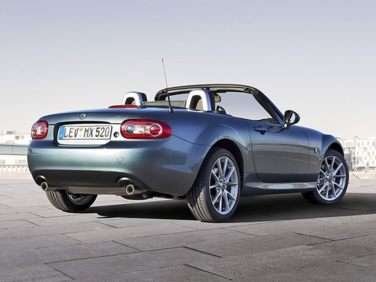 Best Cheap New Cars 2013: 2013 Honda Insight
As more and more hybrids hit the road in this country, automakers have lowered the price of admission to the segment lower and lower. At this stage, the 2013 Honda Insight will set you back just $18,600 as one of the greenest of the best cheap cars of 2013. The tale of the tape here: Official EPA grades of 41 mpg city/44 mpg highway/42 mpg combined—high enough that the Insight also earned a spot on this year's top-10 "greenest" list from the American Council for an Energy-Efficient Economy.
That kind of performance is enabled by Honda's Integrated Motor Assist propulsion system, which combines a 1.3-liter I4 engine—boasting the company's i-VTEC valve technology—and a 10-kw electric motor for optimum fuel-economy in a wide range of scenarios.
The Insight isn't just one of the best cheap cars for drivers, though; it also doubles as a highly versatile entry for families, with a 31.5-cubic-foot cargo hold, premium seat fabric, a 160-watt audio system, automatic climate control, and Honda's Advanced Compatibility Engineering (ACE) body structure.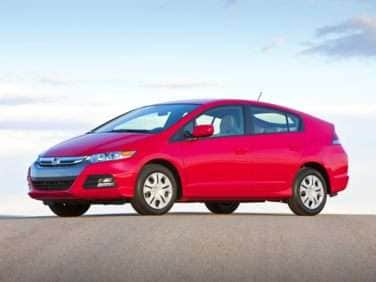 Best Cheap New Cars 2013: 2013 Nissan LEAF
The 2013 Nissan LEAF? Well, here's the new math: By adding a new, entry-level 2013 Nissan LEAF S model, the price of admission to the lineup fell from $35,200 to $28,800. Which isn't low enough for inclusion on Autobytel's list of best cheap new cars of 2013. But then, the federal government incentivizes purchases with a $7,500 tax credit, for a net price of $21,300, and that's fairly cheap—and in states like California, which provides another $2,500 in tax benefits, the net number decreases to $18,800.
Now, you don't get some of the goodies that used to be available on the starter LEAF—which has now been repositioned as the middle sibling of the LEAF family—but what you do get is membership in both the all-electric club and a place among our other "best cheap cars" entries.
And note: That mid-range LEAF SV, as well as the premium LEAF SL, get upgrades and price cuts of their own, highlighted by $3,380 in savings on the former and $2,410 in the latter.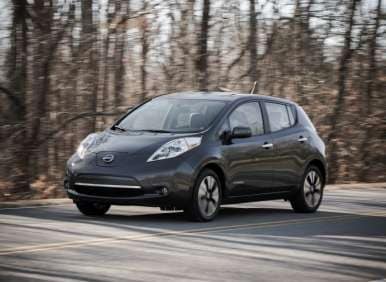 Best Cheap New Cars 2013: 2013 VW Jetta TDI
Even with its premium engine, the 2013 VW Jetta TDI has a highly affordable MSRP of $23,055, and it delivers a highly efficient 2.0-liter I4 engine with VW's acclaimed TDI clean-diesel technology. When combined with the six-speed manual transmission in the starter model, the result is 140 hp, 236 lb.-ft. of torque and EPA ratings of 30 mpg city/42 mpg highway/34 mpg combined.
Also standard are some of the biggest wheels of any of the "best cheap cars" selections—16-inch alloys in VW's Mambo design—and lux-ish touches like chrome grille accents, heated and power-adjustable outside mirrors (with integrated turn signals), heated windshield washer nozzles, air conditioning, an adjustable front-center armrest with storage, heated front seats, "V-Tex" leatherette seats, a six-speaker sound system with Bluetooth audio streaming, and the ol' much, much more.
Needless to say, this is the only German-engineered car among the recipients of this year's "Best Cheap New Cars 2013" Awards.
Best Cheap New Cars 2013: 2013 Subaru Impreza
To round out Autobytel's roster of 10 best cheap cars to buy is the sole all-wheel-drive entrant, the 2013 Subaru Impreza—although the dearly departed 2012 Suzuki SX4 AWD Crossover deserves a quick mention. If you can find one—and you're willing to take a gamble on a brand that is winding down its U.S. sales operations—the SX4 lists at $16,999.
Otherwise, the Impreza is no doubt a safer choice, and with an MSRP of $17,895, the Subaru also is a valid choice for customers of the best cheap new cars of 2013. Plus, if you haven't looked at the Impreza in a while, it's still worth pointing out that the 2013 model is a next-gen car that, in its low-cost sedan body style, and hosting a standard five-speed DIY transmission, can ring up an EPA line of 27 mpg city/34 mpg highway/28 mpg combined. And that's while squeezing 148 hp and 145 lb.-ft. of torque out of the boxer-style engine's 2.0 liters of displacement.