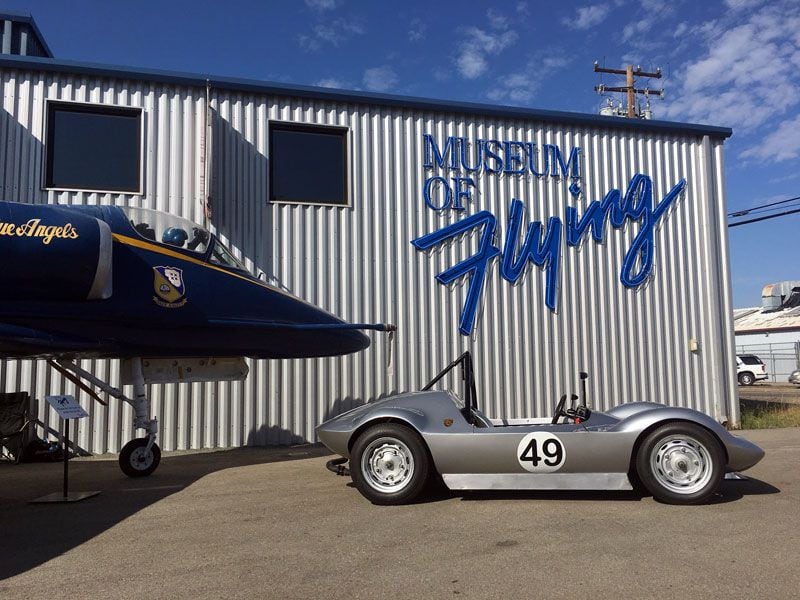 56th Annual Porsche Club of America Los Angeles Region Concours d'Elegance 01 ・ Photo by Scott Oldham
Every year Porsche Enthusiasts from all over the west coast gather in Southern California for the Porsche Club of America, Los Angeles Region's Concours d'Elegance. This year, the 56th Annual event packed the beautiful Museum of Flying in Santa Monica, California on a sunny September Sunday. One of the most unique cars on display was the Thews Porsche Special built in 1963 and restored in 2004 after a long racing career.
1956 Porsche 356A Speedster
This beautiful black 1956 Porsche 356A Speedster was one of the stars of the show, and its owner Darryl Miyamoto called the classic a labor of love. Not only was Darryl painstakingly cleaning his Speedster all day, but discussing it at length with interested show goers.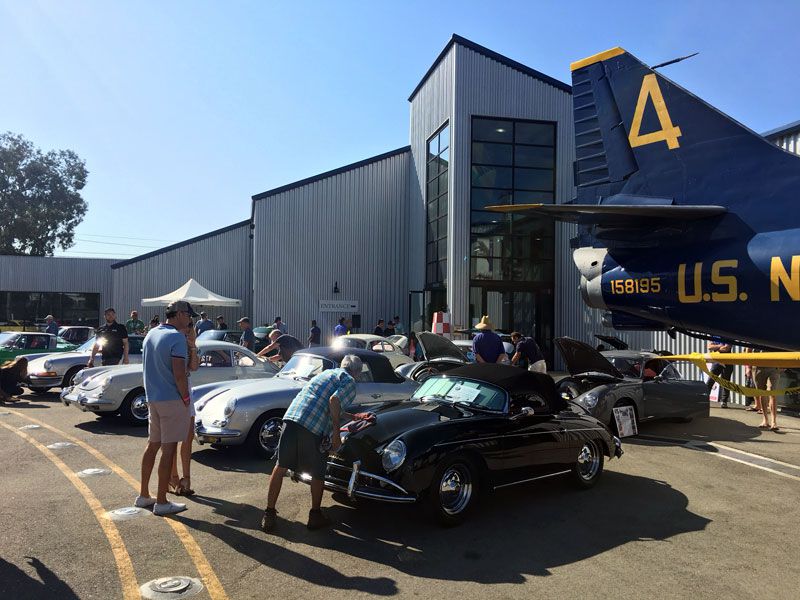 Photo by Scott Oldham
356 Speedster
Another black 356 Speedster with rare chrome aftermarket Rudge wheels and a removable hardtop was parked anonymously off to the side. This stunner was probably the most photographed car at the event. Porsche built the Speedster model only for America from late 1954 to late 1958.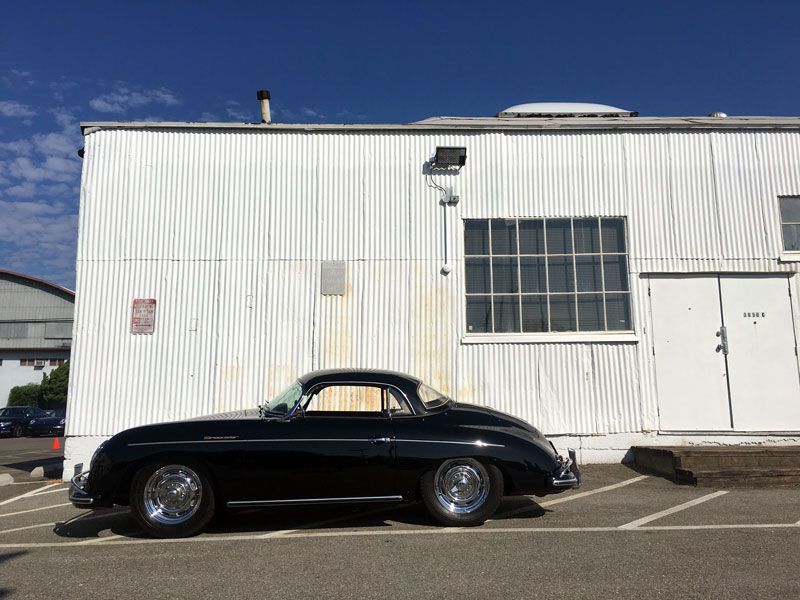 Photo by Scott Oldham
1978 Porsche 911 Turbo Coupe
Keith Kimble, a member of the Porsche Club of America's Los Angeles Region, brought out his slightly modified 1978 Porsche 911 Turbo Coupe, which wears cool chrome oversized modern wheels. Built in the late 1970s through most of the 1980s, Porsche enthusiasts call these wide body turbo models the 930, which was Porsche's internal code number for the chassis.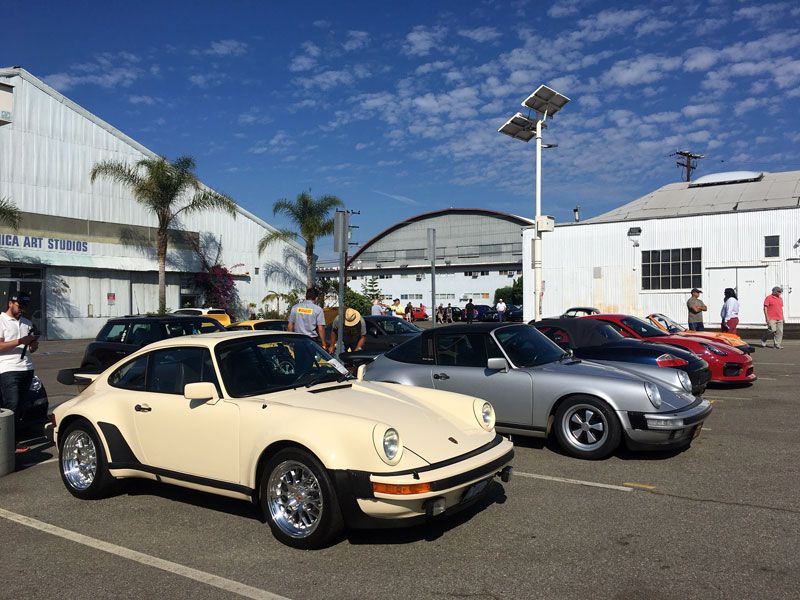 Photo by Scott Oldham
Exclusive Option Porsche Cayman
Many of the event's vendors brought out Porsches modified with their products. One of the best was this tricked out Cayman built by the team at Exclusive Option, an aftermarket company that specializes in exterior and interior modifications for modern Boxsters, Caymans, and 911s.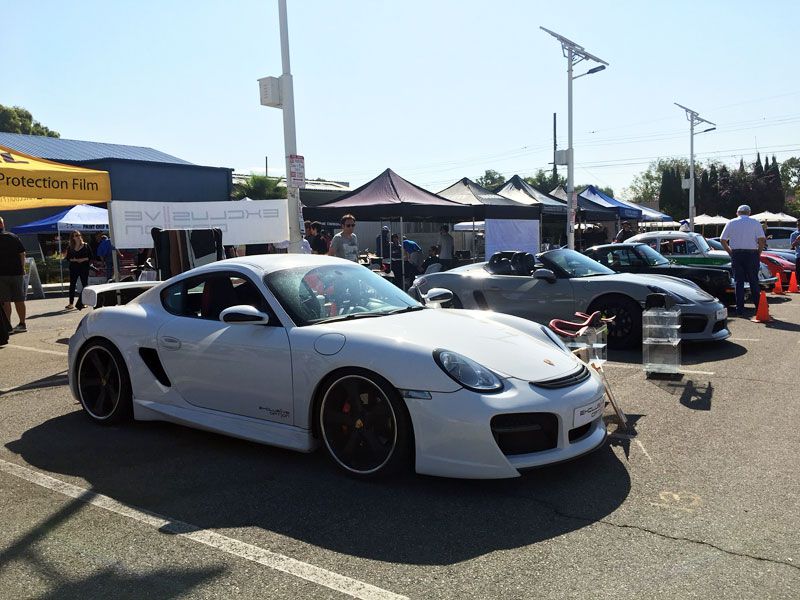 Photo by Scott Oldham
1977 Porsche 930 Turbo
This Oak Green Metallic 1977 Porsche 930 Turbo caught our eye, not only because of its unusual color but also for its meticulous restoration. This car was perfect, right down to its 3.0-liter turbocharged, horizontally-opposed air cooled engine and Fuchs wheels.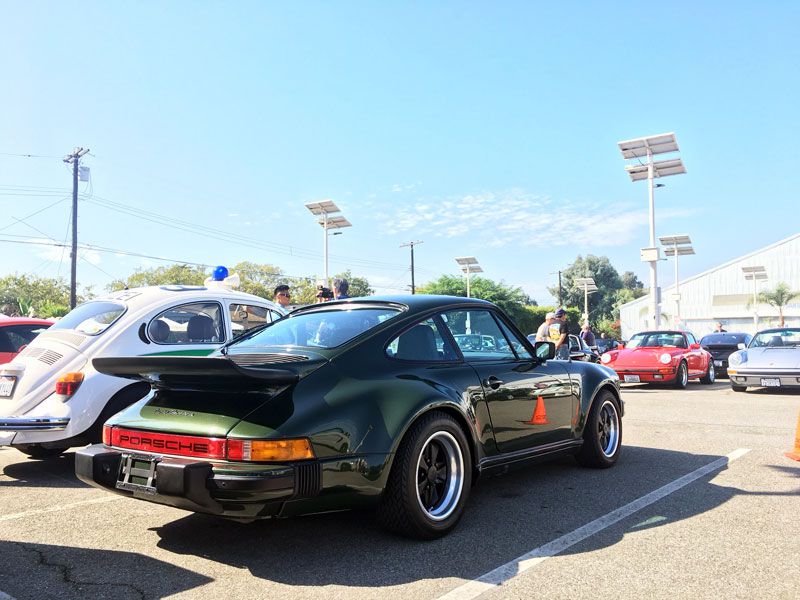 Photo by Scott Oldham
2014 Porsche 911 Turbo S
Modern 911 Turbos also showed themselves in big numbers. This silver 2014 Porsche 911 Turbo S looked great in the California sun with its factory center bolt wheels and yellow brake calipers.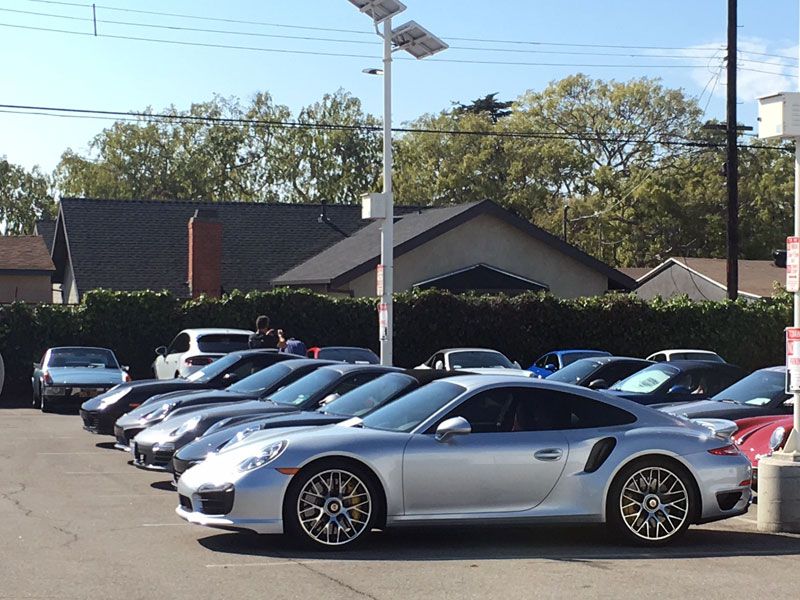 Photo by Scott Oldham
Porsche 911's
Every generation of Porsche 911 was well represented along with every other type of Porsche. The silver 911 cabriolet on the left did a wonderful job representing the first of the water cooled 911s, which debuted in 1998, and the very yellow Cayman GT4 is the hottest Cayman you can buy right now, with 385 hp. Prices start at about $85,000.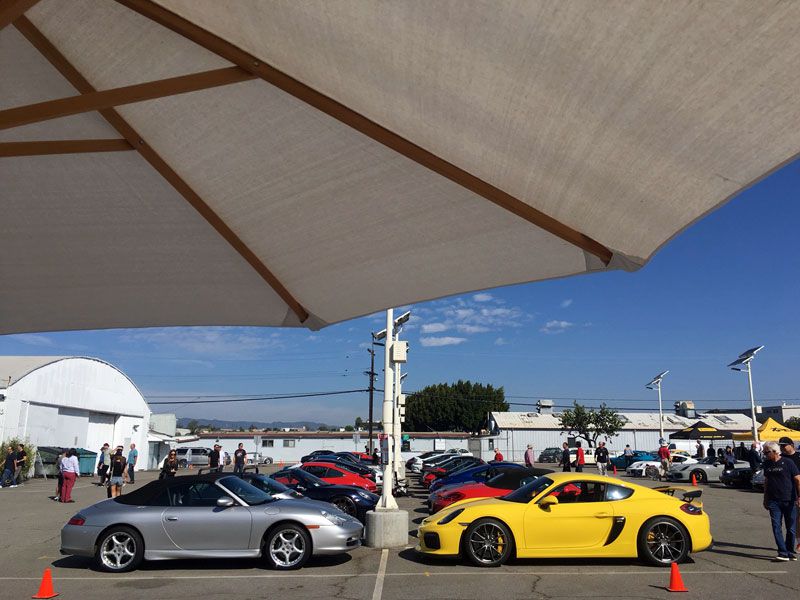 Photo by Scott Oldham
1977 Porsche 911S Targa
Let's not forget the Targas, which were hugely popular in the 1970s and 1980s. Mike Gugert brought out his 1977 Porsche 911S Targa which looked great with its polished Fuchs wheels, roof rack, aftermarket exhaust and original blue California license plate. The many PCA plaques on the hood are another cool touch.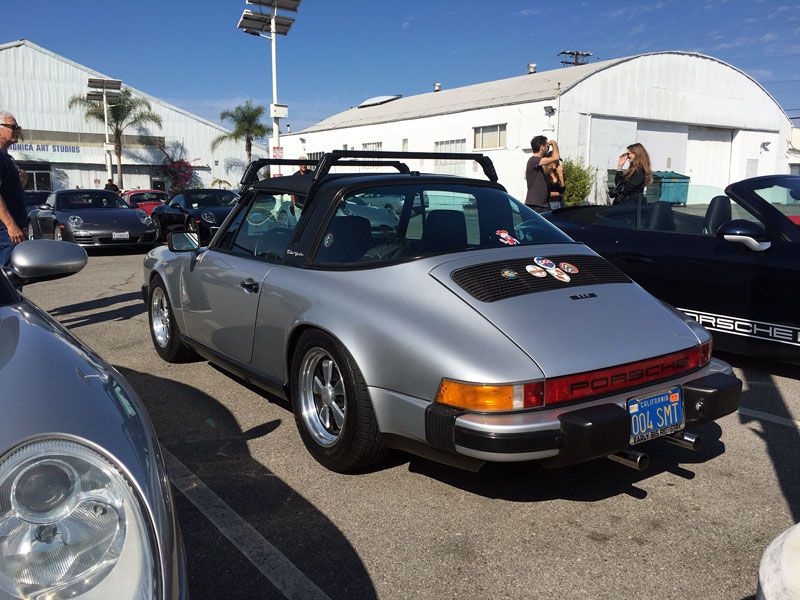 Photo by Scott Oldham
Porsche Design Merchandise
The Los Angeles Region of the Porsche Club of America is one of the largest in the country, with over 1,200 members. They probably all shop at Porsche Design, which had a very busy display, showing off many of the brand's products including sunglasses, watches, speakers, and headphones.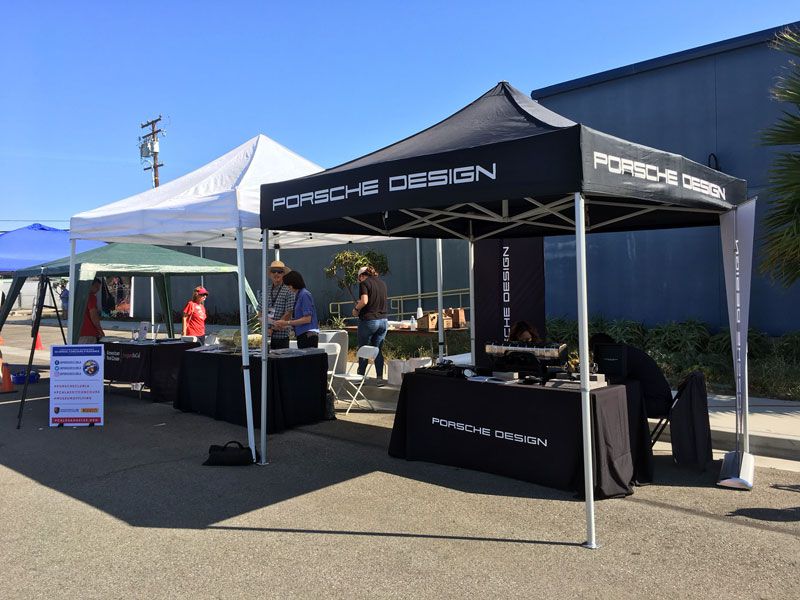 Photo by Scott Oldham
1988 Porsche 959 Komfort
One of the most valuable Porsches at the event had to be Bill Ceno's 1988 959 Komfort. This model was built from 1986-1988 with less than 350 produced. When new, they were the fastest and most capable Porsche ever made, with all-wheel drive, a twin-turbocharged engine and a carbon fiber body. Today they cost over $1,000,000.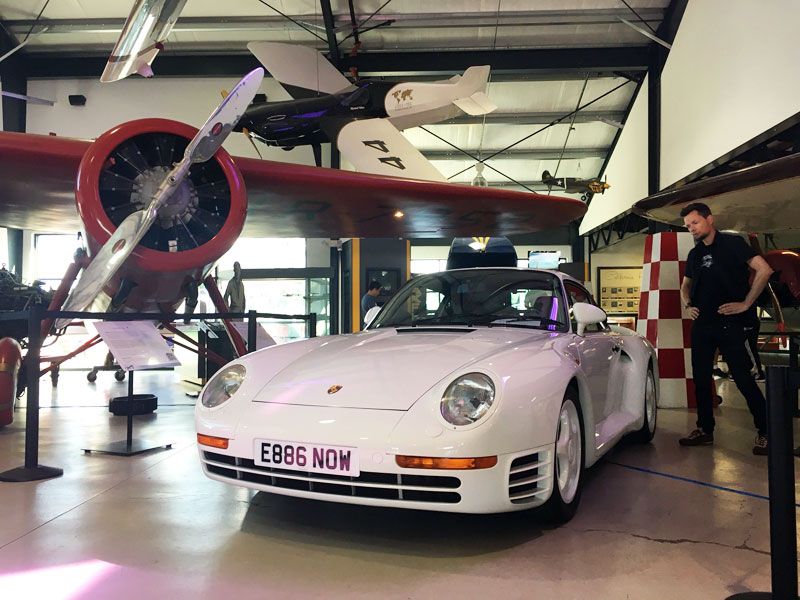 Photo by Scott Oldham