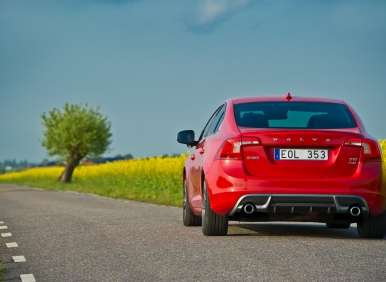 Once you step up to the luxury category, regardless of the cylinder count of your engine, it has to be pumping close to 300 horsepower or better to be considered credible. Time was, you had to go V8 to see that kind of power, but times change, things get better and engines get more powerful.
Most of your better V6 engines will easily pump out 300 horsepower these days particularly when fitted with direct fuel injection and a pair of turbochargers. In fact it's very possible to get a reliable 600 horsepower out of a six-cylinder powerplant.
Of course, there's more to luxury than just power. We're talking the latest in "take the load off the driver so he/she can focus on road" technology; along with all of the other indispensable attributes of a luxury car. These include premium materials like leather, genuine wood, aluminum, or carbon fiber trim. Nearly infinitely adjustable heated (and preferably cooled) seats are indispensable too. While we're at it, a heated steering wheel is a nice touch too.
So, now that we've outlined the basics of what each of the cars on our list brings to the parking lot, let's get into their specifics, shall we?
What follows is our list of the Ten Best V-6 Luxury Sedans for 2012.
By the way, there are so many great cars in this category, when it came down to it, we simply couldn't narrow it down to just ten. Thus, the official name of this list is The 10 Best V6 Luxury Sedans of 2012 (plus one).
10 Best V6 Luxury Sedans: Acura TL
Here's what happens when a brilliant car is trapped in a controversial body in a segment in which appearance matters—big time. The 2012 Acura TL is hamstrung by the angular styling language Acura's designers are favoring these days. But, if you can get past that, you'll find a fast car with outstanding handling, a smooth engine and some truly superior personal tech. And so, we include it on our list of the 10 best luxury sedans for 2012. The base model 2012 Acura TL uses front-wheel drive and a 280-horsepower, 3.5-liter V6 with 254 ft.-lbs. of torque. A six-speed automatic is standard. The Acura TL SH-AWD leverages Acura's Super-Handling All-Wheel-Drive system to produce superior handling. The system is capable of transferring varying levels of torque to individual wheels. The gives the TL the ability to optimize grip in turns, as well as on slippery surfaces. The SH-AWD TL gets a 305-horsepower, 3.7-liter V6 with 273 ft.-lbs. of torque. A six-speed automatic is the standard transmission offering, while a six-speed manual with hill start assist is optional.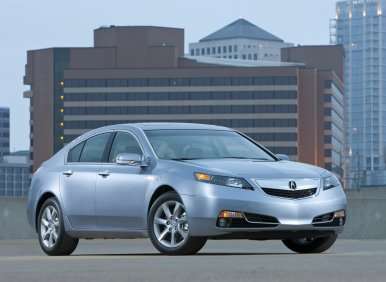 10 Best V6 Luxury Sedans: Audi A6
Redesigned for 2012, the Audi A6 is a fixture on every list of the best six-cylinder luxury sedans. Audis are known for bringing serious tech features and the nicest interiors on the road. Within the Audi A6 you get old-world craftsmanship, thoroughly modern design and cutting edge comfort and convenience gear. Smaller and lighter, yet more spacious than the version of the car it replaces, the new A6 is a technological marvel. Nicely blending the spread between the sporting orientation of the BMW 5 Series and the luxurious nature of the Mercedes-Benz E Class, the Audi A6 manages to carve out a unique niche for itself in the very competitive European luxury sedan segment of the market. A supercharged 3.0-liter V6 producing 310 horsepower and 325 ft.-lbs. of torque is featured in the six-cylinder version of Audi's A6. An eight-speed automatic transmission routing the output of the engine to Audi's renowned Quattro all-wheel drive is standard equipment.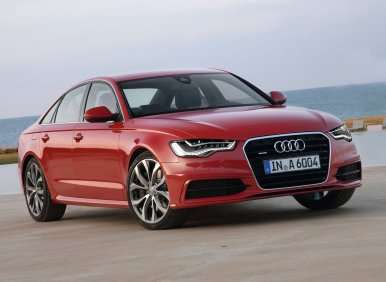 10 Best V6 Luxury Sedans: BMW 535i
The benchmark of the segment, the 5 Series BMW is always the car by which every other mid-sized luxury sedan is measured. Outstanding handling, a comfortable ride, prescient steering, resolute braking and a very generous palette of standard luxury features keep the BMW on top year, after year, after year. Remarkably where previously a brace of inline-six cylinder engines were prescribed for BMW's iconic four-door, only one inline six finds its way into the 5 Series engine bay for the North American market for 2012. Available with a choice of rear- or all-wheel drive, the 2012 BMW 535i employs a 3.0-liter turbocharged six-cylinder engine capable of producing 300 horsepower and 300 ft.-lbs. of torque. Rear-wheel-drive models get a standard six-speed manual, or an optional eight-speed automatic transmission. All-wheel-drive models are automatic only propositions. Automatic stop/start for shutting the engine down at traffic signals and stop signs to conserve fuel is standard fare.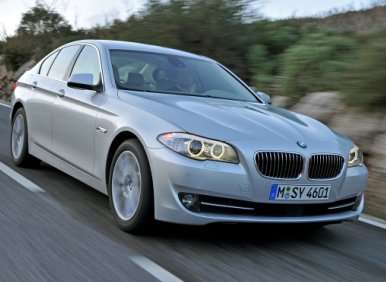 10 Best V6 Luxury Sedans: Cadillac CTS
Designed specifically to compete with European luxury sedans, the Cadillac CTS was the first American sports sedan to be considered a credibly competitive offering in that regard. Rear-wheel drive is standard on every model of the 2012 Cadillac CTS, however all-wheel drive is available as an option. Rear-drive models come with a six-speed manual transmission and offer an optional six-speed automatic transmission; the all-wheel drive powertrain is an automatic proposition only. There are two engine offerings; CTS 3.0 models take their designation from the 3.0-liter V6, which produces 265 horsepower and 220 ft.-lbs. of torque. Paired with the optional CTS 3.0 Touring package is a dual exhaust system, which increases output to 270 horsepower and 223 ft.-lbs. of torque. CTS 3.6 models use a 3.6-liter V6 producing 318 horsepower and 275 ft.-lbs. of torque. Rear-wheel drive is standard for 3.6 cars, all-wheel drive is optional, and every CTS 3.6 is fitted with the six-speed automatic.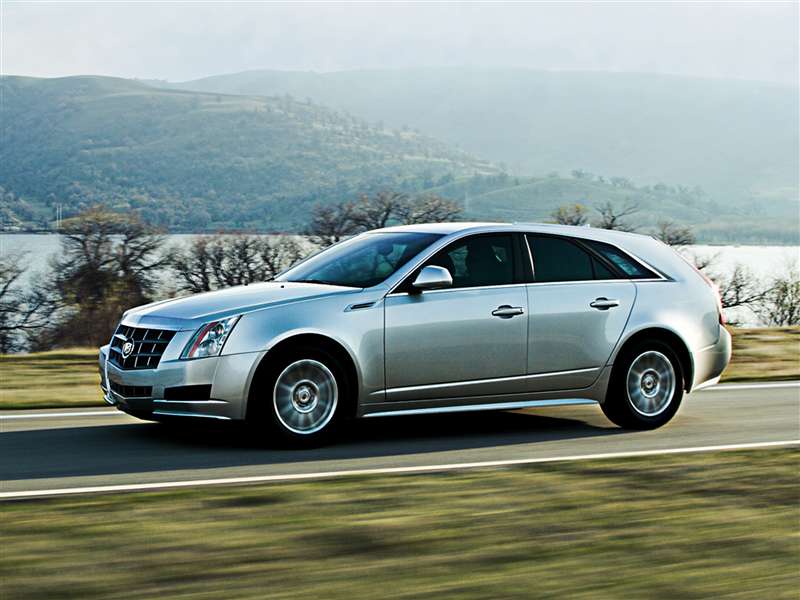 10 Best V6 Luxury Sedans: Chrysler 300
Epitomizing the classic American rear-drive luxury sedan, Chrysler's 300 achieved legendary status right out of the gate. Wildly popular, the model quickly became one of the best-selling rear-drive American luxury sedans ever produced. Aside from its English luxury car styling cues, the 5.7-liter HEMI V8 engine put the Chrysler 300 over the top. However, as is often the case, the big V8 was merely a halo offering. The heavy lifting in terms of sales went to the V-6 model. Completely redesigned just a year ago, the 2012 Chrysler 300 ranks on our list of the best six-cylinder luxury sedans because of its 292-horsepower, 3.6-liter V6, producing 260 ft.-lbs. of torque. In the base model 300 the V6 is mated with a five-speed automatic transmission, an eight-speed automatic (standard on the upper-level V6 models) is optional. Rear-wheel drive is standard across the board; all-wheel drive is available as an option on selected models.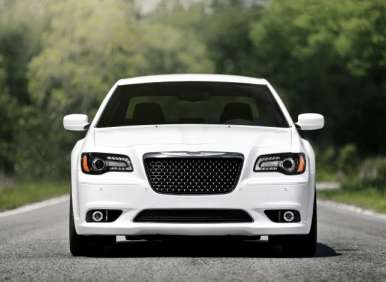 10 Best V6 Luxury Sedans: Hyundai Genesis
There was a time in the not so distant past when the idea of a car with a Hyundai badge on it being included in a listing of best V6 luxury sedans would've been a joke. Times change, things change, and cars change. Today, Hyundai offers a car in nearly every segment of the marketplace. The Genesis is Hyundai's luxury sports sedan, and as such is offered with the choice of V8 or V6 power. Lest you think the Genesis is a stripped down pseudo-luxury car, take a look at the picture to the right of these words. The Genesis is as nicely equipped as it is handsome. It delivers a nice ride, entertaining dynamics, and an amazing audio system. The base model Genesis 3.8 is powered by a 3.8-liter direct-injected V6 that produces 333 horsepower and 291 ft.-lbs. of torque. Rear-wheel drive and a sophisticated eight-speed automatic transmission with manual shift control are standard equipment.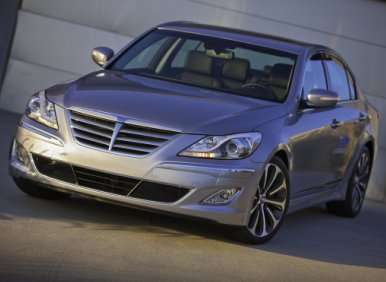 10 Best V6 Luxury Sedans: Infiniti G Sedan
The four-door Infiniti G was an automatic pick for this list of best V6 luxury sedans. One of the first Japanese sedans to mount a reasonably successful challenge to the BMW 3 Series, the Infiniti G has been lauded for its outstanding handling, sonorous V6 engines, and generous array of comfort and convenience features. Mounting the V6 behind the centerline of the front wheels—in a front mid-engined configuration—Nissan engineering endowed the G cars with exceptional balance and terrific handling. For 2012, there are two versions; the 2012 Infiniti G25 is powered by a 218-horsepower 2.5-liter V6 with 187 ft.-lbs. of torque. A seven-speed automatic is standard. The all-wheel drive iteration is called G25x. The G37's 3.7-liter V6 makes 328 horsepower and 270 ft.-lbs. of torque. This one gets a seven-speed automatic for both its rear- and all-wheel drive variants. The G37 S runs a six-speed manual, but the seven-speed automatic is optional with that package as well.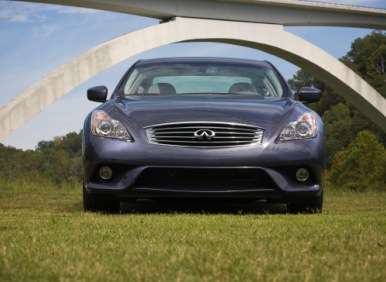 10 Best V6 Luxury Sedans: Lexus GS350
We like to drive, so quite naturally we chose the driver-oriented rear-drive GS Lexus for our list of the best V-6 luxury sedans—over all the other V6 models the brand offers. The GS was the first Lexus model to engage in the passionate pursuit of performance, and over the years it has evolved into a very credible alternative to a 5 Series BMW. New for model year 2012, the Lexus GS brings an exceptional array of qualities to the highway. In addition to its rather formidable driving dynamics, the tech front is also covered by the sporty Lexus big time. Add the comfort and quality the brand uses as a calling card and the Lexus GS350 carves out a pretty nice section of the market for itself. Technically, it's a 2013 model, but since it debuted early in 2012, we're covering it here just the same. That said, The 2013 Lexus GS 350 is powered by a 3.5-liter V6 engine making 306 horsepower and 277 pound-feet of torque. A six-speed automatic routes power whether you choose the rear- or the all-wheel drive powertrain.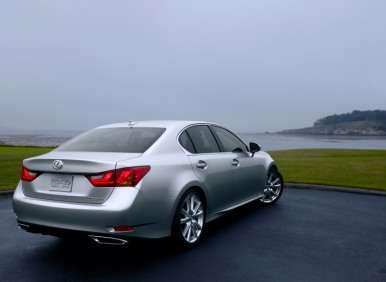 10 Best V6 Luxury Sedans: Mercedes-Benz E 350
One of the most versatile automotive platforms on the planet, the E Class Mercedes serves as a taxi in most of the world just as well as it does a luxury car and a fire breathing high performance luxury sedan (the V8-powered E63 AMG). With its exceptional build quality and aura of imperturbable confidence, the 2012 Mercedes-Benz E 350 is also the only car on our list of best luxury V-6 sedans to offer a diesel option. Gasoline-fired E 350 models come with a 302 horsepower, 3.5-liter V6 with 273 ft.-lbs. of torque and a seven-speed automatic transmission. Rear-wheel drive is standard equipment; all-wheel drive (4Matic in Mercedes-speak) is optional. The diesel powered E 350 Bluetec features a 3.0-liter turbodiesel V6 with 210 horsepower and 400 ft-lbs of torque. Rear-drive and the seven-speed are standard for the Bluetec E 350.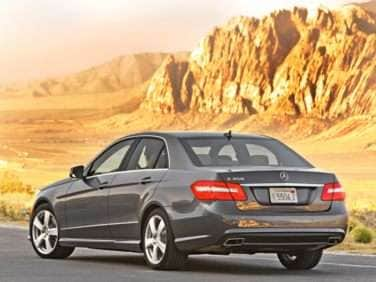 10 Best V6 Luxury Sedans: Porsche Panamera
For a company that just started producing four-door sedans, Porsche has managed to position the Panamera in practically every aspect of the luxury sedan market—ensuring itself a spot on every list of the best six-cylinder luxury sedans. The V6-powered Porsche Panamera Hybrid S, base Panamera, and the all-wheel drive Panamera 4, all employ V6 power to bring the potential for Panamera ownership to a broader swath of the motoring populace. Boasting the outstanding road manners expected from an auto with a Porsche badge on its nose, the 2012 Porsche Panamera and Panamera 4 are powered by a front-mounted 300-horsepower 3.6-liter V6 with 295 ft.-lbs. of torque. The Panamera S Hybrid goes with a supercharged 3.0-liter V6 and a 35kW electric motor for a combined maximum output of 380 horsepower and 428 ft.-lbs. of torque. All Panamera models use an eight-speed automatic transmission with manual shift control.