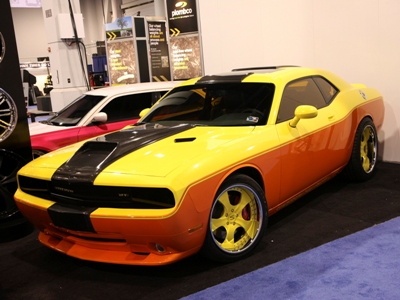 Candy-coat paint jobs are often very attractive. Take the phrase too literally and you get just that: a car that looks like a piece of candy, or in this case, candy corn on rims. We saw something like 238 Dodge Challengers at SEMA this year, and this was one of the few we found downright unattractive. Its one saving grace, however, is its absolutely sick headlamp treatment, set back and blacked out, and unlike anything else we saw.
Photo Credit: MyRide Staff
Page 2
The term "murder-out" means to black out all external components of a vehicle. We wish someone would hire a vehicular-hitman and murder-out this Range Rover's rims and grille. T he rims look like they were constructed from an object found on the set of Teletubbies, and the grille looks like it was fabricated from an electrified immigration fence.
Photo Credit: MyRide Staff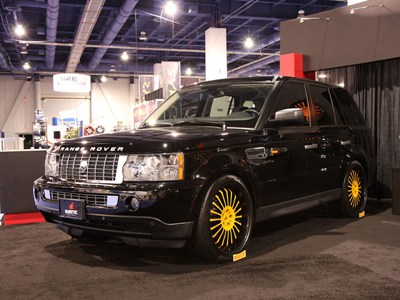 Page 3
What kind of person puts this wheel on their car? No really, we want to know who they are and what they look like so we never accidentally cut them off on the highway. What do routine traffic stops look like for the owner of these rims? Do cops even bother asking for license and registration or do they just assume they should start firing into your window? I'll tell you who puts this wheel on their car: arms dealers, assassins, and criminal masterminds, also known as characters Nicolas Cage plays in movies.
Photo Credit: MyRide Staff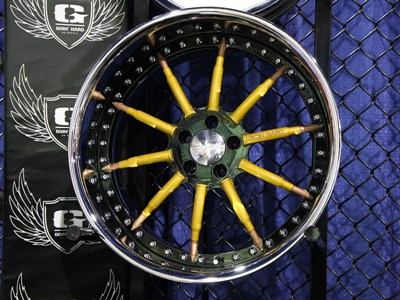 Page 4
With a hunting stand, binoculars, a "BIG GAME" license plate, and 32,000,000 candlepower auxiliary lights up front for blinding your prey before shooting it, this vehicle is a straight up killing machine. We hear it comes equipped with a train horn for drowning out PETA protests too. And what's the deal with the cat print on the side? Camouflage? I can see it now: Cheetah One, "Hey, is that a sniper in a Ford F-350 hunting truck?" Cheetah Two, "No you idiot, that's Bill. He ate some rotten Zebra meat and is looking a little green these days." Cheeta One, "OK, because I swore I heard Wango Tango playing and you know what happened last time we heard Ted Nugent come on."
Photo Credit: MyRide Staff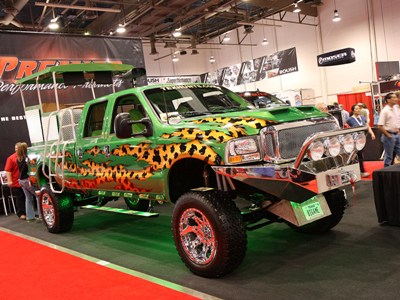 Page 5
Yes I know we included this vehicle in our green cars of SEMA gallery, but that doesn't give it a free pass from appearing in our That Ain't Right gallery too. When you put these doors on anything else, they are called Lambo-doors. When you put them on the Prius I'm pretty sure they become fairy wings. And speaking of, unless they let the vehicle soar through the air, this vehicle doesn't fly with us. On a side note, I believe two out of the five vehicles in this gallery are now George Barris creations, making us his new #1 fan.
Photo Credit: MyRide Staff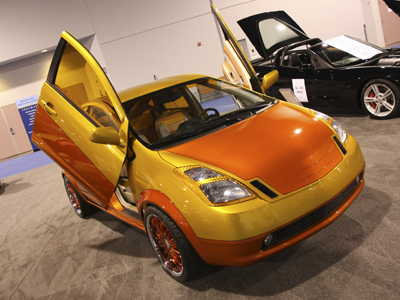 Page 6
Check out the best accessories, wheels, audio systems, custom cars and even green technology at the 2008 SEMA show!
Photo Credit: MyRide Staff