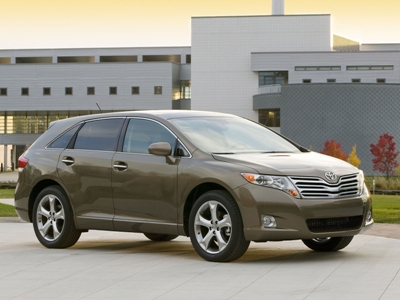 Attractive styling
Great cargo room
Not an SUV
Fuel economy is not a distinct advantage
Bigger turning radius than expected
People will have a tough time classifying it
A slightly older married couple walks into a Toyota dealership, the kind whose kids' bedrooms have long been converted into guest rooms. Marketers call this couple "empty nesters," the couple prefers "free to walk around the house naked." While this couple no longer needs a third row, a Toyota Camry just doesn't have the cargo space for those big Costco runs. Now why a two-person household needs to shop in bulk at Costco is a different story, but this is America, if it's bulk, it's better…or is it? See that attitude flew when gas prices were cheap and SUVs were more popular than Michael Jackson glitter gloves at a 1984 Halloween party. Besides, this couple wants something stylish, something that is more fun to drive than an SUV…because after all, isn't growing old about rocking out and having fun? At least that's how the Viagra ads tell it.
So at this point, not content with the Camry's cargo room, unwilling to buy an SUV like a Toyota Highlander, and unsatisfied with the prospect of another 36-month lease on boring, our couple turns for the door…that is until a salesperson chases after them with a brochure for the 2009 Toyota Venza.
With more than three times the cargo room of a Camry, up to 20 percent better gas mileage than a Highlander, and available all-wheel drive, the 2009 Toyota Venza might just be what they're looking for. It's the vehicle they never knew they wanted, but now that it's there, yeah, it kind of makes sense. Yet others will just scratch their heads and say, "Why don't I just wait for the upcoming four-cylinder Toyota Highlander and get roughly the same mileage as the Venza with 36 percent more cargo room?" For our couple and others like them, they will find the Venza rewarding. For the head-scratchers, things like low entry height, driving dynamics, and arguably styling are probably not a high priority, all things on which the 2009 Toyota Venza bests the Highlander.
The 2009 Toyota Venza is available with two engine choices, a 2.7-liter, inline-four and a 3.5-liter V-6. They come packaged exactly the same, except that the V-6 gets 20-inch rims to the four-cylinder's 19-inch rims, and the V-6 has dual chrome exhaust tips. Other than that, you can build them with the same options, meaning your big decision is deciding between engines.
With the four-cylinder, power is adequate, and the standard six-speed transmission always felt like it matched the engine well. The engine was less refined than we would have liked, at times annoyingly buzzy, and in one of our drives there was a perceptible high-pitched whine emanating from the engine.
The V-6 is an exceptionally smooth engine that works very well with the same 6-speed automatic transmission found in the four cylinder. With 268-horsepower, Toyota claims hitting 60-mph in 6.7 seconds with the V-6, and we never found the 2009 Toyota Venza lacking for power.
The six-speed transmission can be shifted manually, but let's be honest, no one really uses that feature with any consistency after the first week of owning a vehicle. Mileage isn't that much worse in the V-6 version of the Venza, and if you can afford the upgrade we say do so ($1,825). It's a huge difference in refinement and much more enjoyable on a daily basis.
One of the big appeals of the Venza is that its lower center of gravity makes the vehicle feel more planted in turns. It's roughly a half foot shorter than a Toyota Highlander or a Nissan Murano, and combined with a more rigid suspension than a Camry, the Venza does a nice job minimizing body roll. We drove both the front-wheel drive and all-wheel drive versions, and you can push the vehicle through turns, but the limits never felt very far off. We should mention that the standard Enhanced Vehicle Stability Control works very well if you should happen to need it.
While larger wheels often make for a harsher ride, we weren't particularly bothered and thought Toyota did a nice job damping defects in the road. At low speeds the vehicle was plenty maneuverable, but surprisingly the 2009 Toyota Venza's turning circle diameter, a measure of how frustrating it's going to be to pull into a space at a crowded mall parking garage, is actually slightly worse than the Toyota Highlander. Finally, when it comes to slowing down, the Venza employs ventilated front brakes to reduce fade in short-period repetitive use scenarios, also known as stop-and-go traffic.
We think it's worth noting we haven't seen a Toyota this curvaceous since, well, ever. Take particular note of the tail lights, which really make this vehicle stand out, though we're not the biggest fans of the grille. We think getting the standard 20-inch rims with the V-6 is worth the upgrade as they look very sharp. Getting into the Venza is like climbing into a sedan, though it still manages to have the ride height of a crossover or an SUV. We're still trying to figure out how they did that, but it works. On the inside of the Venza all the vehicle's main functions are well within the reach of the driver, and Toyota designed the Venza to ensure that both the driver and the passenger felt as if they had 60 percent of the cabin space. We really like the built-in holder for MP3 players and cell phones, and the Venza will allow you to stream music wirelessly through Bluetooth to the sound system for players that support it, though we still prefer USB.
At a base price of $27,800, the Venza comes with a very healthy list of options including power up/down windows, a 6-disc in-dash CD changer, and XM satellite radio. We would highly suggest upgrading to the optional JBL Synthesis surround sound system, which is the kind of sound system that keeps us in the car long after the engine has been shut off. The optional DVD navigation system is highly intuitive and in our experience the Bluetooth feature worked flawlessly when trying to make phone calls.
The second row was very comfortable, and we wouldn't rush to call shotgun on long road trips, especially if the vehicle was equipped with the optional rear-seat entertainment system. As promised, there is plenty of cargo room for trips to Sonoma with other empty nesters.
Page 2
At this point you are dying to ask, "What is the Venza?" Let us answer that question. Call it a wagon. Call it a crossover. Call it the lovechild of a Camry-Highlander romantic evening in Tokyo. At the end of the day, it really doesn't matter what you call the Toyota Venza, as long as it works for your needs. It's not about strictly more cargo room or better gas mileage. If that was the case one would get a Toyota RAV4, which has equal or better gas mileage and more cargo room. The Venza is for the driver who, for whatever reason - be it styling, handling, or vehicle step-in height (like my 4-foot 11-inch mom) - doesn't want an SUV, but needs more space than a sedan could ever offer. And for those people the Venza works very well.
$26,695
JBL Premium Audio ($1,090), Navigation ($2,590, includes JBL Premium Audio), Panoramic Roof ($1,050)
2.7-liter Inline-4
182 hp @ 5,800 rpm
182 lb.-ft. @ 4,200 rpm
6-speed automatic
3,760 lbs. FWD, 3,945 lbs. AWD
21 city/ 29 hwy FWD, 20/28 AWD
23 mpg (FWD)
189.0 in.
75.0 in.
109.3 in.
63.4 in.
40.2 in./ 39.1 in.
39.6 in./ 39.3 in.
5
70.1 cu. ft.
2,500 lbs.
8.1 in.
$28,520
JBL Premium Audio ($1,090) , Navigation ($2,590, includes JBL Premium Audio) , Panoramic Roof ($1,050)
3.5-liter V-6
268 hp @ 6,200 rpm
246 lb.-ft. @ 4,700 rpm
6-speed automatic
3,870 lbs. FWD, 4,045 lbs. AWD
19 city/ 26 hwy FWD, 18/25 AWD
20 mpg (FWD)
189.0 in.
75.0 in.
109.3 in.
63.4 in.
40.2 in./ 39.1 in.
39.6 in./ 39.3 in.
5
70.1 cu. ft.
3,500 lbs.
8.1 in.
By Elliot Darvick Photo credit: Toyota