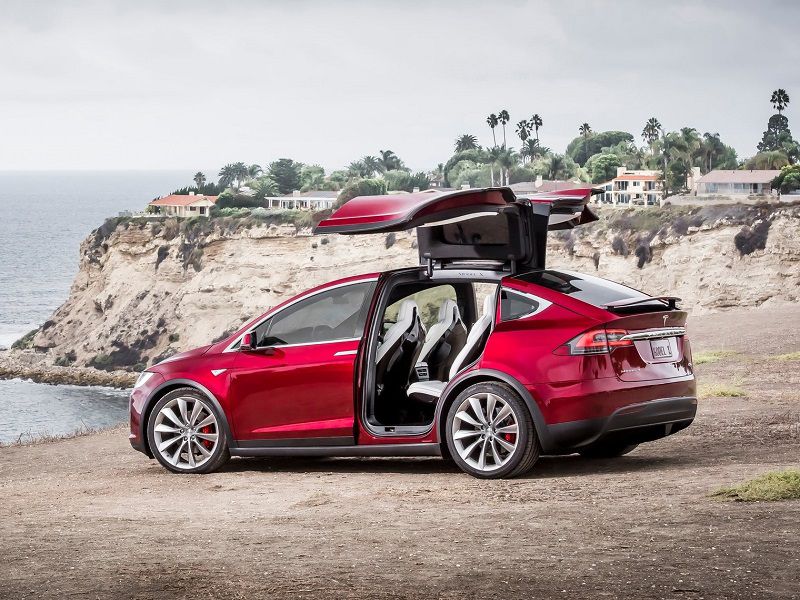 2019 Tesla Model X Red Rear Three Quarter Falcon Doors Up ・ Photo by Tesla
If there's still any question to the mad genius of Elon Musk, the CEO of Tesla, consider this. His company now makes four of the world's most popular electric vehicles: the Model S, Model 3, Model X, and Model Y. What's that spell? S3XY.
Tesla is the world's most successful electric carmaker the world has ever seen, and Musk is a global celebrity, a billionaire playboy who launches rockets into outer space in his spare time. A real-life Tony Stark, some say. He will go down in history as the man who kick-started the EV revolution along with the eventual demise of the internal combustion engine and the fossil-fuel economy. Headquartered in Southern California, Tesla began producing EVs in 2008, but sales took off when it introduced the Model S sedan four years later. Today, its lineup includes two sedans and two SUVs. Musk has also promised a Tesla pickup truck called the Cybertruck, as well as a sports car called the Roadster, but they're not available yet. Here's a complete buyers guide to Tesla's current 2020 models.
Built in California
Every Tesla sold in the United States is built in California. The company's factory, once owned by GM and Toyota, is located near Fresno, not far from Silicon Valley. Last year, Tesla sold 367,500 cars around the world, more than it did in the previous two years combined. This is due to the introduction and intense popularity of its most affordable model, the Model 3 sedan.
You can buy a Tesla in all 50 states. There's some noise on the internet that says otherwise, but according to Tesla's website, "All States currently allow a Tesla to be registered and licensed. Don't let anyone make you believe you can't buy a Tesla no matter where you live in the USA or Canada." Why the confusion? Because Tesla doesn't have traditional dealerships like other automakers. Instead, every Tesla is ordered over the internet directly from the manufacturer. No dealer. No middleman. Tesla has placed showrooms in many states and major cities, where you can touch the machine and talk to a Tesla representative who will gladly walk you through the buying process, but you can go to Tesla.com and order your car or SUV anytime you wish.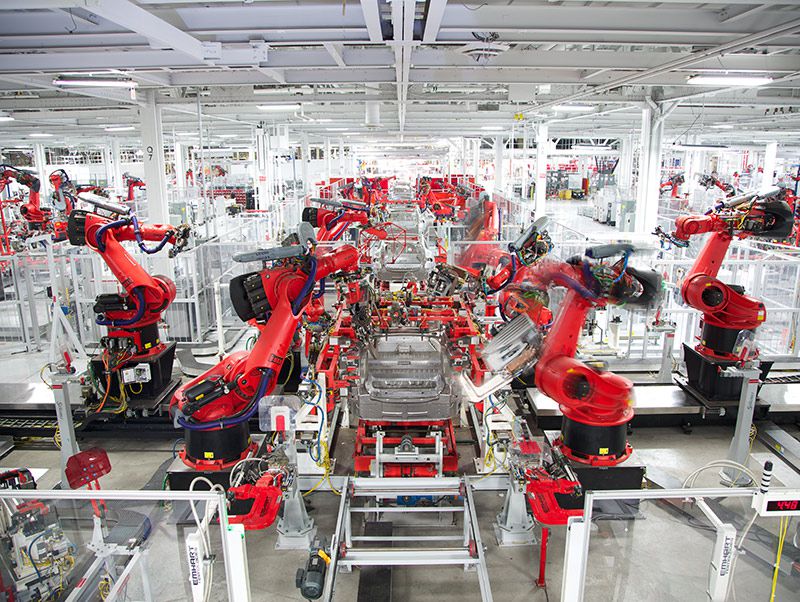 Photo by Tesla
2020 Tesla Model 3
The Tesla Model 3 was one of the most anticipated cars of the last 10 years. The brand's least-expensive model quickly became its bestseller. Today, cities like Los Angeles are full of them.
A four-door sedan that seats five passengers, the Model 3 is about the same size as a BMW 3 Series. It looks like a hatchback, but it isn't; it has a traditional trunk, which offers 15 cubic feet of space. That's slightly less than the BMW. Prices start at $37,990, which makes the Model 3 an undeniable value. It delivers the longest range and the quickest acceleration times of any EV in its price range. The rear-wheel drive Standard Range Plus model offers 250 miles of range and a 0-60 time of just 5.3 seconds. It's very popular.
Photo by Tesla
2020 Tesla Model 3, Part II
An EV's MPGe ratings from the Environmental Protection Agency are a calculation of its efficiency. They're very similar to the miles per gallon rating of conventional gas or diesel-powered vehicles. The 2020 Tesla Model 3 Standard Range Plus model has a combined MPGe of 141, which is exceptional.
The Model 3 is quick, comfortable, and fun to drive. Its handling is sharp and responsive, but it also rides well. Its interior is sparsely modern. There are no traditional gauges or other controls — Tesla puts everything on a large touchscreen. It may seem intimidating at first, but it's all very simple to use. In addition to the Standard Range Plus, Tesla offers the all-wheel drive Long Range and Performance models. Both offer more power, more range, and even quicker acceleration. The Long Range is the best value overall. It costs about $47,000, offers 322 miles of range, and blasts to 60 mph in just 4.4 seconds.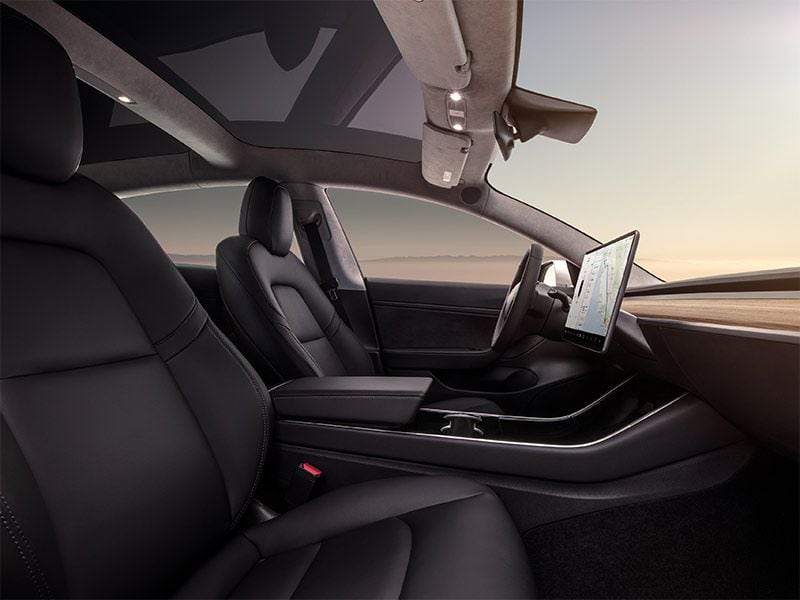 Photo by Tesla
2020 Tesla Model Y
This is Tesla's newest model and it's expected to be another hit. Small crossovers are all the rage, and the Model Y is essentially a crossover version of the Model 3, although it shares much of its styling with the brand's larger SUV, the Model X. Buyers will surely also be drawn in by the Y's more than 300 miles of range and relatively low $47,890 base price.
It's a five-seater, but it's not as small as it looks. At 187 inches long, 76 inches wide, and 64 inches tall, it's about the same size as a BMW X3. With its rear seat folded, the Model Y offers 68 cubic feet of cargo space, which is also about the same as the BMW. However, its sloping rear roofline isn't very dog-friendly. If you like to take Fido along for the ride, the Model Y may not be right for you. Its interior and powertrains are shared with the Model 3 and the two perform about the same, although the smaller and lighter Model 3 offers slightly better performance and range.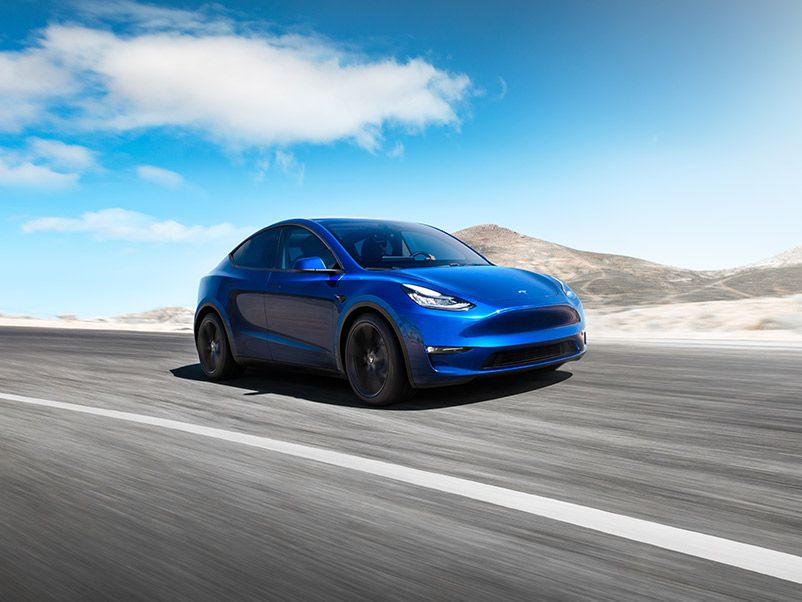 Photo by Tesla
2020 Tesla Model Y, Part II
Tesla has promised a rear-wheel drive Standard Range model next year, which should have a lower base price. For now, there the Model Y is available in two all-wheel drive models: Long Range and Performance. Both are powered by a couple of electric motors, and Tesla says the Long Range hits 60 mph in 4.8 seconds. The Performance, which costs $10,000 more, is one of the quickest SUVs on the road, capable of accelerating to 60 mph in 3.5 seconds. That's as quick as some supercars. It's a rush.
The Model Y Long Range has a combined MPGe rating of 121 and an EPA estimated range of 316 miles. That's tops for an electric SUV, with the exception of Tesla's larger Model X. The Long Range name is a bit of a misnomer, however. The Model Y Performance has an EPA-estimated range of 315 miles, so you're really just buying the Performance for its more robust thrust.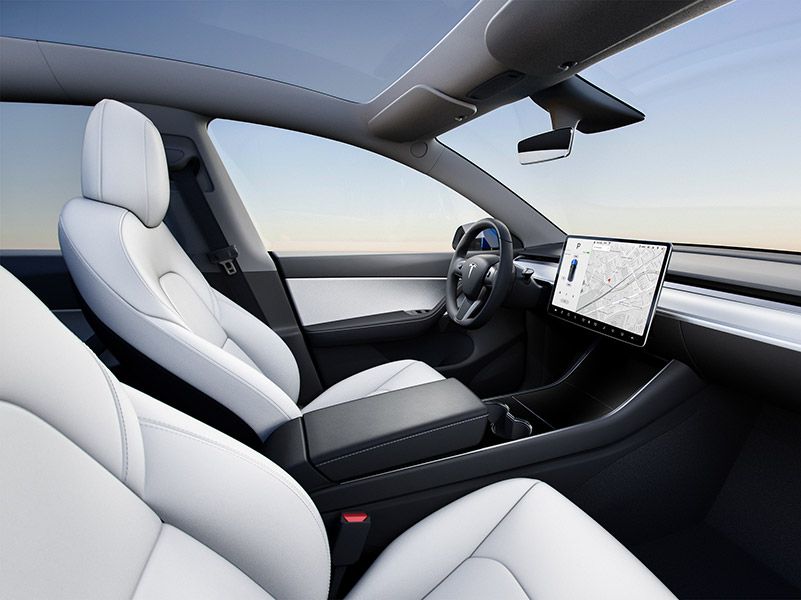 Photo by Tesla
2020 Tesla Model S
Introduced way back in 2012, Tesla's Model S is the EV that started a revolution. The Model S wasn't the world's first electric vehicle, not by a long shot, but Tesla's largest sedan is the car that sold the world on battery-powered vehicles. Fast, sexy, and efficient, this is the car that put Tesla on the map, and it remains an extremely appealing package.
Sleek and muscular with a comfortable and luxurious minimalistic interior, the five-passenger Model S still delivers industry-leading performance. Years ago, Tesla offered the hatchback sedan with a third-row seat that expanded its seating capacity to seven. It's no longer available, but the Model S still offers an expansive cargo capacity of 26.3 cubic feet behind its backseat and 60.2 cubic feet with its backseat folded. That's more than you get in a Porsche Panamera, which is about the same size.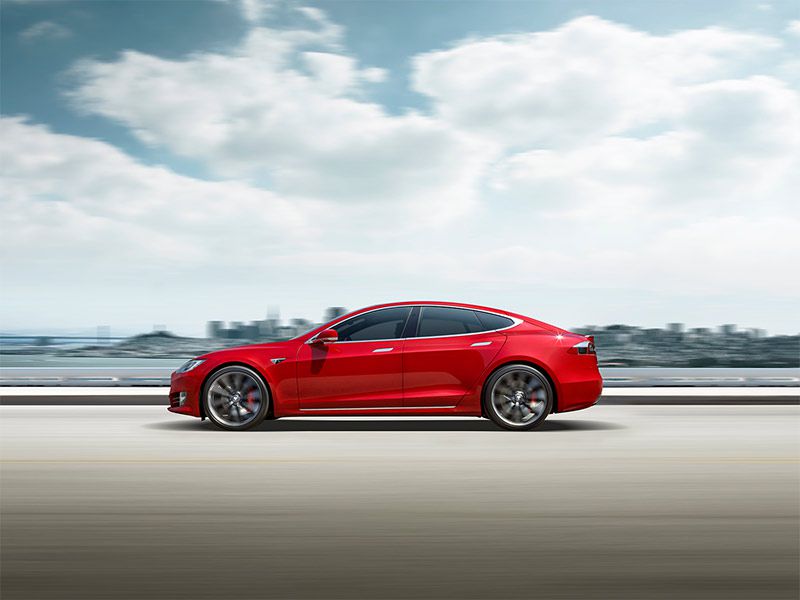 Photo by Tesla
2020 Tesla Model S, Part II
With a base price of $81,190, the Model S costs considerably more than a Model 3 or Model Y, but its also considerably larger and offers more range. Although the sedan has been around for eight years, Tesla has made continuous improvements to its range and performance.
Two models are offered: the Long Range Plus and the Performance, which costs $20,000 more. Both have all-wheel drive, two electric motors, and adjustable air suspensions, which provide a smooth ride and athletic handling. The Long Range Plus has a very respectable 111 MPGe combined rating, and a range of 391 miles. That's more than any other EV on the market. Tesla says it can hit 60 mph in just 3.7 seconds. The Performance can hit 60 mph in a breathtaking 2.3 seconds, which makes it quicker than most supercars, including Ferrari's new F8 Tributo, and has a range of 348 miles.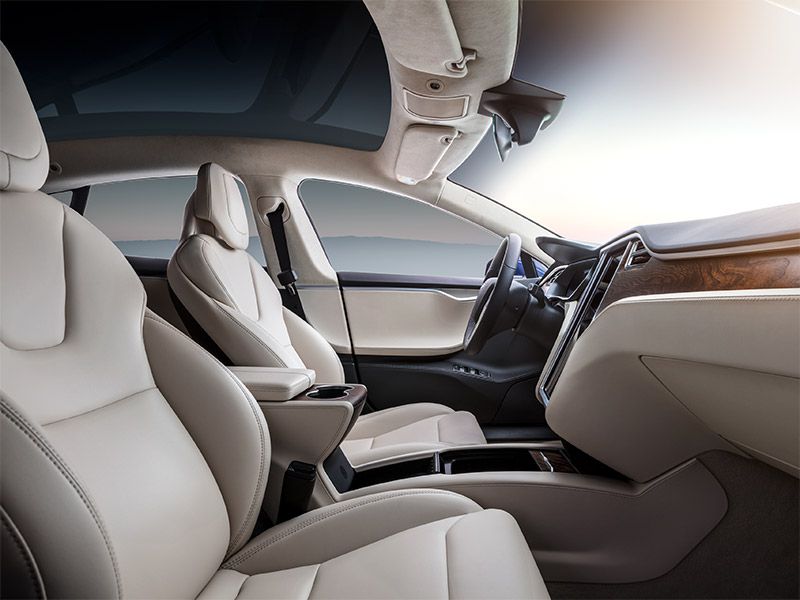 Photo by Tesla
2020 Tesla Model X
This is Tesla's largest and most expensive vehicle. Famous for its dramatic gullwing back doors, which open up with the push of a button, the Model X is a seven-passenger SUV with standard all-wheel drive, industry-leading EV range, and seriously quick acceleration. However, buyers should be aware that those fancy mechanized rear doors can be an issue in tight parking spaced and garages with low ceilings.
Popular with families, the Model X was first introduced in 2015 and hasn't changed much since. Its clean, modern, and comfortable interior remains exceedingly family-friendly, and its infotainment system continues to lead the industry and offer the largest touchscreen in the biz. It's also spacious, but truth be told, its third row is best for kids. The base price is $86,190 for the Long Range Plus. The Performance model costs $20,000 more. Both offer a smooth ride and responsive handling, and they share powertrains with the Models S.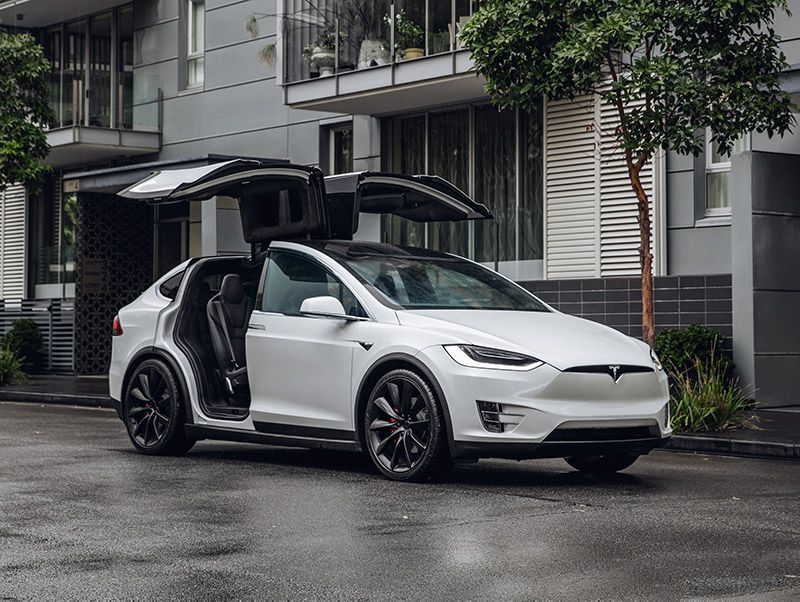 Photo by Tesla
2020 Tesla Model X, Part II
Both Model X models feature all-wheel drive and two electric motors. The Long Range Plus has a 101 MPGe combined rating, and an EPA-estimated range of 351 miles. That's more than any other electric SUV on the market. Tesla says it can hit 60 mph in just 4.4 seconds. The Performance can hit 60 mph in a neck-snapping 2.6 seconds, which makes it the world's quickest SUV, but that additional performance eats into its range, which drops to 305 miles.
Although there are more and more EVs on the market and more on the way, electric SUVs are still quite unusual. The Model X is still unique and although it's expensive, it still a good value. Its closest competitor is the electric Jaguar I-PACE, which seats five and can't match the Tesla's range or performance, and the Porsche Cayenne Turbo S E-Hybrid, which costs nearly twice as much. No wonder the Model X is so popular.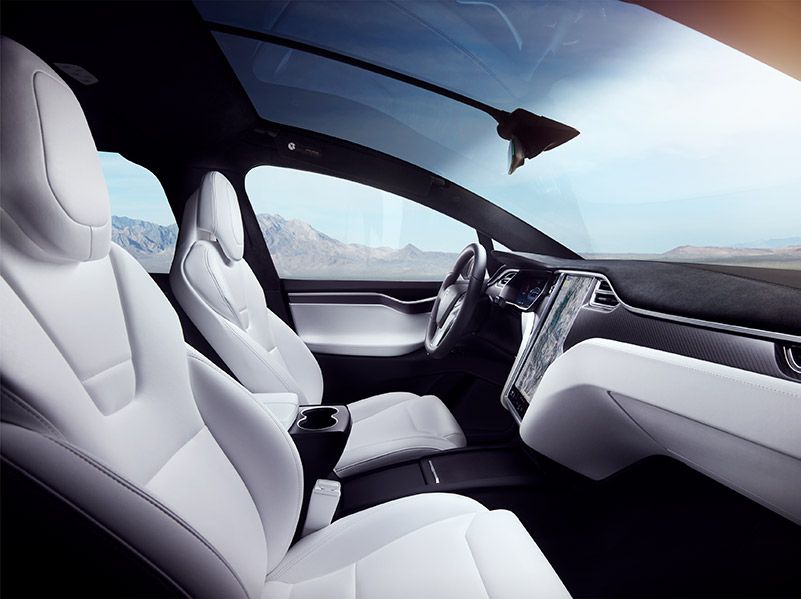 Photo by Tesla