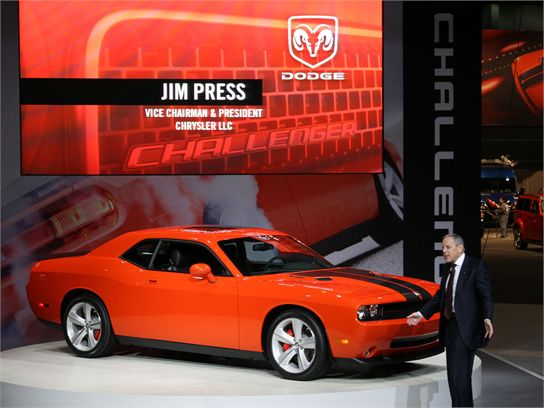 The ten minute auto show tour is back, and still your quickest one-stop shop for all the new rides that hit the 2008 Chicago Auto Show like the 2008 Dodge Challenger or the Yes! 3.2 Roadster. So go ahead, multitask and click on through to maintain your sanity while you plod through that nagging conference call or pointless meeting. Just don't get caught making those involuntary vroom-vroom noises when you hit the ones you love.
Page 2
Acura has officially unveiled the 2009 RL sedan, representing a thorough revisiting of its flagship sedan. The RL hasn't exactly set the world on fire since its introduction in 2005, namely for its overly subdued styling. Acura kicked it up a notch with an MDX-inspired grille, new headlights and taillights, more power and torque and a rethinking or reworking of virtually every component and system in the vehicle. The new look is certainly aggressive, and with a bigger engine it has the chops to back it up.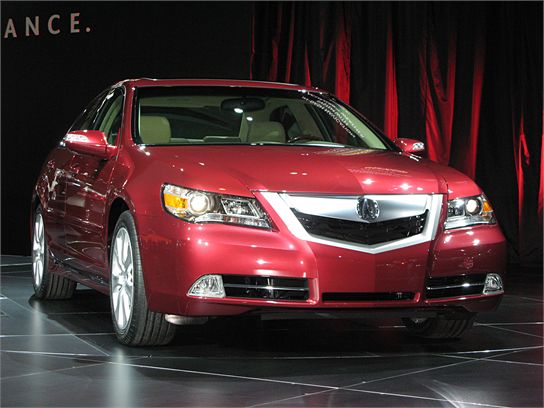 Page 3
Long time fans of the Roundel logo will recognize the tii suffix as being one that graced the later model 2002 sedan of the 1970s. BMW has made no secret that it wants the 1 Series to be viewed as a car in the same vein as the 2002 – a light, agile, quick two-door sedan. That's the goal with appending tii to the end of a 1 Series concept making its North American debut at the 2008 Chicago Auto Show. The emphasis here is on weight reduction and aerodynamics, along with a white/carbon/blue tri-color design to set it apart.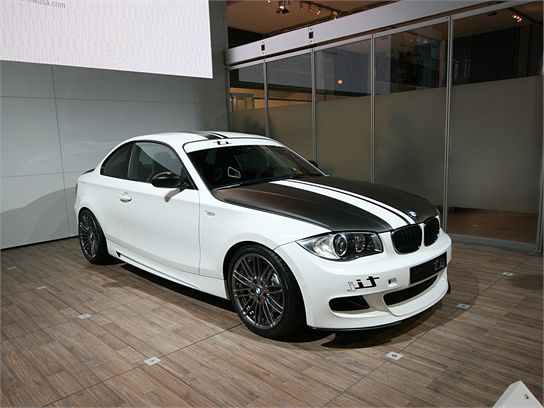 Page 4
GM's new crossovers – the Saturn OUTLOOK, GMC Acadia and Buick Enclave – have won high praise from the media and public alike. Combining very good driving dynamics with unique styling and class-leading utility, they're tough to beat. Yet a question has hovered over the whole line since the cars began trickling into showrooms: Where's the Chevy version? Right here, in Chicago. Called the Traverse, it introduces a few new touches to the platform overall, such as the direct-injection version of GM's 3.6-liter V-6, and solidifies the styling theme Chevy started with the Malibu.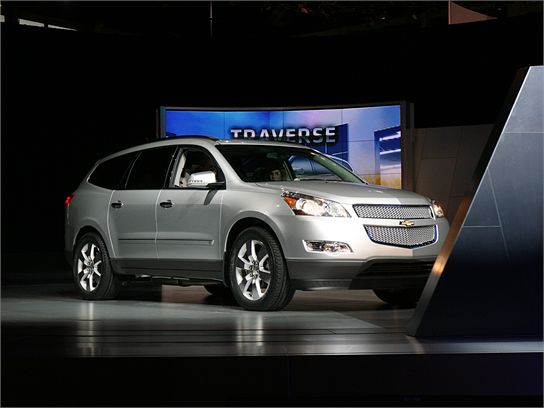 Page 5
 At the moment this was written, there were 12 days, 23 hours, 36 minutes and 12 seconds until the 2008 Dodge Challenger is unveiled at Chicago (get your own countdown updates here). It's going to be a little anticlimactic, however, since the vast majority of enthusiasts have already seen the production car in various guises as it was driven, undisguised, around Detroit in the past couple of weeks. No matter, we're still excited. With the SRT8 version getting the 425 horsepower Hemi V-8 we all know and love, plus the Challenger's iconic styling, it's hard to contain ourselves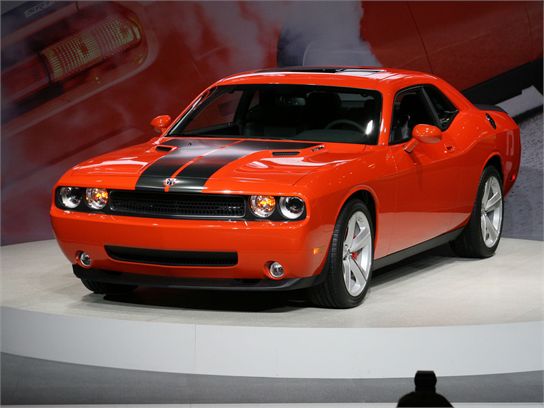 Page 6
Names can set up false expectations, such as blind date Heather who arrives in all her hideousness. Another example would be the Edge crossover, which as it turned out, wasn't so edgy in terms of look or overall character. That changes, to some degree, with the launch of the 2009 Ford Edge Sport, a version of the original with body and wheel upgrades aimed at giving the vehicle a more aggressive presence, and a few interior tweaks to give buyers the sense that they're driving something actually unique. We're still waiting for a truly sporty Edge, with a manual shift mode and stiffer suspension components, but the Sport at least fills a void for those seeking a bit of 'tude with their non-SUV.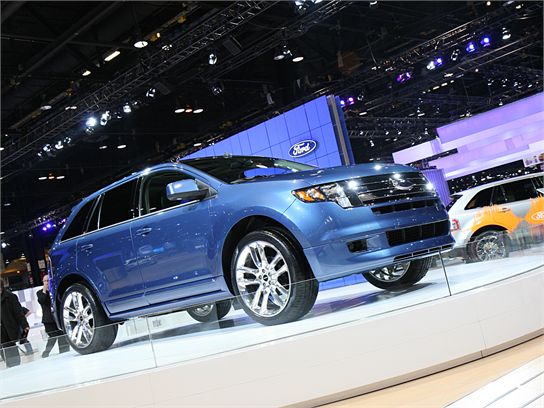 Page 7
It's like that party Uncle Bert had when you graduated from beauty school. Sure, not a lot of people came or seemed to care, but those who did will get free haircuts forever! For those who were there to see the recently announced upgrades to the Ford Escape, they may not get free haircuts…but they did get to be the first to know about Ford's powertrain upgrades and new capless fueling system. The important thing, of course, is the power upgrade: 30 more horsepower (to 230) from the V-6, and a 2.5-liter four-cylinder engine delivering 170 horsepower. Ford also upgraded the transmission from four to six-speeds. Other changes included some slight mods to the front fascia. Now all they have to do is fix that interior, and who knows? Perhaps the Escape will flee the doldrums of slow sales and consumer neglect.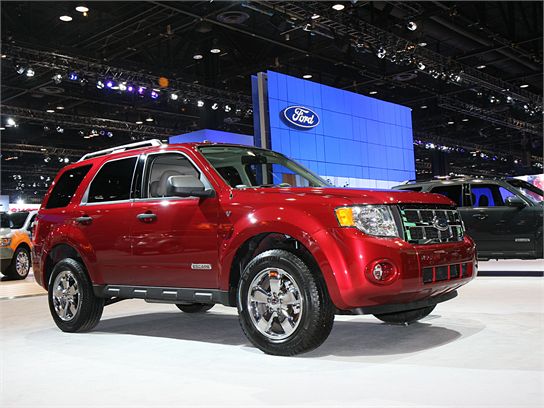 Page 8
Much like the traditional soccer mom, many business owners find themselves driving vehicles that are much larger than their needs dictate. But unlike those dwellers of suburbia, the proprietor is paying for the maintenance and fuel for a full-sized van not necessarily by choice but rather because of a lack of smaller and relatively efficient alternatives. Ford aims to address that dilemma when it launches the Transit Connect in mid-2009. With its small size, 143 cubic feet of cargo room, configurable interior, and 2.0-liter engine that's estimated to return 19 mpg in the city and 24 mpg on the highway, the Turkey-built Transit should meet the needs of city-dwelling entrepreneurs everywhere.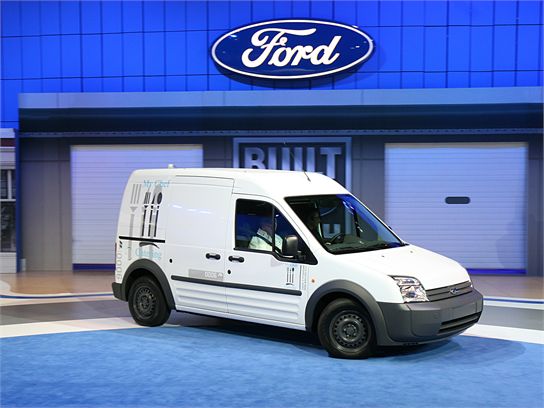 Page 9
Remember the El Camino? A pickup based on a car, the El Camino lasted for years until it was finally cancelled in the mid 80s. Yet the basic concept has lived on in Australia, where these "utes" are quite popular, especially GM's Holden Ute, based on the Commodore sedan. Now, let's take this to a logical conclusion, shall we? GM is going to import the Holden Commodore and rebadge it as a Pontiac G8. The new Chevrolet Camaro is based on the same platform. So is it much of a stretch that an unquestionably handy ute version could find its way here? Maybe, if enough people are interested. Which brings us to the GMC Denali XT Concept.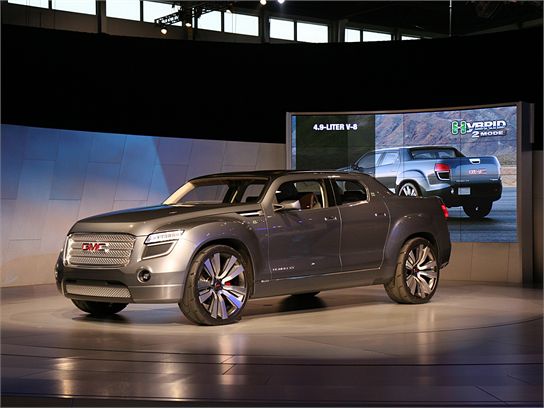 Page 10
As goes Chevrolet's full-sized pickups, so go GMC's. When Chevy introduced the Silverado hybrid in Los Angeles last year, we set our stopwatches for when the GMC Sierra version would show up. Well, the timer just went off, as GM's truck-only division pulled the wraps off its own hybrid pickup truck. Due to go on sale in the last quarter of 2008 as a 2009 model truck, it promises 40 percent better city fuel economy, 25 percent better overall, but without a serious compromise on towing or hauling capacity.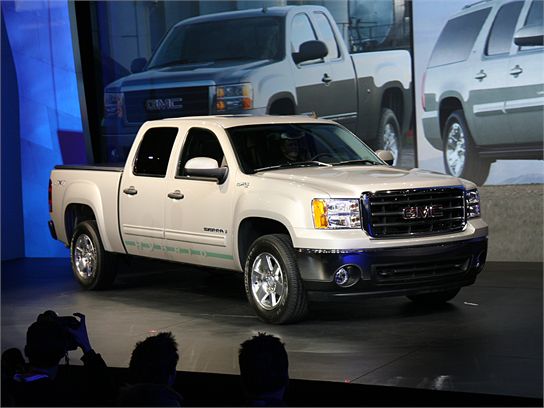 Page 11
– Chicago Auto Show: Rumors of an H3 with a truck bed have abounded ever since the SUV was introduced. Turns out the rumors were true. The H3T boast five passenger seating and a five-foot truck bed big enough for dirt bikes, a snowmobile or the good ol' sheet of plywood. Alpha versions will also be available, with GM's 5.3-liter V-8 engine providing enough grunt for 5,900 pounds of towing capacity.