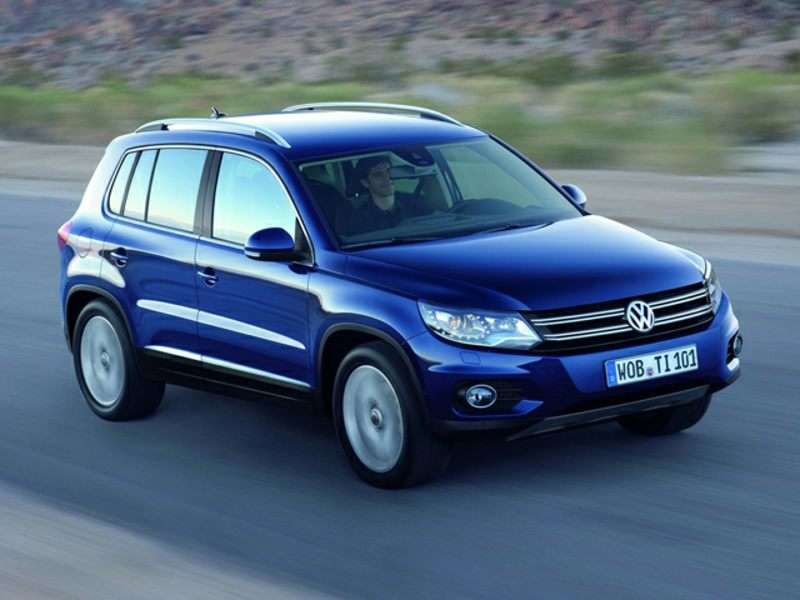 2016 Volkswagen Tiguan
When we set out to put together this small SUV comparison, we had trouble whittling down the list of contenders, given that there are so many strong entries into this particular segment of the market.  Finally, we decided to take three pairs of rivals and pit them head-to-head to see how they stood up to each other based on their individual merits. Almost every one of the sport utility vehicles listed below has its own loyal following, but it's those "tweeners" — buyers who could be convinced to go either way when selecting a new small SUV — that each company is trying to woo. Let's take a quick look at six small SUVs and compare their strong points and weak points to see which ones come out on top.
1) 2017 Ford Escape
The 2017 Ford Escape represents a significant deviation from the model that appeared in small sport utility vehicle comparisons in years past. The Ford Escape is updated for this year, giving it improved cargo room (up to 67.8 cubic feet). A 168-horsepower, 2.5-liter 4-cylinder engine is listed as the entry-level mill, while a 1.5-liter, 179-horsepower EcoBoost turbocharged 4-cylinder represents the next step up. The top-of-the-line EcoBoost motor found in the Escape displaces 2.0 liters and provides 245 turbocharged horses to play with. 6-speed automatic transmissions are par for the course with each drivetrain, and all-wheel drive is optional. Fuel mileage for the mid-level EcoBoost motor checks in at 23 MPG city and 30 MPG highway, which is just a few notches better than the base motor.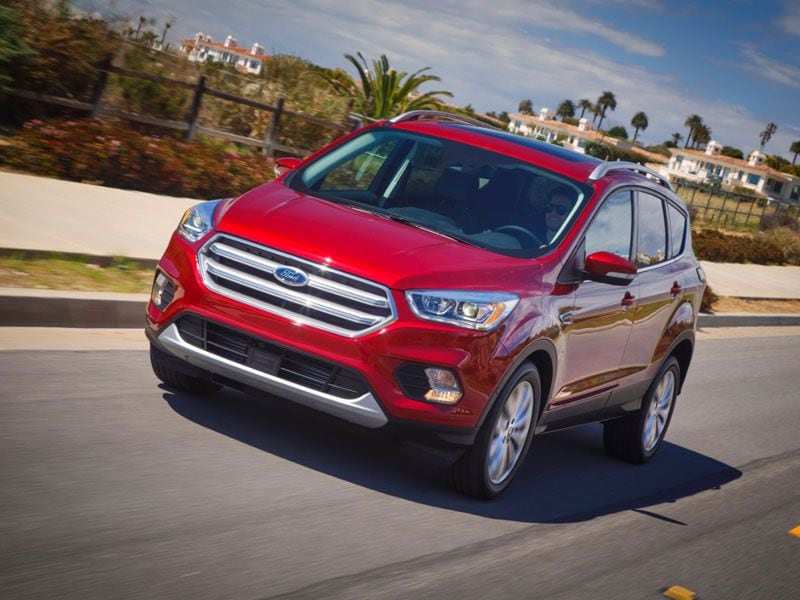 Photo by Ford
2) 2016 Volkswagen Tiguan
The 2016 Volkswagen Tiguan continues on as the German brand's first venture into compact SUV waters. Based on a platform similar to that used by the Golf hatchback, the Volkswagen Tiguan boasts an upscale interior, handling that is a cut above what one might expect from such a tall automobile, and 5-passenger seating. The Tiguan is additionally capable of carrying 56.1 cubic feet of gear with the rear row out of the picture. In the engine bay, the VW SUV features a 2.0-liter, turbocharged 4-cylinder engine that offers up 200 horsepower, along with fuel economy figures of 21 MPG city and 26 MPG highway. All versions of the 2016 Tiguan come with a 6-speed automatic transmission, and 4MOTION all-wheel drive can be added to the Tiguan's spec sheet as an option.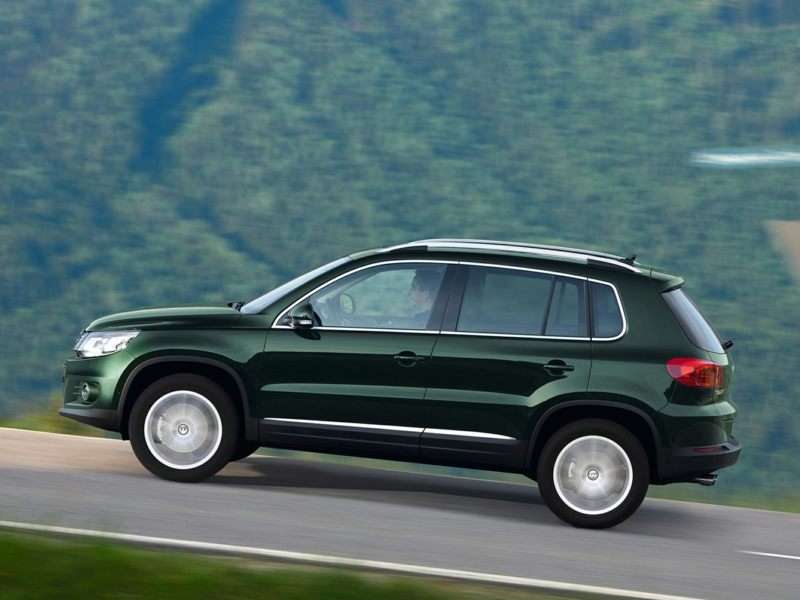 Photo by Volkswagen
Small SUV Comparison Verdict
It's hard to argue with the technology-laden 2017 Ford Escape, which offers not only advanced features such as Ford's MyKey and the SYNC 3 interface but also the EcoBoost turbocharging system that delivers significant horsepower without sacrificing fuel economy. That efficiency advantage alone would be enough to turn most buyers away from the Tiguan and towards the Escape, but add in comparable cornering capability and a considerably larger cargo area and it's a safe bet that many buyers will opt for the Escape — especially given its stellar reputation as a small family conveyance.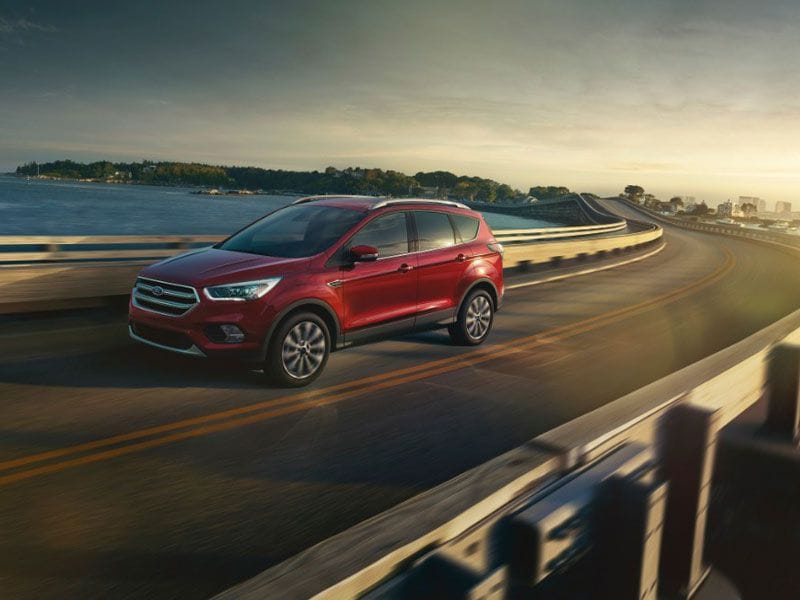 Photo by Ford
3) 2016 Toyota RAV4
The Toyota RAV4 was one of the very first mini-utes to hit the market, and over the years it has grown into a class-leading juggernaut in terms of sales popularity. The Toyota RAV4 is almost always mentioned when it comes time to compare small SUVs, and it shines with 5-passenger seating, 73.4 cubic feet of total cargo space, and the option of all-wheel drive. The RAV4 is available with a 176-horsepower, 2.5-liter 4-cylinder engine that also puts out 172 lb-ft of torque and is paired to a 6-speed automatic transmission. In front-wheel drive configuration, the 2016 Toyota RAV4 earns fuel mileage of 24 MPG in the city and 31 MPG highway; opting for all-wheel drive sacrifices a couple MPG.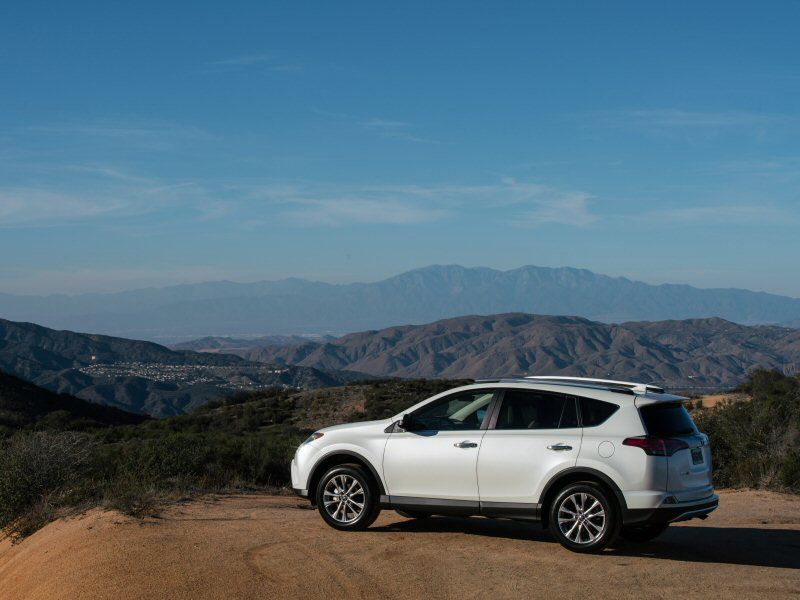 4) 2016 Honda CR-V
The 2016 Honda CR-V is a solid competitor to the RAV4 in terms of sales success, making it a natural rival for our small SUV comparison. With a number of updates for the current model year, the Honda CR-V can seat five passengers, swallow up to 70.9 cubic feet of cargo, and offers a more generous interior in terms of first and second row comfort. The CR-V is sold exclusively with a 2.4-liter, 4-cylinder engine under the hood, which is good for 185 horsepower and fuel mileage of 26 MPG in city driving and 33 MPG on the highway, thanks in part to a continuously variable automatic transmission. All-wheel drive can be ordered as an option.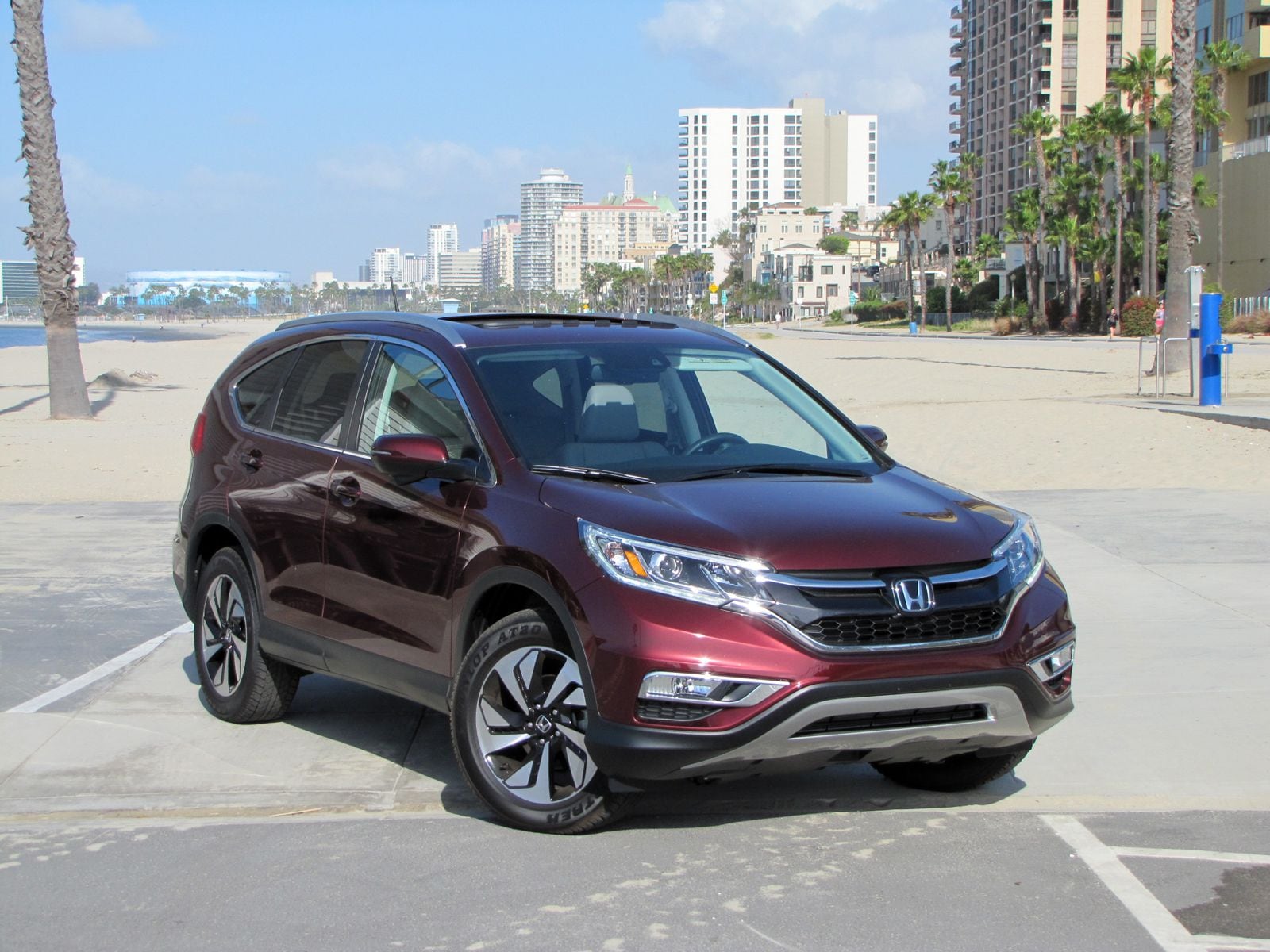 Photo by Ryan ZumMallen
Small SUV Comparison Verdict
When comparing the 2016 Toyota RAV4 to the 2016 Honda CR-V, a few things immediately stand out. Both offer seating for five passengers and offer only a 4-cylinder drivetrain. The RAV4 has been redesigned more recently, but the CR-V's slight horsepower advantage and better fuel economy help Honda earn the win in this category.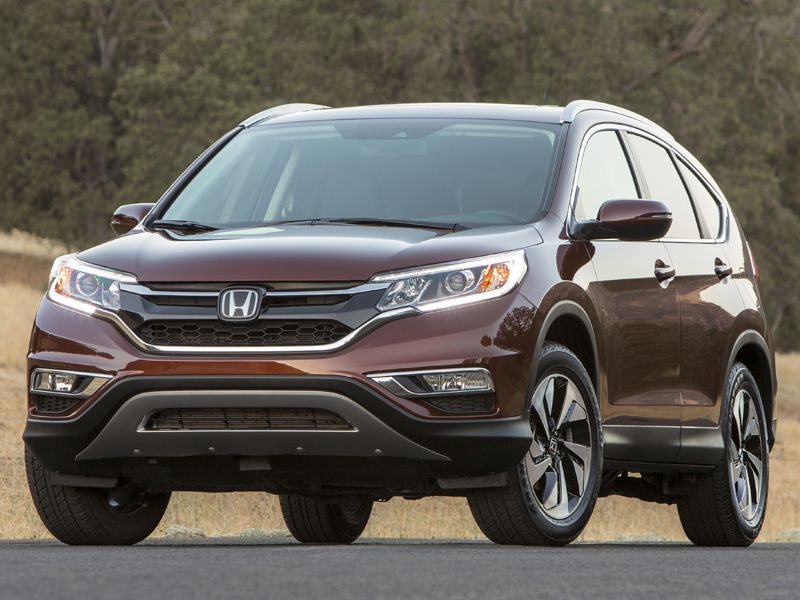 Photo by Honda
5) 2016 Subaru Forester
The 2016 Subaru Forester is another small SUV comparison stalwart, a vehicle that has grown past its tall wagon roots to offer legitimate soft-roading capability (thanks to ample ground clearance) and a squared-off, practical interior that can transport as many as five people or up to 74.7 cubic feet of luggage. The Subaru Forester comes with the brand's signature standard all-wheel drive system, and it provides a choice between a 2.5-liter 4-cylinder or a turbocharged 2.0-liter 4-cylinder engine. The entry-level unit generates 170 ponies and returns fuel mileage of up to 24 MPG city and 32 MPG highway, while the turbo motor churns out 250 horsepower while dropping fuel mileage by a few miles per gallon during highway cruising. Transmission choices include a 6-speed manual and a continuously variable automatic.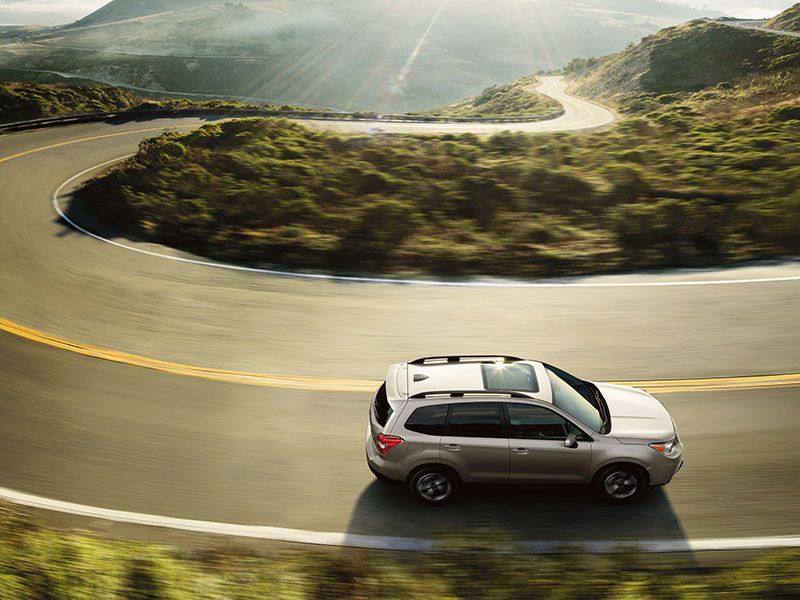 Photo by Subaru
6) 2016 Subaru Crosstrek
The 2016 Subaru Crosstrek is a sport utility vehicle based on the same bones used by the Impreza compact hatchback. More aggressive styling and a boosted suspension system help to differentiate the Subaru Crosstrek from its road-bound cousin, but the resemblance between the two models is strong and intentional. The Crosstrek's interior can house five passengers, or 51.9 cubic feet of cargo with the second row folded forward, and it comes matched with Subaru's 148-horsepower, 2.0-liter four-cylinder engine. When shifted via the Crosstrek's optional continuously variable automatic transmission, the SUV provides fuel mileage of 26 MPG city and 34 MPG highway. A 5-speed manual is optional, and all-wheel drive is of course included with every model.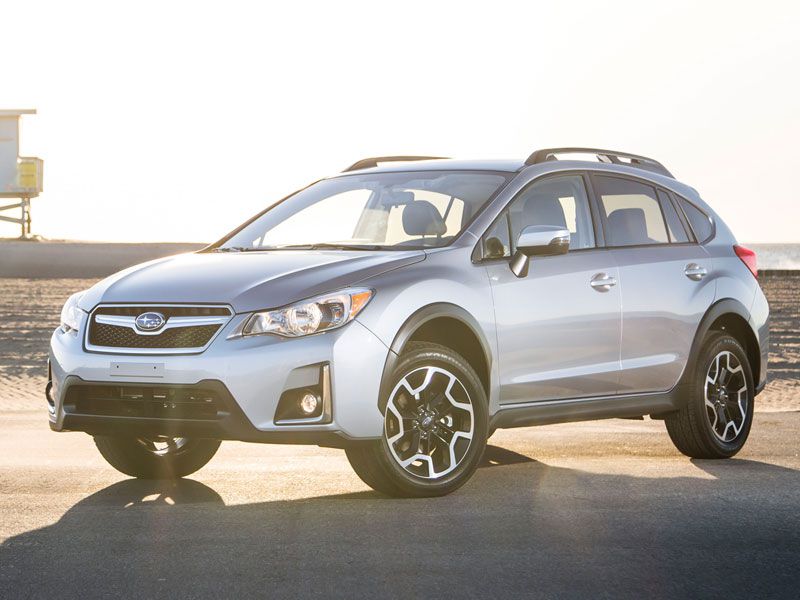 Small SUV Comparison Verdict
It might seem strange to compare one compact Subaru SUV to another, but that's exactly what shoppers will be doing right on the showroom floor. These two compact small SUV comparison participants are similar enough in price and size to trigger more than a few head-scratching moments from potential buyers. Breaking it down, the Subaru Forester clearly has the cargo space and horsepower advantage, regardless of whether its turbocharged engine is selected or not, while the Subaru Crosstrek edges out its cousin when it comes to fuel efficiency. Whichever one of these characteristics is more important to you in the long run will ultimately help you make your decision as to which vehicle you will end up parking in your driveway.