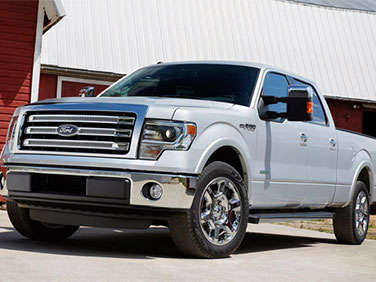 It wasn't long ago that the term 'nice truck' referred to one that was a capable workhorse, fit to tow a heavy trailer, haul home a load of sheet rock, or tackle rough terrain on the way to the job site.  Nowadays, all of those same descriptors still apply, but they've also been enhanced by the serious amount of luxury gear that has been stuffed into modern full-size pickups.  Nice trucks in 2013 don't just get the job done - they get it done in style, and offer the kind of equipment that rivals that of a full-size sedan in terms of comfort and convenience.
Let's take a quick look at six nice trucks for 2013 and see what the top trim level for each of the major pickup players has to offer.
Nice Trucks For 2013 - 01 - 2013 Ford F-150 Limited
The 2013 Ford F-150 actually provides more than few trim levels that could be considered 'premium,' including the King Ranch and the Platinum, but there's one edition of this full-size pickup that tops them all: the Limited.  The Ford F-150 Limited offers more standard equipment than any other model, and some of its highlights include the MyFord Touch digital interface, rear parking sensors, heated front and rear seats (the Limited is SuperCrew only) with ventilation for the forward buckets, enormous 22-inch rims, keyless entry, power adjustable pedals, leather upholstery, a navigation system, power running boards, HID headlights, and a moonroof.  Four-wheel drive is also included with the F-150 Limited, and its standard power plant is a 3.5-liter, twin-turbo EcoBoost V-6 that is rated at 365 horses and 420 lb-ft of torque.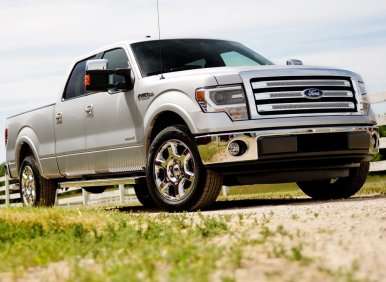 Nice Trucks For 2013 - 02 - 2013 Chevrolet Silverado Crew Cab LTZ
The 2013 Chevrolet Silverado is one of the F-150's stoutest competitors, and while it doesn't provide quite as layered a luxury experience as the Ford it does make sure to take care of its comfort-seeking buyers by way of the LTZ trim.  Opting for the four-door Crew Cab version of the Chevrolet Silverado LTZ ensures that you get the highest quotient of high-end goodies, including Bluetooth connectivity, dual automatic climate control, heated power seats up front with leather upholstery all around, wood trim, a remote starter for the engine, audio controls for those sitting in the second row, and a leather-wrapped steering wheel.  It's also possible to add a sunroof, a navigation system, power folding outside mirrors, an LCD entertainment system for the rear row, and ventilated seats to the LTZ as options.  20-inch rims can additionally be installed, and the LTZ's standard engine is a 315 horsepower, 5.3-liter V-8 that also produces 335 lb-ft of torque.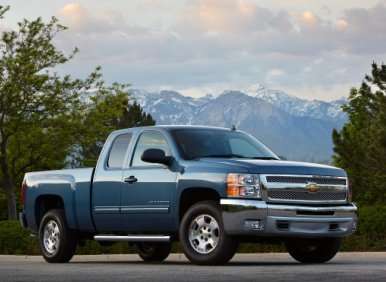 Nice Trucks For 2013 - 03 - 2013 Ram 1500 Laramie Longhorn Edition
Available only as a Crew Cab model (although two bed lengths can be specified), the 2013 RAM 1500 Laramie Longhorn Edition sits at the top of the heap when looking at Ram's extensive list of trim levels.  The Ram 1500 Laramie Longhorn Edition not only benefits from a few styling refreshes compared to the year before (as well as access to new drivetrain options as well as a redesigned frame), but it also comes with higher quality materials throughout its cabin.  The Laramie Longhorn Edition comes with parking assistance, leather and heating for front and rear seats, a navigation system, a mesh grille to set it apart from other versions of the truck, a bigger fuel tank, power adjustments and ventilated buckets for those sitting up front, a subwoofer, the Uconnect multimedia system, a spray-in bedliner, and HD radio.  The Ram 1500 Laramie Longhorn Edition includes a 5.7-liter Hemi V-8 engine that grinds out 395 horsepower and 407 lb-ft of twist, and four-wheel drive is also along for the ride.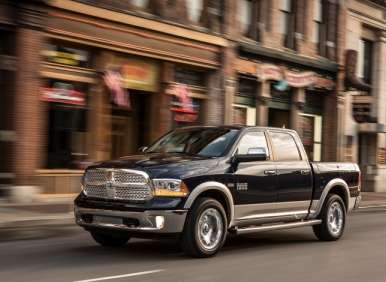 Nice Trucks For 2013 - 04 - 2013 Toyota Tundra Platinum
The 2013 Toyota Tundra hasn't been updated in quite some time, but it's still got a lot to offer full-size pickup shoppers seeking a luxurious ride.  The Toyota Tundra Platinum, a four-door CrewMax-only trim level, provides a distinctive exterior appearance with its additional chrome, sunroof, and 20-inch rims.  Inside, buyers will find a leather-wrapped steering wheel along with full leather seating (heated and cooled in the front), an upgraded stereo system from JBL, a trip computer, a backup camera that displays via the rearview mirror, power adjustments for the two forward positions, a power sliding rear window, and dual automatic climate control.  The Tundra Platinum features a 381 horsepower, 5.7-liter V-8 as its engine of choice (which also generates 401 lb-ft of torque), and all CrewMax trucks are four-wheel drive.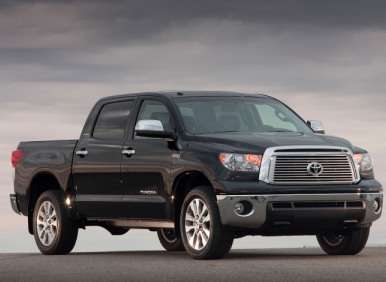 Nice Trucks For 2013 - 05 - 2013 GMC Sierra 1500 Denali
Ostensibly the mechanical twin of the Chevrolet Silverado, the 2013 GMC Sierra 1500 distinguishes itself from its sibling by way of the Denali trim level.  The GMC Sierra 1500 Denali isn't just plush, it's also exclusive from a styling standpoint, gaining its own custom grille and other exterior trim bits that do an excellent job of conveying its up-market status.  The Sierra 1500 Denali provides a heated steering wheel, turn-by-turn navigation (via OnStar), Bluetooth connectivity, a Bose stereo system, leather everything, heated and cooled front seats, wood trim, a rearview camera, and a 7-inch LCD navigation screen.  Available only in the Crew Cab body style, the Sierra 1500 Denali also provides a huge engine upgrade in the form of a 6.2-liter V-8 that produces 403 horsepower and 417 lb-ft of torque.  Even more intriguing is the fact that the Denali can be had with an optional all-wheel drive system not offered with any other version of the Sierra.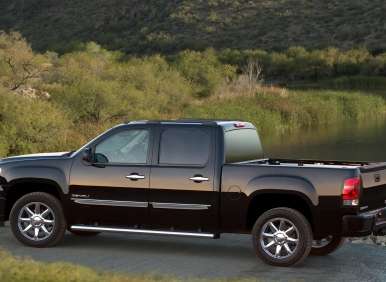 Nice Trucks For 2013 - 06 - 2013 Nissan Titan SL
The 2013 Nissan Titan is often forgotten when discussing the current full-size truck market, and while the top-level SL trim available with the pickup isn't quite as opulent as some of the other models on this list it is still worth mentioning.  Selecting the Crew Cab version of the Nissan Titan SL allows buyers to sample heated mirrors (with a power folding feature), heated leather seats, a navigation system, Bluetooth connectivity, Nissan's loudest sound system (in its pickup line), power adjustments for the first two vehicle occupants, dual automatic climate control, power-adjustable pedals, satellite radio, and 20-inch rims.  The SL trim comes with the Titan's only available engine, a 5.6-liter V-8 that generates 317 horsepower and 385 lb-ft of torque.