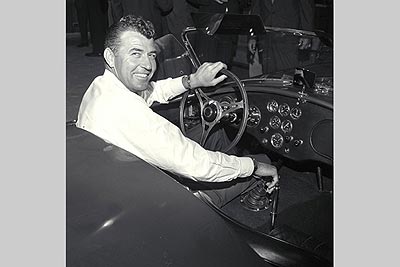 He's an icon and an enigma, the father of the Shelby Cobra and modified Mustangs of the past. A true living legend and, yet, at an age when many icons and inventors are cruising the golf links and catching the sun's rays from a retirement community, Carroll Shelby is cruising the fast-lane of niche vehicle development and catching the attention of auto enthusiasts. Shelby most recently helped Ford create a distinctive 325 horsepower version of the Mustang GT, the GT-H, a move that recalls the 1,000 special-edition, souped-up Ford-modified Mustangs of the 60's that were available through Hertz four decades ago in what came to be known as the 'Rent-A-Racer' program..
The Car: 2007 Ford Mustang Shelby GT-H
The special edition 1966 Rent-a-Racer model rented for $17 a day and 17 cents a mile. Today, they are among the most prized cars from the muscle car era, retailing at auction for as high as $120,000. It is expected that the new versions will rent for more than $100 a day and are also destined to become collector's editions. The new Shelby GT-H Mustangs will have a production run of 500 and are available now at airport Hertz rental locations in 17 major U.S. cities and Hawaii. Painted black with gold racing stripes, the newest 'Stangs have a performance hood, and exterior styling enhancements that include a special front fascia and side scoops, unique emblems, and a numbered dash badge with Carroll Shelby's signature.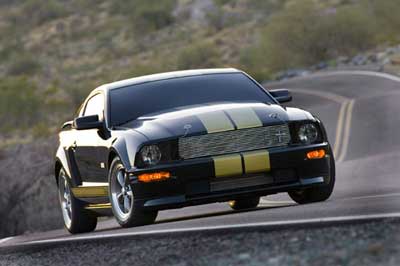 The Car: 2007 Ford Shelby Cobra GT500
On sale this summer, expect the 2007 Ford Shelby GT500 to sticker at around $42,000 for the coupe, and $46,000 for the convertible. And good luck to you, kind sir, in trying to get that price, for a car that makes 450-horsepower and 450 lb.-ft of torque from a supercharged 5.4-liter V8. With its rich muscle car heritage and updated styling cues, the Shelby Cobra GT500 takes its rightful place among the other marvelous machines to come out of the Shelby/Ford alliance. Mustang fans take note: despite all its performance upgrades, the Shelby Cobra GT500 still has the solid rear axle, though – so burnouts and great drag times should be easy to accomplish.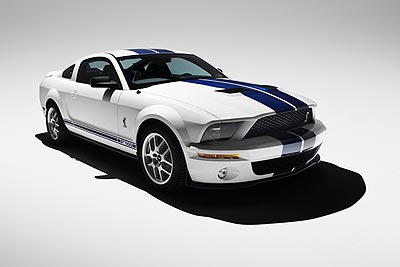 The Man: Take One for the Team
Shelby developed the Mustang GT-H with Hau Tai Tang, Ford's Special Vehicle Team (SVT) director, chief engineer of the new Mustang and the director of the Ford Shelby Cobra GT 500 project. Vietnamese-born Hau Tai Tang grew up poor, and dreamed that one day he would be able to own a Mustang. "Hau Tai Tang has good ideas -- and is the man who put the Tang in Mustang," quipped Shelby, who also grew up poor, in east Texas. "My father was a rural mail carrier. At three years old, I used to stand on the running boards and tell him to go faster! I used mules to pick cotton at 6, waited tables and flipped hamburgers in my teens, so I'm really compassionate for the worker," said Shelby.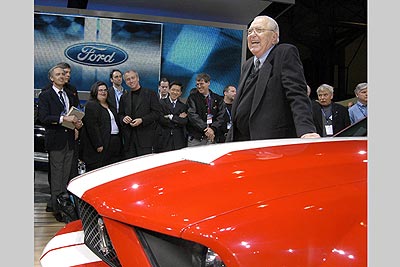 The Car: 2007 Ford Mustang Shelby GT-H
Ford, Shelby and Hertz first started renting Mustang Shelby 350GTH models forty years ago. The story goes that the first batch of racers were built with four-speed manual transmissions, a decision quickly reconsidered when it became quickly apparent that most were limping back to rental lots with toasty clutches and little rubber left on the wheels. In total, 85 original Rent-a-Racers were built with manual transmissions. So thank Dad when you climb behind the wheel of a 2006 Mustang Shelby GT-H only to find an automatic paddle staring back at ya. You can also thank them for the rental price -- $100 a day. If they only knew how to drive a machine like this, why, you'd be able to row your own darn oars!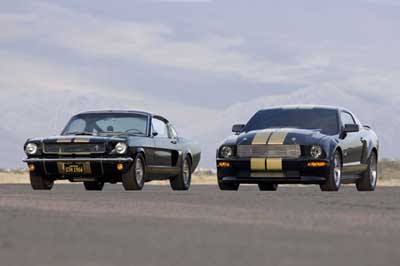 The Car: 2007 Ford Shelby Cobra GT500
Outside, the Shelby Cobra GT500 is accented by dual racing stripes, GT500 lettering, Shelby badges, those 19-inch alloys, and revised front and rear fascias. A rear diffuser has been added, and the integrated spoiler is smaller than that found on the regular Mustang GT. Affixed to the front air dam is an air splitter, and the aluminum hood has a noticeable center "dome" under which lies the supercharger.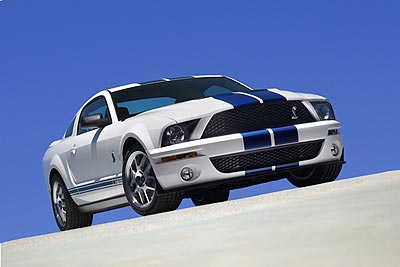 The Man: Flying High
With only a "little driving" under his belt, Shelby joined the U.S. Air Force training command following high school and became a pilot, training with Chuck Yeager. "After leaving the service at 29, I started driving and within three years I was on a factory team in Europe. I had always wanted to build my own cars," said Shelby. He would eventually , thanks to partnerships with Ford and other domestic automakers. "Working with a big company you can do more than working with a niche company, in my opinion," posited Shelby. "I've worked with all three companies at different times, but you have to work with people day-to-day. I love the business, but I'm just a little bitty cog. I really enjoy working with Hau Tai Tang."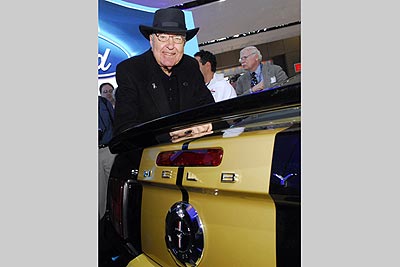 The Car: 2007 Ford Mustang Shelby GT-H
To imbibe the 2006 2007 Ford Mustang Shelby GT-H with a genuine performance kick, the Shelby Team raided the Ford Racing Performance Parts (FRPP) bin to add additional adrenaline to the already-powerful Mustang GT. The car's 4.6L V-8 automatic powertrain comes with a special racing Power Pack that includes a 90mm cold air kit, a muffler kit and Ford's racing engine calibration. To get the extra power to the ground, FRPP also added its Handling Pack, which brings special dampers, lowering springs, sway bars and a strut tower brace, along with a Ford Racing 3.55:1 ratio rear axle assembly. These modifications bring the GT-H's horsepower to 325 and torque to 330 ft lbs, a 25 HP and 10 ft lb increase respectively.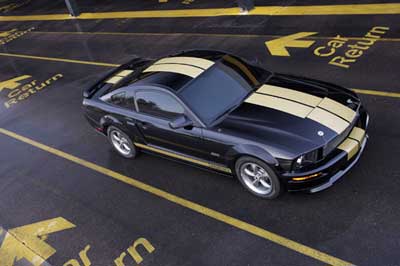 The Car: 2007 Ford Shelby Cobra GT500
The 2007 Ford Shelby GT500 will have a supercharged 5.4-liter V8 that generates 450 horsepower and an estimated 450 lb.-ft. of torque. One special feature of this engine is its aluminum cylinder heads, the same type used in the Ford GT. The Cobra comes with a six-speed manual transmission and standard 18-inch wheels wearing 255/45 tires up front and 285/40 rubber in back. It's a rear-wheel-drive beast, riding on a retuned MacPherson strut independent front and solid axle rear suspension. Ford's SVT team spent plenty of time modifying the suspension setup, in order to handle the Shelby GT500's increased performance and power demands.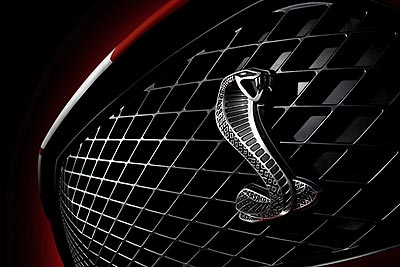 The Man: Rust Never Sleeps
"What's my favorite car? It's always the next one I'm working on," said Shelby, with a laugh, revealing information that made his hosts nervous about his candor. "Right now, I'm working with Hau Tai Tang on the '09 Mustang, and I expect I'll be working with Ford when I do go horizontal. I could live to be 100, and never get bored. I'd rather wear out than rust."
Photos courtesy of Ford