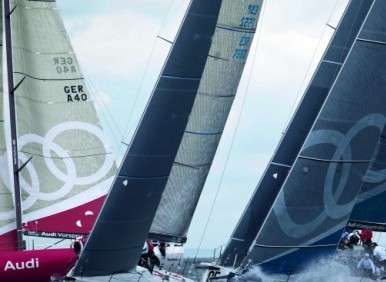 Some of the most comfortable luxury SUVs are also those which feature a footprint that can seem as formidable as that offered by a personal yacht. Premium sport-utility vehicles take advantage of their size to cram in as much luxury gear as possible while still offering exceptional practicality and the kind of passenger capacity that wouldn't look out of place on the spec sheet of a Greyhound bus. Driving a full-size, upscale SUV makes a definite statement, and even when parked these big trucks can be just as imposing as when they are underway.
Let's take a look at eight plus-size luxury SUV cruise ships that are putting into port at a dealership near you.
1. 2011 Infiniti QX56
The 2011 Infiniti QX56 shares its basic platform with the Nissan Armada, an SUV whose very name evokes a nautical theme and hints at the sheer size of the vehicle. The Infiniti QX56's styling looms large, with a brash personality that does more than hint at the level of luxury available within its spacious confines. As many as eight passengers can take advantage of the truck's three rows of seating, and 112 cubic feet of interior storage space can transform the QX56 from premium ride to cargo container in relatively short order.
The 2011 Infiniti QX56 is blessed with a 5.6-liter V-8 engine that offers more than enough motivation to keep its bulk moving forward with authority. Rated at 400 horsepower and 413 lb-ft of torque, the motor is matched with a six-speed automatic transmission and helps the Infiniti deliver a tow rating of 8,500 lbs. Despite its heft, the QX56 is able to boast a smooth and controlled ride thanks to the availability of a "Hydraulic Body Motion Control" feature that actively works to keep the truck level and composed through the corners. Four-wheel drive can also be specified with the SUV.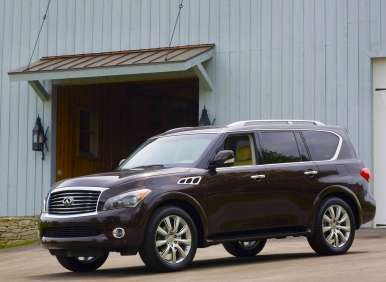 2. 2011 Cadillac Escalade ESV
The 2011 Cadillac Escalade ESV matches the QX56 pound for pound when it comes to big-bodied SUV goodness. The Cadillac Escalade ESV represents the extended wheelbase edition of the iconic luxury truck, adding gobs of extra room to an already copious interior and providing accommodations for a whopping 137 cubic feet of cargo or as many as eight passengers. The vehicle can also be ordered with a Magnetic Ride Control suspension package that automatically adjusts shock response according to road conditions.
The 2011 Cadillac Escalade ESV makes use of the same 403 horsepower, 6.2-liter V-8 offered in its "smaller" Escalade sibling. Also capable of generating 417 lb-ft of torque, the Escalade ESV's mill is shifted via a six-speed automatic transmission and buyers can choose between either rear-wheel drive or all-wheel drive versions of the SUV. Towing capacity for the Escalade tops out at 8,000 lbs.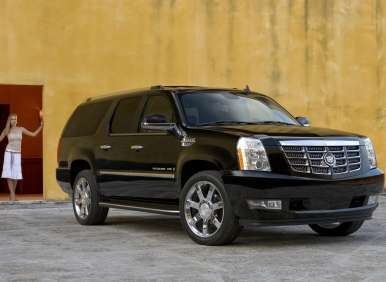 3. 2011 Mercedes-Benz GL-Class
The 2011 Mercedes-Benz GL-Class adopts the functionality of a plus-sized sport-utility vehicle without sacrificing any of the characteristics that have made the German brand a top selection amongst luxury shoppers. The Mercedes-Benz GL-Class maintains a smooth ride thanks to the inclusion of air suspension across all trim levels, and the vehicle can swallow as many as seven passengers or 83 cubic feet of luggage with the rearmost rows out of the picture.
The 2011 Mercedes-Benz GL-Class offers a more diverse range of powertrain choices compared to some of its competitors. The SUV provides two different V-8 options: a 4.7-liter unit good for 335 horsepower and 339 lb-ft of torque and a 5.5-liter motor that generates 382 horsepower and 392 lb-ft of torque. A turbodiesel V-6 engine, displacing 3.0-liters and offering 210 horses and 400 lb-ft of twist can also be ordered. Each provides up to 7,500 lbs of towing capacity, is matched with a seven-speed automatic transmission and comes paired with standard 4MATIC all-wheel drive.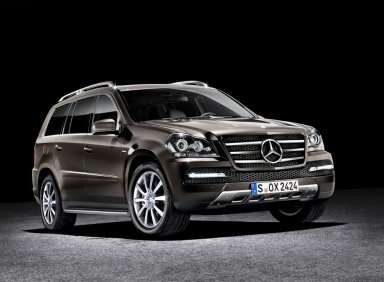 4. 2011 Lincoln Navigator L
The 2011 Lincoln Navigator L stretches out the standard Navigator, providing another 24 cubic feet of total cargo space (for a total of 128 cubic feet) and still offering seating for up to eight passengers with the optional second row bench installed. The vehicle's plush, leather and wood-trimmed interior is a bastion of comfort, and the vehicle's available air suspension helps to keep the SUV level even when loaded to the gills.
The 2011 Lincoln Navigator L can be ordered in two-wheel and four-wheel drive editions, and each is powered by the same 5.4-liter, eight-cylinder engine. Rated at 310 horsepower and 365 lb-ft of torque, this motor and its six-speed automatic transmission provide solid acceleration and enough grunt to tow a substantial 9,000 lbs of trailer weight.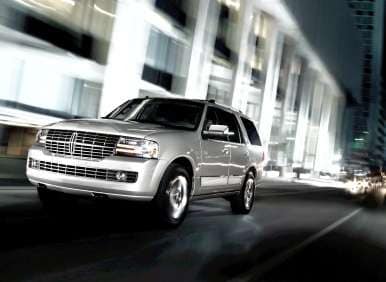 5. 2011 Audi Q7
The 2011 Audi Q7 is one of the more nimble full-size luxury yachts on our list. The Audi Q7 counts standard quattro all-wheel drive and optional adaptive suspension as two of its primary road-holding features, and it also offers seven passenger comfort as well as 72.5 cubic feet of total interior space that can be dedicated to hauling oversized gear (with the rear seats folded down).
In addition to its superbly-sculpted interior environment, the 2011 Audi Q7 comes with a trio of V-6 engine choices. The entry-level SUV is outfitted with a supercharged 3.0-liter unit that is good for 272 horsepower and 295 lb-ft of torque, while the S line edition of the Q7 squeezes 333 horsepower and 325 lb-ft of torque out of a similar setup. The Audi can also be had in diesel form – the Q7 TDI – and its 3.0-liter turbocharged six-cylinder lump provides 225 horsepower and 405 lb-ft of torque. Eight-speed automatic transmissions are standard all around, and the Q7 can tow up to 6,600 lbs.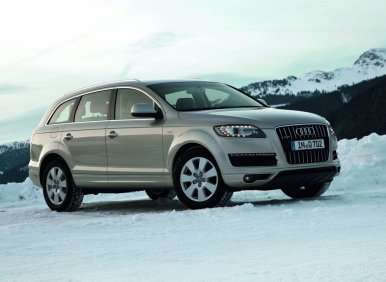 6. 2011 Lexus LX 570
The 2011 Lexus LX is well known for being an off-road friendly luxury cruise ship. The Lexus LX 570 offers seating for seven thanks to a set of fold-down third row accommodations, and it can haul up to 83 cubic feet of equipment when properly configured, but the real story for this full-size SUV is its advanced four-wheel drive system, its range of high end driving technologies (including Crawl Control for creeping slowly over especially treacherous terrain) and its remarkably composed and comfortable ride.
The 2011 Lexus LX features a 5.7-liter V-8 engine that has been tuned to provide 383 horsepower and 403 lb-ft of torque. A six-speed automatic transmissions handles the shifting duties for the eight-cylinder engine, and towing capacity checks in at 8,500 lbs.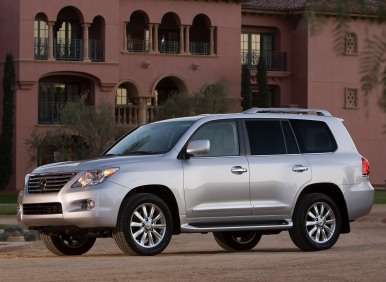 7. 2011 Land Rover Range Rover
The 2011 Land Rover Range Rover is another trail-friendly big SUV that comes from a long tradition of offering unstoppable four-by-four capabilities while also incorporating high class luxury in terms of both features and styling. The Land Rover Range Rover seats only five passengers (and can handle as much as 74 cubic feet of cargo), but it more than makes up for it through the availability of electronically-locking front and rear differentials, adaptive suspension, a navigation system that works just as well in the woods as on the boulevard and a terrain management system that can customize the Range Rover's performance to match even the most difficult driving scenarios.
The 2011 Land Rover Range Rover starts out with a 5.0-liter V-8 engine under the hood that is capable of producing 375 horsepower and 375 lb-ft of torque. A supercharged version of this same motor can also be installed between the SUV's front fenders, and it ups the power ante to 510 horses and 461 lb-ft of torque. A six-speed automatic transmission and full-time four-wheel drive are standard on the Range Rover, and the vehicle can be counted on to tow a respectable 7,700 lbs when properly equipped.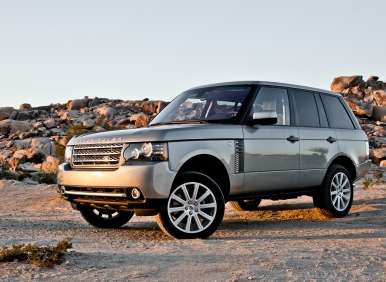 8. 2011 GMC Yukon XL Denali
The 2011 GMC Yukon XL Denali is an interesting balance between full-size SUV capabilities and plush luxury accoutrements. The GMC Yukon Denali gains unique interior and exterior styling when compared to the standard Yukon, but it still soldiers forward with eight passenger seating and an eye-popping 137.4 cubic feet of total cargo space thanks to its extended wheelbase design. Other Denali features included heated first and second row leather captain's chairs and a Bose surround sound audio system.
The 2011 GMC Yukon XL Denali benefits from a special 6.2-liter V-8 that churns out 403 horsepower and 417 lb-ft of torque. All-wheel drive can be added to the mix, and a six-speed automatic transmission is the only gearbox available with the SUV. Towing capacity for the Denali is rated at 7,900 lbs.