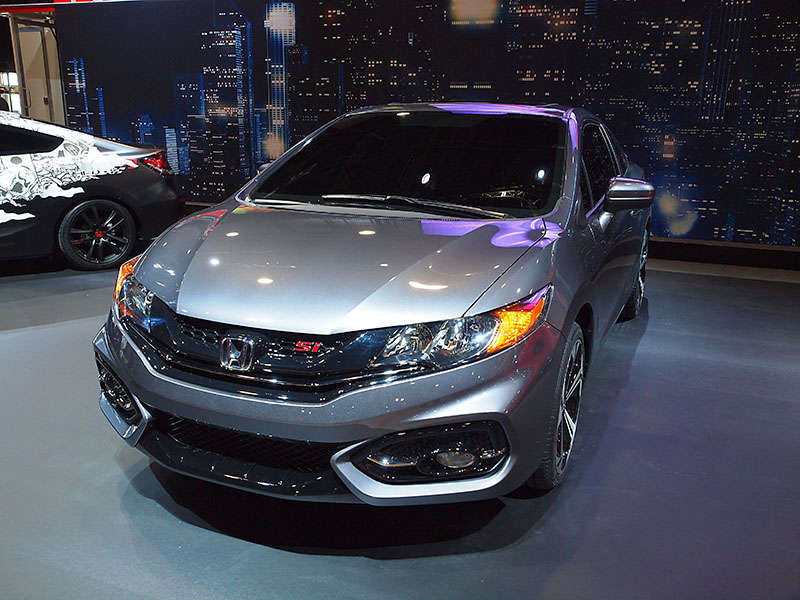 A nameplate that helped bridge the original gap between the tuning world and the mainstream auto industry returned to the scene of the crime at this year's SEMA Show, where the 2014 Honda Civic Coupe, as well as the high-performance 2014 Civic Si models, had their recent debuts. Now, it's not exactly a common occurrence for a semi-high-profile production vehicle like the 2014 Honda Civic Coupe to be introduced at an aftermarket tradeshow, even if it's SEMA, but the automaker is clearly looking to inject a new sense of dynamism to its lineup.
Unfortunately, Honda didn't inject any additional power into the 2014 Honda Civic Coupe—although the Si gets a bit of a bump, as noted below—but the standard car does get a fairly significant exterior makeover. The changes are particularly noticeable up front, and, to be more specific, just below the front bumper. Those prominent fog-lamp housings provide a very distinctive new appearance that, from some angles, calls to mind the funky front grilles of the 1979-81 Pontiac Firebird.
Other exterior tweaks to the 2014 Honda Civic include a few illumination upgrades, in the form of a freshened headlight design and new taillight lenses, along with a coupe-exclusive grille, bumpers, and side mirrors; revised wheel design will be available, too.
As for the new 2014 Honda Civic Si models, they do, as mentioned, get some additional pop under the hood. While the 2013 cars enjoyed 201 hp and 170 lb.-ft. of torque from a 2.4-liter 4-cylinder engine, the refreshed versions boast retuned exhaust systems that move the needle to 205 hp and 174 lb.-ft. of torque. To put those outputs into context, the standard 4-cylinder 2014 Honda Civic models have 2.0-liter powerplants that make 140 hp and 128 lb.-ft. of torque.
It's also important to note that Honda will be providing new opportunities to reach the untapped performance potential of much of its lineup, thanks to a new program to offer retail customers access to the Honda Performance Development (HPD) parts catalog—originally created solely to support the automaker's U.S. racing programs.
And uncoincidentally, the first street cars to get the HPD treatment happened to debut at the 2013 SEMA Show.
HPD 2014 Honda Civic, Supercharged CR-Z Play Their Parts at SEMA
Right in tune with the rest of the brand's SEMA celebration, the 2014 Honda Civic also was a big part of the automaker's HPD efforts. Honda's U.S. race-engineering partners actually created a pair of high-performing Civics, including a street-friendly edition that was souped up with an HPD racing engine, brakes, suspension components and wheels. Then, focusing on its original area of expertise, HPD also introduced a 2014 Honda Civic Si Coupe racecar that was spec'ed for IMSA's Continental Street Tuner series.
But interestingly enough, it's the company's sport hybrid that will be the first car to offer HPD upgrades via the Honda dealership network, and SEMA visitors were among the first to see what's available—courtesy of a SEMA-fied Honda CR-Z. Just like the CR-Z that ran this year's Pike's Peak International Hill, the SEMA Show version benefits from a comprehensive upgrade to its suspension, exhaust, and braking systems, complemented by a high-efficiency supercharger.
The result is a raised power output of 187 hp and 171 lb.-ft. of torque, marking jumps of 57 of the former and 31 of the latter.
And just to be perfectly clear, that HPD supercharger will be available to customers beginning in the spring of 2014, when it will join a wide range of HPD CRZ performance enhancers that already are on sale now.
The bottom line from John Mendel, executive vice president of auto sales for American Honda Motor Co., Inc.: "With the further advancement of the 2014 Civic Coupe and Si models and an exciting path forward for performance parts drawing on our racing experience we are making a statement about our commitment to the fun to drive character of the Honda brand."