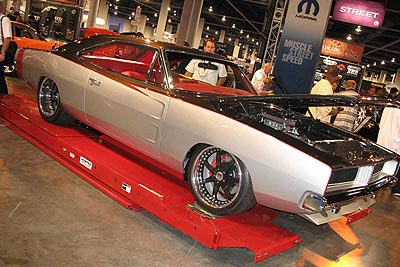 SEMA Mopar – Photo Gallery: Las Vegas – Mopar, Dodge and Chrysler's Motor Parts division, has long been known for offering the brands' faithful plenty of go-fast goodies for their rides, and no where was that more apparent this November than at the 2006 SEMA show. Models from 1959 to 2007 were proudly displayed outside along Mopar Alley as well as inside under the lights. Among them was this 1969 Dodge Charger, host to more than its share of upgrades. Connected to a 727 Torqueflite transmission is a 440 Wedge engine stroked to 500 cubic inches with a 4.15-inch forged crankshaft, Mopar Performance aluminum Wedge heads and intake, a Barry Grant Mighty Demon 835 carburetor, and an Edelbrock Performer RPM nitrous setup.
1959 Chrysler 300C
Among the hardware found on this 1957 Chrysler 300C is a 494 Hemi engine with aluminum heads, Kent Performance headers, and a 727 Torqueflite transmission. Intro wheels measure 18 inches up front and 20 inches out back, with corresponding 255/45 and 295/45 tires.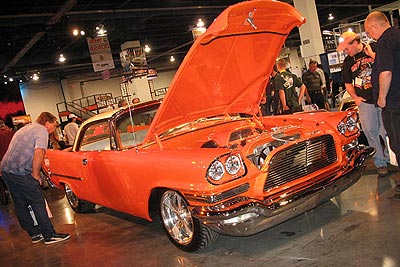 1968 Dodge Charger
Mopar Alley was full of some sweet rides, including this NASCAR Street Project 1968 Dodge Charger. Under the hood is a 427 cubic-inch Stroker Hemi, which is mated to a five-speed Tremec manual transmission. Stopping power is provided by 14-inch rotors up front and 13-inch discs out back, while alloy wheels measure 18 inches and 19 inches, respectively.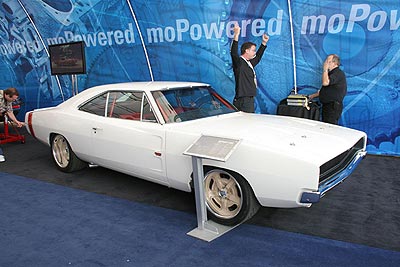 1968 Plymouth Barracuda
Who doesn't love classic convertibles? Well, some people don't, but even they'd have a hard time saying anything negative about this 1968 Plymouth Barracuda. Power comes from a 440 SuperCommando pushing 530 horsepower and 490 lb.-ft. of torque, all of which is delivered to the ground thanks to a 727 Torqueflite transmission.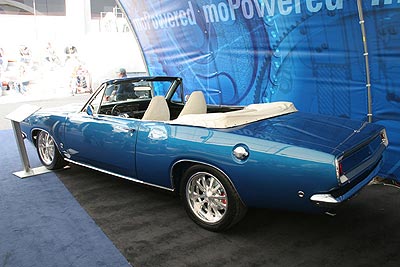 1970 Dodge Challenger
If you're a car movie buff, this ride might look familiar. It's not the exact car, but it's pretty close to the 1970 Dodge Charger filmed in the movie Vanishing Point. The acting was as bad as the script, but seeing and hearing that white coupe blast through the desert was worth sitting through all the crap. Power comes from a 6.1-liter Hemi that pumps out 460 horsepower and 432 lb.-ft. of torque. Other hardware includes a five-speed Tremec transmission, coil-overs all around, and a rack-and-pinion steering system.
1970 Dodge Challenger Convertible
Variety is the name of the game at SEMA. Not only do you have countless parts and vehicles, you've also got multiple variations. On the previous page we detailed a 1970 Dodge Challenger hardtop – here's a 1970 Dodge Challenger convertible. This Mopar promises to move with authority thanks to 582 horses and 540 lb.-ft. of torque.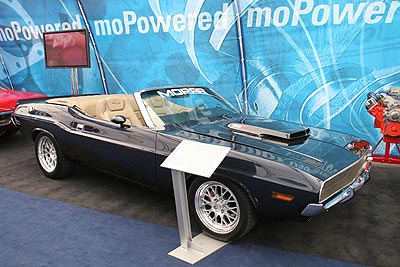 1970 Dodge Charger
After a long week of work, it's nice to hit the pub on Friday night for a cold Black & Tan. On the weekends, it's all about black and orange, or at least it would be if this 1970 Petrol Advertising Dodge Charger, made from reproduction parts, was in one of our garages. A five-speed Tremec transmission controls output from a 472 cubic-inch Stroker dual-quad Hemi, while 19-inch Bonspeed alloys work with Pirelli rubber in putting power to the pavement.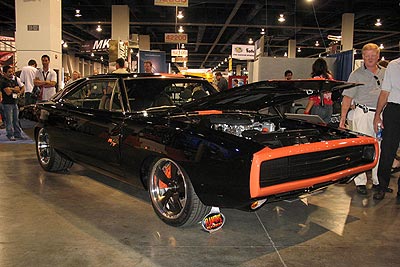 1970 Plymouth Road Runner
Road Runner – some think internet service, others think cartoons, but Mopar guys think "Where?? Where??" Today, examples like this 1970 Plymouth are pricey classics highly regarded in the Mopar arena and elsewhere. The vehicle pictured here boasts 572 horsepower and 630 lb.-ft. of torque.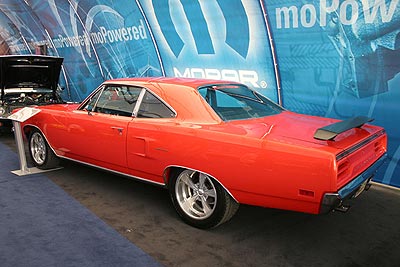 1970 Plymouth Road Runner
One look at this stealthy 1970 Road Runner, and one must wonder how Plymouth went from this to utter obsolescence about 30 years later. Affectionately called Hammer, the bird pictured here runs a 500 cubic-inch supercharged big block cranking out 750 horsepower.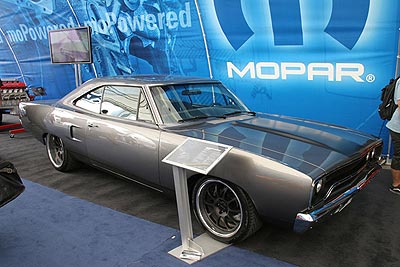 1971 Plymouth Barracuda
To stand up to the scrutiny of a SEMA crowd, a vehicle has to be better than perfect, as is this 1971 Plymouth Barracuda. Under the hood is a 472 cubic-inch Mopar crate engine that offers 525 horsepower and 540 lb.-ft. of torque. A five-speed manual transmission pushes power to 18-inch Fikse wheels wrapped in 225/50 front and 295/45 rear tires.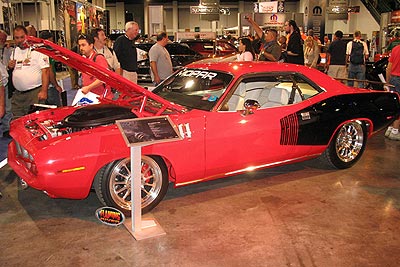 1971 Plymouth Barracuda Convertible
Better than original is one way to describe this 1971 Plymouth Barracuda convertible. Behind the spotless yellow and black exterior is a 528 cubic-inch Hemi that's good for a very intimidating 850 horses and 700 lb.-ft. of chassis-twisting torque. A six-speed Viper-sourced manual transmission should allow the driver to ram through the gears with ease.