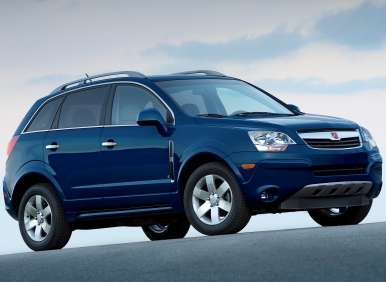 A different kind of car company, Saturn was set up in the mid-1980's in response to the Japanese invasion of small, fuel-efficient cars. While technically a subsidiary of General Motors, initially Saturn operated with a great deal of autonomy from its corporate parent in Detroit.
Saturn cars were built in their own factory in Spring Hill, Tenn. The company had its own model lines, none of which were shared with any other GM brand. It even had its own dealer network, though in actuality, most Saturn dealers had other GM dealerships. Also, all Saturn models were constructed with a steel frame over which were hung plastic body panels. The idea was this would make the cars easier to change, style-wise, over time. There was one other concept peculiar to Saturn, one no other manufacturer could, and frankly still can't claim.
Saturn was set up with a no-haggle pricing policy. The price on the sticker was the price customers paid; there was no "horse-trading" back and forth between buyer and seller. The idea was to take the adversarial relationship out of new car buying, making the dealership more friendly for women, younger buyers, and people in general who simply did not like the hassle of the haggle.
The first Saturn S-Series car rolled off the assembly line in 1990, and by all accounts, the Saturn idea worked—at first. Then, quality problems started showing up. (Hey it was still a 1990's GM product after all). Further, the model line was left to languish with no significant updates, or truly new models added to it for 10 years from 1990 to 2000. In 2000 Saturn's L-Series mid-size car debuted, a few years later the Saturn Ion debuted. Woefully uncompetitive, neither car made it past one generation of production.
However, there was one bright spot in there, the Saturn Vue.
Introduced in 2001, as a 2002 model, Vue was GM's first small car-based crossover. This alone attracted attention to the model. Helped considerably by Saturn's no-haggle policy and an extremely reasonable price, Vue quickly became Saturn's best-selling model. Despite its success, with Saturn being killed off in 2009, there were but two generations of Saturn Vue offered, between 2002 and 2009.
Saturn Vue Used Car Buyer's Guide: 2002 - 2007
Designed specifically for the street, the Vue SUV was more about image than capability. However, by 2002 most manufacturers had come to the realization the vast majority of SUV buyers were more about the U than the S. In other words, it was utility they were after—off road Sport capability wasn't that much of a consideration. 
And, in that regard, the Vue was quite capable. The Saturn had excellent passenger space for a vehicle of its size, and the Vue featured a fold-flat front passenger seat to enable the accommodation of more cargo when needed.
The model was initially offered in one state of trim, which helped keep pricing in line. Keeping in mind the Vue would spend more time on the street than on trails, its planning team specified an all-independent suspension system. Coupled with the Vue's electric power steering, this was intended to give the Vue a carlike ride and handling traits. It worked; early reviews praised the Vue's handling as well as its feature set. Eventually a performance model was added to the Vue lineup, in addition to a hybrid version.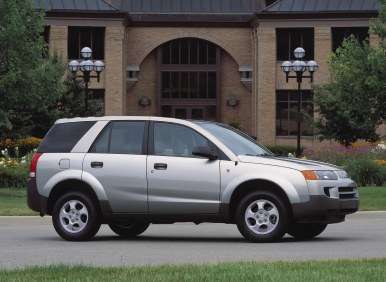 Saturn Vue Used Car Buyer's Guide: 2002
Saturn's Vue debuted with two engine offerings. The base powerplant was a 143-horsepower, 2.2-liter inline four, which generated 152 ft-lbs of torque. The standard transmission offering was a five-speed manual, which fed the front wheels. An extra-cost option was the Vue's continuously variable transmission, which was the first application of that technology to an SUV. All-wheel drive was an option for CVT-equipped Vues.
The "big" engine was a 181-horsepower, 3.0-liter V6, which made 195 ft-lbs of torque. Saturn engineers chose to pair a five-speed automatic transmission with the V6, as well as all-wheel drive.
The 2002 Saturn VUE's equipment list contained sixteen-inch steel wheels and wheel-covers, intermittent wipers (front and rear), privacy glass, a roof rack, a front console with storage, front cupholders, three 12v power ports, and a tilt steering wheel. Interior air filtration, A/C, lights for reading and in the cargo area, floor mats, and dual vanity mirrors also graced the Vue. The standard audio system was a four-speaker affair with an AM/FM radio.
Following the European packaging model, the bigger engine came bundled with more standard features. The 3.0-liter V6 Vue featured alloy wheels, a rear defogger, power windows with one touch operation for the driver, power door locks and mirrors, a height adjustable driver's seat, Captain's chairs for the driver and front passenger, reclining rear seats, cruise control, an auto-dimming electrochromatic inside rear-view mirror, a compass, a trip computer, and a six-speaker audio system with an in-dash CD player.
Safety gear highlights included child seat anchors, an alarm system with an engine immobilizer, daytime running lights, disc brakes up front (drums in the rear), and electronic brakeforce distribution. Traction control was an option, as was ABS and side curtain airbags.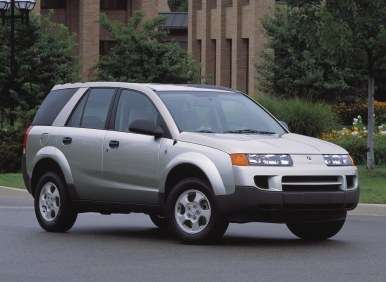 Saturn Vue Used Car Buyer's Guide: 2003
Those who liked the Saturn Vue's V6, but preferred front drive to all-wheel drive, were granted their wish for 2003. The Vue's optional V6 engine was paired with the front-drive powertrain going into its second model year. Heated leather seats and a heated steering wheel wrapped in leather were added to the Vue options list as well. The sound system got an optional upgrade too—six speakers, a 180-watt amp and a subwoofer.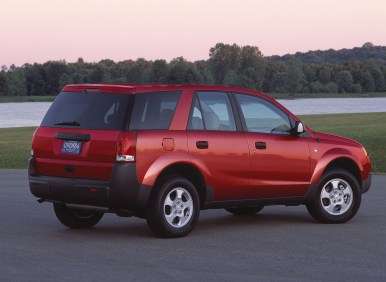 Saturn Vue Used Car Buyer's Guide: 2004
The 3.0-liter V6 gave way to a 250-horsepower 3.5-liter unit—engineered by Honda— which made 242 ft-lbs of torque. The five-speed automatic transmission was swapped out for a Honda-sourced five-speed unit as well.
Seventeen-inch wheels were specified for the new V6's all-wheel drive powertrain as standard equipment. Front-drive V6 models could get the seventeens too, but as an option. Another new standard offering for the V6 Vue was ABS (still an option for the four-cylinder).
All Vues got an interior upgrade in an effort to reduce cabin noise, and simultaneously got a nicer look in the process. Seatbelt pre-tensioners were added to the front restraints as standard equipment.
New entertainment options for 2004 were CD players capable of decoding MP3 discs, satellite radio and a rear seat, DVD-based video entertainment system.
Vue Red Line debuted as well, taking advantage of the new V6 engine. The model was laced with sportier suspension tuning for better cornering performance. It also featured eighteen-inch alloy wheels, an air dam-like front bumper with a large air intake, a chromed exhaust tip, black leather and suede sport seats, footwell lighting, and a performance-oriented gauge cluster. Vue Red Line's special interior features also included a higher quality audio system.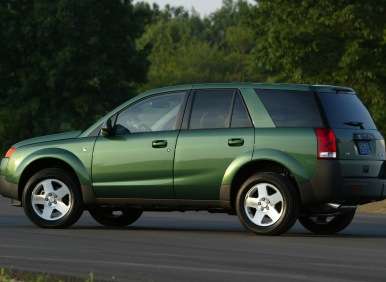 Saturn Vue Used Car Buyer's Guide: 2005
The CVT was discontinued because of quality issues, so a four-speed automatic replaced it. All-wheel drive was dropped from the list of possibilities for four-cylinder Vue models, but they did get new wheels and new upholstery for the seats.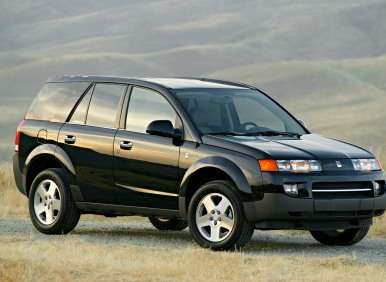 Saturn Vue Used Car Buyer's Guide: 2006
For 2006, Saturn's product team prescribed a model refresh. This endowed the Vue with a new front bumper, a new grille and a new rear fascia. The 2006 Vue also got a new center console and center stack with a better head unit for the audio system. Personal portable music players could now be incorporated into the system as well, thanks to its auxiliary input jack.
Base 2006 four-cylinder models came with sixteen-inch wheels, A/C, power windows, door locks and mirrors. OnStar, steering wheel audio controls, and cruise control were also standard equipment. Further, a tilt steering wheel, a height-adjustable driver seat, and a six-speaker AM/FM CD-based stereo audio system were included in the base price.
To all of the above, the six-cylinder Vue added sixteen-inch alloy wheels to front-drive models and seventeen-inch alloys to AWD equipped Vues, plus a leather-wrapped steering wheel.
The V6 Red Line Package continued with a lowered, sport-tuned suspension system; eighteen-inch wheels, black leather seats with suede inserts, a six-way power-adjustable driver's seat; unique instrumentation; and ambient footwell lighting.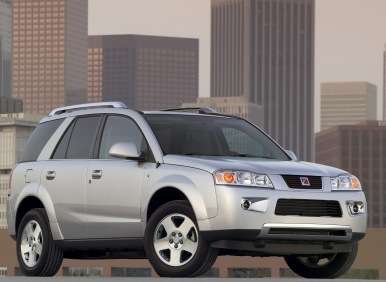 Saturn Vue Used Car Buyer's Guide: 2007
The hybrid Saturn VUE Green Line debuted with a 170-horsepower, 2.4-liter inline four-cylinder gasoline engine, supported by an electric motor. Vue Green Line used a mild hybrid configuration, meaning the electric motor was not capable of propelling the vehicle on its own. Still, the electric motor was said to improve fuel economy by some 20 percent. Vue Green Line used a 36v NiMH battery.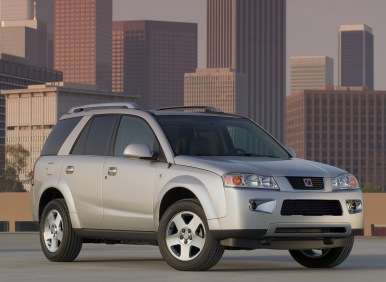 Saturn Vue Used Car Buyer's Guide: 2008 - 2009
An all-new Vue model debuted, abandoning many of the tenets of the basic Saturn philosophy. Its body was made of steel, it was built in Mexico—not Spring Hill, and it was essentially a badge-engineered version of the German Opel Antara.
The good news is it was light years better than the Saturn Vue it replaced. The new model was offered in three trim levels; XE, XR, and Redline. All three offered a choice of front- or all-wheel drive.
Vue XE's basic engine choice was a 2.4-liter inline four-cylinder with 169 horsepower and 160 ft-lbs of torque, paired with a four-speed automatic transmission. XE's V6 option was a 215-horsepower, 3.5-liter making 220 ft-lbs of torque. That engine was mated to a six-speed automatic transmission. The hot setup was a 257-horsepower, 3.6-liter V6 available only for Red Line and XR. Capable of 248 ft-lbs of torque, it too, used a six-speed automatic—but this transmission also had a manual shift feature called TAPshift. The manual function was standard with the Red Line, optional with the XR.
Buyers had a choice of front- or all-wheel drive, regardless of their engine or model selection.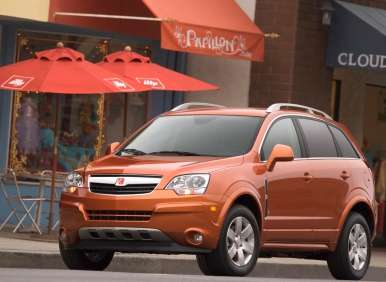 Saturn Vue Used Car Buyer's Guide: 2008
For 2008, Vue XE came with sixteen-inch alloy wheels, A/C, keyless entry, full power accessories (doors, windows and exterior mirrors); and of course, OnStar telematics. Other highlights included steering-wheel audio controls, cruise control, a tilt steering wheel, a height-adjustable driver's seat and a CD/MP3-capable stereo audio system with satellite radio and an auxiliary input jack.
To all of the above, the XR added seventeen-inch alloy wheels, roof rails, an automatic climate control system, a power adjustable driver's seat, a leather-wrapped steering wheel, heated mirrors, and lighted vanity mirrors.
The Red Line came set up with a lowered, sport-tuned suspension system, a rear spoiler, dual chromed exhaust outlets, eighteen-inch alloy wheels, a pair of heated front sport seats, combination leather and suede upholstery, and unique performance-oriented instrumentation.
Many of the XR's additional features were available as options on the XE. Leather seating and heated seats were also available for both. Key options for both XE and XR included a premium audio system with a CD changer, a navigation system, rain-sensing wipers, and a remote vehicle starter.
Safety gear included ABS, stability control, traction control, side airbags for the front seat, side curtain airbags, and active headrests for whiplash prevention.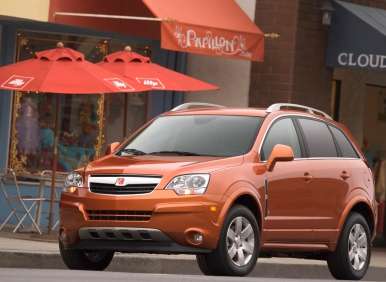 Saturn Vue Used Car Buyer's Guide: 2009
For its last year of production, Saturn's product team fitted a four-cylinder engine to the XR packaged Vue, and Bluettoth connevctivity was introduced.