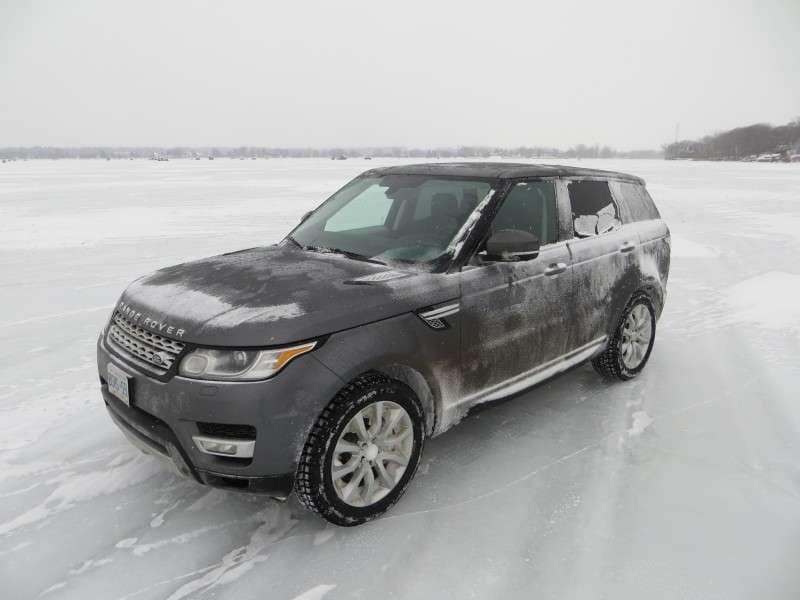 The 2014 Land Rover Range Rover Sport marks the continued evolution of the luxury SUV brand, a dramatic flourish that underlines the investment in technology and design that has seen Land Rover rise above its troubled post-millennium decade where ownership and direction were never a sure thing.  The Land Rover Range Rover Sport is an achievement not simply because of its outstanding performance, but also due to the fact that this is a premium people mover that makes sense: a family-friendly daily driver that focuses on comfort and performance on the pavement as effectively as it does off, with virtually no sacrifice in either measure.
There's never been a better time to be at the top of one's game, if one's game happens to be tempting luxury shoppers to spend a significant sum on a sport-utility vehicle.  The Porsche Cayenne, the BMW X5, the Lexus LX, and the Mercedes-Benz ML-Class and GL-Class are all aiming to be the next big thing at the country club, which makes the Range Rover Sport's stand-out turn at the plate that much more impressive.
2014 Land Rover Range Rover Sport Review: Models and Prices
The 2014 Land Rover Range Rover Sport starts in SE trim (MSRP $63,495), which comes with the new-for-this-year supercharged V-6 engine, 19-inch rims, a power liftgate, parking assistance, an air suspension system can be raised or lowered, keyless entry and ignition, dual automatic climate control, Bluetooth integration, an eight-inch LCD touchscreen, power front seats with memory, a rearview camera, navigation, leather seats, and folding side mirrors that are also heated.  The Range Rover Sport HSE (MSRP $68,495) adds a panoramic sunroof, ups the rim size by an inch, improves the quality of leather and trim throughout the cabin, and adds seat heaters. 
The Range Rover Sport Supercharged (MSRP $79,995) installs a supercharged V-8 engine along with a low-range four-wheel drive system, an adaptive suspension system, and paddle shifters, while the Range Rover Sport Autobiography (MSRP $93,295) takes things to an extreme level by way of adaptive headlights (with automatic high beams), heated rear seats, an LCD gauge package, HD radio, a 19-speaker sound system, ventilated front seats, a heated steering wheel, heaters for the vehicle's second row of seating, a top-down camera system, a cooled front console, 21-inch rims, and three zones of automatic climate control.
My week-long test vehicle was a Land Rover Range Rover Sport HSE that also featured a number of options: the Vision and Convenience package (blind spot monitoring, top-down camera system, parking assistance), and the Front Climate Comfort and Visibility package (heated steering wheel, heated rear seats, heated windshield, refrigerated center console, automatic high beams, folding mirrors, adaptive HID headlights).  All told, the price of the Range Rover Sport that I drove came to $72,685.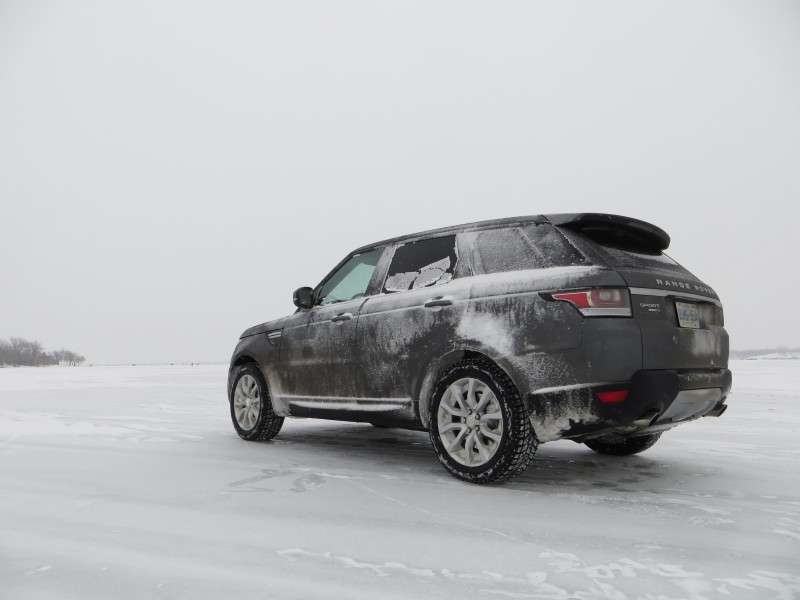 2014 Land Rover Range Rover Sport Review: Design
The 2014 Land Rover Range Rover Sport is all-new for the current model year.
The 2014 Land Rover Range Rover Sport might be one of the most ribald performers in the company's line-up, but you wouldn't guess that simply by looking at its upright lines and jeweled headlights and tail lights.  The Range Rover Sport projects confidence, to be sure, but this is a brawny SUV that's more secret agent than soccer hooligan, one that's as concerned with keeping up appearances as it is with bludgeoning the Porsche in the next lane to death once the stoplight turns green.  Longer than before, and riding on a stretched wheelbase, the Range Rover Sport is simply more comfortable in its skin than it was last year.  Land Rover has made sure to include several call-outs to the full-size Range Rover in the Sport's sheet metal, and there's clearly DNA shared between the two larger SUVs and the entry-level compact Range Rover Evoque, but it's done in a way that feels familial rather than derivative.
Cracking open the driver's door to the Land Rover Range Rover Sport reveals a similarly clean-cut approach to design.  I had several passengers comment positively on the expansive, leather-covered dash, which is imposingly smooth from the right of the center stack all the way to the door panel, a setup that at first feels a bit barren but which over time blends in with the rest of the SUV's trim in a logical, pleasing fashion.  Kudos to Land Rover for not over-stylizing the Sport's cabin, although I would have liked a higher-end gauge cluster presentation (especially the tachometer and speedometer dials, which simply looked too plastic).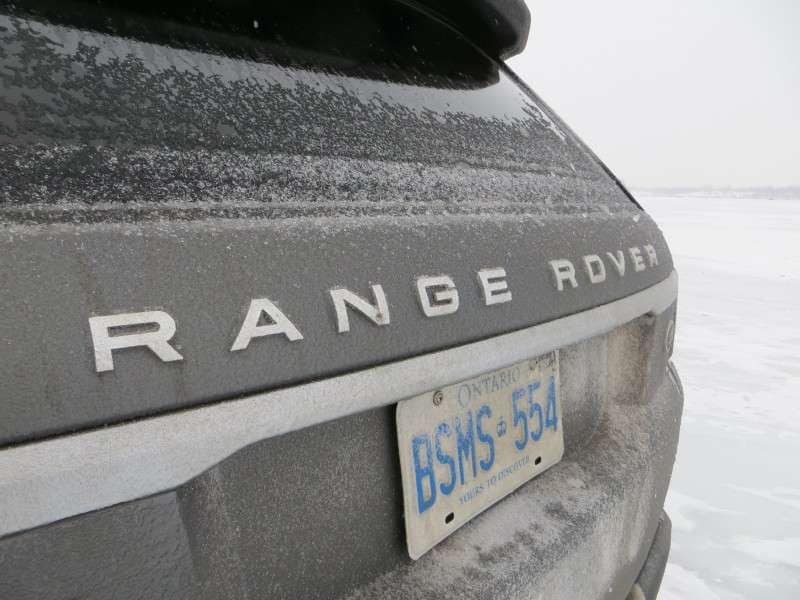 2014 Land Rover Range Rover Sport Review: Comfort and Cargo
The 2014 Land Rover Range Rover Sport is all-new for the current model year.
The Range Rover Sport gains the option of a third row of seating.
Interior room is improved over the outgoing model.
Stretch the wheelbase of a mid-size SUV by seven inches – as was done with the 2014 Land Rover Range Rover Sport – and those riding in the second row will almost certainly benefit.  The Range Rover Sport manages to feel plush even behind the forward two positions, with heated seats, excellent leg room, and wide door openings making it easy to climb in and out of the vehicle.  The driver and front passenger are similarly coddled, with a wide range of seat adjustments, heating, and cooling options on tap.  You do have to deal with Land Rover's puzzling insistence on squeezing a set of flip-up armrests between the middle bolsters and the generously-proportioned center console whose padded lid makes them superfluous.
The Range Rover Sport can be ordered with a third row of seating, which might seem a bit unusual given that the full-size Range Rover model doesn't offer this feature.  There's method in this British madness of trying to stuff seven passengers into a smaller vehicle: the brand conducted an owner study that revealed that while Range Rover owners typically also had a number of other automobiles at their disposal, Range Rover Sports were often the only vehicles in their particular household.  This meant that the Sport had to offer enough versatility to fill a multitude of roles on a daily basis, which in turn indicated that Sport owners would be more interested in bumping passenger capacity up by two. 
The manufacturer acknowledges that the third row is intended exclusively for children, which means that you'll have to look elsewhere (think Mercedes-Benz or Cadillac) if you want to relegate a pair of adult friends to the very back of your truck.  My recommendation is to forgo the option and enjoy the Sport's 27.7 cubic feet of trunk space (expandable to 62.2 cubes with the second row folded) instead.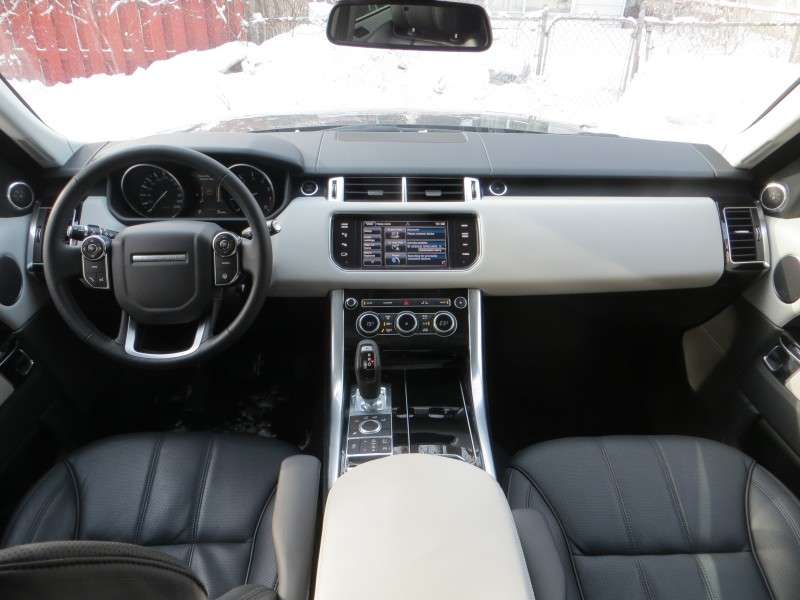 2014 Land Rover Range Rover Sport Review: Features and Controls
The 2014 Land Rover Range Rover Sport is all-new for the current model year.
Aside from the somewhat unadorned gauge displays, the 2014 Land Rover Range Rover's feature set is remarkably upscale in its appearance and operation.  The SUV makes use of a bare minimum of plastic, with each dial, stalk, or control surrounded by a tasteful collection of leather and metal trim.  A new LCD touchscreen serves as the centerpiece of the Sport's infotainment and communications system, an intuitive unit that, while not a masterpiece when it comes to graphics, gets the job done well. 
There's a bit of an ergonomic slip-up, however, when it comes to the heated seats, which are accessed via a hard button underneath the LCD display.  When pushed, it launches a second set of virtual 'buttons' on the touchscreen that allow the burners to turned on and off.  This is problematic for two reasons: it makes the system difficult to use while wearing gloves (which one typically does when it's cold enough to require heated seats), and it also means you can't activate the feature until the Land Rover has gone through its start-up operations (as the LCD screen is unresponsive for the first 15 to 30 seconds after the vehicle has been started).  A simple toggle switch would have been welcome.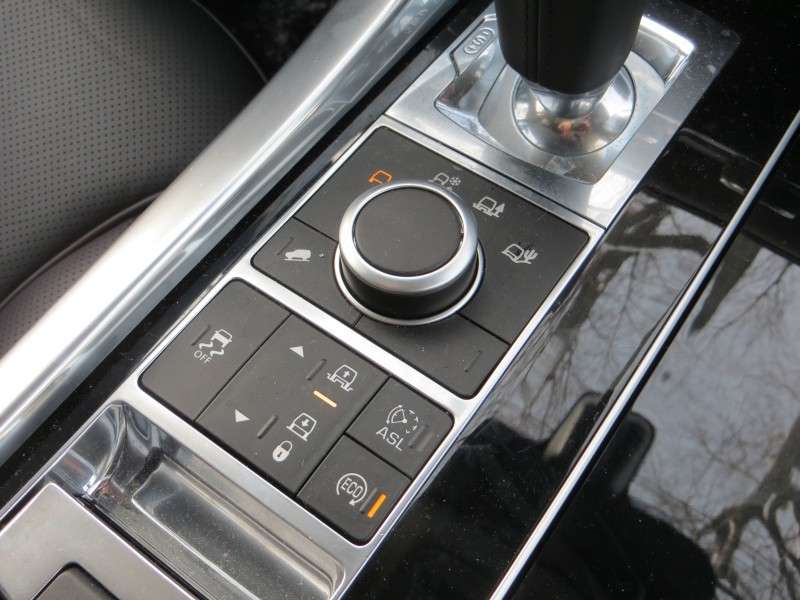 2014 Land Rover Range Rover Sport Review: Safety and Ratings
The 2014 Land Rover Range Rover Sport is introduces several new active safety features.
The 2014 Land Rover Range Rover Sport comes with dual forward airbags, side impact airbags up front, and side curtain airbags that deploy along the first two rows of the SUV.  Electronic traction control and stability control are also standard.  It's possible to add features such as a collision mitigation system that works with the Sport's optional adaptive cruise control to automatically stop the vehicle should an impact be deemed imminent, as well as a blind spot monitoring system, and a rear cross-traffic detection system.
2014 Land Rover Range Rover Sport Crash Test Ratings: Neither the NHTSA nor the IIHS have crash tested the 2014 Land Rover Range Rover Sport.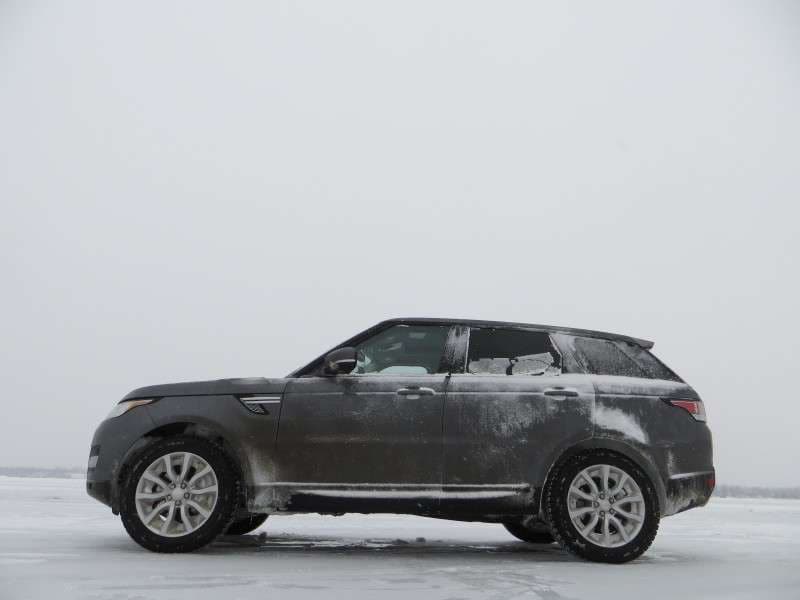 2014 Land Rover Range Rover Sport Review: Engines and Fuel Economy
The 2014 Land Rover Range Rover Sport debuts a new supercharged V-6 base motor.
Automatic engine start/stop is now standard.
An eight-speed automatic transmission is also new.
The 2014 Land Rover Range Rover Sport boldly does away with last year's 375 horsepower V8 engine and instead replaces it with a 3.0-liter supercharged V-6 that is good for 332 horses and 332 lb-ft of torque.  The major upshot of this move is the concomitant improvement in fuel economy that the smaller displacement engine brings with it, checking in at 17-mpg in city driving and 23-mpg on the highway – efficiency that is aided and abetted by a new eight-speed automatic transmission as well as an automatic engine start/stop system.
Those last two features are also standard with the Land Rover Range Rover Sport's optional supercharged 5.0-liter V-8, a behemoth that boasts 510 horsepower and 461 lb-ft of torque (and much more miserable fuel consumption figures of 14-mpg city and 19-mpg highway).  Both models of course come with Land Rover's outstanding permanent four-wheel drive system, although V-6 buyers can choose whether or not to install a low-range transfer case.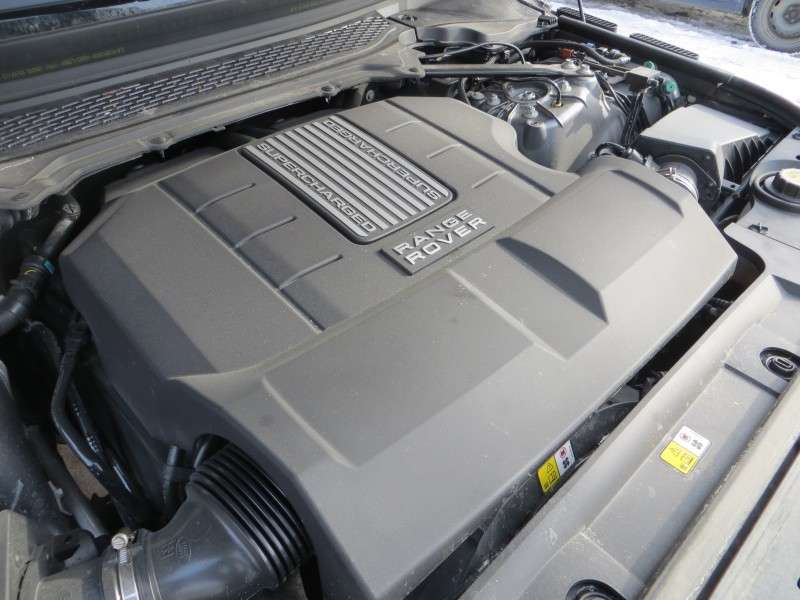 2014 Land Rover Range Rover Sport Review: Driving Impressions
I haven't had the chance to discuss the most critical aspect of the 2014 Land Rover Range Rover Sport's redesign until now: its near-700-lbs weight loss compared to the departed model.  This astounding achievement was accomplished by Land Rover engineers wielding an aluminum scalpel, as that metal now makes up the majority of the Sport's chassis and body panels.  The positive effects of such a dramatic drop in mass cannot be overstated, as the SUV out-handles and out-accelerates its 2013 counterpart, and consumes less fuel while doing it. 
This new character is true even when selecting the supercharged V-6 that was under the hood of my test vehicle.  Despite being down on power versus last year's V-8, with so much less inertia to overcome the Range Rover Sport was eager to leap forward under the command of my right foot.  In fact, the less-frenetic drivability of the six-cylinder mill - and its more modest fuel consumption - gives it the advantage, in my eyes, for the majority of Land Rover buyers.  It's also important to recognize the SUV's eight-speed automatic transmission for its unsung hero status in managing the engine's power band, and I also want to laud the seamless operation of the Sport's automatic engine start/stop feature, which is the class of its segment.
In keeping with its (relatively) lightweight status, the Land Rover Range Rover Sport features a car-like demeanor on the road that is denoted by a near absence of body roll and a willingness to respond to steering inputs that is rare in its class.  It's no stretch to say that only the Porsche Cayenne features a chassis that feels as lithe as that of the Sport, and I was regularly surprised by how pleasing it was to drive the Land Rover no matter how snowy, clear, or pockmarked the path ahead.
Performance is a key component of the Land Rover Range Rover Sport's package, and to test out not just the vehicle's playful chassis tuning but also its venerable off-road capabilities, I headed out to a local frozen lake near Dorion, Quebec.  Rolling out onto three-foot thick ice presents the kind of challenge that would stop lesser SUVs dead in their tracks, but the Sport simply ate it up.  With the vehicle's Terrain Response system set to 'grass/gravel/snow (it also features auto, mud and ruts, and sand settings), the Land Rover was able to configure its four-wheel drive, transmission, and engine settings to dial-in enough grip to initiate and then pull out of four-wheel drifts on the short ice track we set up for the afternoon.  All I had to do was turn off the traction management system and enjoy the wanton display of power and control the Range Rover Sport put on for the local ice fisherman gathered around the circuit.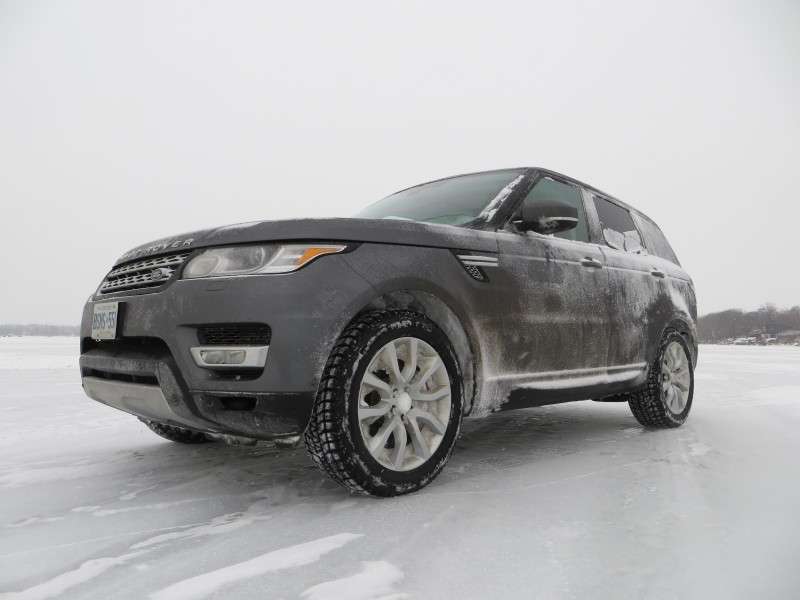 2014 Land Rover Range Rover Sport Review: Final Thoughts
The 2014 Land Rover Range Rover Sport manages to accomplish what many other luxury SUVs have given up trying to do.  This mid-size model successfully combines town and country, or if you prefer, road and (wagon) track.  Classy and refined enough for the toniest of addresses, but still rugged to the point where few owners will ever reach its limits off-road, the Land Rover Range Rover Sport comfortably straddles two worlds.  All it took was a head-to-toe redesign to reveal that yes, the idea of a fun-to-drive sport-utility vehicle that coddles as well as it corners (and cuts through mud) wasn't a fantasy, after all.  There's a definite price to pay for even the base model Range Rover Sport, but those monthly payments gain admission into an exclusive club.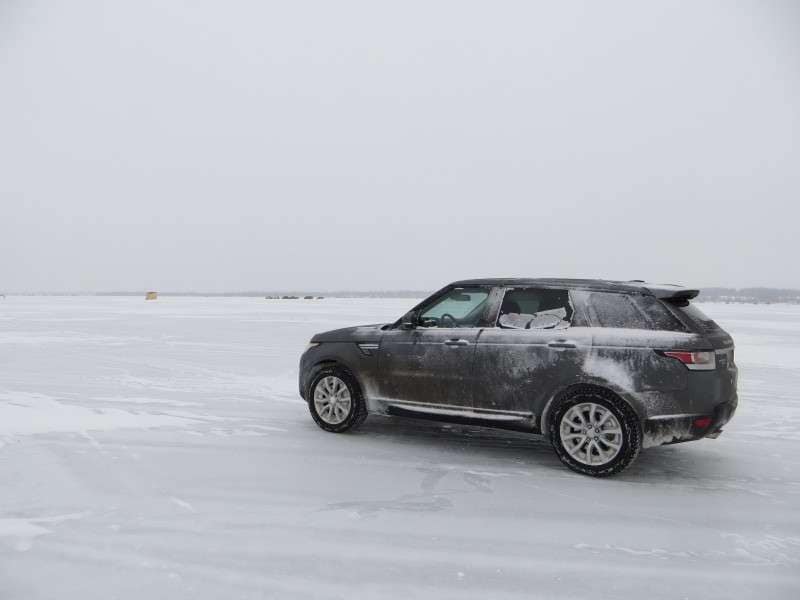 2014 Land Rover Range Rover Sport Review: Pros and Cons
Pros:
Drives like a large luxury sedan
Unstoppable in off-road situations
Excellent power from new, efficient supercharged V-6 engine
Spacious, comfortable, high-class interior
Fun whether pushed hard on the pavement or on the ice
Incredible 700 lb weight loss over outgoing model
Cons:
This is an expensive SUV
Styling might be too conservative for certain luxury buyers
Available third row seat is suitable only for children
JaguarLand Rover Canada supplied the vehicle for this review