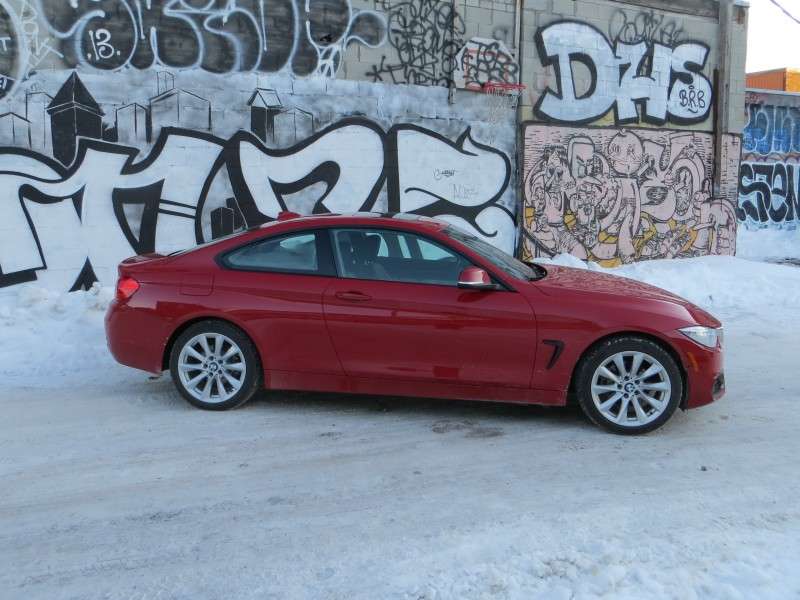 The 2014 BMW 428i xDrive is the German brand's all-new luxury coupe.  Well, maybe 'all new' should come with an asterisk here, because the 4 Series is actually a two-door version of the 3 Series that debuted last year, replacing the 3 Series coupe whose existence has fallen prey to the ever-encroaching demands of marketing and niche-filling.  That being said, the 428i xDrive benefits from a fresh platform and represents the first implementation of BMW's turbocharged four-cylinder engine in a sporty coupe, so there's a lot to get excited about for premium car fans.
In an age where automobiles are increasingly expected to satisfy the needs of every potential buyer in a single package, even companies like BMW have been forced to compromise some aspects of their identities in order to keep showrooms packed.  The BMW 428i xDrive may be more sharply focused than competitors like the Audi A5 and the Mercedes-Benz C-Class, but compared against the only metric that really matters - the outgoing 3 Series coupe - it's clear that priorities have been reshuffled.  The new 4 Series is a very good car, but it's also a different one than BMW purists might have been expecting.
2014 BMW 428i xDrive Review: Models and Prices
The 2014 BMW 428i represents the entry-level for the automaker's compact coupe, but despite its modest positioning it still bears an MSRP of $40,500 (adding xDrive all-wheel drive to the mix tacks on a further $2,000).  For your money, the 428i offers genuine imitation leather seats with power adjustments, dual automatic climate controls, a folding rear seat, a leather-wrapped steering wheel, HID headlights, a sunroof, fog lights, 17-inch rims (a rarity in the luxury world), Bluetooth connectivity for telephone calls, but not audio streaming, a CD player, HD radio, and a memory function for the driver's seat settings.
If this seems like a modest level of gear, that's because the 4 Series is designed to coax dollars out of billfolds by way of its options list.  The tester that I piloted was a Sport line model (18-inchwheels, sport seats) that featured Melbourne Red Metallic paint (to the tune of $550) and was additionally outfitted with the Cold Weather package (heated front seats and steering wheel, headlight washers), the Driver Assistance package (parking assistance, rearview camera), the Technology package (Bluetooth audio streaming, navigation, head-up display), and the Premium package (lumbar support seats that require the selection of Dakota leather upholstery, satellite radio, enhanced keyless entry).  All told, the sticker on the 428i xDrive I drove for a week came to $52,075.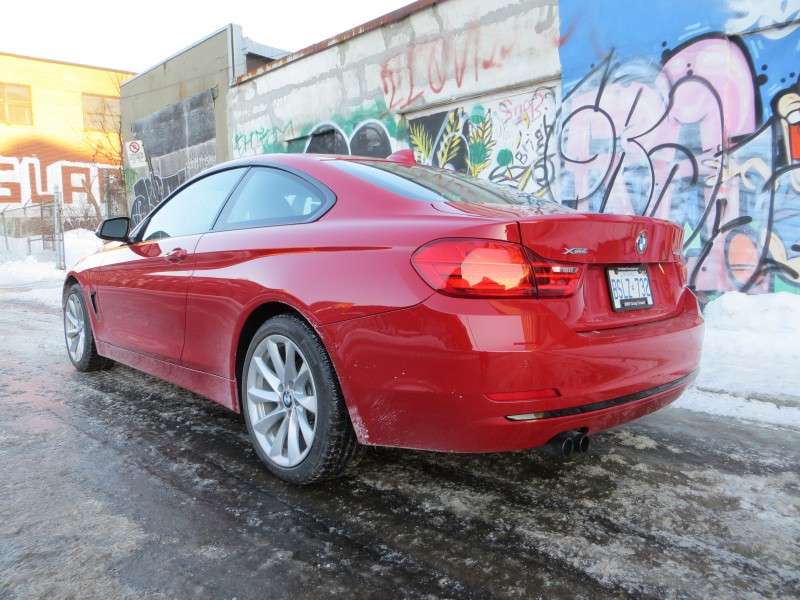 2014 BMW 428i xDrive Review: Design
The 2014 BMW 428i xDrive is an all-new model.
The 2014 BMW 428i xDrive will be a familiar sight to anyone who has seen either a 3 Series or 6 Series coupe from the past few model years, as the vehicle incorporates design elements from both to create a new, 'thicker' visual palette for the compact automobile.  One would be hard-pressed to associate the well-muscled body work of the 4 Series with the lithe looks of the 3 Series coupe from 10 to 15 years ago, as BMW has gone full-steam ahead with puffing out its compact two-door to a size where it has the presence necessary to stand alongside equally well-proportioned rivals like the Audi A5.  This is a hefty-looking car, but seen from the right angles it's also an almost athletic one, and it certainly boasts more personality than the 3 Series sedan with which is shares some of its cues.
While BMW may have given their stylists free reign on the automobile's sheet metal, the passenger compartment of the 428i xDrive is essentially a carbon copy of the 3 Series from a design perspective.  This is a good thing, because it means everything is in its proper place and it delivers a sleek overall presentation.  Materials are also at the level one would expect in a car that costs over $50,000, although I recommend going for at least some dash of color with the leather seats in order to break up the silver / black / grey scheme of the cockpit.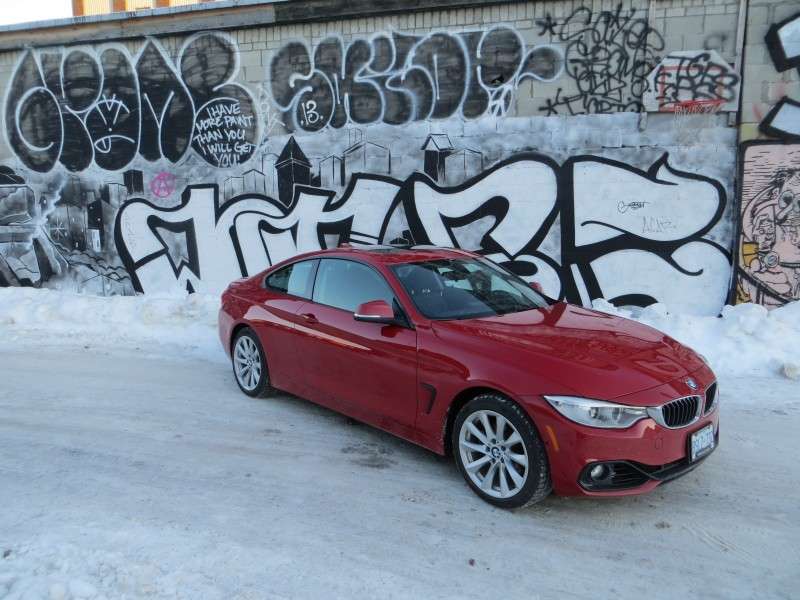 2014 BMW 428i xDrive Review: Comfort and Cargo
The 2014 BMW 428i xDrive is an all-new model.
No one buys a coupe with the intention of regularly using the back seats, but 2014 BMW 428i xDrive manages to not completely shortchange anyone who has to flip the front buckets forward and crawl behind them to the rear of the passenger compartment.  In fact, I was able to repose in a reasonable amount of comfort behind the driver's position, even with my legs stretched out.  My only lamentation was headroom, as I came very close to brushing up against the swooping headliner that is part and parcel of the 4 Series coupe's design package.  Taller individuals will no doubt experience the same lack of space between scalp and ceiling.
Up front there's nothing to complain about at all, as the 428i xDrive's two forward positions are absolutely perfect.  The seats grip the body when needed and support it sufficiently at all other times.  The 4 Series' trunk is surprisingly generous, checking in at 15.7 cubic feet, and I was even able to haul a 50-gallon snake terrarium inside the BMW by reclining the front passenger bucket as much as possible and rolling down the side window to accommodate the box.  Who says coupes aren't practical?
A side note: BMW has seen fit to install a plastic arm that pushes the seatbelt towards you from the B-pillar once you've turned the key in the ignition.  This does make it easier to grab the belt, but the construction of this feature is rickety-looking to the point where that I would be surprised if it survived 50,000 miles of regular use before snapping off its rails.  It actually got so cold during my wintry week with the 428i that one morning, the little arm extended and retracted over and over again for almost 10 minutes before finally sliding back into its luxury cave for good.  As cars become increasingly loaded with electronic features, unusual cold weather behavior associated with varying battery voltage will become more common.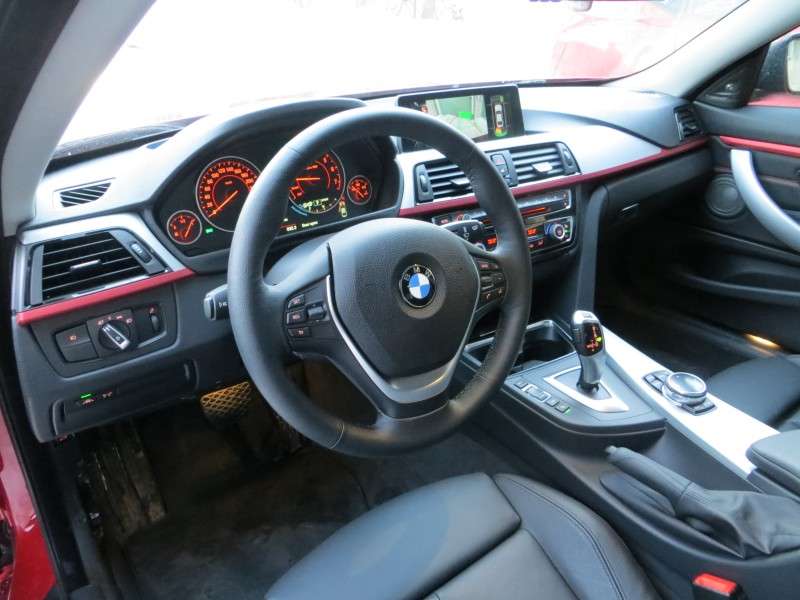 2014 BMW 428i xDrive Review: Features and Controls
The 2014 BMW 428i xDrive does not gain any new features or controls compared to the BMW 3 Series.
The 2014 BMW 428i xDrive is, from a features standpoint, essentially identical to the 3 Series sedan.  This means you get the iDrive interface (rotary knob on the console plus LCD screen on the dash), an easy-to-use navigation system, a head-up display that can show vehicle speed and other data such as what song you happen to be listening to on the car's stereo, and the same set of steering wheel controls that BMW loads into most of its models.  It's all very practical, and there aren't any frustrating BMW-specific eccentricities to get used to with the car. 
I particularly like being able to split the iDrive screen into two distinct displays so that I can take advantage of all of its visual real estate, as well as the shortcut buttons that have been installed surrounding the controller that can instantly transport you to important menus.  These are much more useful than the paltry, and mysteriously-labeled buttons associated with the Mercedes-Benz COMAND controller.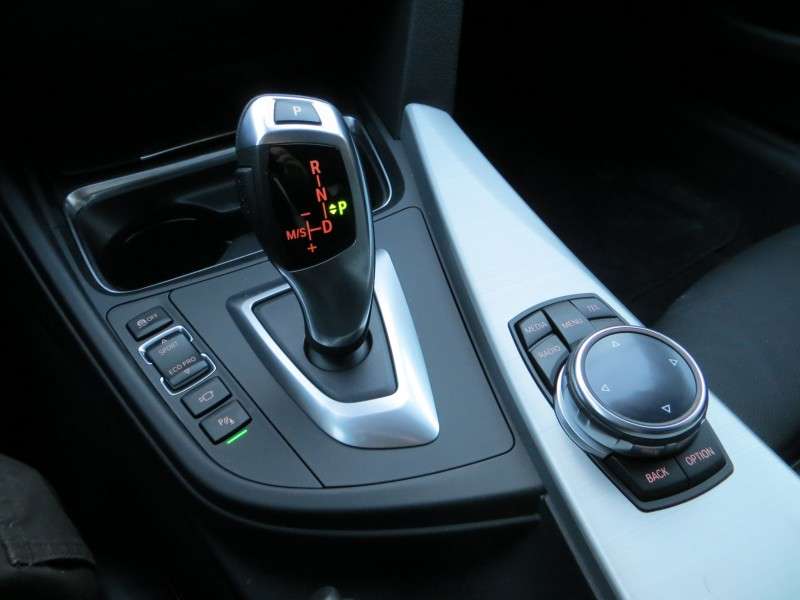 2014 BMW 428i xDrive Review: Safety and Ratings
The 2014 BMW 428i xDrive does not introduce any new safety gear compared to the 3 Series sedan that debuted last year.
The 2014 BMW 428i xDrive comes with side curtain airbags, dual forward airbags, seat-mounted side impact airbags, and knee airbags for those riding in the coupe's first two positions.  Electronic stability control and traction control are also offered with the 4 Series as standard equipment.  The version of the car I drove didn't come with any advanced safety gear, but you can get active cruise control with a collision warning system, a lane departure monitoring system, and a blind spot monitoring system with the car.
2014 BMW 428i xDrive Crash-Test Ratings: The BMW 4 Series has yet to be crash tested by either the NHTSA or the IIHS.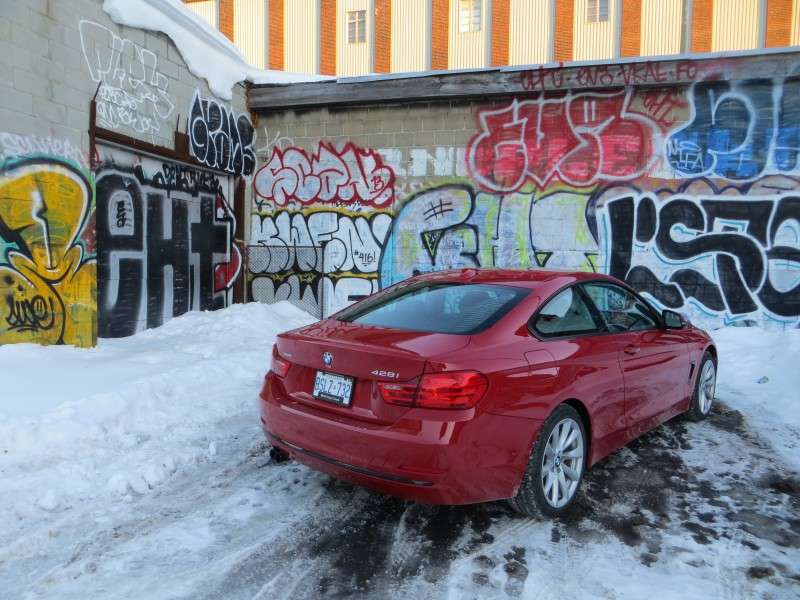 2014 BMW 428i xDrive Review: Engines and Fuel Economy
The 2014 BMW 428i xDrive introduces turbocharged four-cylinder power to the brand's compact coupe lineup.
The 2014 BMW 428i xDrive features a 2.0-liter, turbocharged four-cylinder engine that can be counted on to deliver 240 horses and 255 lb-ft of twist.  The addition of xDrive all-wheel drive ensures that the 4 Series is shifted via an eight-speed automatic transmission, as only rear-wheel drive versions of the coupe have access to a six-speed manual.  The xDrive system also knocks a few miles per gallon off of the coupe's efficiency rating, too, dropping it to 22-mpg city and 33-mpg highway - still solid for its class.  I wasn't able to get any objective real-world measure of the 428i xDrive's fuel consumption as the ultra-cold weather caused the car to drink far more gasoline than it would during normal driving conditions.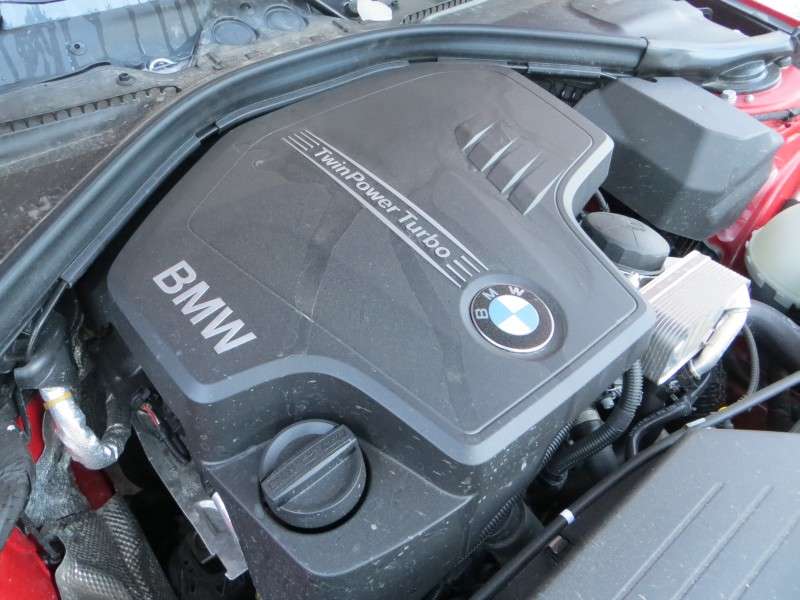 2014 BMW 428i xDrive Review: Driving Impressions
The 2014 BMW 428i xDrive is marketed as a sport coupe, but I think the term 'sporty' is far more accurate in depicting how this luxury car actually drives.  Although it features a track that's a bit wider than that of the 3 Series sedan, what the 4 Series brings to the table are a set of dynamics that are essentially identical to that of the four-door model.  This is a strong positive, especially for those seeking a premium ride in their daily driver: the 428i is remarkably composed over most road surfaces, and it rewards steering and throttle inputs with a predictable chassis response that imparts confidence on the pilot.
There's no escaping the fact, however, that the 428i xDrive is a relatively heavy vehicle, checking in at a curb weight of roughly 3,500 lbs (depending on what options are ordered).  While BMW's xDrive does an excellent job of transparently shuttling power to the rear axles during normal driving (and sending it to the wheels with the most grip once things turn slippery), it adds mass that conspires with the car's excellent, though still electric steering system, to remove feedback from the driving experience. 
The 2.0-liter turbocharged motor is another victim of the 428i xDrive's heavy platform.  240 horsepower is the equivalent of a late-90's BMW M3 in terms of output, but in our modern age it fails to get the adrenaline coursing through your veins at full throttle (you'll need the extra two cylinders of the 435i for that).  That being said, it's beyond adequate when it comes to passing, cruising, or otherwise enjoying the 428i xDrive in non-performance situations.  It's just not the kind of motor you'd want to flog around a race track, which I doubt any 4 Series buyers would seriously contemplate in the first place.
There's a certain dulled-down perspective from behind the wheel of the 4 Series that keeps it from crossing the threshold from pleasant to grin-inducing.  Those seeking razor-sharp reflexes and prodigious acceleration in their automobile will be inclined to look elsewhere, but there's no denying that for most people, in most situations, the 428i xDrive will provide more than enough driving pleasure.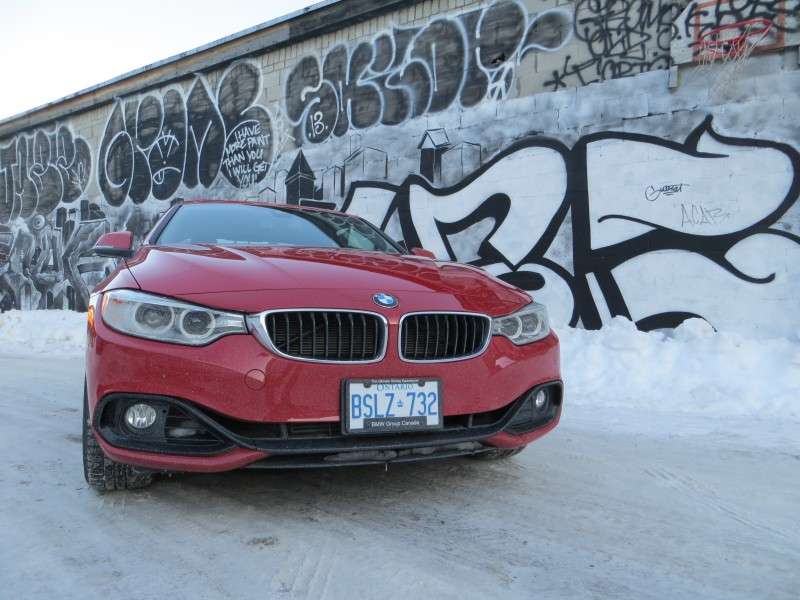 2014 BMW 428i xDrive Review: Final Thoughts
As a luxury car, the 2014 BMW 428i xDrive is a resounding success.  The 4 Series coupe is very comfortable, not all that expensive in base form, and powerful enough to keep things entertaining without risking too much attention from the boys in blue.  That it's a less visceral two-door than one would expect from BMW is only natural given the progression of the brand from a performance-first to a luxury-focused perspective over the course of the past decade.  Fighting to steal market share from giants like Mercedes-Benz has forced BMW to re-evaluate what its buyers are looking for, and its hard to argue with its sales success in the face of this sea change.  The BMW 428i xDrive is a two-door you don't have to be a track junkie to enjoy, and ultimately, that's more important to the automaker's bottom line than Nurburgring lap times.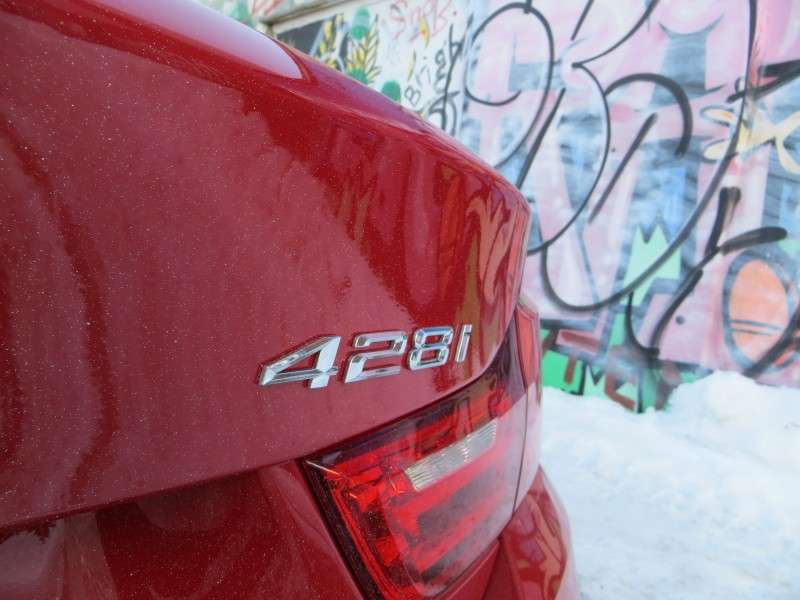 2014 BMW 428i xDrive Review: Pros and Cons
Pros:
Well-engineered all-wheel drive system.
Practical, roomy interior.
Good power from turbocharged engine.
Thrifty at the fuel pump for its class
Responsive chassis.
Cons:
Heavy feeling from behind the wheel.
Quick, but not fast.
Much larger than past BMW coupes.
Not as connected as one would expect from a sporty luxury car.
BMW Group Canada supplied the vehicle for this review.