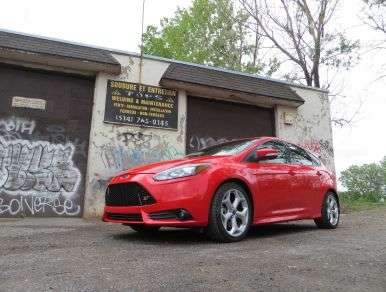 Remember the Dodge Neon SRT-4, the compact sedan with the turbocharged engine that had a brief time in the sun before fading away into obscurity along with the entire Neon platform?  It's been seven years since the last hopped-up Neon rolled off of the assembly line, which is coincidentally the same period of time that has elapsed since an American automaker attempted to compete in the high performance entry-level car game.  Oh sure, we've had sticker packages and suspension upgrades - and even an unfortunate would-be SRT crossover successor caller the Caliber - but an actual purpose-built, ultra-quick compact has been absent from the Big 3 for almost a decade.
The 2013 Ford Focus ST might have European origins, but it's wearing a domestic badge on the steering wheel.  More importantly, this hot hatch isn't half-baked but rather a razor-sharp sports car stuffed inside the practical confines of a five-door body shell.  Look out, Volkswagen GTI, and move over Mazda MAZDASPEED3: the Focus ST has done far more than level the playing field.  It's come close to taking it over completely.
2013 Ford Focus ST Review: Models and Prices
The 2013 Ford Focus ST starts at an MSRP of $23,700, which is just below that of the high-spec Focus Titanium edition.  Of course, the Ford Focus ST is an entirely different beast than the standard version of the hatchback, and it comes with a long list of included features: power windows and door locks, air conditioning, the SYNC interface, a CD player with USB capability, keyless entry and ignition, sticky summer rubber wrapped around 18-inch alloy rims, a leather-wrapped sport steering wheel, and a limited-slip front differential.
Upgrading the Ford Focus ST is done via options packages that resemble trim levels.  The Focus ST2 (MSRP $26,805) delivers cloth Recaro sport seats, the MyFord Touch interface, an upgraded stereo system, and dual automatic climate control, while the Focus ST3 (MSRP $28,135) wraps the Recaros in full leather and heats them, adds HID headlights, installs a navigation system, and decorates the passenger compartment with multi-color ambient lighting.
The version of the 2013 Ford Focus that I drove for a week as an ST3 model that also came with an optional sunroof.  The total MSRP for my tester came to $29,605.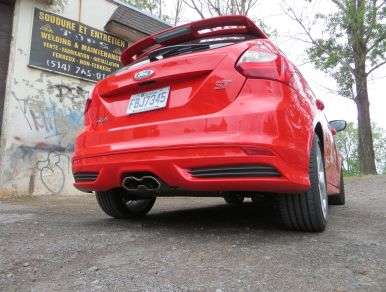 2013 Ford Focus ST Review: Design
The 2013 Ford Focus ST is a brand new model.
The 2013 Ford Focus ST is the person at your house party wearing a bright neon bowtie, a top hat, and electric pink suspenders over a polka dot shirt.  I am not meaning to question Ford's sense of styling when putting together the ST's duds - rather, I just want to illustrate how much this car stands out when compared against other hot hatches on the market.  The Ford Focus ST features exterior lines ripped right out of the pages of an import tuner mag, with a blocky rear spoiler, an enormous blacked-out grille up front, dual exhaust tips tucked under the center of the sporty back bumper, and a palette of look-at-me colors on offer (including the at-cost option of Tangerine Scream yellow).  It's not a garish car, but it's impossible to ignore, and it is intended to appeal to a demographic that wears its compact performance allegiance on its sleeve.
The Ford Focus ST's passenger compartment is the area where this affordable pocket rocket really steps ups its game.  With most offerings in the ST's range falling into either the econo-minded (MAZDASPEED3) or austere, classy categories (GTI), Ford has given its hatchback the full business.  Of particular note are the Recaro sport seats that become available with the ST2 trim level, a set of accommodations that are well worth the price of admission and which shame virtually every other set of buckets in its class by way of their incredible grip and overall comfort.  The Focus ST also benefits from the availability of the flashy MyFord Touch touchscreen interface, a set of dash-mounted auxiliary gauges, and soft fabrics to offset the car's door panel plastics.  My tester's moonroof wasn't really large enough to be considered more than a novelty, so if you crave additional headroom you might want to forgo this option.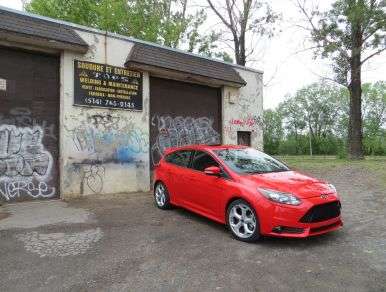 2013 Ford Focus ST Review: Comfort and Cargo
The 2013 Ford Focus ST offers Recaro seats.
Despite not being marketed as a luxury model, the 2013 Ford Focus ST inches into premium territory by way of its extensive list of comfort and convenience features.  I honestly can't say enough about the Recaro seats available on two of the car's three trim levels: the leather versions in my test vehicle elicited cooing admiration from all who had the chance to ride inside the Focus ST, and more importantly, at no time did their superb lateral support on both the seat bottom and back ever feel intrusive or make it difficult to get in or out of the automobile. 
Rear accommodations in the Focus are good for a compact car, but not at the level of most of its rivals when it comes to overall room.  Cargo space is easy to access and quite usable, as the vehicle's hatch provides an ample opening for the respectable amount of room found behind the rear row.  The ST asks owners to make no compromises in the way of intrusive strut bars or other such details.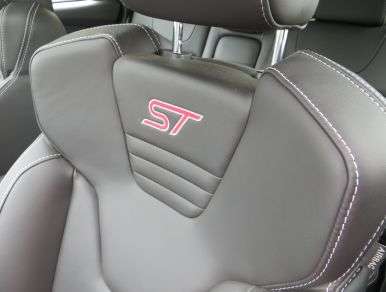 2013 Ford Focus ST Review: Features and Controls
The 2013 Ford Focus ST comes with MyFord Touch.
The 2013 Ford Focus ST provides additional instrumentation.
The 2013 Ford Focus ST features a modified version of the MyFord Touch system as its primary interface between driver and automobile.  The large eight-inch touchscreen that defines the MyFord Touch feature sits at the top of the vehicle's center stack, where it divides the hatchbacks' communications, entertainment, navigation, and climate control into a four-quadrant menu.  The system works quite well, and is logical enough even for first-timers to use.  Absent from the MyFord Touch arsenal are the pair of LCD screens that are typically mounted directly in front of the driver, replaced instead by two large binnacles for the tachometer and speedometer.  A small screen sits in between these two readouts and keeps track of trip info and fuel consumption.
The Ford Focus ST benefits from more than a few dress-up items when compared against the standard Focus, including an excellent steering wheel whose perforated leather is well-padded and sculpted to anchor one's hands perfectly in place during high speed maneuvers.  A shiny aluminum-and-leather shifter also feels good when clenched by the right fist, and the boost gauge in the middle of the dash-mounted gauge pod is fun to glance at while squirting the car forward through traffic.  The vehicle's parking brake, however, is one of the cabin's few reminders that the Focus is at its heart an affordable compact, as the plastic handle and stalk not only looked out of place but felt like they could be snapped with too mighty of a tug.
One more unique item offered with the ST that can't be had in any other focus model: the Active Sound Symposer, which links the passenger compartment to the engine bay via a baffled tube that pipes in sweet, sweet music from the EcoBoost motor at higher rpms.  It takes a bit of getting used to, but eventually one becomes addicted to the dulcet tones of the turbocharged mill as they waft through the cabin like so many notes from an internal combustion orchestra.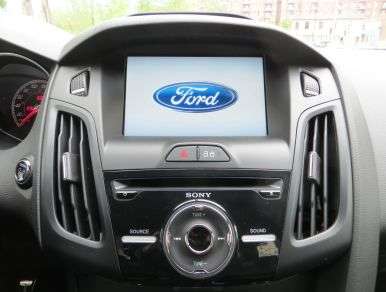 2013 Ford Focus ST Review: Safety and Ratings
The 2013 Ford Focus ST introduces no new safety features.
The 2013 Ford Focus ST comes with front side airbags, dual forward airbags, and side curtain airbags that deploy front and rear.  Anti-lock brakes, a two-stage electronic stability control system, traction control, and the MyKey speed limiter system are also provided free of charge with the automobile.
2013 Ford Focus ST Crash-Test Ratings: The Ford Focus ST enjoys a five out of five star overall crash test rating from the NHTSA, and it also boasts Top Safety Pick status from the IIHS due to its rating of 'Good' in all four major crash testing categories.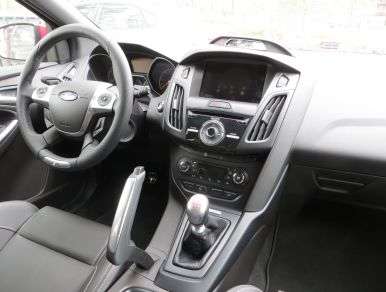 2013 Ford Focus ST Review: Engines and Fuel Economy
The 2013 Ford Focus ST debuts a new 2.0-liter EcoBoost four-cylinder engine.
The 2013 Ford Focus ST has attracted so much attention from performance car fans primarily due to the turbocharged EcoBoost lump sitting under its hood.  This 2.0-liter, four-cylinder engine generates a lively 252 horsepower along with 270 lb-ft of torque, output which is dumped to the front wheels via a six-speed manual transmission.  No automatic is available with the ST, not even the trick dual-clutch unit found with lesser versions of the Focus.
Fuel mileage for the Ford Focus ST is advertised as 23-mpg in stop and go driving and 32-mpg on the highway.  These rosy numbers are not all that bad for such a potent drivetrain, but during my time spent with the hatchback - on rainy roads where traction was at a premium - I managed only 18-mpg combined.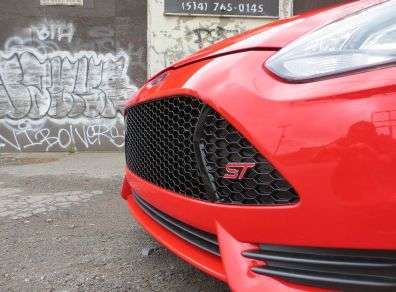 2013 Ford Focus ST Review: Driving Impressions
The 2013 Ford Focus ST is an exciting car to drive.  First, there's the responsive nature of the vehicle's turbocharged engine, which is perfectly matched to its six-speed gearbox, making it very difficult to catch the motor sleeping off-boost.  I rarely encountered an occasion where the four-cylinder was forced to lug its way up to full steam, regardless of what gear I had slipped the car into while cruising at lower speeds.  The car's low torque peak - just 2,500 rpm - means that even from a stop the Focus ST almost immediately builds power, and although you have to shift at a relatively early 6,500 rpm that marker comes up quickly enough to keep you entertained rowing the gears as you blow past legal speeds with ease.  Bettering 60-mph in less than six seconds while driving the Focus ST is well within the realm of the possible for a skilled pilot.
Therein lies the second 'exciting' aspect of putting the Focus ST through its paces: the fact that the car doesn't docilely dole out its ponies but rather requires a somewhat complex technological ballet to make the most of its substantial motivation.  High-powered front-wheel drive cars are notorious for engaging in torque-steer shenanigans, in which the steering wheel is pulled this way and that under the fury of full acceleration.  Ford has outfitted the hatchback with an active anti-torque steer system that works in concert with its electric power steering to minimize the effects of the phenomenon, and the majority of the time it works seamlessly in the background while transmitting only a hint of the surging torque fighting to make it to the pavement below.  On occasion, however, accelerating the Focus ST over uneven pavement induces the system to make its presence felt more strongly, with torque steer pulling the car into ruts or bouncing it off of potholes in unexpected directions.  I drove a prototype of the car in the summer of 2012 that displayed far less theatrics under hard acceleration, which now makes me wonder if the mule I had been provided with for that particular afternoon hadn't been a bit down on power.
I drove the Focus ST mostly on cold, wet roads for my week with the hatchback, which meant that I was able to thoroughly test out the electronic limited-slip differential that works hard to grasp at traction while braking whichever wheel decides to spin.  Aside from a few explosive bangs from the front axle due to over-eager launches, I didn't have to fight too much wheel hop even on very slick asphalt.  I also appreciated the car's remarkably incisive cornering capability in the wet, aided and abetted by a feature that actively fights against understeer by way of the electronic stability control system - even when the latter is set to Sport or Off.  I only wish that the electric power steering didn't feel quite so muted by all of the combined action associated with the car's various driver's aides.
In addition to the car's hefty acceleration, responsive braking, and much better than average handling (especially for a front-wheel drive car), I was impressed by just how drivable the 2013 Ford Focus ST was in just about every conceivable situation.  To be able to pull off a suspension setup that is not only tight but also compliant when traveling across the rugged streets of Montreal is quite an accomplishment, and a testament to a car that doesn't require occupants to get a dental checkup after a full day of driving.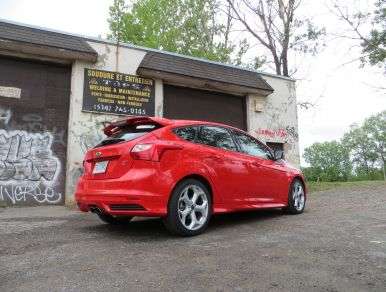 2013 Ford Focus ST Review: Final Thoughts
The 2013 Ford Focus ST is more than just a warning shot aimed at other hot hatches currently on the market: it's a full-scale invasion.  Ford has unleashed a spectacularly well-conceived, 'total package' performance car that leverages the company's turbocharging expertise and European compact platform development to create an enticing option for those uncomfortable with the softer side displayed by recent generations of the VW GTI. 
Despite its brash looks and dyno-pegging horsepower and torque, the Focus ST is also perfectly happy to poke along running errands and stand in as a reliable daily driver until the time comes to break cover and incinerate the road ahead.  The 2013 Ford Focus ST is a model whose combination of advanced interior features, high-tech drivetrain capabilities, and excellent handling will push its competitors to re-think their current sporty compact car design philosophies and force them to close the gap with the Blue Oval.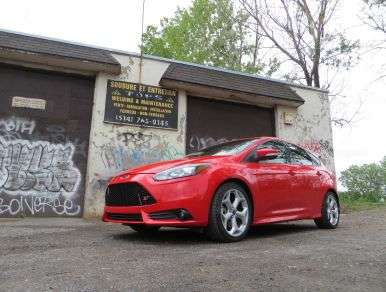 2013 Ford Focus ST Review: Pros and Cons
Pros:
Rapid turbo acceleration
Impressive handling
Very comfortable on a daily basis
Incredible Recaro sport seats
High-tech gear like MyFord Touch is class-exclusive
Smart styling
Active Sound Symposer is delightful
Cons:
Perhaps too 'boy-racer' for some demographics
Steering feel compromised by active anti-torque steer feature
Bears some of the twitchy hallmarks of a high-power front-wheel drive car
Ford Canada supplied the vehicle for this review.