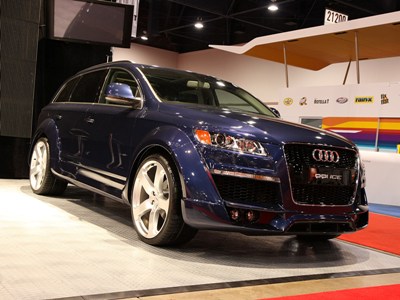 There are a lot of ridiculous body kits at SEMA. Front spoilers on cars so big they actually disturb weather patterns when they speed by. Spoilers so tall that PETA boycotts their use due to their tendency to kill migratory birds. Not this Audi Q7 by PPI though. This $22,000 package is elegant, muscular, and designed with gap tolerances so small you'd swear it was stock. The 23-in. PPI rims fill out the wheel wells without looking cartoonish, and there is a slight eyebrow that runs above the headlamp to make the Q7 look aggressive. We'd take this over a Cayenne any day.
Photo Credit: MyRide Staff
Page 2
Tucked away in the back of Toyota's display at SEMA was this gem, a fully transformed RAV4 crossover (and we never would have guessed it was a RAV4). It has a futuristic elegance to it that is not the least bit overdone, even with 22-inch rims. The Performance Sport also has a glass roof, LED headlamps, and a full Alpine audio system. Toyota had a couple of their new Venzas at the show customized as well, but this RAV4 looked as good, if not better.
Photo Credit: MyRide Staff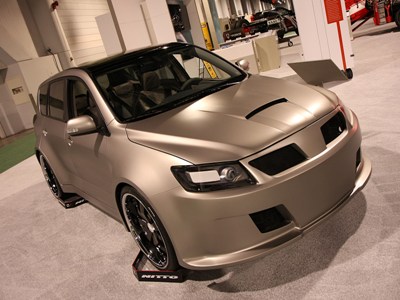 Page 3
The Ford F-150 Raptor is not just a transportation device for the world's largest FORD badge on the nose. Instead, it's an off-road package for the all-new 2009 Ford F-150, and what a package it is. With months of off-road testing under its belt, a fully revised suspension, and a couple of revised engines – including a 6.2-liter V-8 – this is one serious truck. How does 13.4 inches of suspension travel in the rear sound? What about a suspension so supple that you can glide over the most horrendous of terrain at speed? If you ever wanted to drive a SCORE truck without the hassle of getting a racing license, this is the ticket.
Photo Credit: MyRide Staff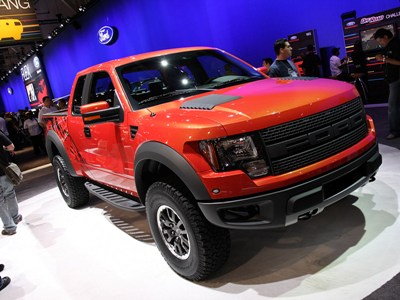 Page 4
What's pink, goes really fast and looks like it was made from Legos? The RENNTech Pikes Peak GLK Hybrid, of course. RENNTech is widely known for the insane things it does to perfectly acceptable Mercedes-Benz vehicles, and it introduced several at the 2008 SEMA show. The Pikes Peak GLK is our favorite, because it is fully functional, looks like it's ready to tackle the hillclimb, and uses a very cool turbocharged/hybrid V-6 engine that puts out 375 hp and 320 lb.-ft. of torque to all four wheels. Hey, so what if it's eye-searing pink? It won't sit still long enough for anyone to notice.
Photo Credit: MyRide Staff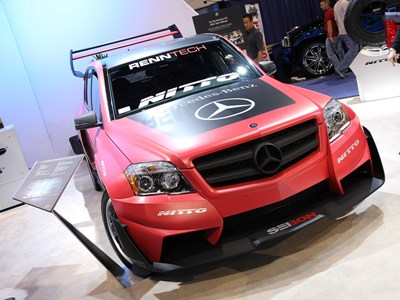 Page 5
We like the 2009 Ford Flex. A lot. A whole lot. But we're not the only ones who think that Ford's new family hauler is one of the coolest utilities on the road today. There are no fewer than 13 customized Ford Flexes on the floor at the 2008 SEMA Show, and our favorite by far is the Kal Koncepts/Air Syndicate version. With 22-inch spinner wheels (OK, you can keep those), a kickin' Sony Xplod sound system, complete with a full DJ setup with turntables in the back, and a paint job that will have you staring for hours, the Kal Koncepts Ford Flex is simply awesome.
Photo Credit: MyRide Staff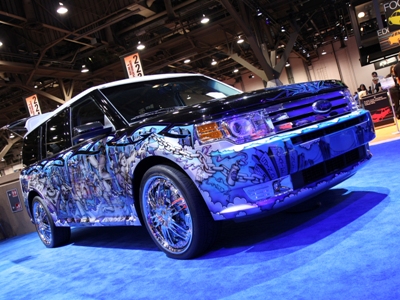 Page 6
Check out the best accessories, wheels, audio systems, custom cars and even green technology at the 2008 SEMA show!
Photo Credit: MyRide Staff