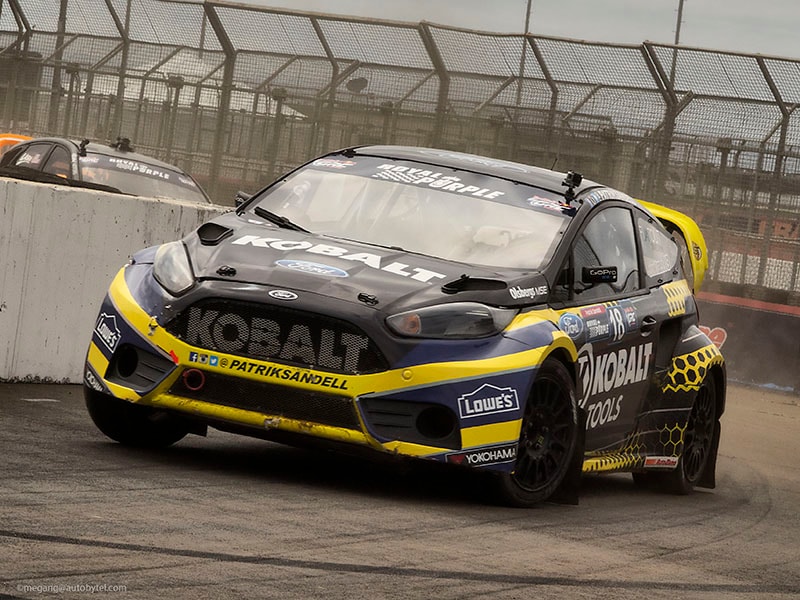 Patrik Sandell GRC LA 2014 ・ Photo by Megan Green
One interesting aspect of the Red Bull Global Rallycross racing series is that all cars must be manufactured factory models. That means that the cars seen racing in the Los Angeles double header September 20-21, 2014 started out as a car you can buy in a dealership - but then heavily modified and tuned for quick starts and to withstand the rigors of rallycross. The all-wheel drive cars are also raced without the benefit of traction control. Here, Patrick Sandell turns after coming off the table jump in a Ford Fiesta ST.
The Ford Fiesta ST is the most widely raced in the Global Rallycross series, with Ford winning its fourth Manufacturers' Championship this year. The youngest competitors in the Supercars Joni Wiman (pictured) and Austin Dyne both race in Fiesta STs.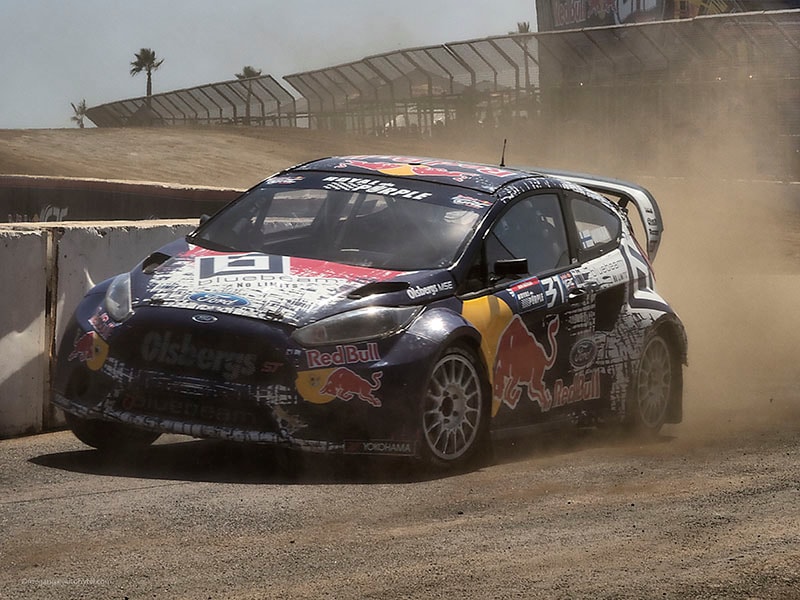 Photo by Megan Green
The performance version of the the subcompact Ford Fiesta - starting at $21,405 -  the ST sits lower to the ground than the base model with extended front fascia and a rear diffuser. Unlike the GRC drivers, you're allowed to use the three-mode electronic stability control in the 2015 Ford Fiesta ST - standard, sport, or you can turn it off to fulfill those rallycross daydreams. Even better, buy the car new for a free day of performance driving training at Miller Motorsports Park in Tooele, Utah. F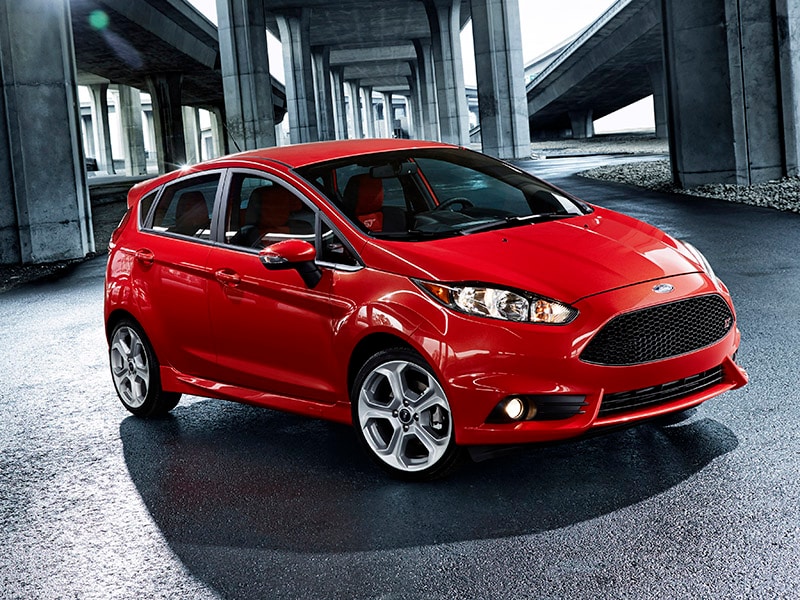 Photo by Ford Media
Racing for the first time in the series in Los Angeles was the bright yellow Volkswagen Beetle. American Top Gear stunt driver and seasoned GRC competitor Tanner Foust drove the 544 horsepower Beetle with a 1.6-liter four cylinder TSI turbocharged engine in its inaugural race Saturday.Foust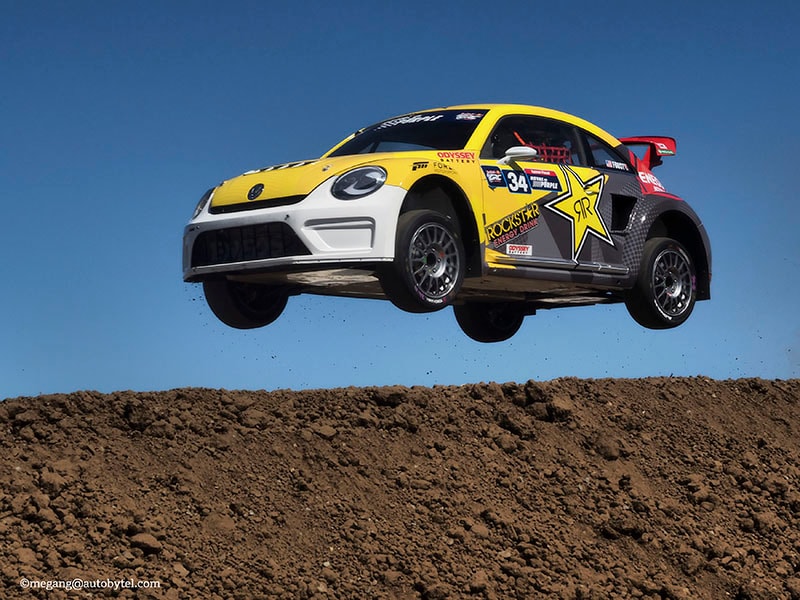 Photo by Megan Green
Starting at $20,195, the 2015 base model Beetle is offered with a 1.8 liter four cylinder engine capable of 170 horsepower. Upgrade to the performance Beetle R-line with a 2.0 liter, 4-cylinder engine for a jump to 210 horsepower. Along with the Beetle TDI - the diesel Beetle - all are offered with Electronic Stability Control.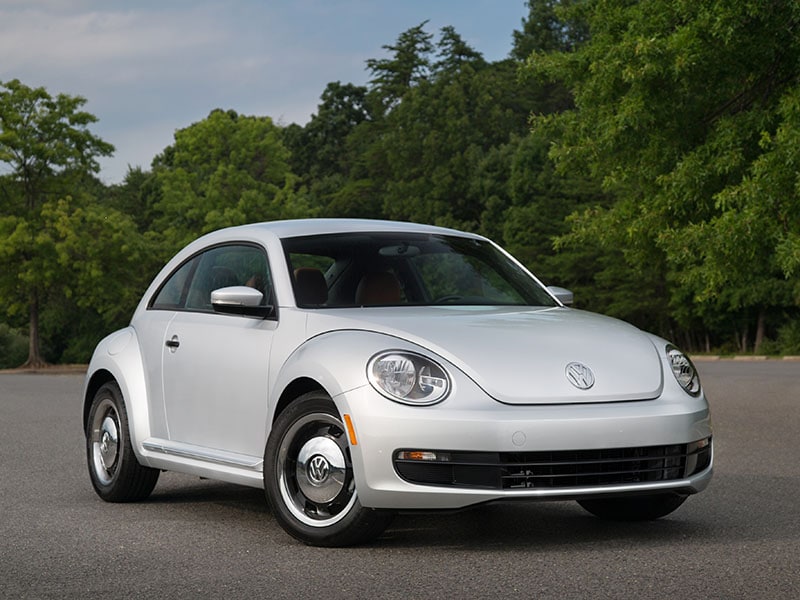 Photo by Volkswagen of America
New to Global Rallycross this year but no stranger to motorsports is New Zealand's Emma Gilmour. Joining Rhys Millen on the Hyundai team, Gilmour drives the tuned three-door Veloster Turbo with an engine that can generate over 600 horsepower.GR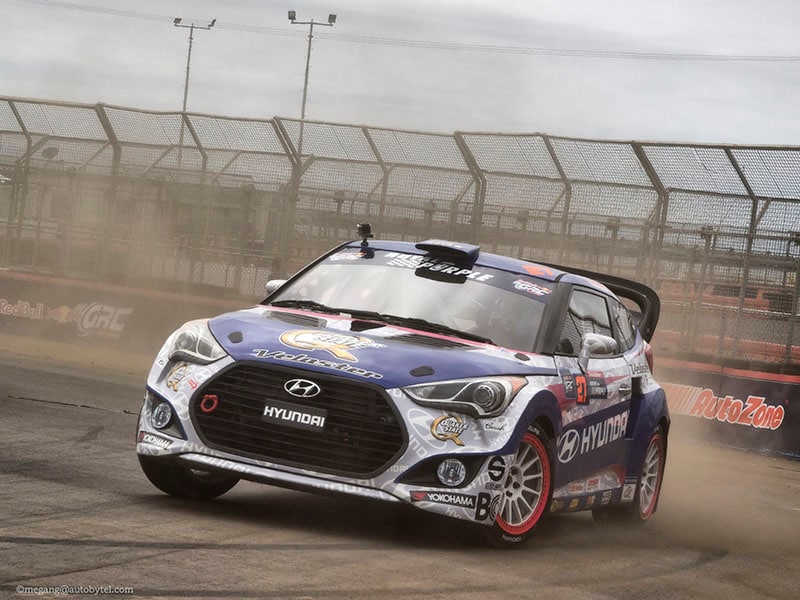 Photo by Megan Green
The 2015 Hyundai Veloster Turbo doesn't come with a roll cage or an upsized turbocharger, but the 1.6 liter, four-cylinder turbocharged engine generates 201 horsepower. Available with either a 6-speed manual or automatic transmission, you can pretend to be Emma driving behind the wheel of the little dynamo starting at $21,600. Switch to the RE:FLEX edition for chrome wheels and hood accents, LED taillights and leather seats.Megaai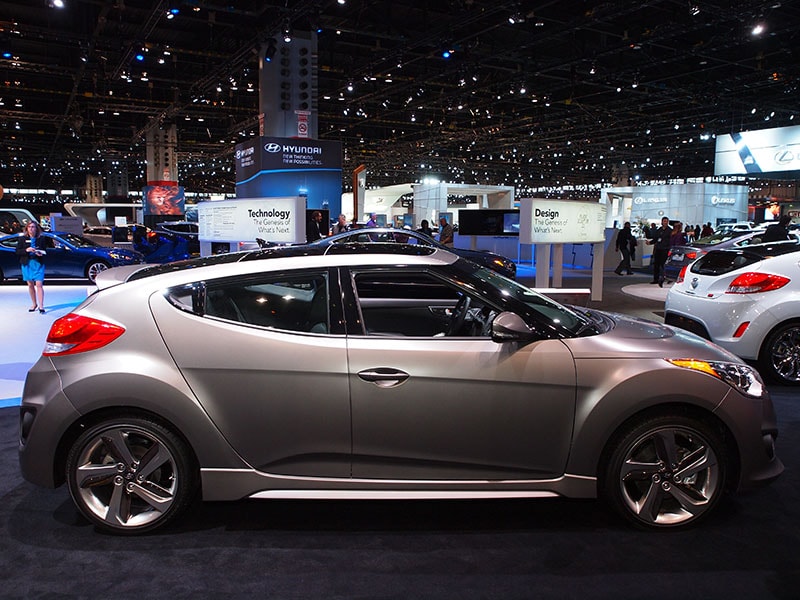 Photo by Megan Green
Travis Pastrana traded in his Dodge Dart after the 2013 season to join Subaru Rally Team USA in a WRX STI in Los Angeles. His second and third GRC race of 2014, Pastrana won a heat on Saturday and ultimately placed 6th and 8th in the final races.GRC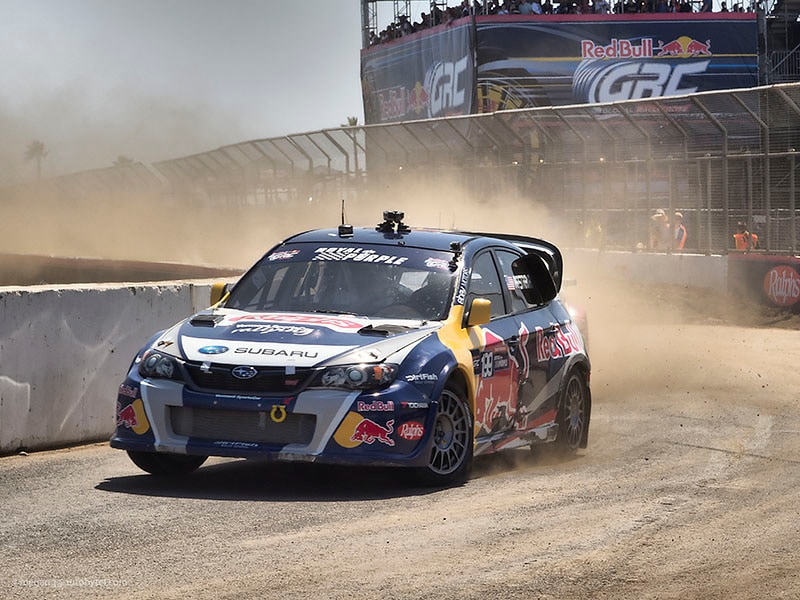 Photo by Megan Green
Competing in GRC with Subaru since 2012, Sverre Isachsen - three-time European rallycross champ known as "The Viking Warrior" - has had a good second half of 2014. The burly Norwegian whips the Subaru WRX STI around the GRC courses with teammate Bucky Lasek, and as of the Seattle race a week after the Los Angeles races, has had four podium finishes - garnering a first place finish in Seattle.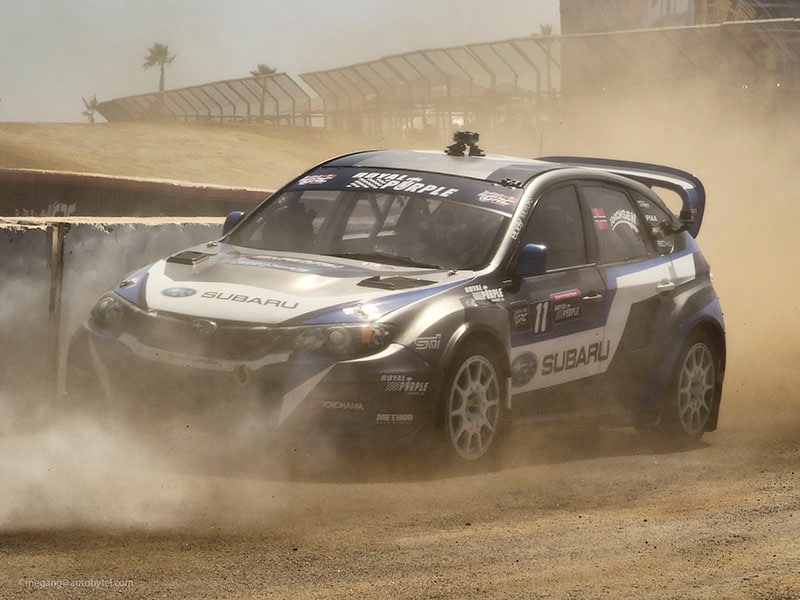 Photo by Megan Green
Earning an IIHS 2014 Top Safety Pick for 2014, the 2015 Subaru WRX STI's 2.5 liter BOXER engine boasts 305 horsepower - more powerful than the other consumer counterparts to the GRC rally cars. As Subaru's performance halo car, the street WRX STI benefits from a long competitive history in rally racing, with Brembo Performance disc brakes, inverted-strut front suspension, 6-speed manual transmission, and a functional hood scoop. The 2015 WRX STI starts at $34,495.2015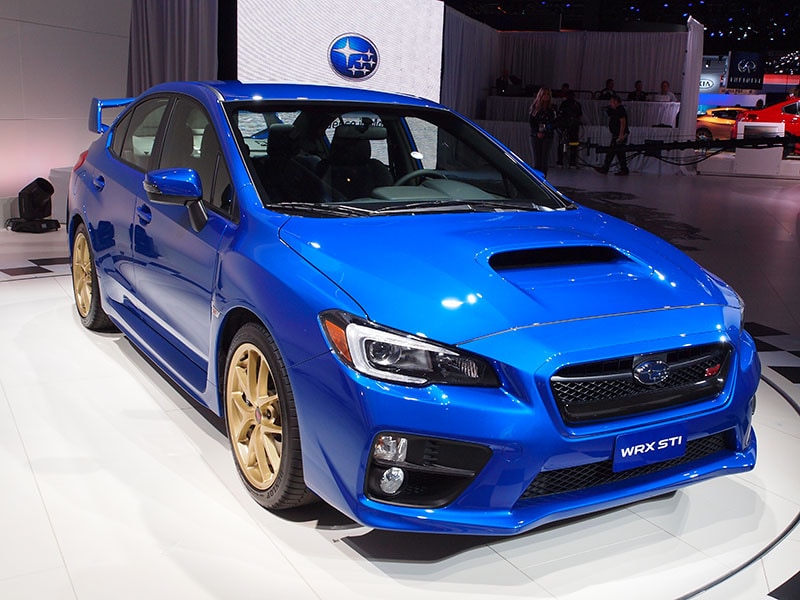 Photo by Megan Green
Rhys Millen took his heard-earned first-place victory on Sunday in Los Angeles in a Hyundai Veloster, as well as winning cash bonuses from the AutoZone Contingency Program. The RMR Veloster Turbo is packed with after-market performance parts such as an XTRAC handbrake hydraulic coupler and handbrake lever - handbrakes lock the rear wheel, enabling the driver to slide around turns.RhAa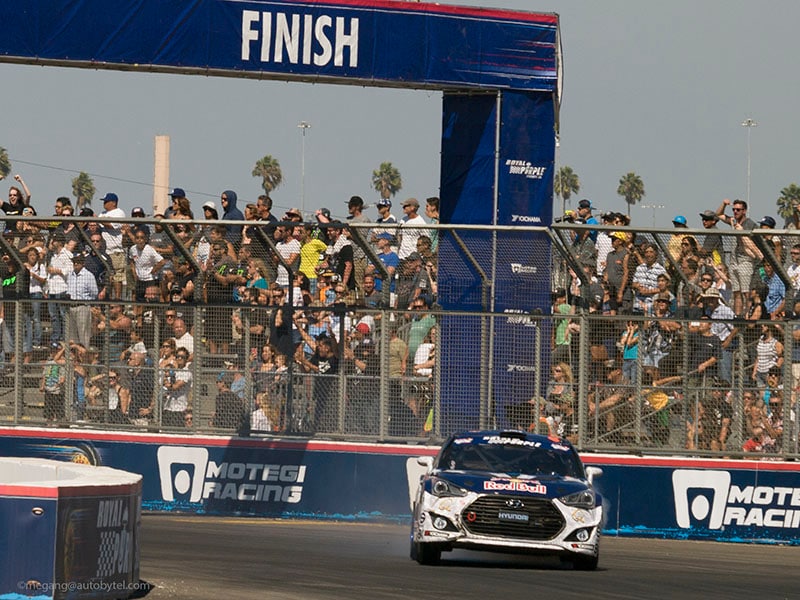 Photo by Megan Green