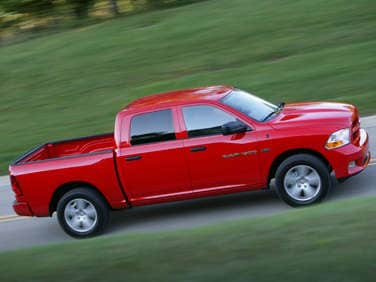 The Ram pickup roster has enjoyed a surprisingly robust year so far in 2011, especially considering how tough the sales environment has been lately for full-size trucks. Yet despite the headwinds, Ram not only leads the full-size pickup segment in terms of sales growth—with deliveries up by close to 25 percent—but also has far outperformed the industry. And now the brand is looking to capitalize on this momentum with a number of lineup changes geared toward meeting the needs of a wider range of customers.
Ram 1500 Tradesman HD: The Best of Both Worlds
Ram introduced the 1500 Tradesman model earlier this year as a high-value work truck for contractors, other small businesses and commercial fleets, and the response has been so strong that the brand is now expanding the concept to provide even more capabilities. Slated to launch early next year, the Ram 1500 Tradesman Heavy Duty will bridge the gap between the original Tradesman and Ram's HD lineup of ¾-ton (and larger) pickups by putting the body of the former on the frame of the latter. Specifically, the new Tradesman HD will still be—technically—a ½-ton Ram 1500 regular-cab truck with an 8-foot bed, but it will ride on the same frame as the RAM 2500 HD.
In addition, the Ram 1500 Tradesman HD will boast:
• Heavy-duty axles and eight-lug wheel hubs
• An HD version of the proven 5.7-liter HEMI engine, with 383 hp and 400 lb.-ft. of torque
• Ram's heavy-duty six-speed automatic transmission
• HD cooling and braking systems
• A Class IV hitch with lighted, above-the-bumper 4- and 7-pin trailer-wiring connectors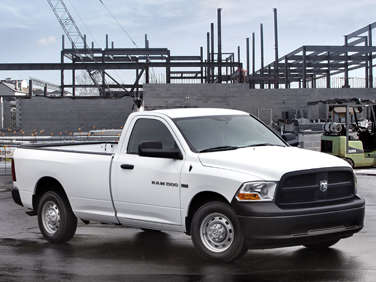 Photo by Ram Trucks
Thanks to these upgrades and more, the truck also gains bragging rights for leading all ½-ton trucks with an 11,500-lb. max trailer rating, a 3,100-lb. payload rating and a 17,500-lb. gross combined weight rating (GCWR).
"The Ram 1500 Tradesman Heavy Duty is a job-rated truck with the features commercial truck buyers want at a price they can afford," said Fred Diaz, president and CEO of both the Ram Truck Brand and Chrysler de Mexico. "The commercial truck segment is all about total cost of ownership and that includes being able to tow and haul more. It's a simple matter of economics. More towing and payload means fewer loads. And fewer loads mean lower fuel bills."
Pricing for the 2012 RAM 1500 Tradesman HD will be released at a later date.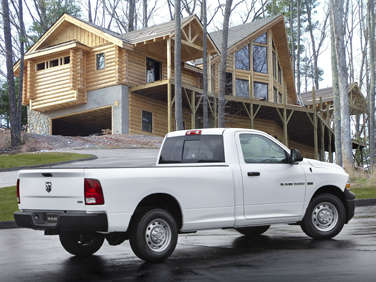 Reaching Young Buyers Using the Express Way
Another recently introduced and highly popular Ram variant—the Ram 1500 Express—will see expanded availability for the 2012 model year as well. Developed to offer first-time owners an easy-to-buy, easy-to-customize truck that already packs HEMI performance with a heavy dose of eye appeal, the Express originally debuted solely in a Regular Cab configuration. However, beginning in the fourth quarter of this year, Quad and Crew Cab Express models will reach dealerships, bringing extra interior room to a package that includes:
• A 5.7-liter HEMI tuned for 390 hp and 407 lb.-ft. of torque
• A monochromatic exterior paint scheme
• Body-colored front fascia, rear fascia and grille—the last featuring black honeycomb inserts
• A six-speaker AM/FM/CD/MP3 sound system
• Dual exhausts with chrome tips
• 20-inch aluminum wheels with locking lug nuts
• Fog lamps and halogen headlamps
• A rear-bumper step pad
• Front and rear stabilizer bars
• A 3.55 rear-axle ratio
• Available two- and four-wheel-drive powertrains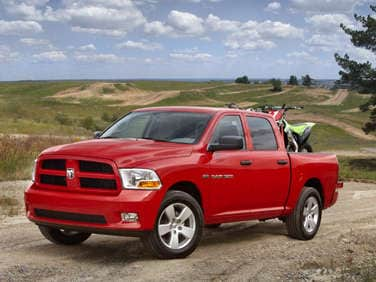 The idea here, according to Ram, is to offer "buyers a standard HEMI V8 engine with a 20 mpg rating for the same price competitors are charging for their V6 engines." And that results in MSRPs as follows: Ram 1500 Express Regular Cab, $23,080; Quad Cab, $28,050; and Crew Cab, $30,210.
"With HEMI® power and sport-truck styling, the Ram 1500 Express got off to a fast start—both literally and figuratively," said Diaz. "But we don't think the demand for value-priced performance trucks is limited to regular-cab models. Many young and first-time buyers are looking for the interior room of an extended-cab or Crew Cab pickup. The formula for Ram 1500 Express Quad Cab and Crew Cab remains the same as that of the regular cab: great looks and mpg, along with HEMI horsepower, torque, towing and payload, all at a fantastic price."
Another RamBox Ram-vantage
Then, in a move that can bring added versatility to both the Tradesman and Express—and a full 80 percent of Ram pickup models—the brand is introducing an extended version of its innovative RamBox in-bed cargo management system, which will become available for 6-foot 4-inch bed lengths (and remain available for 5-foot 7-inch beds).
"The 6-foot-4-inch RamBox is the definition of 'more of a good thing,'" according to Diaz "We have dramatically expanded RamBox availability and given it an outstanding price. Having convenient, secure storage for your gear—whether it's worksite tools, sporting equipment or a few cases of refreshments for the team—makes RamBox one of the greatest innovations that you'll find on a pickup truck."
To deliver on this claim, the RamBox system includes two lighted, lockable and drainable storage bins that stretch the full length of the pickup bed. But because these storage solutions fit around the spaces where the rear wheel-wells already intrude into the bed—creating up to 8.6 cubic feet of weatherproof cargo space—they have a minimal effect on the bed's existing payload room.
The RamBox setup also adds a stowable, adjustable bed divider/extender that can add two feet of additional bed length for long loads or create separate compartments within the bed for situations in which different kinds of cargo need to be kept apart. Cargo rails with integrated, adjustable cleats for a variety of tie-down solutions are included with the Rambox, too.
Notably, Ram has adopted a high-value pricing strategy for the RamBox for the 2012 model year, with the MSRP for both sizes set at $1,295—32 percent lower than the cost of the shorter RamBox in 2011.
All of which should go a long way toward bolstering Ram sales further for the new model year.