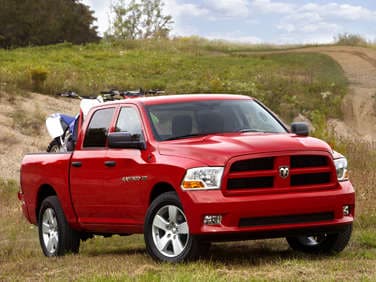 Dodge's truck brand Ram has introduced a new version of its value packaged Tradesman model that has a lot more going on for it than meets the eye. The Tradesman line was established to offer some of the best features someone would want in a work truck, and now the new Ram 1500 Tradesman HD may just be more truck than the name suggests.
The purpose of the Tradesman Heavy Duty compared to its non-HD sibling is to offer the capacity to tow a little more and carry a little more. The Tradesman HD has maximum trailer capacity of 11,500 lbs, which is 1,050 lbs more than the standard Tradesman. Where the Tradesman HD really shines is in its payload capacity rated at 3,100 lbs. This is not only a 1,440 lbs improvement over the regular 1500 Tradesman (with eight-foot bed), but also it is 40 lbs more than a Ford F-150 with Max Trailer package and 1,294 lbs more than a Silverado 1500 Work Truck.
How does the RAM 1500 Tradesman HD become the best work truck in its class? It cheats.
Underneath the 1500 series badge lies the frame of the RAM 2500 HD truck. But the 1500 Tradesman HD doesn't just borrow the frame from its bigger, beefier brother. This Tradesman also gets the 2500 series axles, larger HD brakes, eight-lug wheels, and HD six-speed automatic transmission.
The engine is even more proof that this Tradesman is a 2500 series truck in disguise. The 5.7-liter HEMI V-8 utilized over the entire Tradesman line is listed by Ram as making 383 hp and 400 lb-ft of torque in the HD. That's down from the regular Tradesman's listed 390 hp and 407 lb-ft, but it is exactly in line for the power this engine makes in the 2500 series trucks.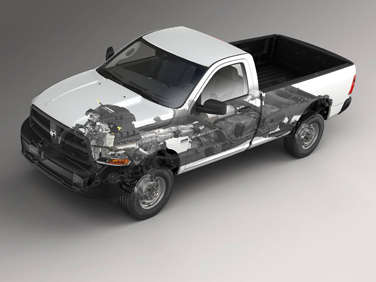 Just like the rest of the Tradesman line, the HD truck is only available in a regular cab and 4x2 drivetrain. All Tradesman trucks also receive a Class IV trailer hitch (with four and seven-pin trailer wire connectors,) as well as the heavy-duty engine and transmission cooling package. The standard Tradesman is available in short or long box, but the capacity-driven Tradesman HD only comes with the longer eight-foot truck bed.
The Ram 1500 Tradesman HD will be in dealers by the beginning of 2012 for a price likely below $30,000. How much of a deal this actually is will depend on the final pricing. After all, similarly equipped Ram 2500 HD has a retail price below $30k, and it offers more towing capacity. Regardless of how value-minded this Tradseman will be, competing as a 1500 series truck makes the Tradesman HD a wolf in a smaller Ram's clothing.