We can't tell you how many people asked us this question when we took the car out in public. Yes, some of us were starting to wonder if the new Camaro was going to appear on screen in another Transformers movie before anyone actually got to drive one, but as of March 16th, 2009, the new Chevrolet Camaro is finally rolling off the production line. It's been seven years since the last Camaro was sold, three years since we first saw the new generation concept, and in the 43 years since the Camaro first went on sale, rarely has there been a model so eagerly anticipated.
By Elliot Darvick Photos courtesy of: Chevrolet, unless noted otherwise
Page 2
There is something about seeing this vehicle without all the lights and glamour of the auto show circuit. It's real, you can touch it, and it...looks...good. You really appreciate in person the small exterior details like how the tires take up just the perfect amount of space in the wheel wells, and how small and aerodynamic Chevrolet's designers were able to make the side view mirrors. You can't help but smile the first time you see one.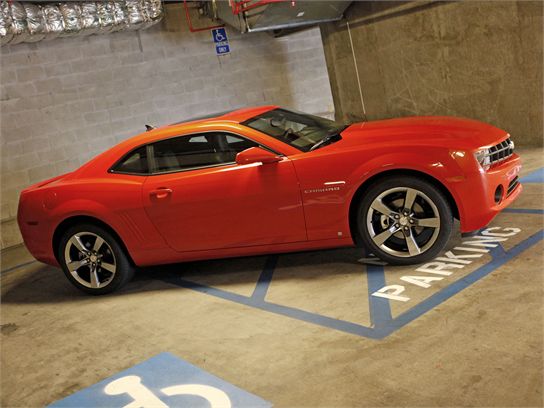 Page 3
At its 2006 Detroit Auto Show unveiling, the positive reaction to the Camaro Concept was nearly unanimous among the crowd, garnering numerous "best concept of show" awards for Chevrolet. Point being, if Chevrolet released a production car that didn't live up to the sky-high bar the concept set, the collective groaning among hundreds of thousands of people waiting for its return would likely keep Chevrolet's team awake for weeks. If any noise is keeping them awake now, it's the sound of clapping, as they nailed the translation of concept design to production.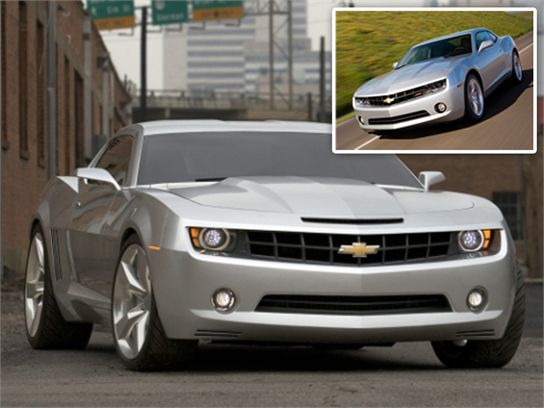 Page 4
There are certainly elements of the new Chevrolet Camaro that call back to Camaros of old, like the long hood and muscular rear-quarters of '69 Camaro, but retro really wasn't the goal of Chevrolet's designers. In their opinion, if someone is that attached to the 60's era Camaro, by all means there are plenty for sale. For a new Camaro to be successful with a younger audience not alive when the '69 Camaro was the car to buy, it had to appeal to emotions inspired by compelling modern design, not just nostalgia.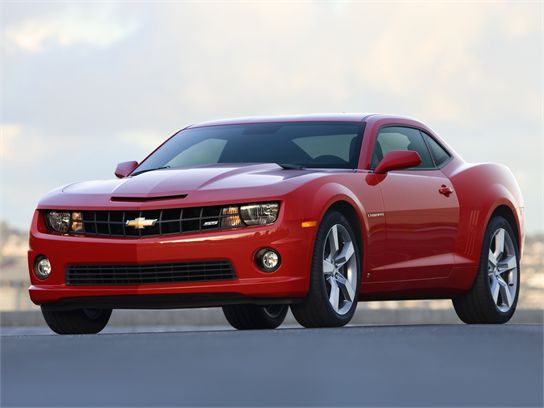 Page 5
It's intimate, or slightly claustrophobic depending on your comfort level. The raked windshield looks great from the outside, but makes for decreased visibility. We got used to it quickly, but if you like a commanding view of the road, this is not your ride. As to road tripping, for long stints up the California coast or through the Blue Ridge Parkway, we found the seats comfortable and supportive, perfect for long driving sessions.
Photo Credit: Tom Drew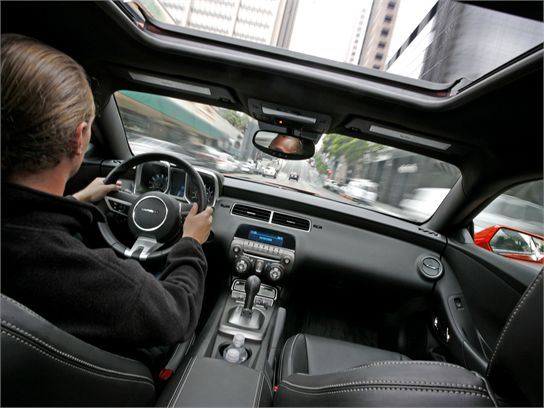 Page 6
We find it somewhat under-whelming. The driver's side is elegantly simple, and the gauges a nice shade of retrofuturistic, but in the all-black interior we had, the passenger side is a dark expanse of dullness. In fairness to Chevrolet, we were in a pre-production model and were told the production models will have slightly alternate material on the upper passenger-side dash that offers a higher degree of contrast. Design aside, the quality of material was high, everything was logically laid out, and we appreciated details like contrast stitching on the leather and the "deep-dish" steering wheel.
Photo Credit: Tom Drew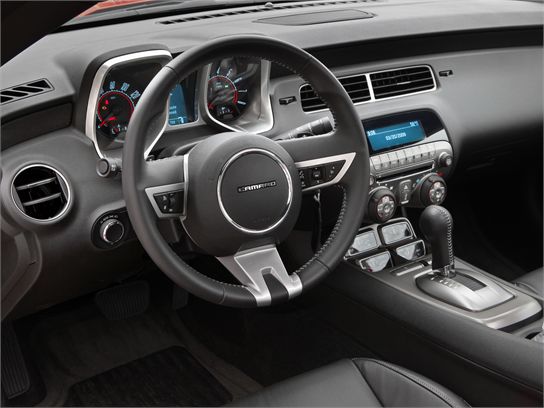 Page 7
We haven't driven your cousin's '75 Camaro, but chances are it was built for straight roads and drag racing; our guess is that "handling" isn't one of its more rewarding attributes. Not so with the new 2010 Chevrolet Camaro. At no time in our drive did we feel like the rear suspension was anything but planted firmly, and the steering felt sophisticated and confident, if not a bit too isolated from the road. We preferred the stiffer suspension on the upgraded Camaro SS, but the base suspension was plenty competent, and was just as fun to drive at high speeds through twisted roads--something you probably wouldn't want to attempt in your cousin's vintage beauty.

Page 8
The 2010 Chevrolet Camaro currently comes in two varieties: The LS or LT trim which offer a 3.6L direct-injected V-6 with 304 horsepower, and the SS trim, with a 6.2L Corvette-derived V-8 good for 426 horsepower with a manual transmission and 400 horsepower with an automatic. The V6 will get you to 60 mph in 6.1 seconds, and the V8 will have you yelling Jumanji in 4.7 seconds as you pass the 60 mark on your speedometer.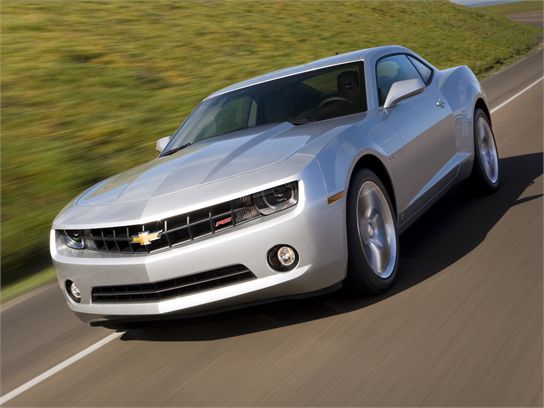 Page 9
Intuition would tell you that if you were looking for a fuel efficient ride, you might want to choose something that gets 30 mpg on the highway like a Honda Accord with a 190 horsepower four-cylinder engine. Consider then that the Camaro gets an EPA-certified 29 mpg on the highway from a 304 horsepower V6. Follow us? For the first time a muscle car could almost be a "sensible" choice when it comes to gas mileage. Even the V8 Camaro SS gets 25 mpg on the highway. Does that answer your question?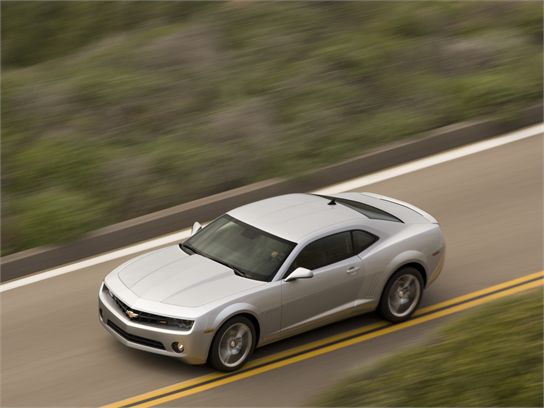 Page 10
Historically, going with the V6 was an option for those that wanted the looks of a muscle car but couldn't afford the performance of a V8. It was socially unacceptable among true gearheads. With 304 horsepower, 0-60 in 6.1 seconds, a great exhaust note, and gas mileage of 18/29 mpg, the V6 all of a sudden looks like a really compelling option, especially at a starting price of $22,245. Not so unacceptable after all. Consider too that cosmetically, you can option a V-6 Camaro to look very similar to a V-8 Camaro SS; all you'd really be missing out on would be SS badges, a non-functional hood-scoop, a slightly different front fascia, and Brembo brake calipers (which do look awesome). That said, if you just love raw power, spend the extra $8,000 and you won't regret it the minute you mash the V8's accelerator.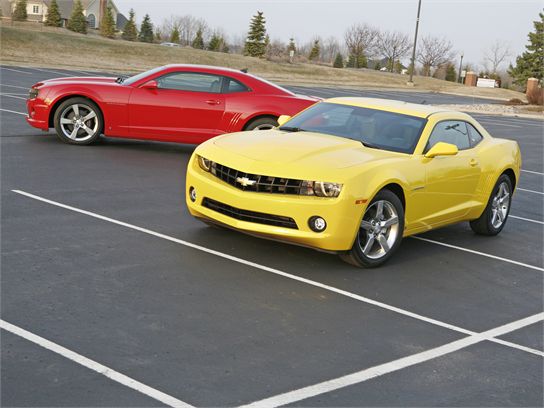 Page 11
Chevrolet has made an RS package available on all but the base trim Camaros. Depending on your level of trim it varies in price from $1,200 to $1,750. With the RS package you get 20-inch aluminum wheels, dark-tint tailamps, a subtle rear spoiler, and our favorite -- HID headlamps with LED halo rings (see inset). The halo rings are a unique and sinister-looking touch that really set the Camaro apart. We should also note that if you do choose the automatic transmission option, it's a great unit that always seemed to find the perfect gear.