2016 Mercedes Benz Sprinter exterior profile parked on street ・ Photo by Andy Bornhop
A confession: I love vans. A 1965 Volkswagen bus got me through college in the 1980s, and I've had a Dodge Ram Wagon as a family hauler since 2000. Boxy, to me, is beautiful. So I relished my recent opportunity to drive a Mercedes-Benz Sprinter up to my niece's wedding in Livermore, California. Although this particular Sprinter—a 12-seat 2500 Passenger Van with long wheelbase and high roof—was far larger than I needed, it allowed me to invite extra family members along and have them bring any amount of extra luggage they thought they might need. Best of all, our 870-mile round trip gave the six of us plenty of time to learn the various pros and cons of living with the Mercedes-Benz Sprinter as a family van.
Pro: It's Huge!
Numbers don't lie: The Mercedes-Benz Sprinter is gargantuan, some 50 inches longer than a Chevrolet Suburban. With an overall length of 274.1 inches, a wheelbase of 170.3 inches, a height of 110.0 inches, and a width of 95.5 inches, the Sprinter Passenger Van is effectively a 23-foot bus with a 14-foot wheelbase.
Size has its benefits. The Sprinter seats 12 comfortably in four rows (2,3,3,4), which meant sons John and Andrew had the spacious rear benches to themselves for sleep. Just as handy, the high-roof Sprinter has copious head room and a perfectly flat rear load floor that's 6 feet long and nearly 6 feet wide, with 52 inches between wheel housings. Because of all this room, we were able to transport all the wedding flowers to the reception hall on Saturday morning. This was a party for 220 people, and all the floral arrangements fit with ease in the Sprinter, arranged neatly on the load floor and protected from the elements during transport.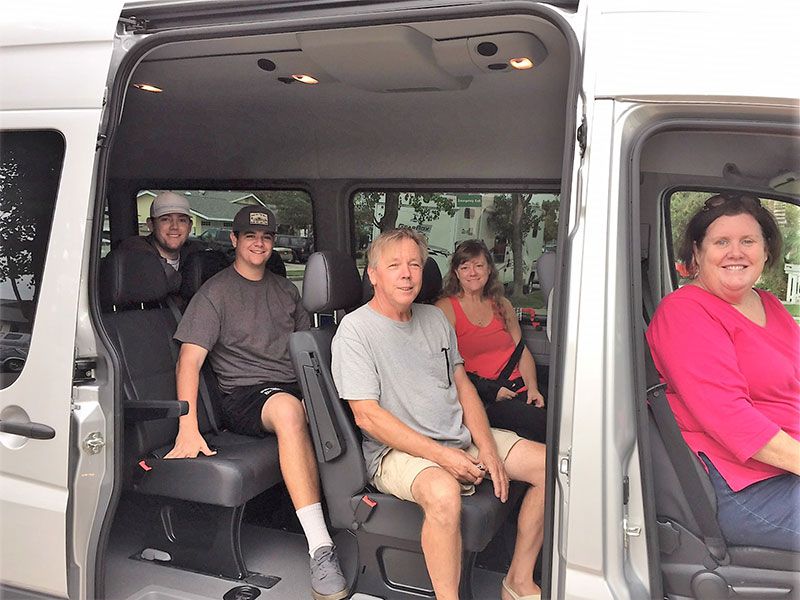 Photo by Andy Bornhop
Con: It's Huge!
While we love the Sprinter Passenger Van's versatility, there are some negatives related to its size. It's tough to park. You can't go through the drive-through at In-N-Out Burger. It doesn't fit in most parking structures. You can't get it cleaned at an automatic car wash. And even though it has a tight turning radius for its size (54.8 feet), don't even think about making a u-turn on a residential street. Also, it's not easy to turn right into a driveway from the right lane: You need to drive well past your typical turn-in point and then head in much later than usual to ensure that your right rear wheel—the one 14 feet behind the front one—doesn't climb the curb. Another con: The long-wheelbase/high-roof Sprinter won't fit in most garages or today's short driveways. The short-wheelbase version, which also seats 12 but is only 9 inches longer than a Suburban—fits much better in traditional parking spots.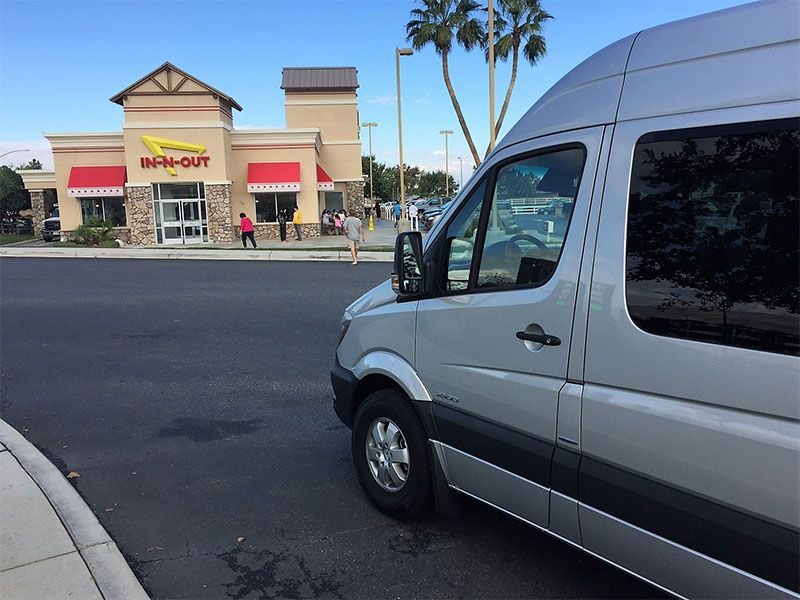 Photo by Andy Bornhop
Great MPG!
In our 870-mile round trip to Livermore from Southern California (which involved a fair amount of city driving at both ends), the Sprinter Passenger Van burned 39.2 gallons of ultra-low-sulfur diesel, which equates to 22.2 MPG. That's impressive for a big aerodynamic brick weighing 6230 lb.
Credit here goes to the efficient 2.1-liter turbodiesel, a proven 4-cylinder iron-block engine that produces 161 horsepower at 3800 RPM and 265 lb.-ft. of torque from 1400 to 2400 RPM. Internal balance shafts help keep it smooth, and it's well insulated from the Sprinter's enormous cabin. The only gearbox available is a smooth-shifting 7-speed automatic, and at 65 MPH in top gear, the engine is running at 2100 RPM. While that's higher than you'd see with a large-displacement V8, this is a small engine doing a lot of work, yet it never feels strained, even when climbing Interstate 5's infamous Grapevine at 60 mph.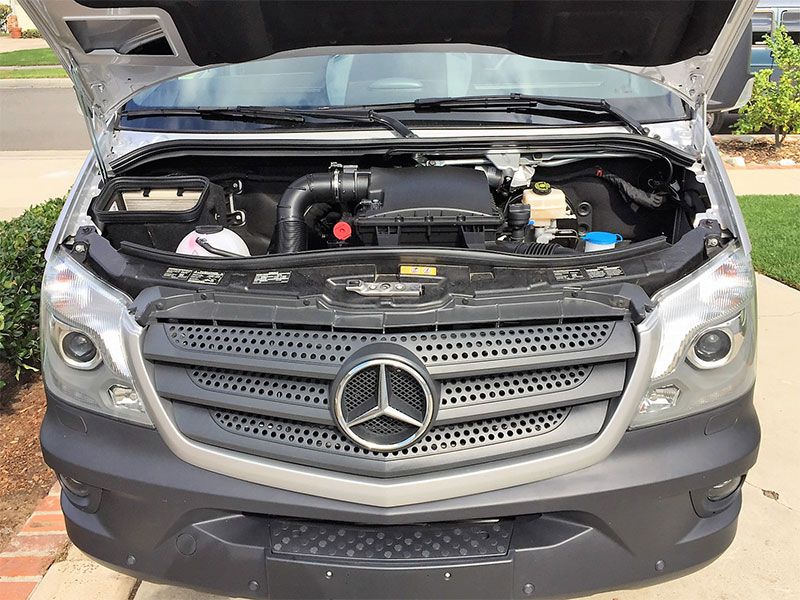 Photo by Andy Bornhop
Con: Rough on Bumpy Roads
Because it's such a big and heavy vehicle, the Sprinter Passenger Van is fitted with Load Range E tires. While these heavy duty tires allow this large Mercedes van to carry all its weight safely, they do require more air pressure (47 PSI front, 70 PSI rear) than is typical for a car or a crossover. As a result, the Sprinter Passenger Van will shake your internal organs on rough or poorly maintained roads. And making matters worse on our particular Sprinter was its massive sliding side door, which functioned with a well oiled precision but had a tendency to creak and rattle at times on LA's bumpy freeways. On smooth roads, all felt felt fine with the Sprinter Passenger Van, which exhibited a comfortable ride with excellent suspension damping.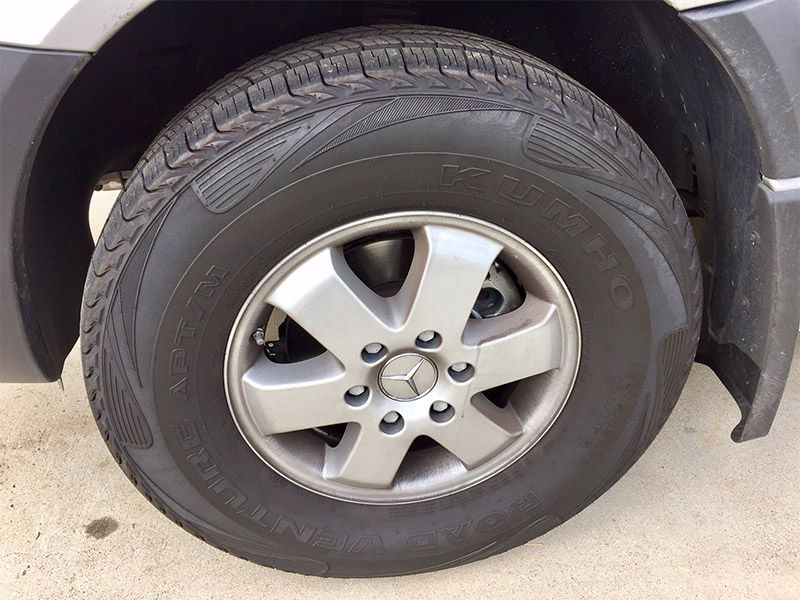 Photo by Andy Bornhop
Pro: Made in Germany
Cargo versions of the Sprinter are classified as light trucks in the U.S. and are therefore subject to a 25 percent import duty. To get around this "chicken tax," Mercedes builds Sprinter cargo vans in Germany, then disassembles them and ships them to the U.S., where they are put together again at a plant in South Carolina. The Sprinter Passenger Van, in contrast, is not classified as a light truck and is not subject to the same import duty, so it's built in Germany and shipped to the U.S. in fully assembled form. While we have nothing against the talented workers at the Sprinter reassembly plant in Ladson, South Carolina, we'd rather have a Sprinter that has been put together only once.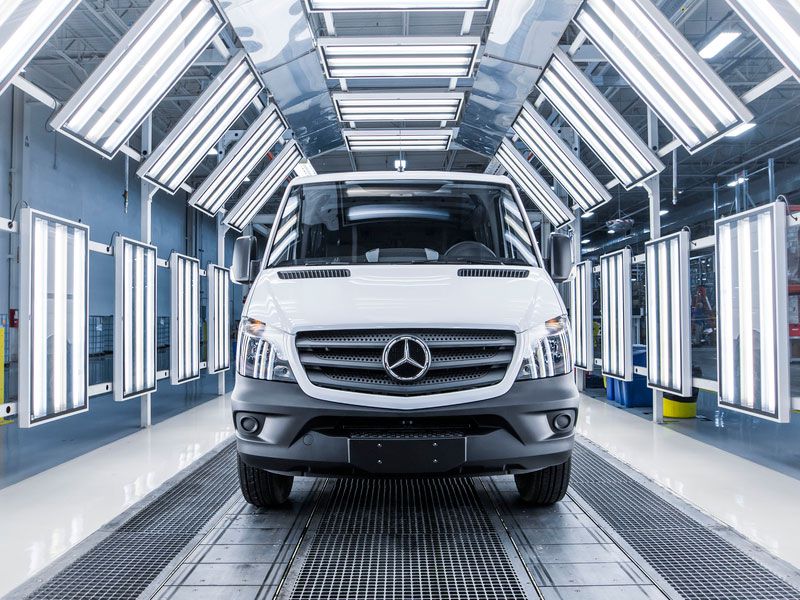 Photo by Mercedes-Benz
Con: It's Misnamed
In the U.S., the Mercedes-Benz Sprinter is available with a choice of turbodiesels: either a 2.1-liter 4-cylinder with 161 horsepower or a 3.0-liter V6 with 188. What these engines have in common is a lot of torque—266 lb.-ft. for the 4-cylinder and 325 lb.-ft. for the V6--that peaks from 1400 RPM to 2400 RPM in each powerplant. What these efficient engines don't do is make this large van live up to its Sprinter name. While these Mercedes vans work well without breaking a sweat, they are by no means fast. How does Mercedes get away with using this name on a vehicle with an electronically governed top speed of 82 mph? Maybe Ferrari should name its next supercar the Slug.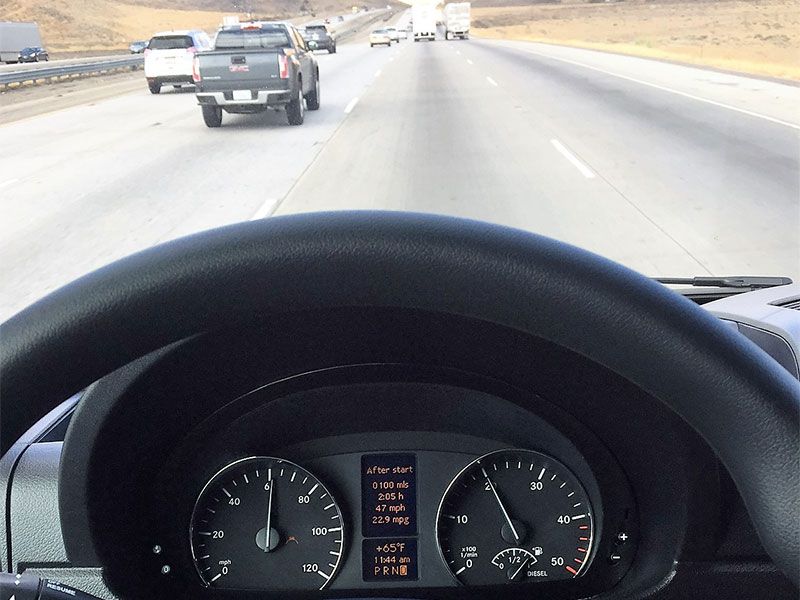 Photo by Andy Bornhop
Pro: Abundant Safety Tech
While the Sprinter has commercial origins, the Passenger Van boasts loads of technology to help keep people safe. Besides ABS and load-adaptive electronic stability control, the Sprinter Passenger Van is fitted with Crosswind Assist, Hill Start Assist, and Brake Assist, plus window and thorax airbags for the driver and front passenger. And although all the tinted rear windows are fixed (not openable), the side glass immediately behind the driver serves as an emergency exit. Options on the Brilliant Silver Metallic Sprinter we drove included Parktronic sensors, a rearview camera, blind spot monitoring (all much appreciated), together with collision prevention assist, lane keeping assist (with its annoying beeps), and high beam assist.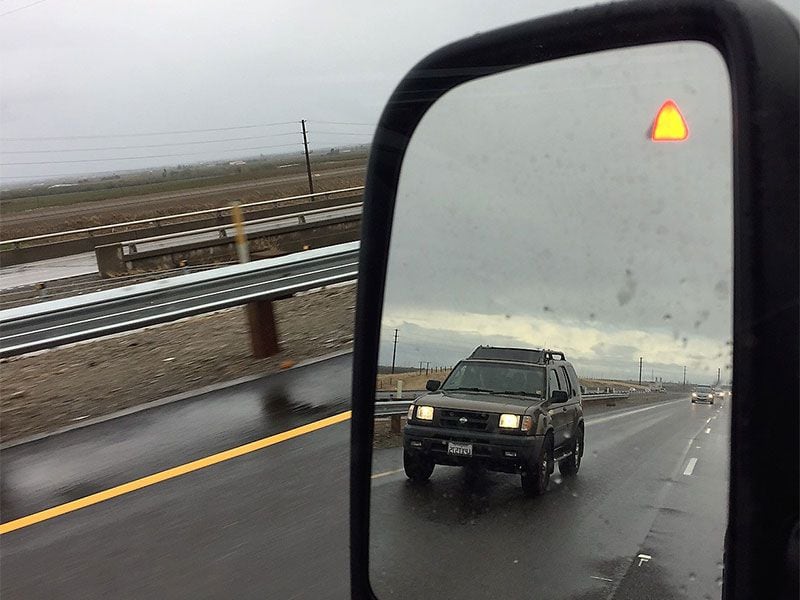 Photo by Andy Bornhop
Con: Good, Not Great, Payload
The maximum payload for the unit-body Mercedes-Benz Sprinter 2500 Passenger Van with the long wheelbase and high roof is 2275 lb. While that's more than a ton (and far exceeds the needs of the Bornhop six), consider this: If all 12 seats were occupied by people who each weigh 190 lb., the Sprinter would be at its max allowable GVWR of 8550 lb. and not be rated to carry any luggage or gear. So maybe it's not ideal for transporting a high school football team. For the record, the Ford Transit Passenger Wagon, also a unit-body design, seats up to 15 and has higher payload ratings.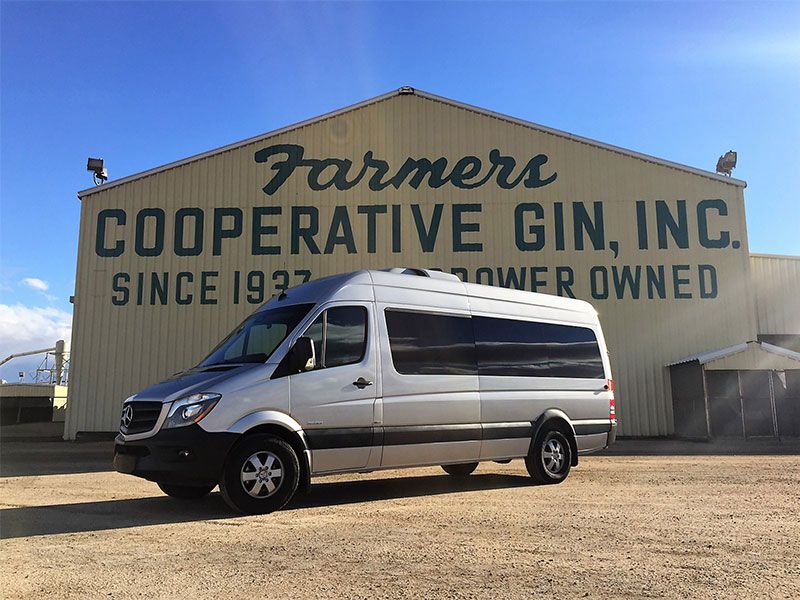 Photo by Andy Bornhop
Utilitarian Inside, But Not Austere
Although it's more like a city bus inside than, say, a sumptuously appointed Cadillac Escalade, the Mercedes-Benz Sprinter Passenger Van is far from austere. You won't find Apple CarPlay in this big box, but it has Bluetooth and a trip computer, and its firm but comfortable seats are covered in a durable black leatherette. The dash is plainly handsome, and in addition to 10 cup holders, there are five ashtrays (!) and five 12-volt power points (three in front and two in back near the rear doors, which can swing open 270 degrees). The steering wheel tilts and telescopes to help the driver find a comfortable seating position, and the view out the large windscreen is superb. The screen of the optional Becker navigation system is small by today's standards; far more important is its role as the screen for what I feel is the essential backup camera. In addition to dual-zone climate control, our Sprinter Passenger Van had auxiliary heating and air conditioning for the rear, plus a toolbox, a first aid kit, and a 10-speaker stereo with USB and aux connections.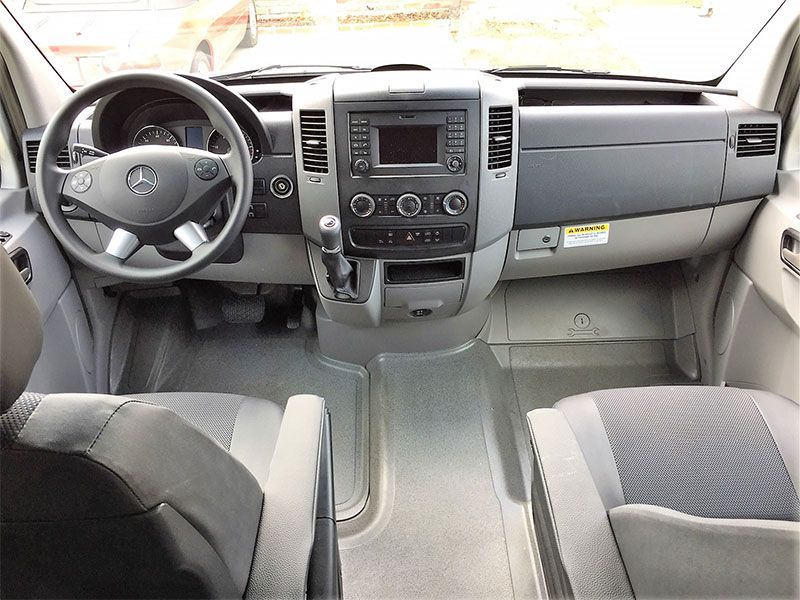 Photo by Andy Bornhop
Con: Good, Not Great, Tow Machine
Mercedes says the long-wheelbase Sprinter Passenger Wagon with the high roof and the 2.1-liter turbodiesel (or the diesel V6) is rated to tow 5000 lb. That's good, better than the 12- and 15-seat Ford Transits with larger engines. But if you really need to tow something heavy—like a large boat or a horse trailer—you'd be far better off with a large diesel pickup or one of the fullsize body-on-frame vans from General Motors or Nissan. Do remember, however, that with so much space available in the back of the long-wheelbase Sprinter, you may not need, for example, a tent trailer. Just toss your tent in back, along with all your other camping gear, and head to the mountains all self-contained.
Photo by Andy Bornhop