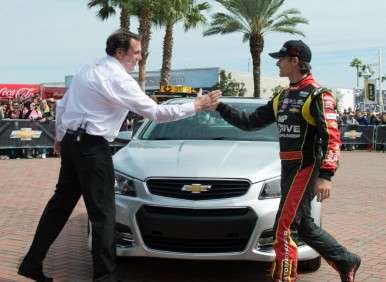 The all-new 2014 Chevrolet SS won't actually go on sale until the third quarter of 2013, but the brand's V8-powered performance sedan already has begun re-writing the rulebook. For example, instead of taking the ol' "race on Sunday, sell on Monday" approach to NASCAR, the SS has gone the route of "debut on Saturday, win the pole on Sunday": The brand showed off the retail version of the 2014 Chevy SS before the first round of qualifying for this year's Daytona 500, and then, the next day, Danica Patrick drove her SS racecar to the event's fastest pole-position time in nearly 25 years. The bottom line: A top speed of 196.434 mph and a lap time of 45.817 seconds for the first female driver to claim the No. 1 starting position in the Great American Race.
It was a close call, however, as Jeff Gordon—behind the wheel of his own Chevy SS—qualified just a few hundredths of a second behind Patrick to ensure an all-Chevrolet front row for the this year's Daytona 500. Bowtie fans also will be pleased to know that the fourth- and fifth-fastest times were set by Chevy SS drivers Ryan Newman and Tony Stewart, who also happen to be Patrick's teammates.
Of course, fans will be even happier yet when they start seeing some of the specs for the 2014 Chevy SS…
2014 Chevy SS: High-performance Highlights
The starting point of the 2014 Chevy SS is the same proven rear-wheel-drive platform leveraged by the 2013 Chevrolet Camaro, and like the Camaro—and the 2013 Chevrolet Corvette—motivation comes from a hand-built LS3 V8 engine that's actually bigger than the ones used in the SS racecars. As a result, the retail cars will offer up 415 hp and a like amount of lb.-ft. of torque, with that power sent exclusively through a six-speed paddle-shifting automatic transmission to enable 0-60 sprints in right around 5 seconds.
Other notable performance enhancers for the 2014 Chevy SS include its standard Brembo brakes, with two-piece, four-piston front calipers, and ultra-high-performance rubber from Bridgestone. Up front, the car wears 245/40ZR19 tires wrapped around 19 x 8.5-inch aluminum-forged wheels, while the back is configured with 275/35ZR19 tires and 19 x 9-inch wheels.
Thus, despite the NASCAR pedigree of the 2014 Chevy SS, owners will enjoy incredible driving dynamics regardless of which way they turn the wheel. As explained by David Leone, executive chief engineer for GM's global programs: "Our goal was to create a car that delivers incredible grip and handling balance while cornering, while still being comfortable to drive on the road. The perfect weight balance and lower center of gravity were a big part of that goal because it enabled the team to tune for a more comfortable highway ride without sacrificing handling or driver confidence while cornering at the limits." 
2014 Chevy SS: Flagship Luxuries
The Bowtie brand's new range-topper won't just be absurdly powerful, it also will feature a particularly wide range of premium amenities right out of the box. The muscular exterior of the 2014 Chevrolet SS showcases much attention to detail, along with a tasteful application of chrome accents and LED daytime running lights, and relies on an aluminum hood and rear deck lid for impressive weight savings. Dimensionally speaking, the SS stretches 195.6 inches, allowing it to fit in between the mid-size Chevy Malibu (191.5 inches in length) and the full-sized all-new Chevy Impala (201.3 inches), and the SS is somewhat wider than that pair as well, reinforcing its sportier esthetic.
Inside the 2014 Chevy SS, up to five adult occupants will enjoy a fairly capacious cabin that provides 42 inches of front legroom, 39 inches of rear legroom and standard leather seating in both rows, highlighted by soft-touch materials, both satin-gloss and bright-chrome accents, and ice-blue ambient lighting.
Further standard amenities in the 2014 Chevy SS will include:
Nine speakers worth of premium sound from Bose, enhanced by a color touchscreen that also supports Chevrolet's MyLink infotainment/connectivity system and the brand's next-gen nav technology
High-tech driver-assistance measures like forward collision alert, lane-departure warning, side blind-zone alert, a rearview camera with rear cross-traffic alert and the StabiliTrak electronic stability control system
Upscale touches like push-button start and a color heads-up display
The 2014 Chevrolet SS also will be the first Bowtie product to offer hands-free park-assist technology.
The party line from Mark Reuss, president of GM North America: "The Chevrolet brand was largely built on the strength of rear-drive performance sedans, yet it's been 17 years since we've offered one. The all-new Chevrolet SS fills that void and fills it better than any other vehicle in the brand's rich history. The comfort, convenience, spaciousness and V8 power make the SS a total performance package unlike any other on the road today."