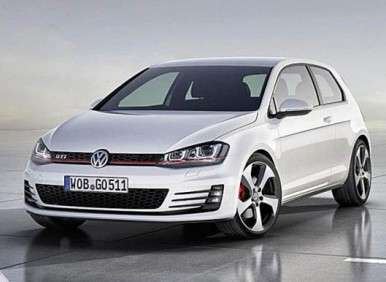 While the all-new seventh-generation Volkswagen Golf is no doubt the star of VW's Paris Motor Show exhibit—and the beneficiary of some expert Autobytel analysis: —a stellar reworking of the 2014 VW GTI also made its appearance at the event. The lightly disguised "concept" showcases all of the advances found in the new Golf, but then adds a significant power-up that should help it regain its mojo against the newer class of hot hatches on the road today.
2014 VW GTI: Going Faster
The 2014 VW GTI also gains a massive injection of torque from its new 2.0-liter, turbocharged I4 engine, welcoming 258 lb.-ft. of torque (a jump of more than 50 lb.-ft.) and 217 hp (an increase of 17 horses over the 2013 model). But that's just the starting point: Volkswagen will break new ground with its first available power upgrade for the GTI, too. It brings an added 10 hp or so, along with an electronic locking front differential to reduce torque steer, bigger front brakes for better stopping abilities, and a sport-tuned and lowered suspension setup to enhance handling.
Backed by these changes and more, the 2014 Volkswagen GTI is expected to be more than half a second quicker from 0-100 km/h than the current iteration, achieving that run in just 6.6 seconds without VW's power pack and 6.5 seconds with. There's also a slight variation in top speed for the next-gen GTI duo, with the standard version topping out at 152 mph and the upgraded model able to run to 155 mph.
A six-speed manual is the standard gearbox in both, with VW's six-speed dual-clutch DSG unit also available, and each will feature an innovative variable-ratio steering system—with a new flat-bottomed racing-style wheel—that reduces steering effort at low speeds and enhances steering dynamics in more demanding driving scenarios.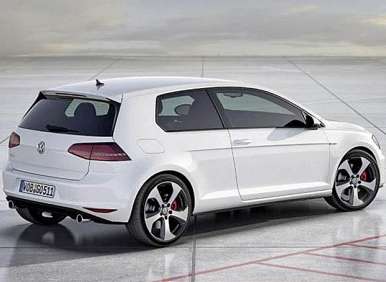 2014 VW GTI: Going Greener
But even as Volkswagen was boosting the 2014 VW GTI's performance, its engineers were working to achieve similar gains in terms of fuel efficiency. By deploying efficiency enhancers like standard stop/start technology, which cuts off the flow of fuel to the engine when the driver releases the gas pedal, the next-gen GTI is in line to raise its fuel-economy performance by 18 percent as compared to the current car.
And while it can be tricky to convert Euro numbers to their U.S. equivalents, that sort of gain would translate into an EPA line of 28 mpg city/39 mpg highway/32 mpg combined for the GTI. In addition, Volkswagen is quoting an emissions reduction of more than 100 grams of CO2 per mile.
Autobytel readers can expect to see more news about the 2014 VW GTI as we get closer to its U.S. launch date, likely to be early in 2014.