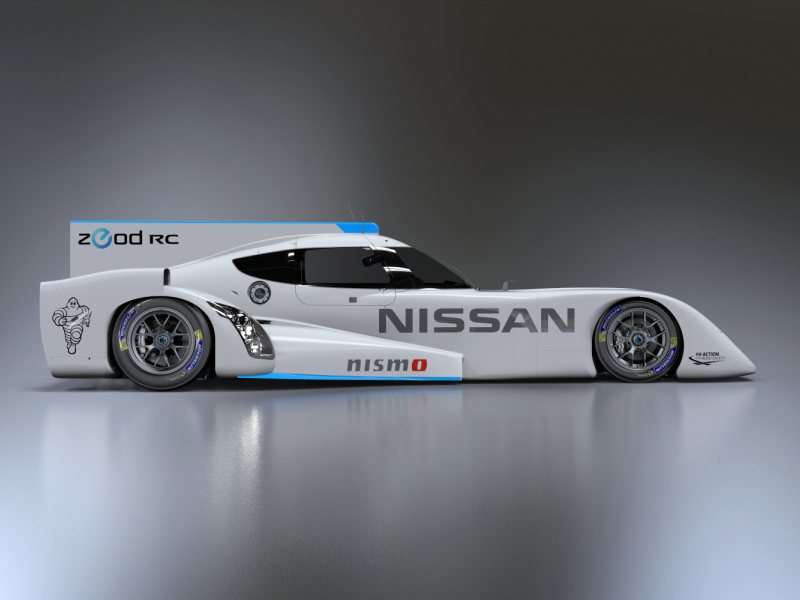 Some four months after the prototype was shown at this year's 24 Hours of Le Mans endurance race—and about nine months before its competition debut at the 2014 event—the Nissan ZEOD RC racecar was introduced to the public in Yokohama, Japan. That's home base for Nissan's NISMO performance partners, who are busy helping prepare the car for next year's competition debut, but the car also will be on display during this weekend's World Endurance Championship race at the Fuji Speedway in Oyama.
What's all the fuss about?
The Zero Emissions On Demand RaceCar (ZEOD RC) leverages Nissan's experience with the Nissan LEAF production electric vehicle, the NISMO LEAF all-electric racer and last year's innovative DeltaWing racecar to deliver a race-ready entry that can cover all 8.5 miles of the Le Mans course solely on electric power, at speeds above 185 mph. Of course, the ZEOD RC will need to run much more than one lap to have an impact on Le Mans, or the future of motorsports, and for that reason features high-performance regenerative-braking technology and a turbocharged, gas-powered engine as well.
Drivers then will be able to blend the functions of all three systems for optimum performance and efficiency, with the ability to switch to all-electric, zero-emissions power on demand.
"The Nissan ZEOD RC will utilize technology never before seen at Le Mans and will provide a very unique experience for the fans," said Ben Bowlby, Nissan's director of Motorsport Innovation and the designer of the original DeltaWing. "To see the car go down the Mulsanne Straight at [more than 185 mph] in virtual silence will be very unique. Developing the battery technology to incorporate this into a Le Mans prototype is an enormous challenge, but the lessons learned will not only be very beneficial for the future LMP1 program, but also we can use this information to assist in the development of future versions of the Nissan LEAF and other electric vehicles for the road."
See more about this race car and its driver, Lucas Ordonez, in Autobytel's recent interview with him.