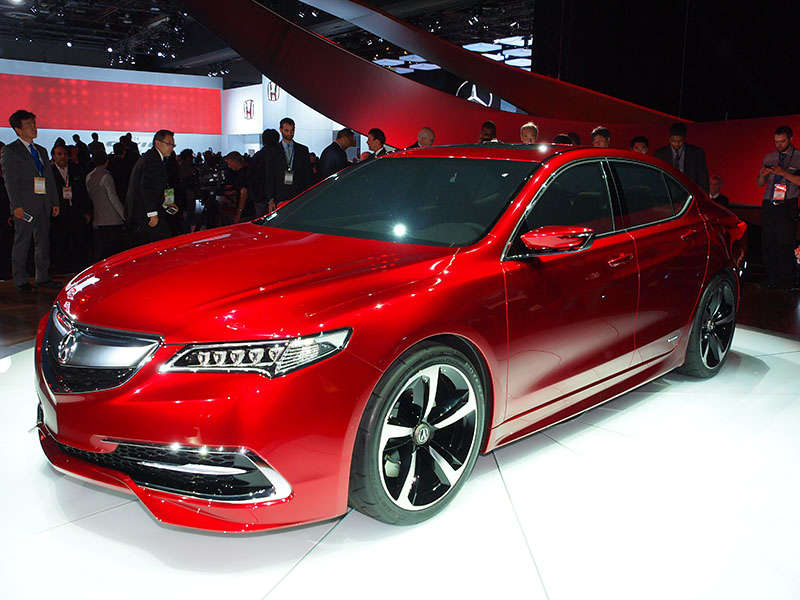 Nissan and its luxury branch, Infiniti, are well respected in the area of design, so when a new concept arrives identified as a "design direction," on Nissan's 80th year anniversary in Japan, the industry takes it seriously. The Nissan Sport Sedan Concept mirrors two other concepts announced last year - the Resonance and Friend-ME. Nissan has hinted that the SSC reflects the next generation Maxima, so that is more than likely true. What we still don't know is how much of this beautiful and futuristic design will end up on the editing room floor before it makes its appearance as a Maxima. 
What's New for the Nissan Sport Sedan Concept:
The Nissan Sport Sedan Concept is a new concept car.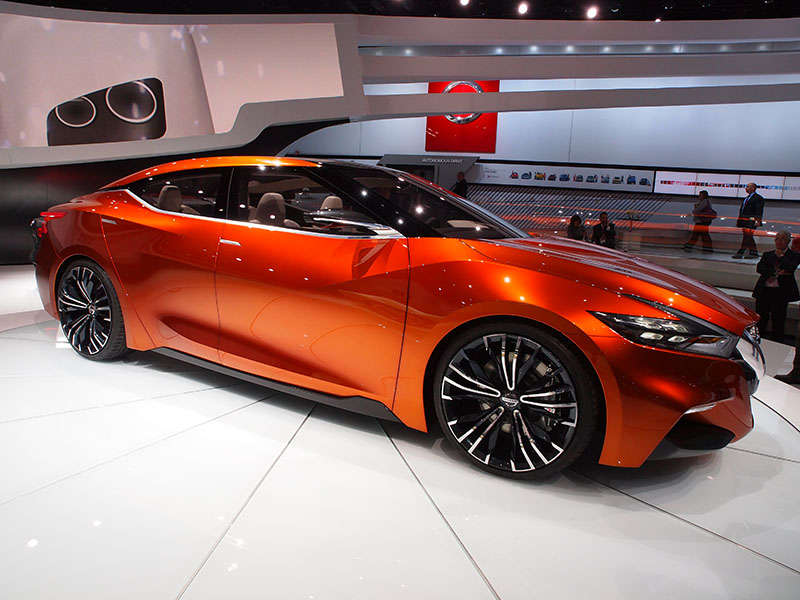 Nissan Sport Sedan Concept: Styling and Design
The sharp boomerang-shaped headlamps and taillights are already staples in the Nissan design language, but here, they are glowing with plenty of LEDs. The grille emphasizes the "V-Motion" design language that Nissan began using in their concepts last year, a deep line that starts above the headlamps and plunges down to the bottom of the front bumper. The overall shape of the car is not too far removed from the look of the Infiniti Q60 Coupe (which used to be called the G-Coupe).
On the inside, lots of silver trim and a floating console looks like it's destined for production. Nissan calls it "streamlined," and that's a good description with lots of detail that wouldn't usually show up in a conceptual interior. Each section appears to be floating on air and the seats sport a classy "Chanel" diamond shaped quilted stitch.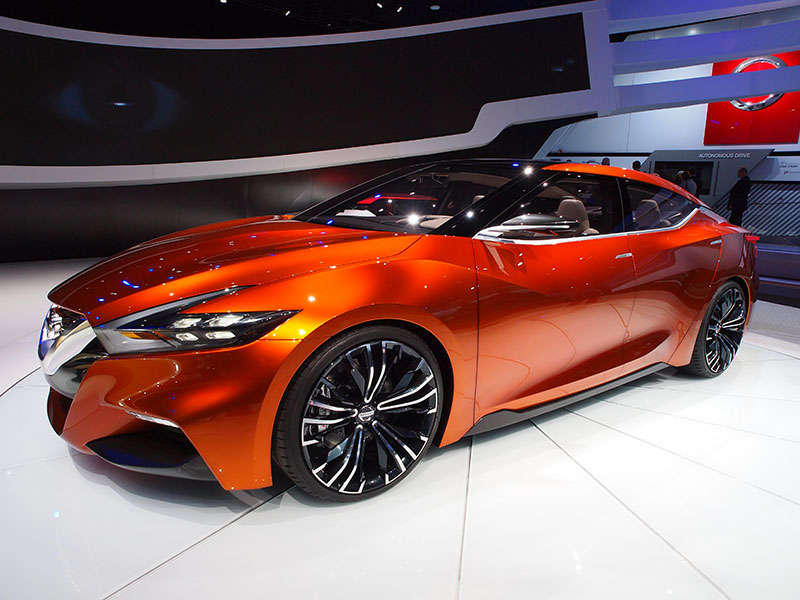 Nissan Sport Sedan Concept: What's Under the Hood
Nissan says the Sport Sedan Concept has a 3.5-liter V-6 engine, producing 300 horsepower and a sport-tuned conitnuouilsy variable transmission and performance dampers. This would put it just 10 horses above the current Maxima which has been lauded for its excellent CVT technology, so that seems to make sense from a future Maxima standpoint.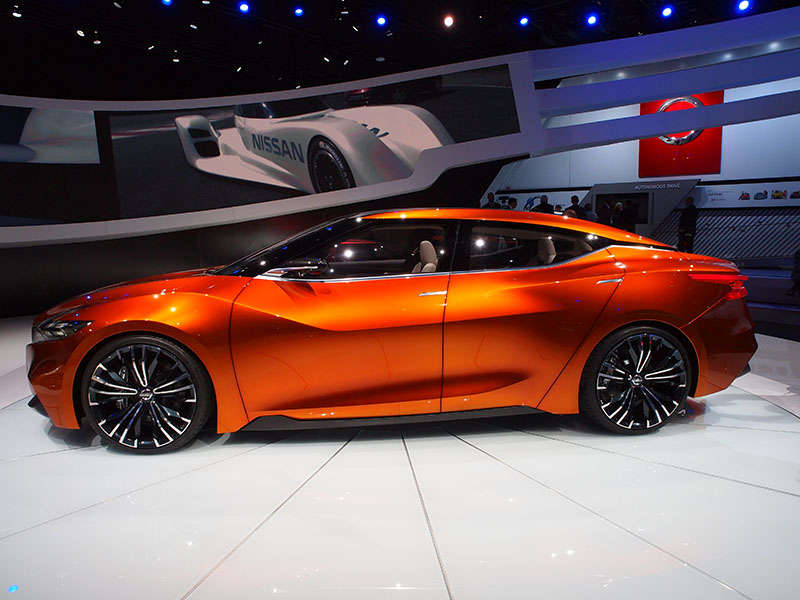 Nissan Sport Sedan Concept: Features and Technology
Consistent with Nissan's past designs, its sedans promise to remain extremely sporty. Although there's no way to get a more detailed description of just how sporty it will be, the shape and low, wide proportions hint at performance more than comfy luxury. Some finer details include 21-inch aluminum-alloy wheels with low-profile 275/30r21 tires and "Strad Amber" paint, inspired by the rich finish of classic violins. Although the concept itself is imagined with a 300 horsepower CVT V-6, we have yet to get the final detail on performance of the future Maxima, but stay tuned because it doesn't seem that far off based on some of the detail in this concept.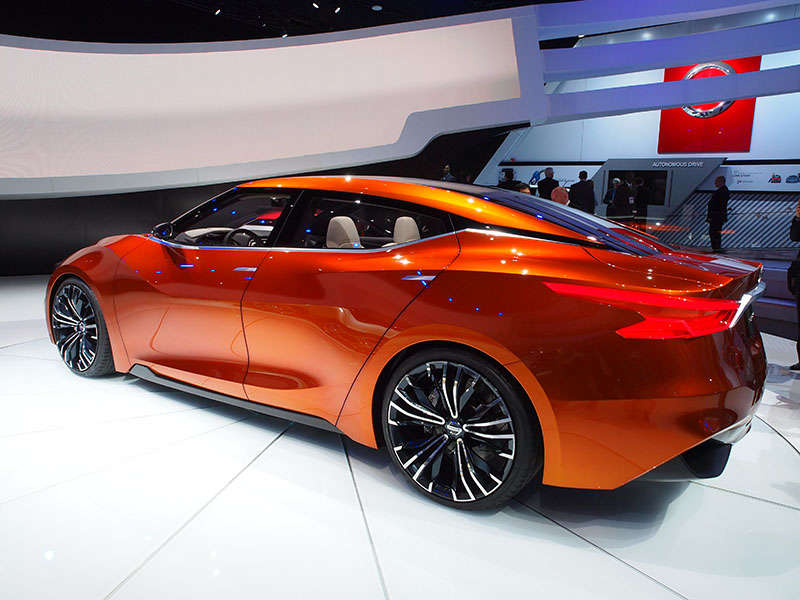 Nissan Sport Sedan Concept: What Autobytel Thinks
Nissan continues to excel in design under the leadership of famed Shiro Nakamura, its Senior Vice President and Chief Creative Officer, and the Sport Sedan Concept is an impressive execution of what we might be seeing next from the brand - this time for the next generation Nissan Maxima. As long as it doesn't become a bland version of this extremely dynamic concept, there will be many happy Maxima owners in the future.