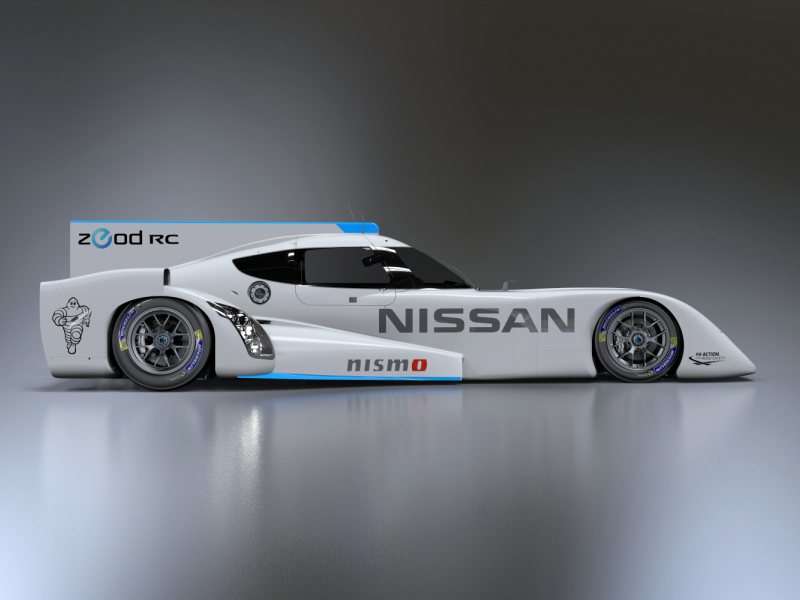 Nissan has chosen Lucas Ordóñez as the first to drive the ZEOD RC during its competition debut at the 24 Hours of Le Mans. He's the perfect choice, too, since he has obvious expertise with both electrically powered racecars and the famed French road race. Of course, it is true that Ordóñez got his start in vehicles far different than the new Nissan racer.
The ZEOD RC—with a name that comes from Zero Energy on Demand Race Car—turbocharges a 1.5-liter, three-cylinder engine to make about 400 hp and 280 lb.-ft. of torque, but then complements that hi-po gas engine with an electric propulsion system and advanced regenerative-braking setup. Wrapped in a design inspired by the groundbreaking DeltaWing racer, those components will allow Ordóñez and his teammates to use electric power for an entire lap of the Le Mans track once per tank of fuel. As for Ordóñez' earliest motorsports competition, it actually came as part of the Nissan PlayStation GT Academy, which he was the first to win.
Since then, Ordóñez has gone on to a fair amount of success driving for Nissan's factory-backed racing efforts, highlighted by two podium finishes in the LM P2 class at Le Mans and a slew of class wins on the global endurance-racing circuit. He also was the first to test drive the ZEOD RC at Le Mans (in 2013).
Said Ordóñez: "To be one of the drivers for the ZEOD RC, the first electric car that will go over 300k/h at Le Mans, it's going to be a big challenge for me. But I like to work that way. I know all of the big bosses and important people of motorsport will be watching this project and I feel really lucky and proud to be a part of it. Hopefully we can succeed together at Le Mans.
"Six years ago I won GT Academy. I was a normal student. It's crazy to think how far I've come in six years. I'm now going to drive the most revolutionary and challenging car seen at Le Mans in many years."
And who knows, maybe that revolution eventually will encompass production cars, too, to go beyond entries like the 2014 Nissan LEAF. Read more here or watch the video below.