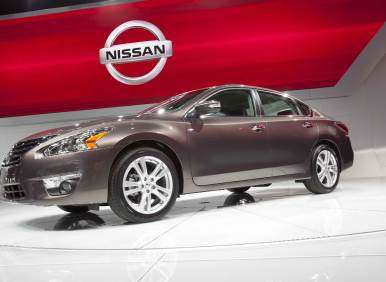 With just a few days left in the 2012 selling season, the motoring world's marketing mavens are mining the sales data for new records and accomplishments, and the folks at Nissan turned up this nugget: Earlier this month, a 2013 Nissan Altima became the 4 millionth vehicle from the Altima family to find a home here in the U.S., while the nameplate also broke its annual sales record by selling its 284,762th unit. In fact, entering December with 278,968 deliveries, the Altima could very well break the 300,000-sales mark this year before all is said and done.
Now, a key to this success has been the 2013 Nissan Altima's best-in-class EPA marks of 27 mpg city/38 mpg highway/31 mpg combined, but it's surprising how little attention this fuel-efficiency performance has been getting, especially when you remember that the Altima rings up that line in its base trim (with a continuously variable transmission). The 2013 Ford Fusion, for all its many benefits, requires an optional, more expensive EcoBoost engine—and a manual transmission—to do its best fuel-economy work. And it's a similar story with the brand-new 2013 Honda Accord, which gets its top EPA marks not with its standard transmission, a six-speed manual, but with an extra-cost continuously variable transmission (CVT) that adds another $800 to its bottom line.
2013 Nissan Altima: Fueling the Momentum
To put the 2013 Nissan Altima's unique combination of high EPA ratings and low purchase price into focus, here's some handy data that lists the mainstream mid-sizers according to fuel-efficiency, but this time, instead of focusing solely on the top ratings for each rival, we'll also see how much money it takes to achieve them, based on MSRP:
2013 Honda Accord—MSRP: $22,480; EPA line: 27/36/30 (CVT)
2013 Chevy Malibu Eco—MSRP: $26,095; EPA line: 25/37/29 (automatic)
2013 Ford Fusion—MSRP: $24,495; EPA line: 25/37/29 (manual)
2013 Toyota Camry—MSRP: $22,055; EPA line: 25/35/28 (automatic)
2013 Hyundai Sonata—MSRP: $20,995; EPA line: 25/35/28 (automatic)
(Note: The Chrysler Group's entries—the 2013 Chrysler 200 and 2013 Dodge Avenger—are still motivated by fairly old-school I4 powertrains capable of achieving just 20/31/23 with the EPA. Of course, they're also priced from $18,995.)
And although the 2013 Nissan Altima's biggest price advantages come in comparison with the domestics, Nissan is reporting that almost 25 percent of the Altima's new owners are previous Toyota/Honda drivers; in addition, 11.6 percent came from "premium" brands.
On the other hand, it must be pointed out that the Altima hasn't been able to convert its advantage into much of the way of absolute sales. During the past four months, Nissan has sold 95,265 Altimas that marked an increase of just more than 6 percent over the same period in 2012. Which probably explains why the automaker is offering some pretty nice holiday deals the 2013 Nissan Altima, including up to $1,000 in bonus cash and lease deals as low as $199 per month.