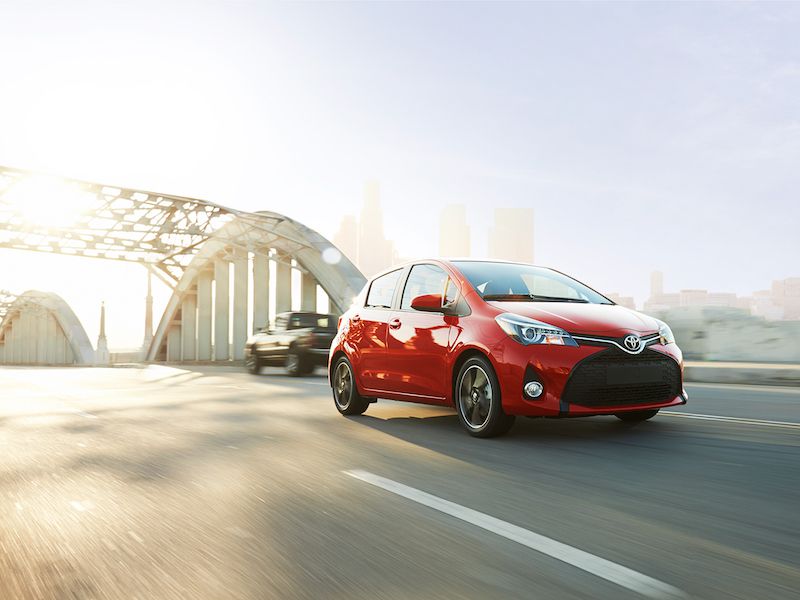 2016 Toyota Yaris red bridge ・ Photo by Toyota Media
If you don't want to pay the cost to ride like a boss, there are some nice cheap cars that can provide basic transportation and—in a few cases—even a bit more. Now, these are smaller vehicles, and their "niceness" level will vary by both car and customer, but Autobytel did keep to a strict budget and presents the 10 cheapest new choices on the marketplace today. Customers should also be aware that, in many cases, paying bottom dollar will mean having to order a vehicle instead of buying one right off the lot.
1) 2016 Nissan Versa
Literally the least-expensive new car here is the 2015 Nissan Versa sedan, which sets the pricing pace among nice cheap cars with an MSRP of $11,990. And rest assured, the Versa sedan serves up a livable package right out of the box. Standard features include air conditioning and a Bluetooth system for hands-free calling, and while its standard audio system offers only two speakers, the setup does feature an auxiliary input jack and steering-wheel-mounted controls. The standard powertrain then matches a 1.6-liter, four-cylinder engine with a five-speed manual transmission for 109 horsepower and 107 lb-ft of torque and EPA ratings of 27 mpg city/36 mpg highway/30 combined. Moving up to the S Plus trim, despite a $2,000 premium, still keeps the Versa sedan around $14K while adding a continuously variable transmission that yields 40 mpg, cruise control, two more audio speakers and more.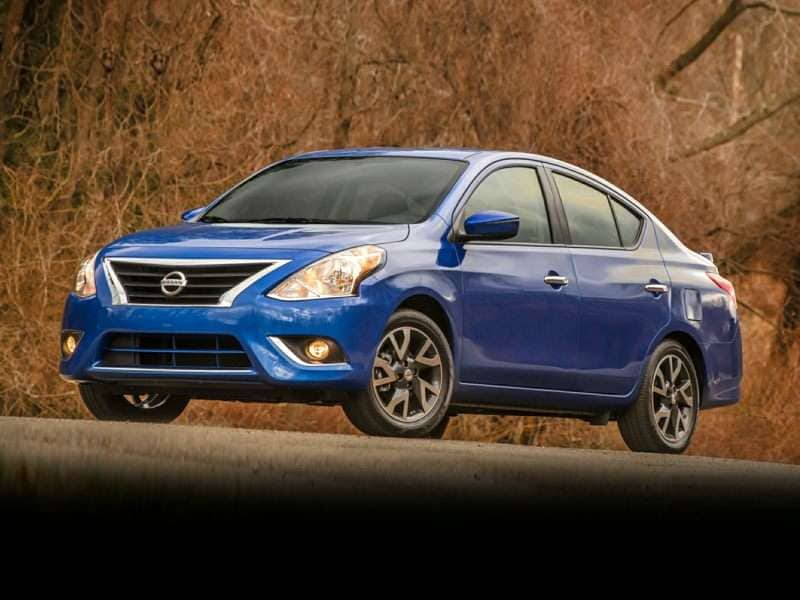 Photo by Nissan
2) 2016 Chevrolet Spark
The completely redesigned 2016 Chevrolet Spark isn't just one of our favorite nice cheap cars, it's one of the most tech-savvy cars on the list, thanks to standard 4G LTE connectivity, complete with a mobile Wi-Fi hotspot. Mote, though, that setup does require an ongoing data plan after its complimentary 3-month/3-gigabyte trial subscription ends. The Spark comes with a new 1.4-liter four-cylinder engine that makes 98 horsepower, which is a considerable improvement over the outgoing model. All that's included in the Spark's $12,660 starting price, along with features like air conditioning, a four-speaker audio system with auxiliary input jack, power windows, and a rear windshield wiper. The 2016 Chevy Spark also sports EPA ratings of up to 3mpg city/41 mpg highway.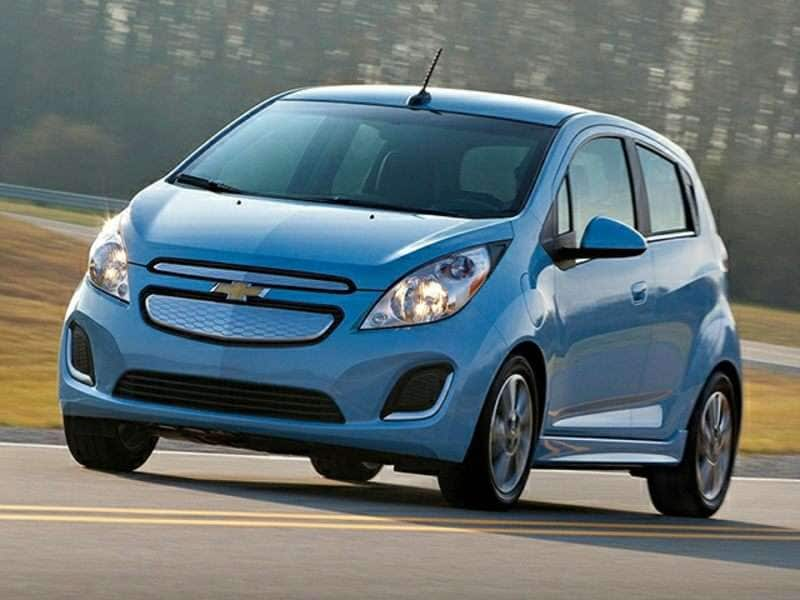 Photo by Chevrolet Media
3) 2015 Mitsubishi Mirage
The 2015 Mitsubishi Mirage would fit in with our nice cheap vars based on pricing alone, with an MSRP of $12,995, but it also stands out for being particularly thrifty in terms of fuel costs. Of course, it helps that the Mirage can ring up EPA grades of 37 mpg city/44 mpg highway/40 mpg combined, making it among the most fuel-efficient gas-only car in the country. As a result, the EPA reports that the typical Mirage owners will save $2,750 in five-year fuel costs as compared to drivers of "the average new vehicle." Also, the Mirage has an unexpectedly robust range of standard features, including a filtered climate system with rear-seat heater ducts, a 140-watt audio system with four speakers and USB port, power door locks and windows and outside mirrors, a split-folding rear seat, and keyless entry. Mitsubishi is selling the 2015 edition of the Mirage throughout 2016; the revamped 2017 Mirage will be available later this year.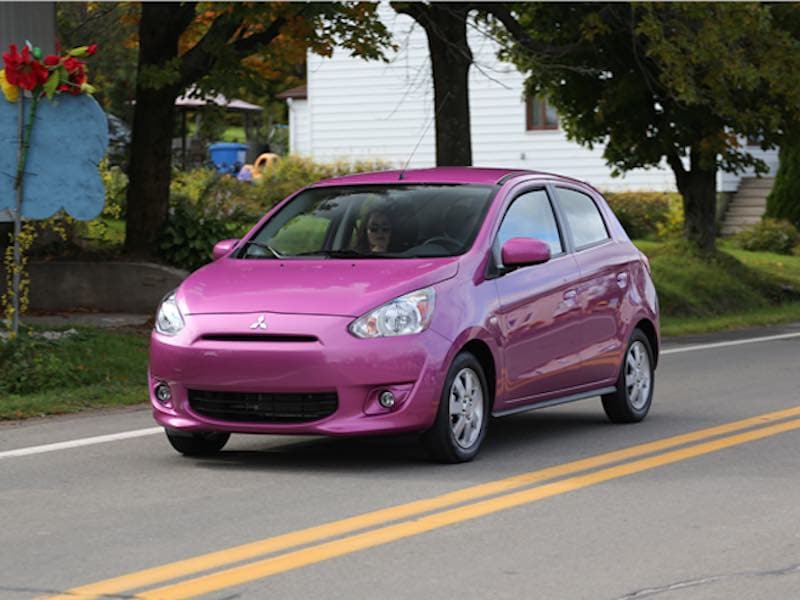 Photo by Mitsubishi Motors North America
4) 2016 Kia Rio
For 2016, the Kia Rio sedan starts at just $14,165. Savvy buyers might note that while the outgoing edition was offered at the same entry price regardless of body style, that option is no more; the hatchback version now starts just above our $15k price target. However, Kia's pricing includes upscale touches like heated outside mirrors, an audio system with USB port, and steering-wheel-mounted controls, and height-adjustable seat-belt anchors for the front row. The Rio also is one of the peppier players on the team, backed by a 1.6-liter, 138-horsepower four-cylinder engine that can hit 37 mpg highway with its standard six-speed manual transmission.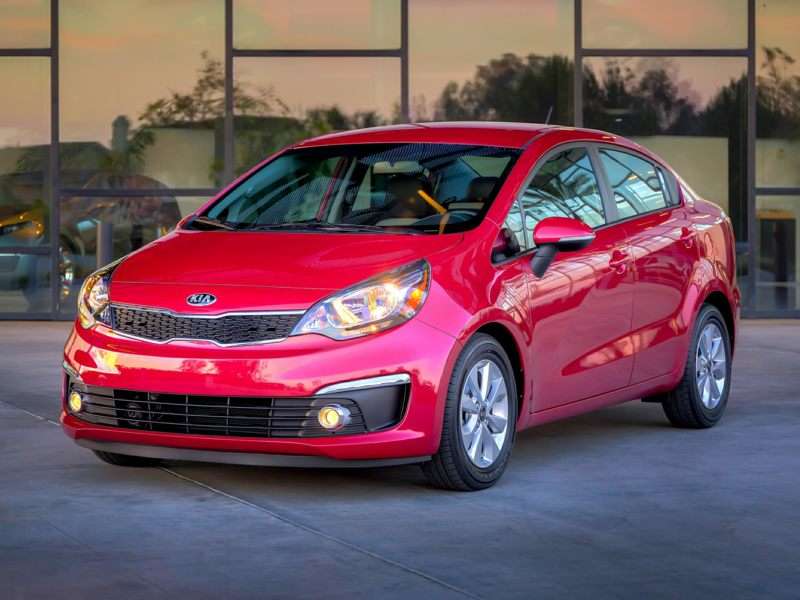 Photo by Kia
5) 2016 Nissan Versa Note
Positioned as the hatchback version of the Versa sedan—also one of the Autobytel nice cheap cars of 2016—the 2016 Nissan Versa Note actually represents a different car globally. The U.S. Versa sedan is based on the Nissan Latio, while our Versa Note comes from a separate "multi-purpose vehicle" known simply as the "Note." Of course, that being said, they do share the same 109-horsepower engine and EPA ratings—27 mpg city/36 mpg highway/30 mpg combined—along with much of the same content. But while both showcase standard features such as a Bluetooth phone system, air conditioning, power outside mirrors, and an audio system with auxiliary input jack, the Versa Note's MSRP of $14,230 further brings two more audio speakers and the versatility bonus of a 38.3 cubic-foot cargo hold.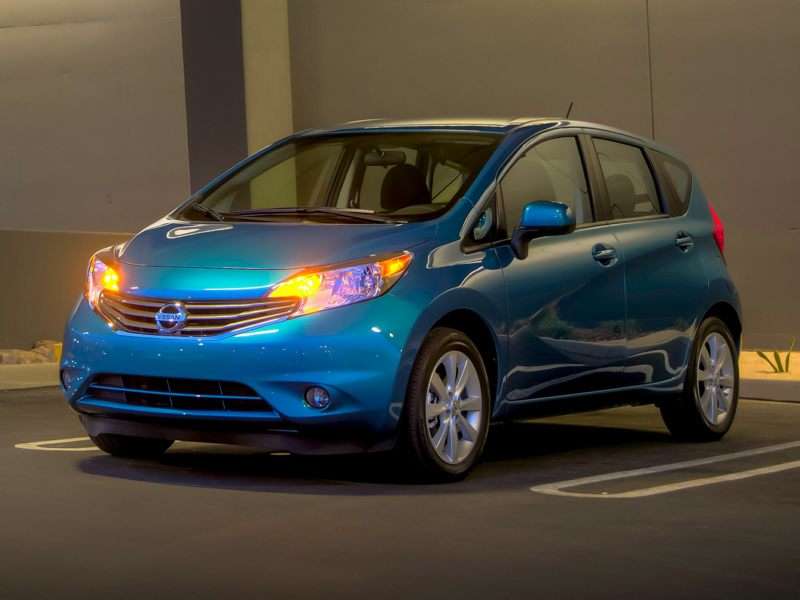 6) 2016 Chevrolet Sonic
Representing the second Chevy product on the list of nice cheap cars, the 2016 Chevrolet Sonic is one of those entries with both hatchback and sedan configurations, and like most, it's the sedan that's the least expensive. The bottom line for the Sonic sedan: $14,345. But like the other Bowtie bargain, the Spark, the Sonic comes with a standard mobile Wi-Fi hotspot, powered by OnStar 4G LTE connectivity and a 3-month/3-gigabyte trial data package, along with amenities like a four-speaker sound system with equalizer, Bluetooth for hands-free calling, a multi-function steering wheel, filtered air conditioning and 10 airbags. It's also worth noting that the Sonic earned a 5-star overall safety score from NHTSA. Pitching in from the powertrain department is a standard 1.8-liter, four-cylinder engine that makes 138 horsepower and 125 lb-ft of torque, features a five-speed manual transmission, and rings up an EPA line of 26/35/30.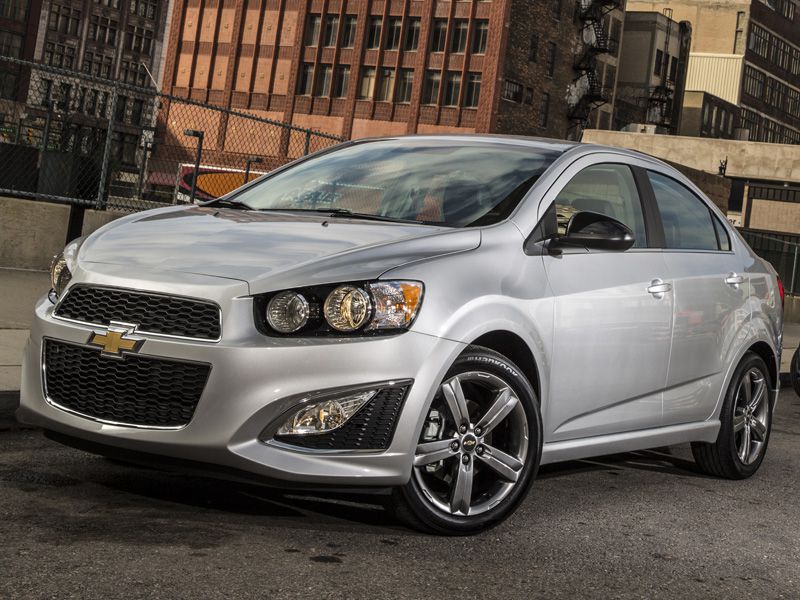 Photo by Chevrolet
7) 2016 Ford Fiesta
The 2016 Ford Fiesta is offered in sedan and hatchback body style, and although both would qualify as nice cheap cars, we'll focus on the former, with its MSRP of $14,580. At that price point, the Fiesta is filled with both must-have features like air conditioning and audio as well as enhancements like rear-seat heating ducts and a six-speaker sound system, with auxiliary jack and MP3 playback. There also are fairly premium features like Ford's SYNC system with the AppLink technology for hands-free, on-the-road access to popular mobile apps. Further, while the windows do require hand cranking, the locks are powered, as are the outside mirrors, with the driver enjoying an integrated blind-spot mirror, too. The similarly equipped hatch starts from $14,880.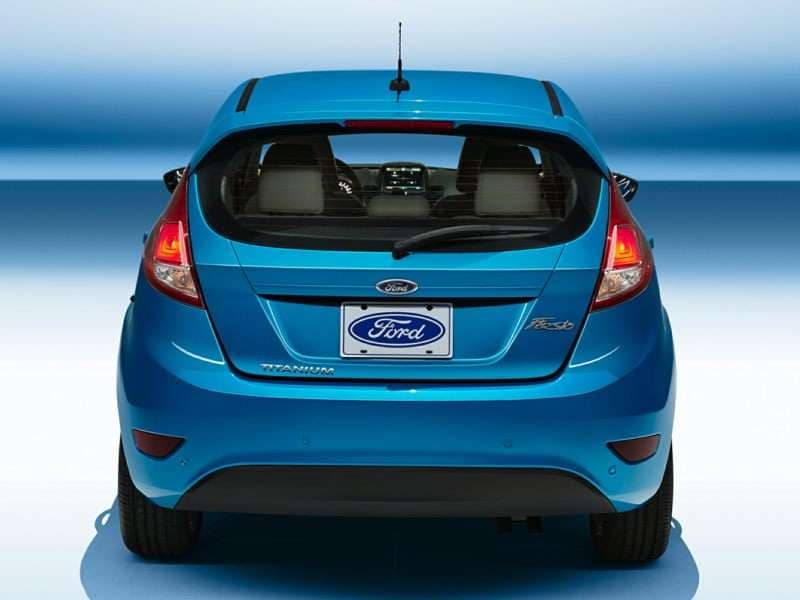 8) 2016 smart fortwo
A new rear-engine, rear-wheel drive car for an opening bid of $14,650 is a compelling argument, especially when the car in question is a totally redesigned smart fortwo. The new third-generation 2016 smart fortwo, like its predecessors, is powered by a rear-mounted engine that sends the power to the back wheels, making the tiny two-seater as fun as possible. Situated near the rear axle is a 1.0-liter three-cylinder engine that comes with a five-speed manual transmission and makes 89 horsepower, and the entry-level price is just right to count amongst our favorite cars at this price point.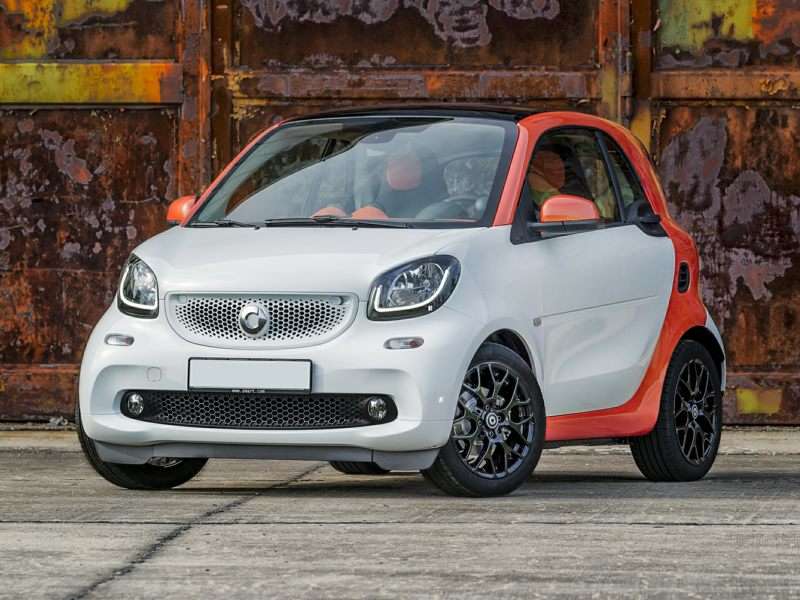 Photo by smart
9) 2016 Hyundai Accent
The 2016 Hyundai Accent cuts it close to our cutoff, with an MSRP of $14,745, but on the upside, it also boasts plenty of standard features. That naturally includes all the basics, but Hyundai then ups the ante with a standard heating function for its outside mirrors, a driver's side blind-spot mirror, and an audio system with six speakers and a USB port. The Accent further offers a slight EPA advantage as compared to many of its list-mates: Even with a relatively robust 137 horsepower and 123 lb-ft of torque, the entry Accent is rated at 26 mpg city/38 mpg highway/31 mpg combined.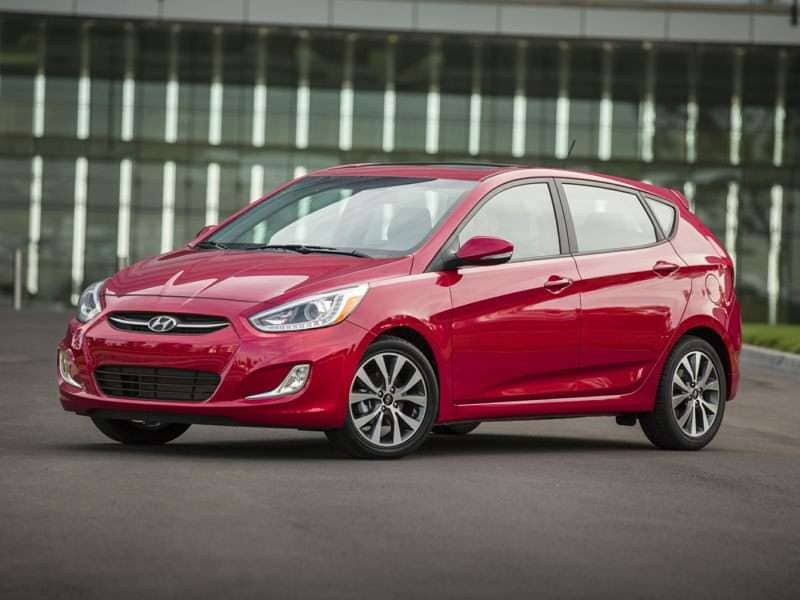 10) 2016 Toyota Yaris
The 2016 Toyota Yaris a subcompact hatchback that seats five passengers, sneaks onto the list with an MSRP of $14,895. Though the Yaris is available in two-door and four-door body styles, buyers with the tightest budgets don't get the option of the extra two doors. However, both styles come with a 1.5-liter four-cylinder engine that makes 106 horsepower and 103 lb-ft of torque. Fuel economy maxes out at 30 mpg city and 37 mpg highway, average for the class, but hampered somewhat by the Yaris' outdated transmission technology. Despite the modest power and obvious cost-cutting measures, the 2016 Toyota Yaris' interior might pleasantly surprise some shoppers, thanks to its quality finish and intuitive layout.
Photo by Toyota Media