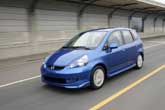 Honda's not talking about it, but plenty of people are: the Fit, Honda's popular subcompact that starts selling in the US this spring, will get a hybrid powertrain by the 2008 model year. According to the Japanese newspaper the hybrid version would be sold in the States for around $16,500, making it the least expensive hybrid available and a strong competitor to the hybrid darling of the past few years, the Toyota Prius. The current Fit will sell in the US for around $13,000. Rumors indicate that Honda is developing a 1.0-liter engine for the hybrid powertrain, as well as a lighter battery and electric motor, even though the Asian automaker already has a 1.0-liter three-cylinder engine in its Insight hybrid. That powertrain makes 73 combined horsepower, so it may simply be a matter of boosting output to carry the extra weight of the Fit, which is around 700 lbs. heavier than the 1,850 lb Insight. The Prius uses a 1.5-liter, 110-horsepower engine to pull 2,850 lbs. The internal combustion Fit generates 109-horsepower and 105-lb.-ft. of torque from its inline four cylinder engine. Honda would not return emails to confirm the Fit hybrid, or its engine plans. No matter what the power, however, building and selling a Fit hybrid at a low price – given the technology advantage Honda enjoys over most of the competition – seems doable. It will essentially spell the end of the line for the two-seat Insight, the first-ever hybrid sold in the US, notable for its unique design and 60-mpg estimated fuel mileage. But it would also give the Prius another genuine competitor, along with the redesigned Honda Civic Hybrid. The Fit, however, would match or better both the Prius and Civic in terms of fuel economy, the convenience of a hatchback configuration -- at a lower price. Civic and the Prius base sticker prices are $21,850 and $21,725. Mostly, a Honda Fit hybrid would make hybrid technology affordable to a wide range of car buyers for the first time.
Brief: 2007 Honda Fit
With pyrotechnics that jolted onlookers, American Honda Motor Company's Executive V.P. Dick Colliver welcomed the 2007 Honda Fit to North America. When the smoke cleared on the stage at the 2006 North American International Auto Show, a small fleet of Honda's smallest new model skittled into the limelight and garnered applause from automotive writers from around the globe. While the 2007 Honda Fit is a small vehicle, "it is not undersized in safety and performance, and will be a class leader that will feature a number of industry firsts," touted Colliver, "with unprecedented seating and cargo flexibility." The 2007 Honda Fit hatchback has unique "magic" seats for five, with seat bottoms that fold up and seat backs that fold flat, and a 60/40-split folding rear seat helps to maximize the Fit's usefulness. It has over 90 cubic feet of passenger volume (slightly less than the midsize Honda Accord) and 21.3 cubic feet of cargo capacity, nearly as much room behind the rear seats as a Honda Element. Engineered for a sporty driving demeanor, the 2007 Honda Fit is powered by a 109-horsepower, 1.5-liter, four-cylinder VTEC engine, mated to either a five-speed manual transmission or a first-in-class five-speed automatic transmission. Fuel economy is rated at 33 city and 38 highway. This new entry-level vehicle comes with top-of-class feature content that includes six airbags. There's also a Sport model equipped with paddle shifters if you order the automatic transmission, and a 160-watt six-speaker audio system. Fit owners will also have a wide variety of accessories to choose from, including the segment-exclusive Honda Apple iPod Music Link. The 2007 Honda Fit subcompact is a best-seller in Asia and Europe, and has a unique powertrain for North America. On sale in April, the 2007 Honda Fit is priced starting between $13,000 and $14,000. Honda plans to sell 33,000 Fits in 2007 and 50,000 models annually. Based on reaction in Detroit, that seems likely.
Photos courtesy of Honda