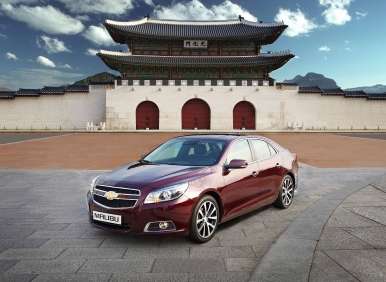 Chevrolet continues its push to move its passenger cars further upmarket in the eyes of buyers who have traditionally seen the brand as a purveyor of inexpensive transportation with somewhat utilitarian interiors and drivetrains. Hot on the heels of a complete revamp of its small sedan and hatchback lineup, which included the introduction of the new Chevrolet Cruze and Chevrolet Sonic offerings, the bowtie-wearing brand is turning its attention to updating its larger mid-size and full-size four-door vehicles.
The 2013 Chevrolet Malibu is set to go on sale in January of next year, and the new family sedan will be offered not just in North America but will also share its platform around the world in a wide range of different markets. This means that the Chevrolet Malibu's drivetrain options need to reflect the different tastes and realities of non-U.S. drivers. Automotive News is reporting that the Malibu will be gaining a 2.0-liter, turbocharged four-cylinder engine to buttress a lineup that will also include a 2.5-liter four-cylinder and Chevrolet's mild hybrid setup. The latter consists of a 2.4-liter, four-cylinder engine that works together with an electric motor and an automatic engine start / stop system to offer better than average mid-size fuel economy (25-mpg city / 37-mpg highway).
Chevrolet intends to stagger the rollout of the 2013 Chevrolet Malibu's drivetrains, starting out with the Eco trim (hybrid) which will be the sole engine option available until mid-summer of 2012 when it will be joined by the 2.5-liter unit. The turbocharged Malibu, which is meant to replace the departed V-6 model, is expected to hit showrooms sometime after the naturally-aspirated four-cylinder. Horsepower for the 2.0-liter turbo should be rated at between 250 and 300 ponies, in line with the Buick Regal GS and the Cadillac ATS which make use of similar forced-induction engine designs.
The Chevrolet Impala, which has grown long in the tooth after going nearly seven years without a redesign, will be looking to leap up into the ranks of relevance roughly one year after the new Malibu makes its debut. A fresh Chevrolet Impala is due as a 2014 model, and the full-size sedan will draw from the same platform used to underpin the upcoming 2013 Cadillac XTS. Not only will this allow the Impala to take advantage of a much more modern chassis (the current design dates back to the turn of the millennium), but it will also make all-wheel drive and a new family of powerful and efficient engine choices available. Chevrolet is counting on the XTS platform to elevate the Impala to the point where it once again becomes technologically competitive with rivals like the Ford Taurus and the Nissan Maxima.