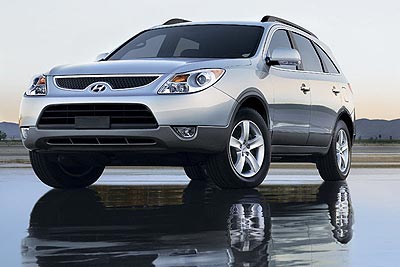 Hyundai Veracruz – 2007 First Drive: There's one common element that ties the U.S. car market to the Indian caste system: Each strictly limits the social confines within which its "citizens" may exist. Toyota, Nissan and Honda realized this, and therefore created luxury brands to sell luxury products, a point Volkswagen would've been well served to heed with its Phaeton. Ignoring that lesson, Hyundai is stepping deeper into the premium pond with the all-new 2007 Veracruz crossover, upping the ante with top-notch materials, a hospitable cabin, and a well-equipped price that screams entry-luxury. Time will tell if shoppers are ready for a near-$40,000 Hyundai, or if the Veracruz is destined to sleep with the fishes, or Phaetons, as the case may be.
Origins
In developing its largest crossover to date, Hyundai stretched and widened the tested and proven platform of its current Santa Fe model. The Veracruz's engine was borrowed from the Azera sedan, albeit with a little bit of tuning for heavier crossover duty. Much of what's left is unique to the Veracruz, unless you're comparing it side-by-side with a Lexus RX 350. Engineers used that Japanese luxury vehicle as their model, and those with an eye for detail will notice many of the interior parts are nearly identical in their look and feel. However, unlike the Lexus and its own U.S.-built Sonata and Santa Fe vehicles, Hyundai will build and export the 2007 Veracruz from its factories in Korea.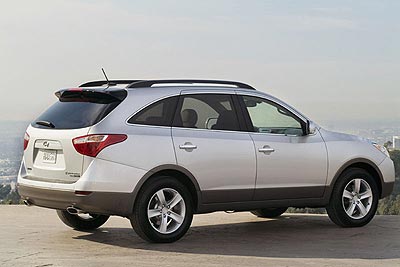 Model Mix – GLS Standard Features
With a starting price of $26,995, including a $690 destination charge, the front-wheel-drive, seven-passenger GLS is the least expensive 2007 Hyundai Veracruz available. Included on the list of standard features are 17-inch alloy wheels, heated power mirrors with integrated turn signals, cloth seats with manual height and lumbar adjustments for the driver, and a sound system that features an MP3 player and XM satellite service (first three months free). In addition, the GLS buyer gets faux wood grain and leatherette trimmings, a manual tilt and telescoping steering wheel, a tire pressure monitoring system, and the basic array of powered goodies. Of course, we can't forget about the keyless entry, the front-side and side-curtain airbags, and the 260-horsepower V6 engine mated to a six-speed automatic transmission.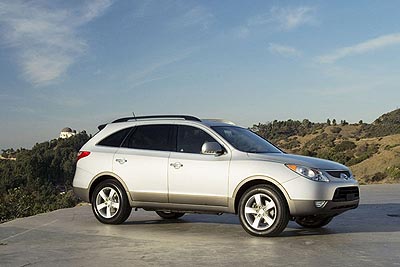 Model Mix – SE Standard Features
Smack dab in the middle of the Veracruz lineup is the SE, a model that starts at $28,695 when the $690 destination charge is included. Adding to the GLS's features, the SE tacks on standard 18-inch alloy wheels, automatic headlights, front fog lights, automatic-dimming rearview mirrors, an eight-way power driver's seat and four-way power passenger's seat, a leather-wrapped steering wheel and shift knob, and a trip computer. Not bad for an extra $1,700, but there's more, such as a Homelink universal remote system, a heated/cooled cubby under the front center armrest, and a compass built into the interior rearview mirror.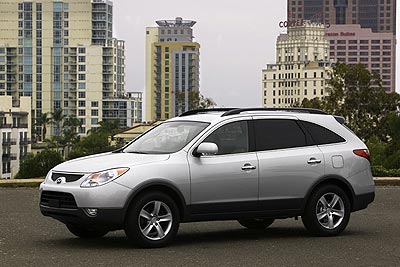 Model Mix – Limited Standard Features
Move up to the top-of-the-line 2007 Hyundai Veracruz, dubbed the Limited, and you'll be looking at a starting price of $32,995 including the $690 destination charge. As expected, the Limited starts with all of the offerings from the GLS and SE versions, and then adds chrome trim, a power liftgate, a rear park-assist system with sensors, a power sunroof, and leather upholstery. Hyundai's most luxurious ride to date also pampers its owner with its dual-setting heated front seats, 315-watt Infinity sound system featuring a six-disc CD changer and a subwoofer, dual-zone automatic climate control, and a windshield de-icer technology.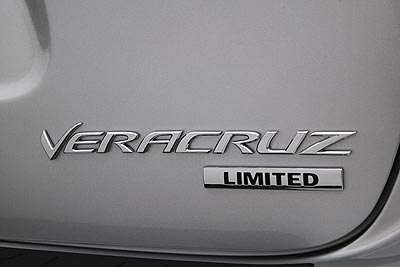 Model Mix – Options
For those who long for a bit more than the base Veracruz, Hyundai offers the GLS Premium Package. Included in the $1,950 price are a power sunroof, heated front seats, an eight-way power driver's chair, rear parking sensors, and leather on the steering wheel and shift knob. A similar package on the SE goes for $3,350 and adds the 315-watt Infinity stereo and leather seats. "All the bells and whistles" types will want the Ultimate Package, available only on the Limited. For $2,950, or $3,200 with upgraded leather, buyers get power pedals, driver memory settings, a power tilt and telescoping steering wheel, a rear DVD entertainment system with wireless headphones, a 605-watt Infinity surround sound system, illuminated sill plates, keyless ignition, rain-sensing wipers, and more.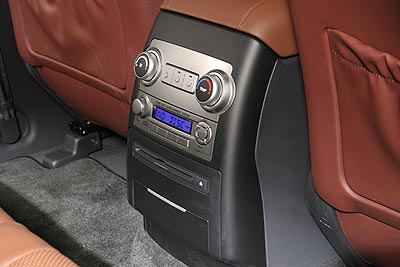 What's New: Exterior Design
Unique styling has never been a Hyundai strong point. Look at the brand's past models and you'll notice in-house designs (including the previous generation Santa Fe) have been a bit, um, quirky, while others have heavily borrowed cues from competitors. The Veracruz serves as a prime example of this ultimate form of flattery, with a silhouette akin to that of the Lexus RX 350. Add in the wedge taillights, the shape of the tailgate and spoiler, and the windswept headlights, and you'll be hard pressed to easily distinguish this Hyundai from the Lexus. That being said, Hyundai designers are working on their own style, the so-called K Factor (for Korean), and the early fruits of their labor include the "wave-like" belt line.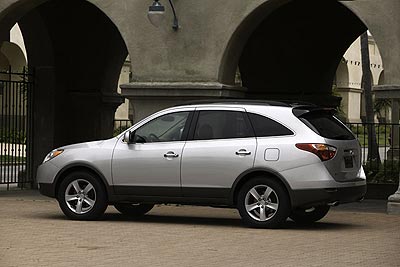 What's New: Interior Design
"Inviting, warm, almost high-tech." Hyundai uses those terms to describe the interior of the Veracruz, and after some time in a Limited AWD model with upgraded leather, we can attest to the inviting and warm aspects. High-tech is more of a stretch, but high quality isn't. As with the exterior, the Veracruz's interior hints at the Lexus RX 350, though the Hyundai features a four-spoke steering wheel rather than a three-spoker, houses a one-piece front center console, and showcases an instrument panel that differs somewhat in its layout. The face of the dash is curvaceous; the flat top reflects too much glare in daylight. Part of the "warm" atmosphere comes from blue backlit gauges, not to mention the overhead light labeled "mood."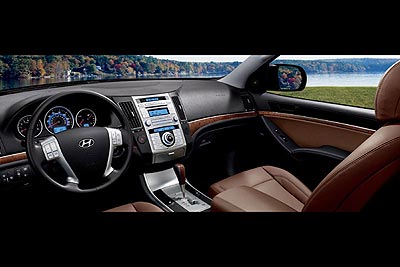 What's New: Front Seat Comfort
Our Limited test model was equipped with the Ultimate Package, which meant we were not only getting a power tilt and telescoping steering wheel with memory, we were also planting our backsides on the best leather Hyundai offers. The hides were soft, and when coupled with the ample cushions of the front buckets, made for a downright comfy spot even as the miles piled on. The upper and lower sections were wide enough for those more well-fed, but the inadequate bolsters made for some sliding around in spirited corners. Padded armrests and window sills are nice features that are standard across the lineup, though buyers must move up from the GLS if they want a steering wheel and shift knob wrapped in smooth leather.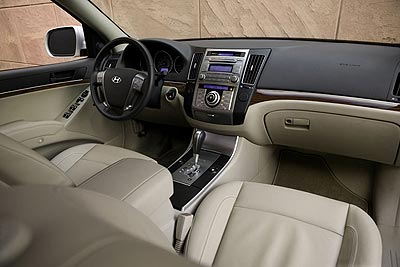 What's New: Second Row Seat Comfort
Though the second row split bench seat in the 2007 Hyundai Veracruz has lots of strengths, it's not without a few faults. Listed under the pros column is the split bench's width, which realistically allows for three abreast; three adjustable headrests; a reclining seat back offering a good range; soft door sills and armrests, including a center fold-down with storage and tow adjustable cupholders. There's also plenty of foot and head room, and the optional rear DVD system with wireless headphones and audio controls and inputs is a definite must. Our tester also featured second row climate controls including fan speed, temperature, and mode. Under the cons column is the flatness of the seat, its low position, and hard front seatbacks.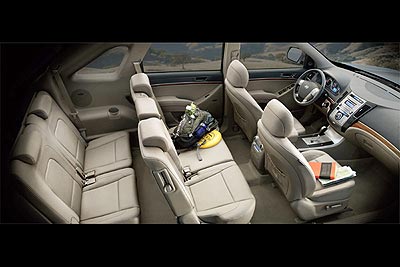 What's New: Third Row Seat Comfort
As part of the Veracruz launch, Hyundai provided three-row versions of the Honda Pilot and current Toyota Highlander for comparison. We can say that the Veracruz and Pilot beat the Highlander, though a slight edge goes to the Pilot. The curved roofline limits the Veracruz's rear head room a bit, and the third row feels tighter overall. But, that's for adults – average-size kids would be fine. The second row tilts and slides forward for easy entry, but again that sloped roofline hurts ingress, as does the intruding wheel well. Third-row headrests are provided and the seatbacks tilt. Furthermore, rearmost passengers get two cupholders, a small storage cubby, and a 115-volt outlet that allowed me to charge my laptop while writing this article.