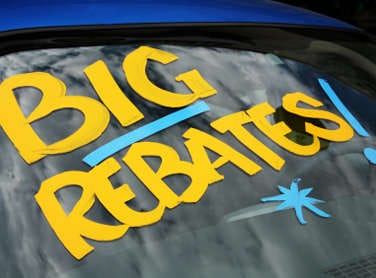 The month of December brings a fresh round of new car rebates and incentives to auto dealerships across the country. As the New Year approaches, better deals and bargains can be found on 2011 models as well as leftover 2010 vehicles as inventories start to mix more freely on dealer lots.
Our list this week starts out with the full-size 2011 BMW 7 Series luxury sedan, which can be had with the choice of either $2,500 cash back or low 0.9 percent financing. Next up is the 2010 Buick Lucerne full-size sedan, which presents a more affordable take on the large premium car concept in addition to its available $4,000 cash rebate or 2.9% purchase financing. The 2010 Chevrolet Aveo subcompact adds to its affordable pricing through either a $2,500 cash back rebate or zero percent financing offer, while the 2011 Ford Flex full-size crossover offers zero percent financing plus a $1,500 cash back rebate or the availability of $2,500 in total cash back. Rounding out the list is the 2010 Kia Forte Koup, a compact two-door that features $1,000 in factory cash rebates or 0.0 percent financing.
As the holidays approach the vehicle market will heat up just before it goes into its short winter hibernation in the months of January and February. These deals represent some of the best offers currently available on the new car market.
2010 Kia Forte Koup Deals - The 2010 Kia Forte Koup is an all-new addition to the Kia lineup that takes aim at the compact two-door segment. The Kia Forte Koup is designed to look sporty and feel exclusive while still offering the value and fuel economy that most buyers are looking for in this segment.
The 2011 Ford Flex is a full-size crossover vehicle that blends qualities typically found in the SUV and minivan segments without falling into either of those categories. The Ford Flex is capable of accommodating as many as seven passengers across three rows of seats.
The 2010 Chevrolet Aveo is an economical subcompact car that can be had in both hatchback (Aveo5) and sedan editions. The former provides a total cargo space rating of 42 cubic feet to go with its five passenger seating, which is accomplished via folding the Chevrolet Aveo's rear row of accommodations forward.
The 2010 Buick Lucerne is a full-size sedan car that marries traditional American luxury with modern styling and more affordable pricing when compared to some of its competitors. The base Buick Lucerne provides equipment such as power windows and door locks, an MP3-capable stereo system, satellite radio and cloth seats.
The 2011 BMW 7 Series is a full-size luxury sedan that serves as the German brand's flagship model. The BMW 7 Series can be had in regular or long-wheelbase editions, with each offering expansive interior room that makes for very comfortable seating for as many as five passengers.