High-powered GT Makes Its U.S. Debut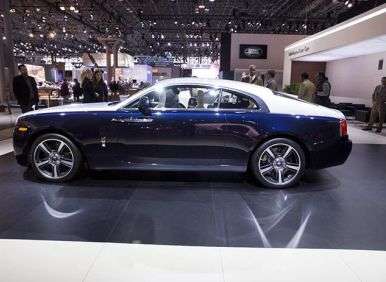 Why the 2014 Rolls-Royce Wraith Matters: Despite keeping a stiff upper lip, the Rolls-Royce team has to be at least somewhat dismayed by the fairly high profile achieved in recent years by Bentley. Since the erstwhile siblings went their separate ways earlier this century, the latter has clearly caught on with a new, younger wave of luxury customers in a way the former hasn't (at least here in the United States). Consider: Through the first quarter of 2013, Bentley has sold 574 units and lifted volume by 27.6 percent; Rolls has delivered 64 vehicles during that time, marking a 24.7 percent decrease.
Now, the 2014 Rolls-Royce Wraith isn't going to be anything like a high-volume vehicle, and it will require a six-figure premium over its primary rival, the Bentley Continental GT, but it should inject a little excitement into a brand that continues to live down to its slightly stodgy reputation in today's marketplace.
European pricing will begin at roughly 245,000 Euros—about $314,000 as of this morning—with the 2014 Rolls-Royce Wraith, which had its American premiere at the New York Auto Show, is expected to start haunting U.S. dealerships before the end of the year.
What's New for the 2014 Rolls-Royce Wraith:
Although built on the same platform as the automaker's current Ghost family, the 2014 Rolls-Royce Wraith does more than just lop two doors off of its stable-mate; it also features:
An uptuned version of the Ghost's 6.6-liter twin-turbo V12 engine, now capable of delivering 624 hp and 590 lb.-ft. of torque
Satellite Aided Transmission, which relies on GPS technology to pre-select the appropriate gear for upcoming road conditions
Exclusive real-wood Canadel Paneling and plenty of supple leather
Athletic, imposing Gran Turismo proportions, highlighted by a fastback body style and rear-hinged, coach-style doors
Improved voice-recognition capabilities for key vehicle systems, as well as a touch-pad controller that recognizes tablet-style gestural commands and even "hand-drawn" letters
Rolls' exclusive Starlight Headliner, making its debut outside the Rolls-Royce Phantom family
Also new is a fresh approach moving forward, as signaled by Harald Krüger, chairman of Rolls-Royce and a board member of the BMW Group, which owns the brand. Speaking at the world premiere of the 2014 Rolls-Royce Wraith in Geneva, Krüger announced that: "The BMW Group today reconfirms its full commitment to the future of Rolls-Royce. Growth and a prosperous future lie ahead thanks to continued investment, careful brand stewardship and the launch of groundbreaking new models like Rolls-Royce Wraith, a magnificent addition to the product range."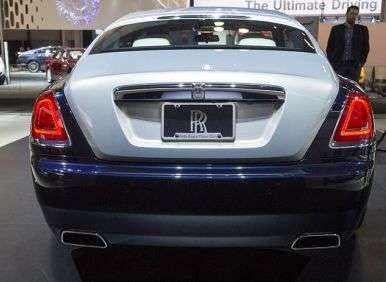 New 2014 Rolls-Royce Wraith: Styling and Design
It's no simple task to create an aggressive, dynamic look for a coupe that stretches approximately 200 inches in length—about the size of a traditional full-size sedan—but the 2014 Rolls-Royce Wraith meets that challenge with a dramatic fastback silhouette that's complemented by a two-tone exterior paint scheme. Combined with carefully thought-out wheel-to-body proportions, the result is a notably forward-facing stance spearheaded by a fresh execution of the classic Rolls grille.
The subtly retailored front-end appearance was inspired by "a more functionally derived air intake, not unlike that of a jet turbine, giving greater expression to the car's dynamic promise," according to the brand. Even the Spirit of Ecstasy herself received a (minor) makeover on the Wraith, being repositioned and re-angled to better accentuate the car's lines. Moving inside the cabin—through frameless rear-hinged doors—is then likened by Rolls to climbing aboard a yacht. And with good reason, too.
On board the 2014 Rolls-Royce Wraith is an available Canadel Paneling interior that offers a warm, inviting environment created from a light, open-grained wood and impeccable craftsmanship. The look is complemented by black chrome, natural-grain leather, ambient lighting and the brand's striking Starlight Headliner. This unique Rolls feature is created by hand-weaving 1,340 separate fiber-optic lighting units into the vehicle's leather headliner to provide a canopy that echoes a starry night's sky.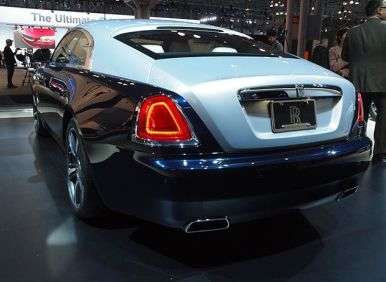 New 2014 Rolls-Royce Wraith: What's under the Hood
What does it take to propel roughly 5,200 lbs. of Rolls-Royce from 0-60 in a mere 4.4 seconds? A 6.6-liter V12 engine with twin turbocharging and outputs of 624 hp and 590 lb.-ft. of torque, mated to an eight-speed automatic transmission from the experts at ZF. With that powertrain doing the honors, the 2014 Rolls-Royce Wraith also can reach an electronically limited top speed of 155 mph and claims the crown as the most powerful car to ever roll off the assembly line for the brand.
Of course, that isn't just any eight-speed gearbox managing the Wraith's power; it's a cutting-edge unit that can access GPS data for the route ahead and prepare for the appropriate shifts in advance. Philip Harnett, a Rolls-Royce product manager, explains: "Consider piloting Wraith in its natural environment, through the twisting roads of an Alpine pass for example. While negotiating a hairpin, approaching an inviting series of bends, the car knows its location; it sees what you are seeing, but importantly is also anticipating what is to come.
It knows when a sweeping curve approaches and can predict how you wish to drive through it. Easing off the accelerator tells Wraith that this is no cruise on a straight country road. Rather, the driver is controlling speed to negotiate a series of bends. Instead of shifting up a gear to allow more relaxed cruising, the lower gear is held, thereby ensuring the powertrain is perfectly primed and ready to accelerate from the corner."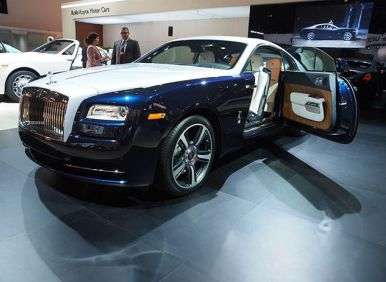 New 2014 Rolls-Royce Wraith: What Autobytel Thinks
With the growing popularity and cultural awareness of today's newest exotic supercars—from the likes of Lamborghini, Ferrari and McLaren—the upper reaches of the U.S. marketplace have seen a clear shift in demand toward true high-performance entries that can top 200 mph and sprint from 0-60 in closer to 3 seconds than 4. But you aren't going to be able to squeeze four people into a Lamborghini Aventador, and El Toro isn't exactly known for its all-weather daily drivers. That leaves a bit of white space still available for cars like the 2014 Rolls-Royce Wraith, which should help the company stay in the black for the foreseeable future.