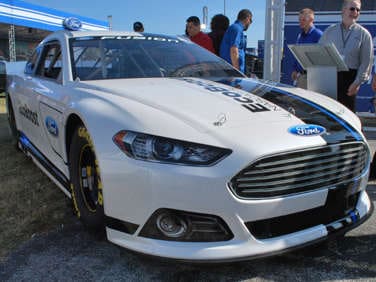 Back in the day, NASCAR fans were largely brand focused cheering on everything from Fords, Plymouths and Chevys to Buicks, Mercurys and Oldsmobiles, but as racecar bodies have become more uniform over the past decade or so, fan bases seem more centered on teams and drivers rather than car brands. Before this year's Daytona 500 even starts, Ford and its three rival automakers have already started anticipating the 2013 season switching from car bodies that differed only with stickers to a next-generation NASCAR Sprint Cup car that will finally be going back to a look that resembles a car that is sitting on a dealership showroom. To show off how far cars have come in recent years, Ford Racing gave us full access to its 2013 Ford Fusion Sprint Cup car on display in Daytona and some representatives talked about everything from aerodynamics to brand identity.
Although it's been at least 10 years since a NASCAR Sprint Cup car looked anything like something you could see on the streets, it's been even longer since that car was actually something that could be purchased (we're sure there's not a huge market for a V-8-powered Ford Fusion coupe, but it's nice to dream). Most of the car's design changes have been a result of form following function (in this case safety), but the "Car of Tomorrow" that made its debut in 2007 was probably about as exciting to look at as a Zamboni. For this reason, next year's Cup cars will be easy to distinguish by brand without losing any of the safety the sport requires.
Like any other new model, Ford's next-generation Fusion Cup car has gone through extensive wind tunnel testing and clay model designs requiring the approval of Ford President Alan Mulally along the way. NASCAR's move toward increased brand identity started in the Nationwide Series with cars like the Challenger and Mustang racing side by side. While these cars were still slab sided for even competition, Ford's NNS Mustang car used unique three-dimensional stickers that mimicked the real Mustangs unique body lines. Currently, each automaker only builds the noses, hoods and tails of their respective racecars, but the 2013 car will be built completely by each OEM to create the more individual appearance. The new Fusion Cup car has most of the same body lines as the production car which is a result of the NASCAR team and design team working together, but the more production-ready look has not had an impact on aerodynamics which is a crucial element in racing.
"It's the first time we've had design center input since the '60s," said Pat DiMarco, Ford's NASCAR program manager.
DiMarco went on to say that all four teams are working together to come up with a way to make each car more unique while keeping any advantages to a minimum, but at the same time they "can't see everybody's stuff either." Aside from its styling, the new Cup cars will feature the same chassis, wheelbase and suspensions currently used, and the only other non-body part to change will be the upper panel of the dash which is a result of the new windshield angle.
The car on display at Daytona is close to the actual car that will be racing next year with the A-pillar back being 100 percent complete and the nose being about 95 percent ready. So far, Ford is the only brand to officially unveil its new Sprint Cup design, but some Dodge Charger Cup car spy shots are floating around the Internet ahead of the car's Las Vegas unveiling while Toyota and Chevrolet will keep us waiting a little longer. The new Sprint Cup cars won't make their racing debuts until the 2013 Daytona 500, they're sure to make for more exciting next year.