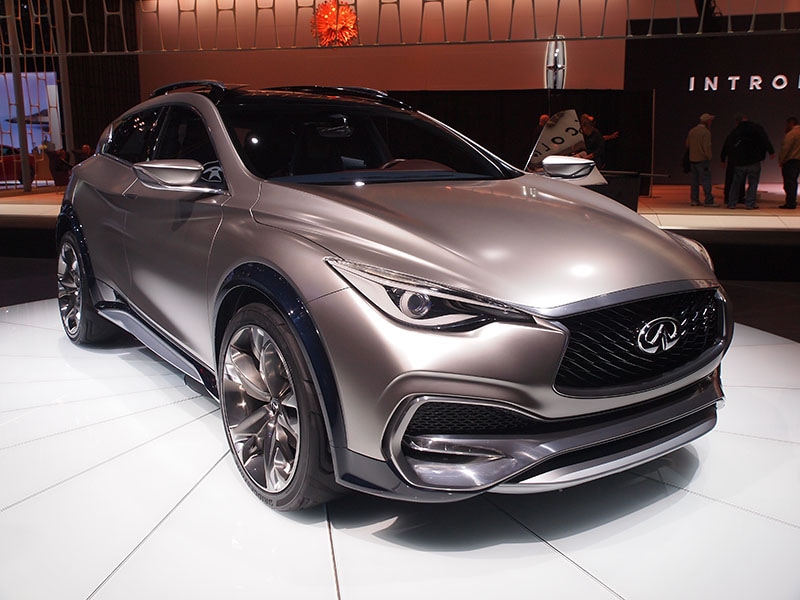 Infiniti QX30 Concept at the 2015 New York International Auto Show ・ Photo by Megan Green
Concept cars represent the best of what the future might hold, as these show models are packed with high technology, feature cutting edge styling, and offer some of the most advanced drivetrains available. Take a look at the coolest concept cars we came across at the 2015 New York International Auto Show and get a glimpse of what tomorrow's automobiles might look like.
Honda Civic Concept
Officially, it's the Honda Civic Concept, but it would have been easy to drop the pretense and name it the 2016 Honda Civic production model. That's how fully cooked it looks. As well as a regular sedan version, the new Civic is expected in coupe and hatchback form. And it looks like American buyers will finally be able to acquire the "sporty" Type-R version that's been enjoyed by other countries in the past. The basic setup is a turbocharged 1.5-liter four-cylinder engine with either a six-speed manual or a continuously variable transmission (CVT). Honda says its new Civic is "the most dynamic" and "most technologically advanced." The company also promises "near-luxury levels of cabin quietness and ride refinement."
What changed? Although it took to the NY show stand in a day-glo green, this is the styling and shape of the all-new 10th generation of Honda's popular compact sedan.
When is it available? Fall 2015.
How much? To be announced. The current Civic range starts at $19,110 including $820 destination charge.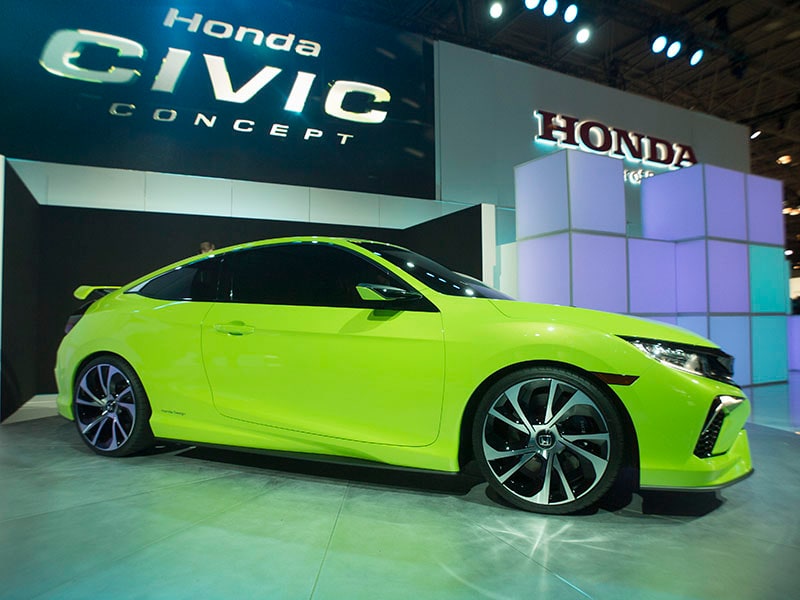 Photo by Megan Green
Lincoln Continental Concept
The Lincoln Continental Concept steps in as the thinly-veiled flagship model for a luxury brand that has seen its luster diminish in recent years. The Continental Concept calls to mind the land yachts of old but seen through a distinctly modern lens, as its imposing presence and expansive interior are mitigated by flowing body work. There's no word yet on what engines aside from a bespoke twin-turbo, 3.0-liter V-6 will motivate the production version of the Lincoln, but it's clear that the Continental Concept stands apart from most of the rest of the automaker's line-up in terms of impact and class.
What changed? The Continental Concept is all-new.
When is it available? We won't see a production version until at least 2017.
How much? The Lincoln sedan is not for sale.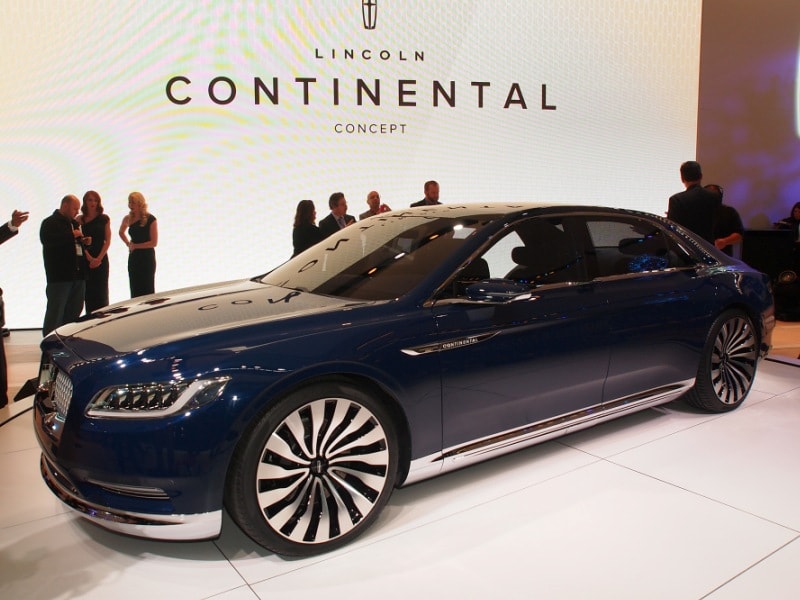 Photo by Lincoln
Hyundai Santa Cruz Concept Crossover
The Hyundai Santa Cruz Crossover Truck Concept makes use of one of the Korean brand's familiar people mover platform to create something completely different: a compact pickup that provides a car-like driving experience combined with the practicality of an extendable cargo bed. The Santa Cruz Crossover Truck Concept also features a turbodiesel four-cylinder engine that balances torque with fuel mileage, and can be had with all-wheel drive.
What changed? The Hyundai Santa Cruz Crossover Truck Concept is all-new.
When is it available? It's not available for sale yet, but sources at Hyundai have indicated that production of a very similar vehicle is likely.
How much? The Santa Cruz is not for sale.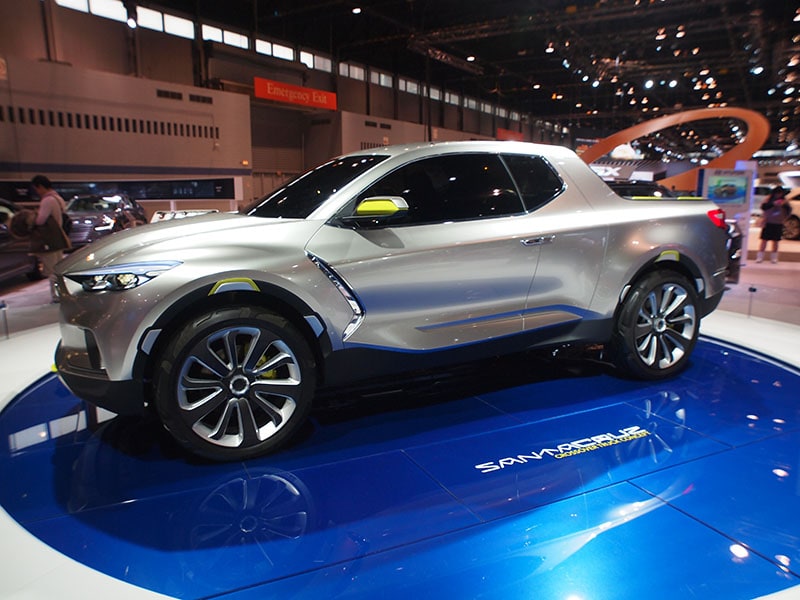 Photo by Megan Green
Toyota iRoad Concept
The Toyota iRoad Concept is a three-wheeled, single-seat 'personal mobility' vehicle that is motivated by an electric drivetrain. Narrow enough to fit through the crowded streets of any futuristic megalopolis, the Toyota iRoad Concept is like a scooter with a cage, albeit one that also offers the ability to lean through the corners while remaining automatically balanced in the process. There's a 2.7 horsepower electric motor in each of the iRoad's front wheels, and you get 30 miles of driving on a single battery charge.
What changed? The iRoad Concept has been making its through the show circuit since 2013.
When is it available? It's unlikely Toyota will ever market this three-wheeler.
How much? The iRoad is not for sale.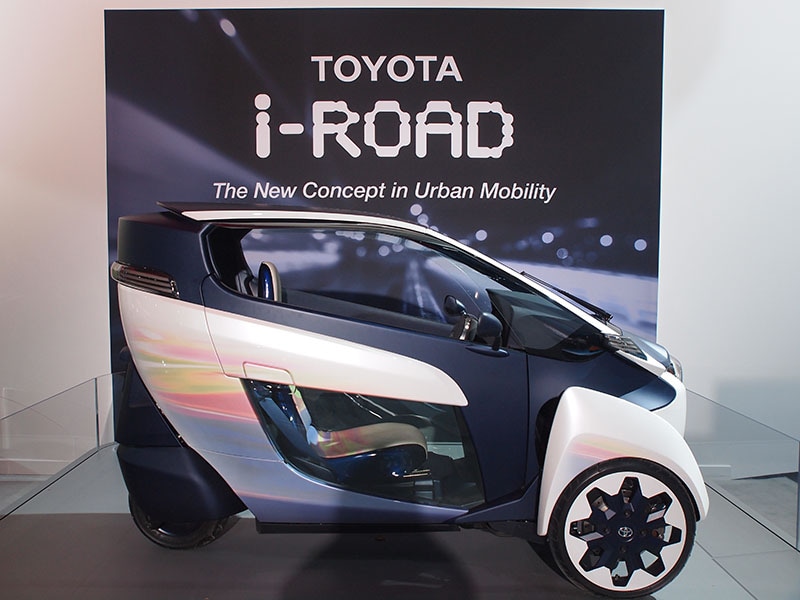 Photo by Megan Green
Toyota FV2 Concept
What's that you say? You can't get your fill of three-wheeled personal mobility concepts? Don't worry - Toyota has you covered. The Toyota FV2 Concept joins the iRoad in New York, only this time instead of sitting upright you recline back almost flat, and the rear wheels are doubled-up instead of those in the front. The FV2 is steered by the rider shifting their body weight from side to side, and its electric drivetrain accelerates and brakes in a similar manner.
What changed? The FV2, or 'Fun Vehicle' 2, has been around since the 2013 Tokyo Motor Show.
When is it available? Like the iRoad, we won't see this offered in North America.
How much? You can't buy the FV2.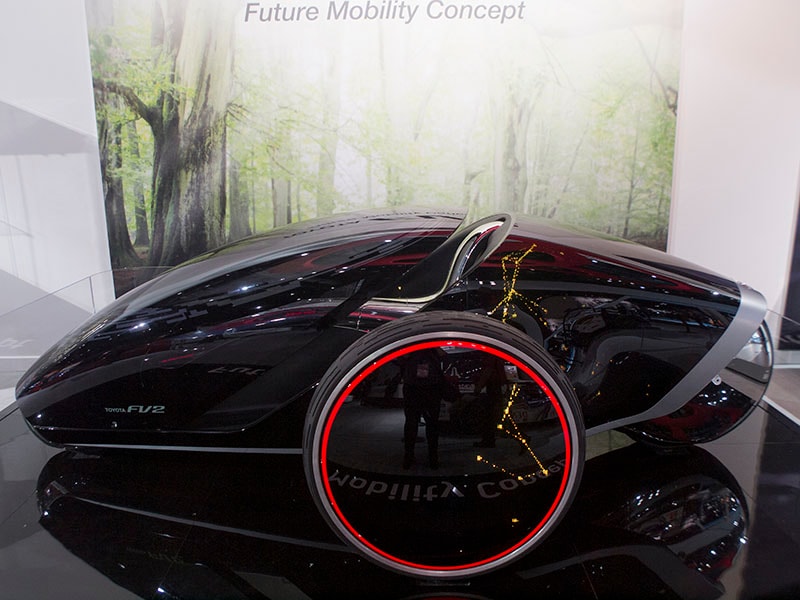 Photo by Megan Green
Toyota FT-1 Concept
Finally, a more traditional Toyota concept. The Toyota FT-1 previews what the upcoming Toyota Supra sports car, which is being built in partnership with BMW, will look like. The production FT-1/Supra will likely shrink the concept's proportions down some, but the rear-wheel drive coupe is guaranteed to offer exceptional performance along with a level of styling risk that Toyota hasn't taken in over a decade. Look for turbocharged BMW six and four-cylinder power plants under the hood when the vehicle eventually hits showrooms.
What changed? The FT-1 is a concept car.
When is it available? We are at least three years away from a production version.
How much? The Toyota FT-1 is not for sale.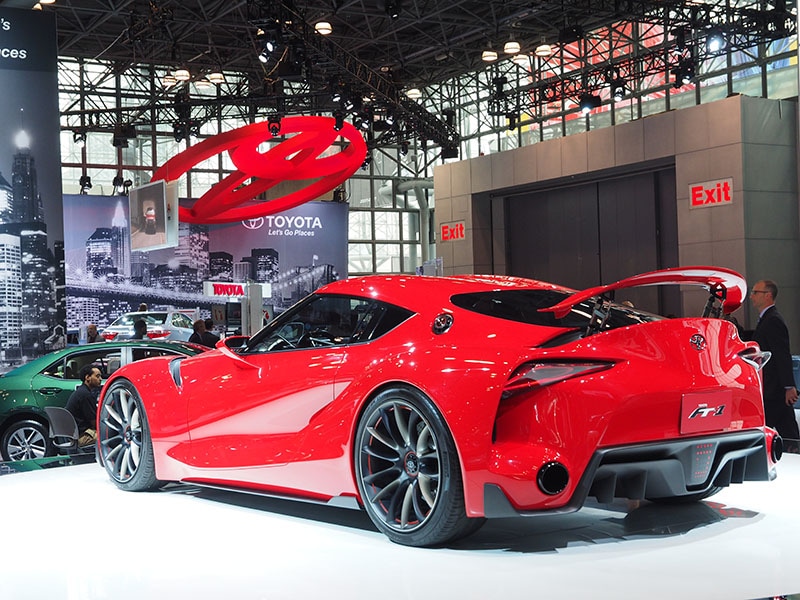 Photo by Megan Green
Infiniti QX30 Concept
The Infiniti QX30 Concept presages what the brand's very first subcompact crossover will look like, as the stylish hatchback aims to attract younger buyers to the automaker's luxury showrooms. The vehicle's 7.6 inches of ground clearance are enhanced by its 21-inch rims, and the interior's Connolly leather gives the QX30 Concept an aura of sophistication. Infiniti has installed a turbocharged four-cylinder engine under the hood of the QX30, which features both all-wheel drive and rear-wheel drive capability.
What changed? The QX30 is an all-new concept.
When is it available? Think 2016 at the earliest before the QX30 is made available to the general public.
How much? The Infiniti QX30 has yet to be priced.
Photo by Megan Green
Volkswagen Beetle R-Line Concept
It's about time. The Volkswagen Beetle R-Line concept discards the regular car's cuteness in a bid to appeal more to driving enthusiasts. Naturally, this means a useful amount of power. The R-Line's engine bay houses one of the VW Group's tried and tested 2.0-liter turbocharged four-cylinder units (as found in the excellent GTI) to bring a tempting 217 hp. It has to look the part too, so big air intakes in the front bumper complement a large rear diffuser and rear spoiler, as high-gloss black moldings run between 20-inch alloy wheels. The front occupants sit in sports seats, surrounded by carbon-fiber trim. Cute? Not so much.
What changed? The Beetle throws off its cozy, suburban image and gets more serious.
When is it available? VW says this car "could make it into production in the near future."
How much? Right now, anyone's guess.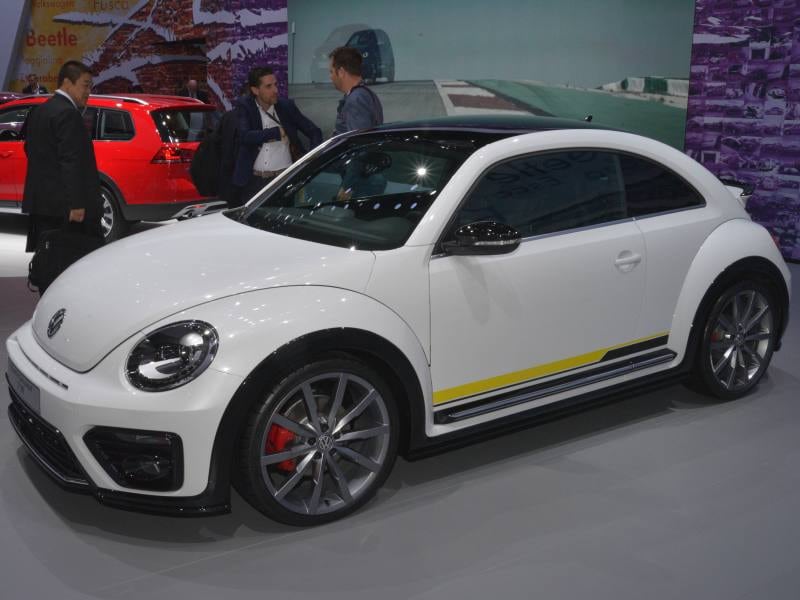 Volkswagen Beetle Convertible Denim Concept
Volkswagen designers have expressed their love affair with blue jeans by way of the Volkswagen Beetle Convertible Denim Concept.  Inspired by the 'Jeans Bug' of the 1970s, you get the full 'denim' treatment with this car, which features a jeans-like convertible top, a gray-on-stonewashed-blue exterior paint scheme, and denim pockets inside the passenger compartment (along with imitation denim-look upholstery for the car's blue seats).  Power comes from a 170 horsepower, 1.8-liter turbocharged four-cylinder engine.
What Changed?  It's like the standard Beetle convertible, only this time, with denim.
When is it available?  It's not guaranteed to ever be sold to the public, but Volkswagen loves its special editions, so we're not betting against it.
How much?  You can't currently buy the Volkswagen Beetle Convertible Denim Concept.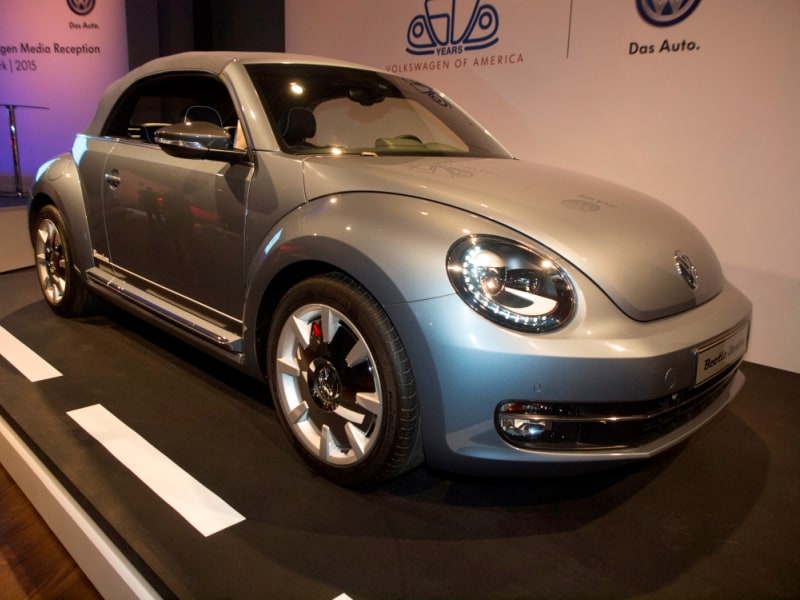 Photo by Megan Green