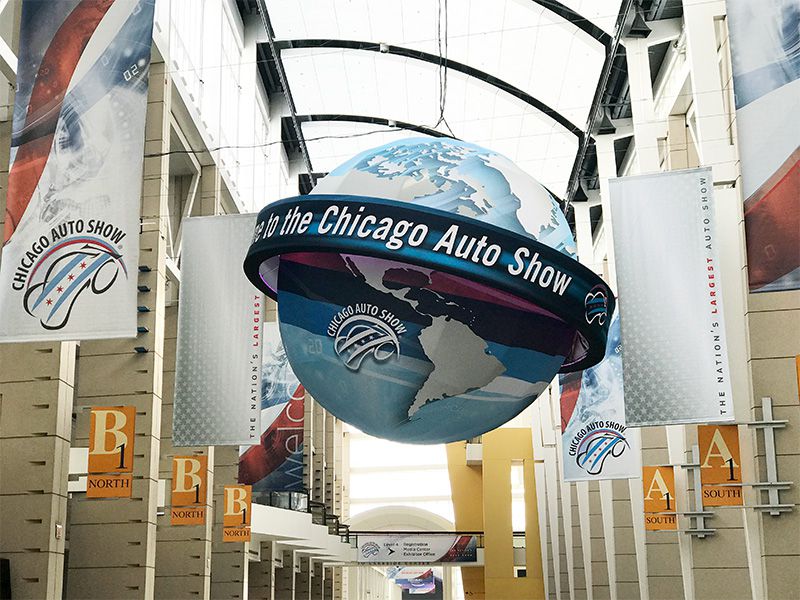 2018 Chicago Auto Show CKim ・ Photo by Carrie Kim
The groundhog saw his shadow, so we're in for six more weeks of winter. That's okay, because snow-blind Midwesterners can pop in to McCormick Place for the 2018 Chicago Auto Show which runs from February 10 – 19. The show hosted two days of previews for automotive journalists just prior to the public opening. Automakers will show off their latest lineups, and even brought out a few special editions, debuts and surprises. The Chicago Auto Show may not be a cauldron of industry action, but it has traditionally been the best-attended consumer car show in the US for years running. Here are some of the debuts and highlights of the 2018 Chicago Auto Show.
50th Anniversary Subaru lineup
Subaru began selling cars in the United States in 1968. To commemorate the 50th anniversary, Subaru is building 9 limited edition vehicles, one for each model line. Based on the highest trim level for each model, the limited editions will wear a coat of Heritage Blue Paint along with special badging inside and out. Production will be limited to 1050 examples of each model, except WRX and STi, which will share 1050 examples total. Spring 2018. BRZ, $29,940; Crosstrek, $30,040; Forester, $33,390; Impreza 4-door, $28,340; Impreza 5-door, $28,840; Legacy, $31,490; Outback, $35,080; WRX, $35,495; WRX STI, $41,195.
(All anniversary editions are based on Limited trim levels)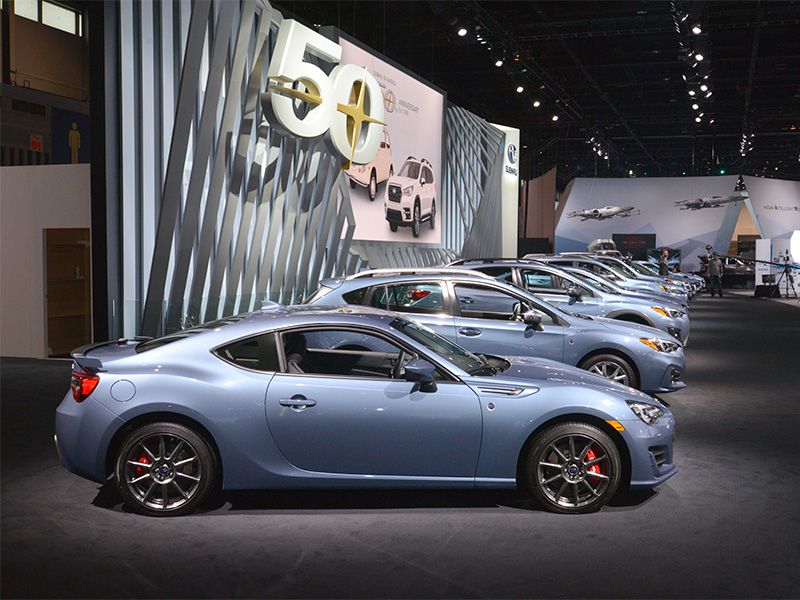 Photo by Newspress USA
2019 Volkswagen Arteon
The 2019 Volkswagen Arteon is an all-new mid-size sedan that replaces the CC in the VW lineup. Like the new Jetta, it will be built on the MQB platform, which is very flexible. Arteon's appearance at the Chicago Auto Show was its US debut, and it made a good showing to the press. There's a close family resemblance with the 2019 Jetta, as both share the trendy coupe-like profile with a sloping roofline and sleek, streamlined appearance. Arteon will be positioned as a premium vehicle within the VW lineup – edging into Audi territory, but not quite. It will come with a 268-hp 2.0-liter TSI turbocharged gasoline engine and 8-speed automatic transmission with front-wheel-drive or optional 4Motion all-wheel drive, 18-inch alloy wheels, full LED headlights, Front Assist, Blind Spot Monitor with Rear Traffic Alert, and adaptive damping. A wide array of premium features will be available, along with advanced driver assistance technology. Third quarter of 2018. Pricing not yet available.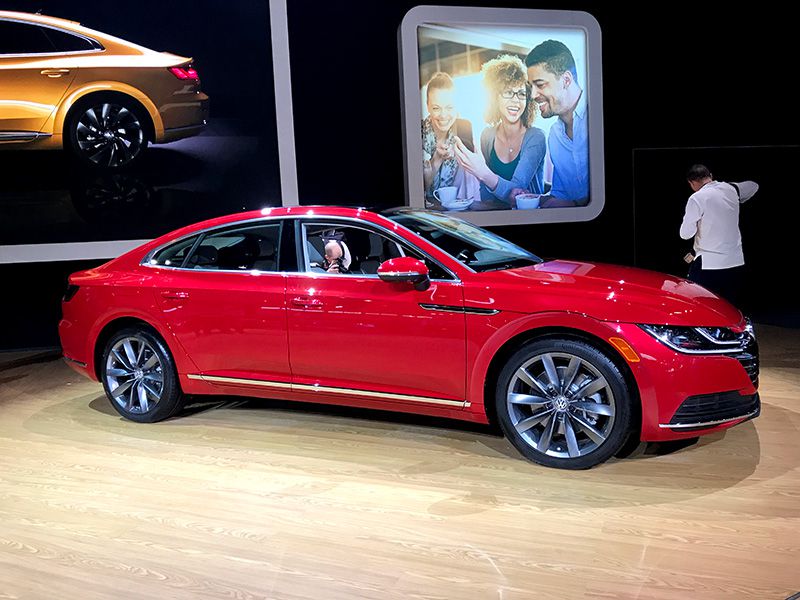 Photo by Carrie Kim
2019 Toyota TRD Pro Series
Toyota turned its TRD (Toyota Racing Development) team loose on the Tundra, Tacoma, and 4Runner to create 2019 TRD Pro versions of each truck. Each truck will receive 2.5-inch Fox Internal Bypass Shocks in the front that has been specially tuned by TRD engineers, along with TRD springs. The rear Fox shocks will be fitted with piggyback reservoirs. All three trucks get blacked-out trim, badges, and grilles. Tacoma gets a showy "Desert Air Intake" that swoops up from the front right fender along the A-pillar to above the roof. Fall 2018 Pricing not yet announced.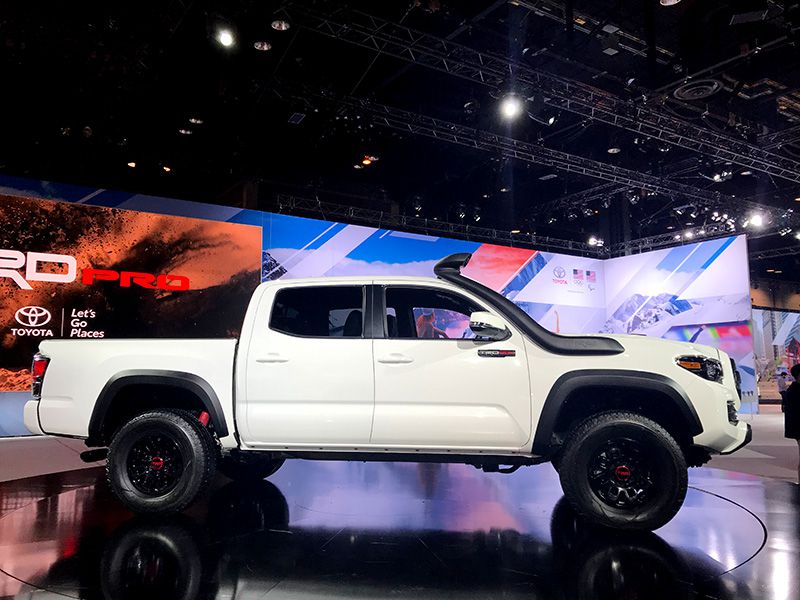 Photo by Carrie Kim
Nissan 370Zki
Though there is no planned production for the Nissan 370Zki custom vehicle, many of the assembled journalists may have wished for a chance to buy one. A monster snowstorm descended on Midwest during the press days at the Chicago Auto Show, and the 370Zki (pronounced "370 ski") swaps out the vehicle's front wheels for skis and rear wheels for snowmobile tracks, transforming the coupe into a 332-hp snowmobile. It's a one-off custom. Not for sale.
Photo by Carrie Kim
Nissan Armada Snow Patrol
Another winter-themed one-off custom vehicle from Nissan, the Armada Snow Patrol takes a 2018 Nissan Armada body-on-frame full-size SUV and fits it with a 3-inch lift kit, extreme off-road tires on 20-inch wheels, an aftermarket front bumper, light bar and roof rack, along with a custom Katzkin leather interior and a graphic body wrap. This customized SUV looks like it is ready to head to the North Pole – or at least out to conquer the snowbound Chicago city streets. It's a custom creation for the Chicago Auto Show. Not for sale.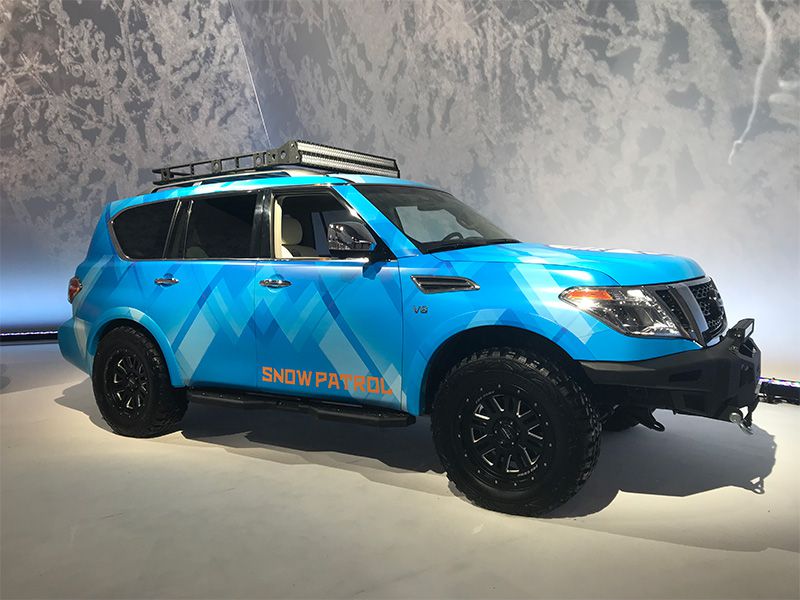 Photo by Carrie Kim
2018 Fiat 500 Series
The 2018 FIAT 500 Series consists of the 500 (Coupe), 500e (Electric Coupe), 500c (Cabrio), 500L (5-door), 500X (all-wheel-drive crossover), 500 Abarth and 500c Abarth. The new lineup (including the 124 and 124 Abarth) is now the industry's only all-turbo selection. 500 models each come with a 1.4-liter turbo that produces 33 percent more horsepower than the outgoing examples. Pop and Lounge trim levels include standard performance braking and suspension systems, ParkView rear backup cameras, sport spoiler and exterior upgrades. Order now and cars arrive in the second quarter of 2018. 2018 500L starts at $20,995; 2018 500X starts at $19,995. Other pricing to follow later in 2018.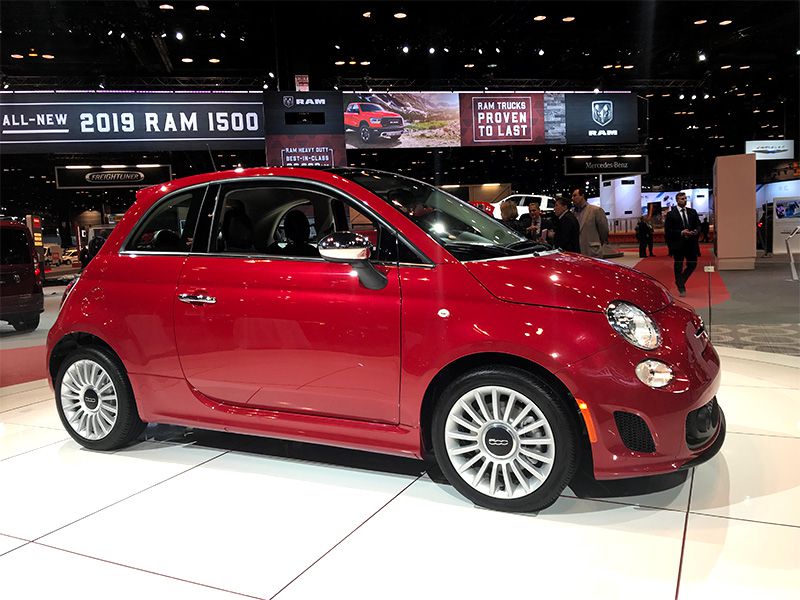 Photo by Carrie Kim
2018 Hyundai Kona
The all-new 2018 Hyundai Kona is Hyundai's first entry in the growing B-Segment (sub-compact) crossover field, slotting in below the compact Tucson. Kona is built in the United States on a new platform. It will have full LED exterior lighting and a bold palette of exterior colors with an optional contrasting roof. Under the hood, a 2.0-liter 4-cylinder naturally aspirated (non-turbo) engine with a 6-speed automatic transmission is standard, with a 1.6-liter turbocharged engine with a 7-speed dual-clutch automatic available. The Hyundai Smart Sense suite of driver assistance is available, along with premium technology like an 8-inch navigation system, Blue Link, a head-up display, rain-sensing wipers and more. The first quarter of 2018. Starting at $19,500.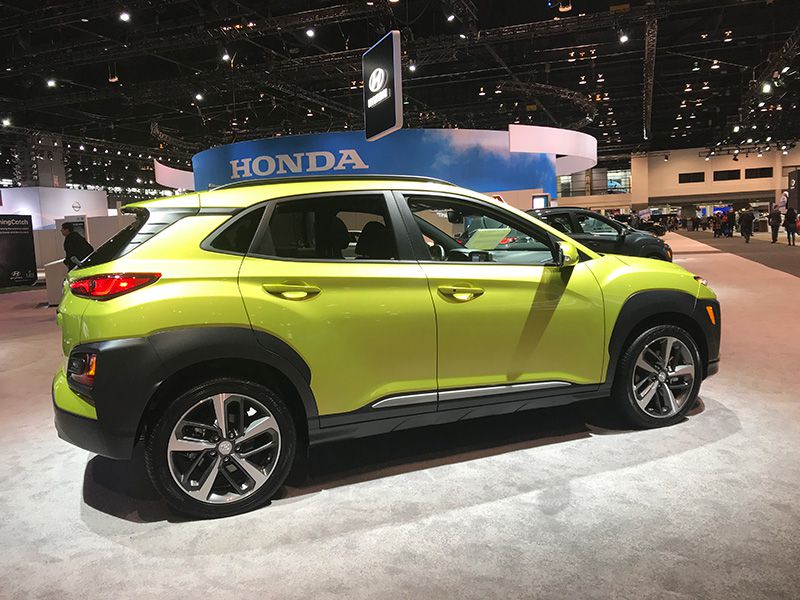 Photo by Carrie Kim
2018 Mazda MX-5 Miata Dark Cherry Top
The soft-top version of the 2018 Mazda MX-5 Miata can now be ordered with a new Dark Cherry soft top option. Previously, the default top was black, with no optional colors available. The new top is a no-cost option, A new Auburn Nappa leather interior is available for 2018 ($300), along with three premium paint colors: Soul Red Crystal ($595); Machine Gray Metallic ($300); and Snowflake White Pearl Mica ($200). Now. MX-5 Sport starts at $25,295, and MX-5 Club starts at $29,155.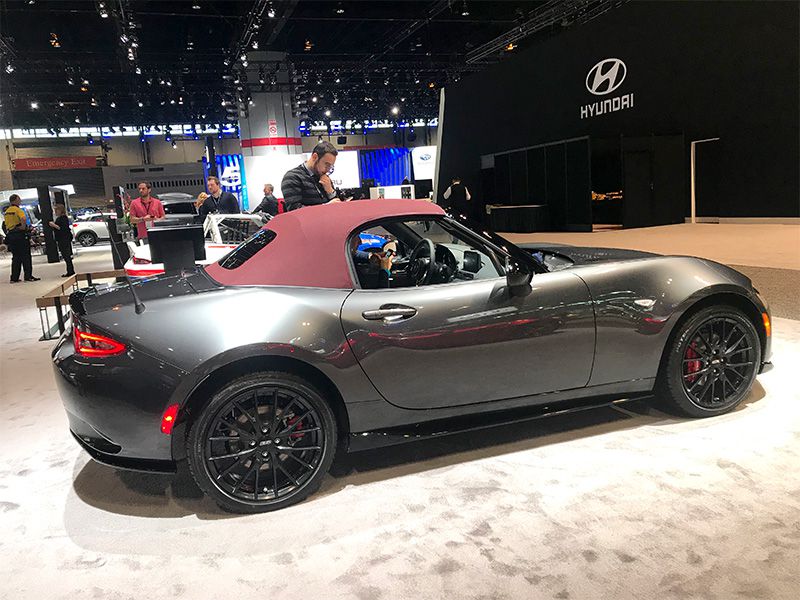 Photo by Carrie Kim
2018 Nissan Kicks
Everything, if you remember the outgoing Juke. The 2018 Nissan Kicks replaces the Juke in Nissan's lineup as its smallest compact crossover offering. It will come with a 1.6-liter gasoline engine (125 hp/115 lb-ft of torque) and front-wheel drive with a continuously variable automatic (CVT) Xtronic transmission. Styling is bold, but a little less polarizing than the Juke, though Nissan is offering a seven-color range of exterior paint, plus five two-tone combinations. Spring 2018. Pricing will be announced closer to vehicle launch.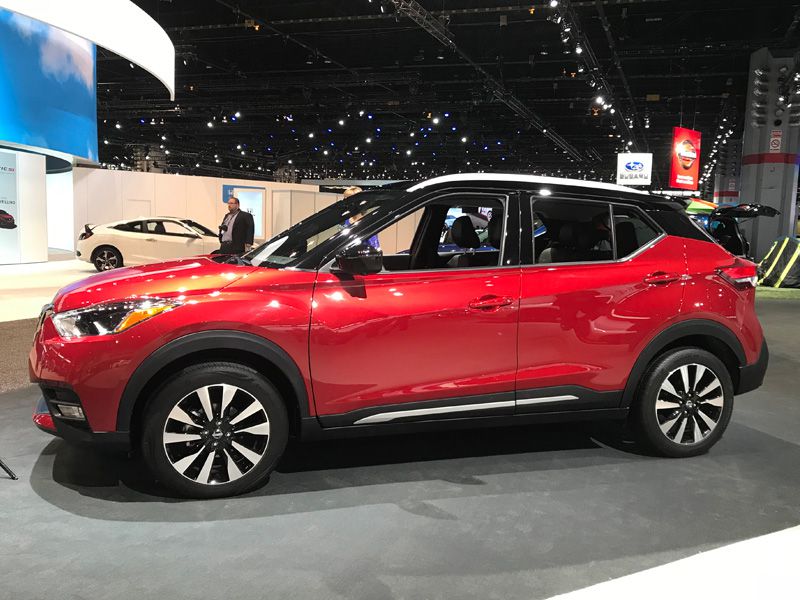 Photo by Carrie Kim
Mopar Customized 2019 RAM 1500
Mopar returned to the Chicago Auto Show this year with a special customized 2019 RAM 1500 on display. The truck featured over 200 Mopar parts and accessories, including a 2-inch lift kit, off-road wheel flares, and off-road beadlock-capable wheels. The sporty, off-road custom truck also showcased the unique "Ram Rack" which can easily transport lifestyle gear, and the all-new Mopar "Ram Airflow" cold-air intake system that feeds a steady flow of fresh air to the 395-horsepower, 410 lb.-ft. of torque, 5.7-liter HEMI V-8 engine.
TBA. Pricing not available.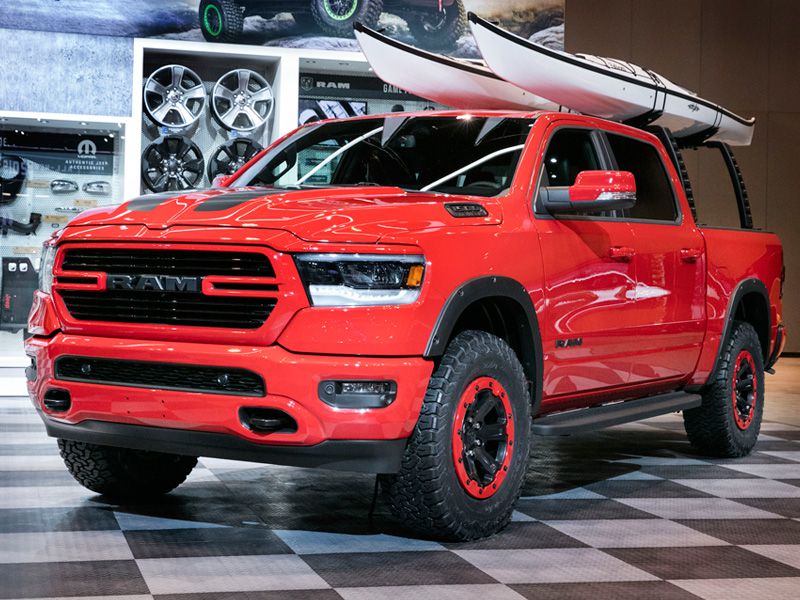 Photo by Fiat Chrysler Automobiles