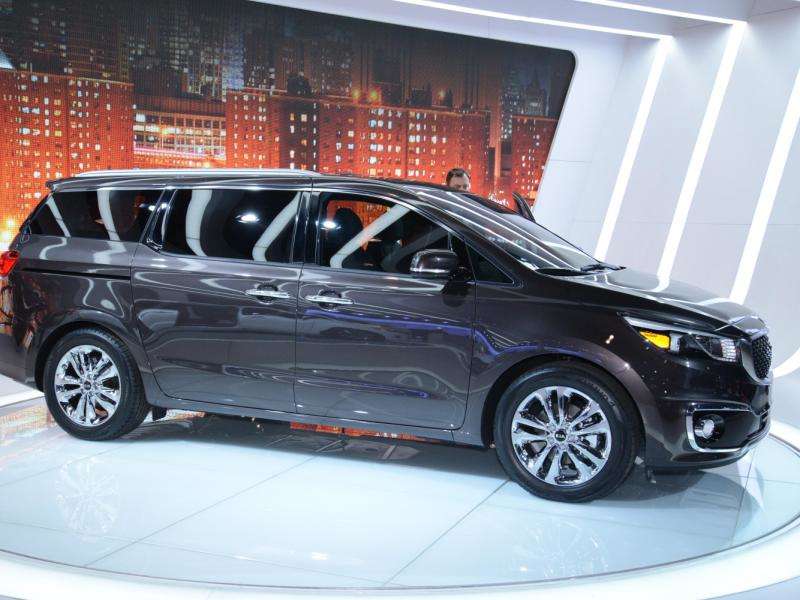 2015 kia sedona
Vans & Minivans have started to catch up to the rest of the industry in terms of next-gen technologies, with a new wave of city-sized, high-efficiency commercial vans making a particularly welcome impact in the marketplace. In fact, the segment will even get a new all-electric entry this year. But the current crop of minivans hasn't stood still either, and show-goers will find some surprising new features among these more family-friendly options.
2015 Kia Sedona
Finally taking advantage of Kia's penchant for strong and striking designs, the 2015 Kia Sedona wears one of the least minivan-ish faces ever shown in the segment, backed by surprisingly fun driving dynamics, yet it still offers all the versatility one expects from a dedicated family hauler—and then some. Just consider its content-packed cabin, capable of offering face-to-face lounge seating for second- and third-row passengers, or its long list of available features, like the latest UVO Infotainment & Telematics system, an automatically opening "smart" rear liftgate, and a suite of driver-assistance measures such as forward collision warning, smart cruise control, blind-spot detection and rear cross-path detection. Unsurprisingly, the 2015 Kia Sedona also is a Top Safety Pick of the Insurance Institute for Highway Safety.
What hasn't?
Now.
The 2015 Kia Sedona opens at $25,900.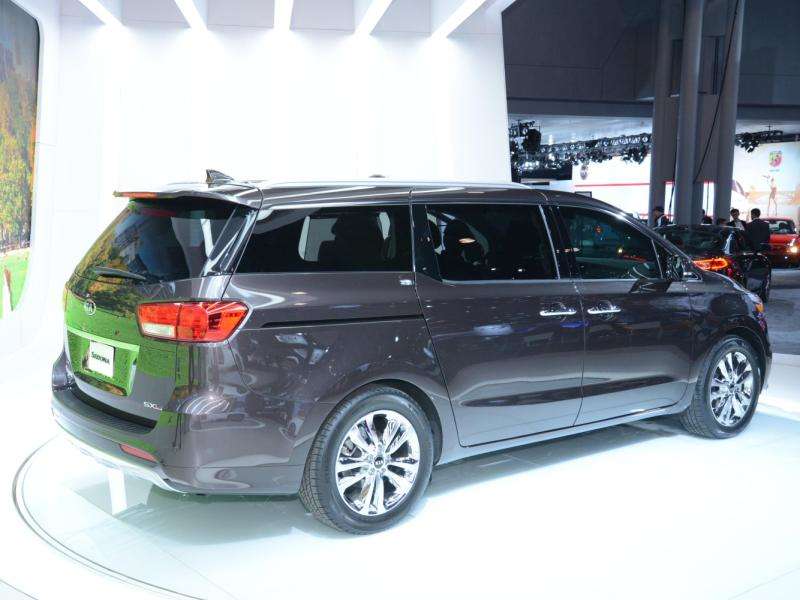 2015 Ford Transit
The 2015 Ford Transit team relies on the same sort of next-gen approach that informs the latest city vans, but make no mistake: The Transit is a full-size entry that can be configured to hold up to 542.2 cubic feet of cargo or carry up to 15 passengers, while further boasting a payload of up to 4,300 lbs. and a max tow rating of 7,500 lbs. But it provides that power responsibly, with EcoBoost and diesel engine choices. SYNC with MyFord Touch is available as well.
This is the first year of Ford Transit sales in this country, although it has a long track record of success internationally.
The 2015 Ford Transit is on sale now.
The 2015 Ford Transit van starts at $29,735, while wagon pricing opens from $32,270.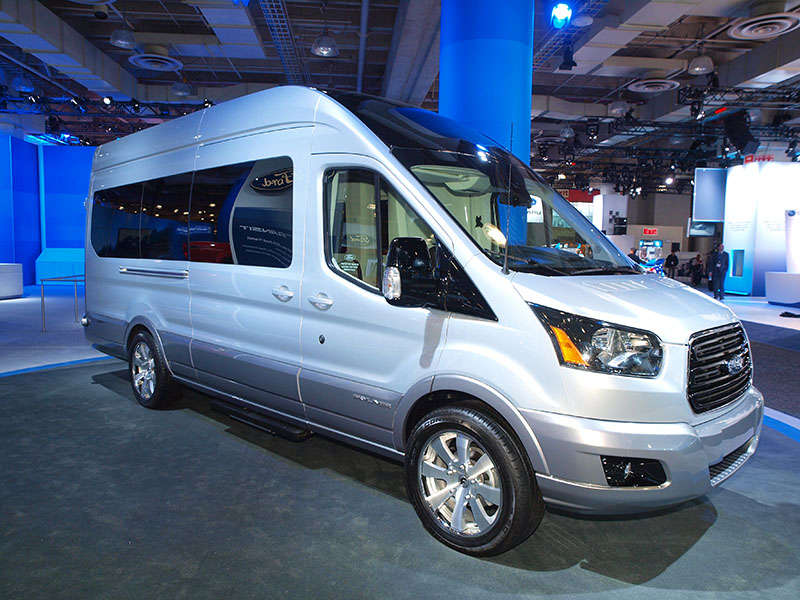 2015 Toyota Sienna
The 2015 Toyota Sienna remains the only minivan on the market to offer all-wheel drive, but—courtesy of an extensive mid-cycle makeover—that won't be the only exclusive on the menu as the next selling season begins.
Highlights here include yet swaggier styling inside and out, including available LED daytime running lamps, as well as what should be an especially welcome breakthrough for minivan owners: Driver Easy Speak. This setup lets drivers speak directly over the Swagger Wagon's back speakers, using the microphone already integrated into the vehicle's multi-media system. Speaking of which, Entune multimedia is now standard across the lineup, as are a full complement of eight airbags, while the Sienna's optional rear-seat entertainment system, highlighted by a 16.4-inch widescreen display, adds Blu-Ray compatibility.
Now.
The 2015 Toyota Sienna is offered with MSRPs that begin from $28,600.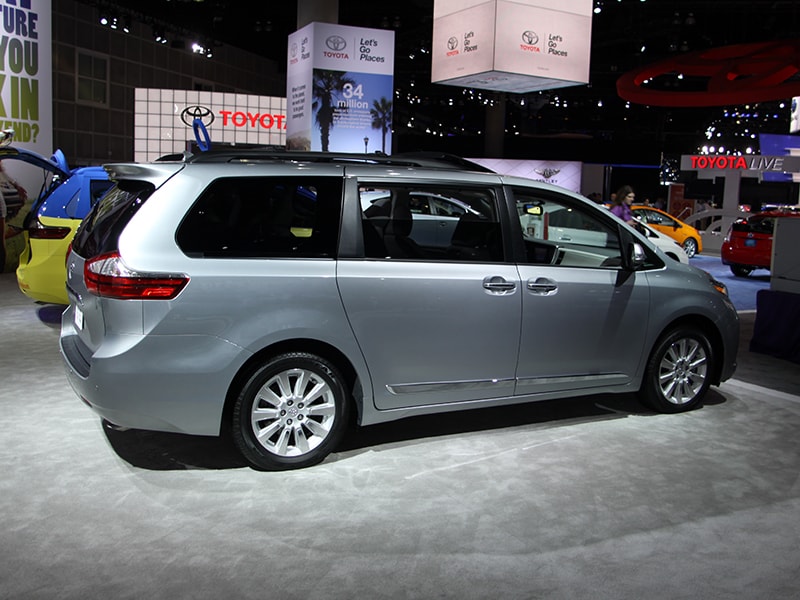 2015 Chrysler Town & Country
The 2015 Chrysler Town & Country finished up 2014 as the best-selling minivan of the year, and it certainly has the kind of package needed to repeat that feat. After all, the Town & Country touts exclusive features like a Blu-ray player with HDMI input for video gamers and adaptable "Stow 'n Go" seating, a best-in-class 283 hp, sophisticated Uconnect technology that offers a mobile wi-fi hotspot, and the SafetyTec suite of driver-assistance measures; that latter bundle includes blind-spot monitoring, rear cross-path detection, a rear park-assist system, automatic high beams and rain-sensitive wipers.
There are two new models in the mix for 2015, with a Limited Platinum edition joining the roster at the top of the range and an LX model configured for value shoppers.  
The 2015 Chrysler Town & Country is on the market currently.
The 2015 Chrysler Town & Country starts from $29,995.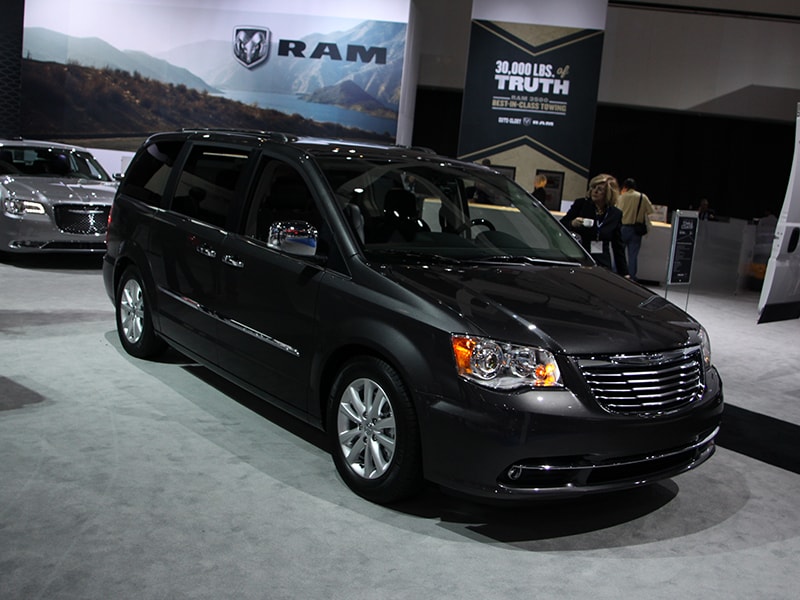 2015 Sprinter Van
The 2015 Sprinter Van stays at the leading edge of the full-size segment with a plethora of configurations and engine choices to suit all sorts of commercial needs, a stylish Euro-centric design, Becker Map Pilot navigation, and many of today's top driver-assistance measures—and the confidence that comes with Mercedes-Benz engineering.
The restyled 2015 Sprinter Van will introduce its first all-wheel-drive system for the U.S. market, complete with an available low-range gear and a multi-inch boost in ground clearance. Also new and standard will be Crosswind Assist, designed to automatically compensate for breezy conditions by using individual braking adjustments to create a subtle steering effect.
Rear-wheel-drive models of the 2015 Sprinter Van are available now, with the 4X4 models due this quarter.
MSRPs for the 2015 Sprinter Van begin at $35,995 for cargo models.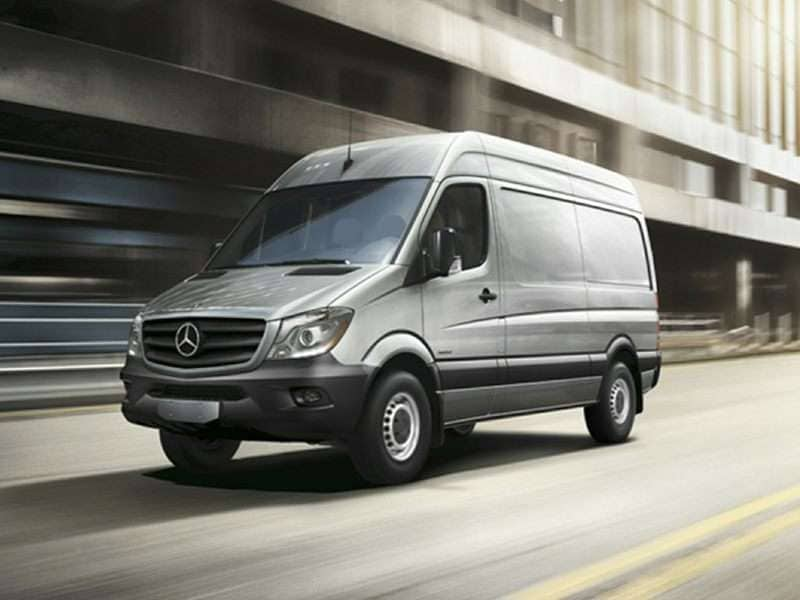 Photo by Mercedes-Benz
2015 Nissan Quest
The 2015 Nissan Quest offers a distinctly modern design approach while also boasting minivan must-haves like one-touch power door, numerous infotainment and safety resources, and easy-to-manage second- and third-row seating that never impinges on the rear cargo well.
A noticeable engineering change provides a more traditional feel for the Quest's Xtronic continuously variable transmission, and there's an efficiency bonus, too: Per the EPA, the 2015 Nissan Quest is rated at 20 mpg city/27 mpg highway/22 mpg combined, marking bumps of 1 mpg/2 mpg/1 mpg. Increasing as well is the size of the standard audio display, currently up to 5 inches ( a 16 percent jump). Then, from the safety department, moving-object detection is added to the vehicle's array of driver-assistance technologies.
Now.
The entry point to the 2015 Nissan Quest lineup is at $26,530.