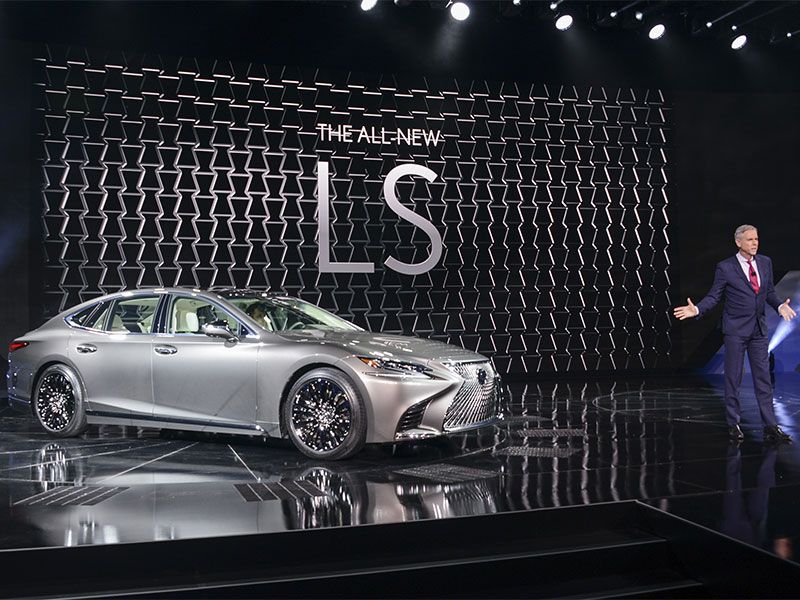 2018 Lexus LS reveal at 2017 NAIAS ・ Photo by North American International Auto Show
Detroit may be the Big Three's home-town show, but it was the imports that made the headlines at Detroit this year. Let's take a look at the newest and hottest sedans and luxury cars at the 2017 North American International Auto Show.
2017 BMW 540i
For BMW fans, the big news at Detroit is the new 5-series sedan. Styling-wise, BMW never makes very big course changes, and the new Five is no exception: It looks like a cross between the old 5 and a shrunken 7-series, and we do like the deeper creases in the bodysides, which give the car more character. Like most automakers, BMW has concentrated on making the 5 lighter and more efficient; although the new 5-series is larger than the old one, it weighs up to 137 lbs. less. The baseline model will be the 540i; its 3.0 liter turbocharged inline six develops 335 hp, 35 more than the current car.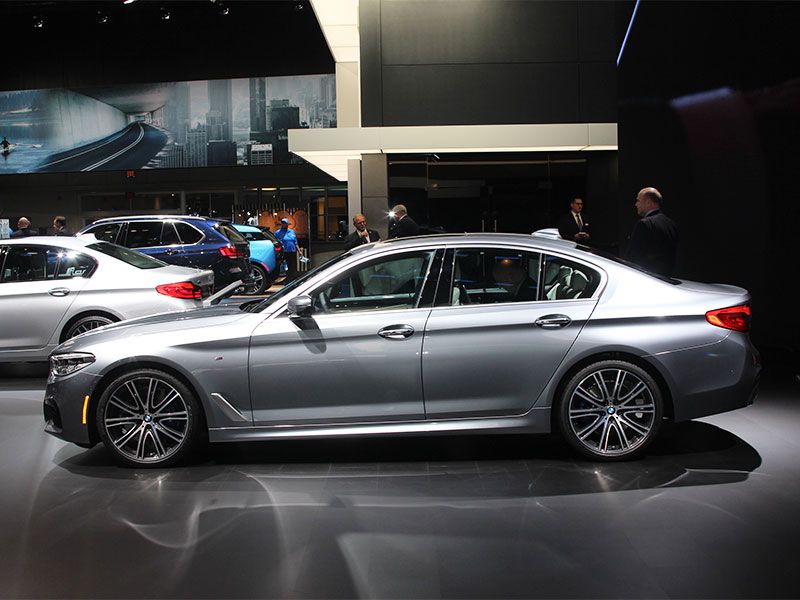 Photo by Matt Carpenter
2017 BMW 530e iPerformance
Like the 3 and the 7, the new 5-Series gets a plug-in hybrid variant called the 530e iPerformance (honestly, must the automakers give everything a name like an Apple accessory?). The 530e combines a 2.0 liter four-cylinder turbo engine with an electric motor for a total system output of 248 horsepower, and BMW says the car will accelerate to 60 MPH in 6.2 seconds. Its 9.2 kWh battery pack can be plugged in and charged up, and BMW says the 530e will be able to drive around 15 miles on battery power alone. Priced at $52,195, it will be the least-expensive car in the 5-Series family.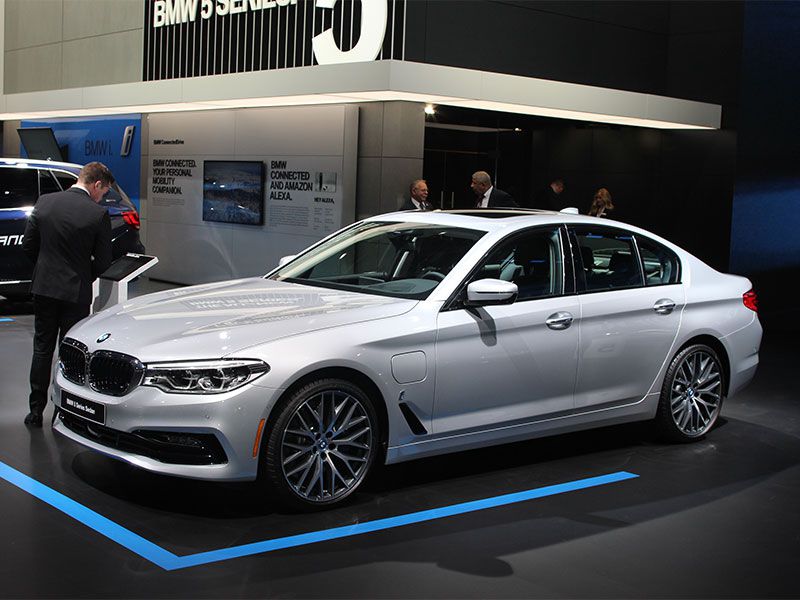 Photo by Matt Carpenter
2017 BMW M550i xDrive
BMW is now putting the "M" prefix on the high-power variants of its cars, but they aren't to be confused with the actual M cars (M3, M4, M5, etc.) Not that performance isn't a theme for the M550i: It is powered by a 456 hp turbocharged V8, and drives all four wheels (hence the xDrive suffix) through an eight-speed automatic transmission. BMW says the new M550i xDrive will be the fastest 5-Series ever with a 0-60 time under four seconds—and that would make it even quicker to 60 than the previous-generation M5.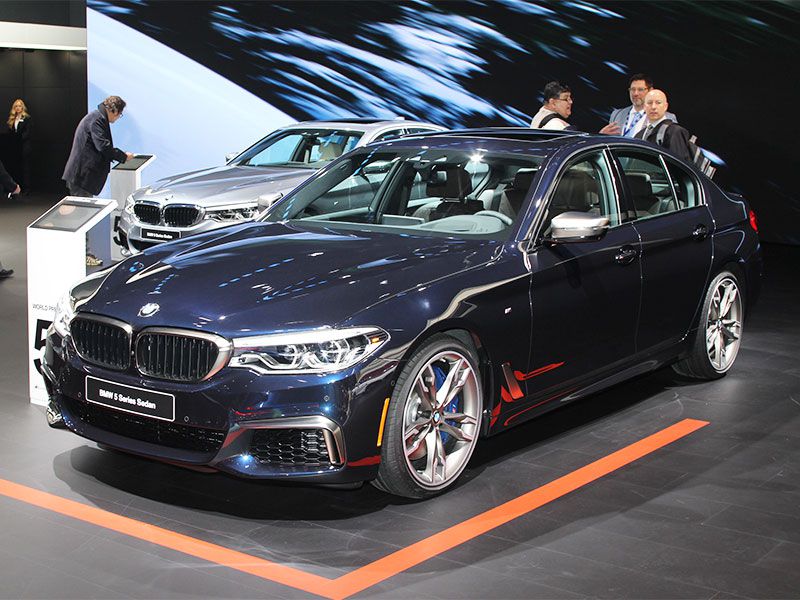 Photo by Matt Carpenter
2018 Genesis G80 Sport
This was a car we first saw at the Los Angeles Auto Show last fall, but for many show-goers, this will be their first glance. Genesis is Hyundai's new standalone luxury brand, and the G80 is the car that was once known as the Hyundai Genesis. The Sport model gets a twin-turbo V6 engine with 365 hp on tap, along with subtle styling changes, including subtle copper-toned trim inside and out, that give it a cool urban-chic vibe.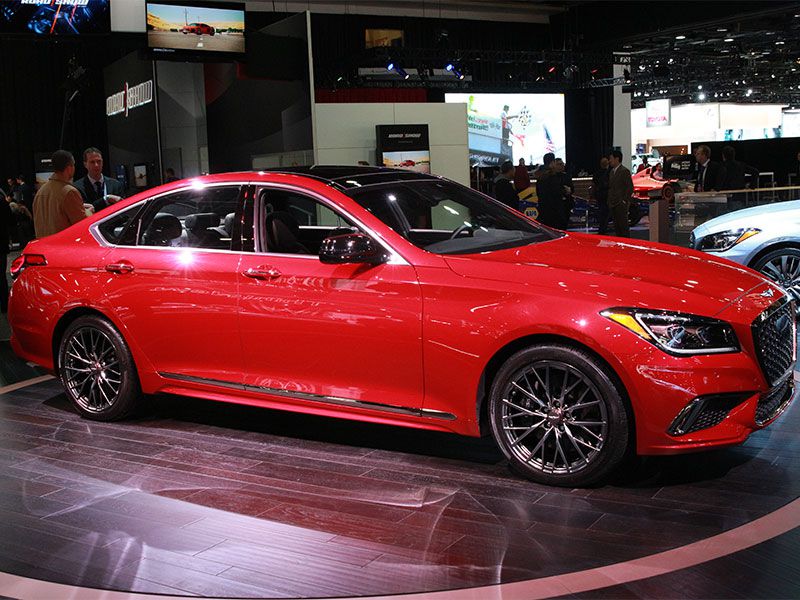 Photo by Aaron Gold
2017 Lincoln Continental
When we first saw the new Continental, we thought it was a rather strange-looking thing, but now that we've seen a few on the road—and spent some time with it ourselves—we are becoming more and more fond of it. The Continental has a uniquely old-school feel, and yet it is festooned with modern technology. It's a bit like Steampunk, with the Victorian era replaced by cocktail coolness of the swingin' sixties. The star of Lincoln's stand is the Navigator concept, but we suggest you also slide on over and check out the new "Connie."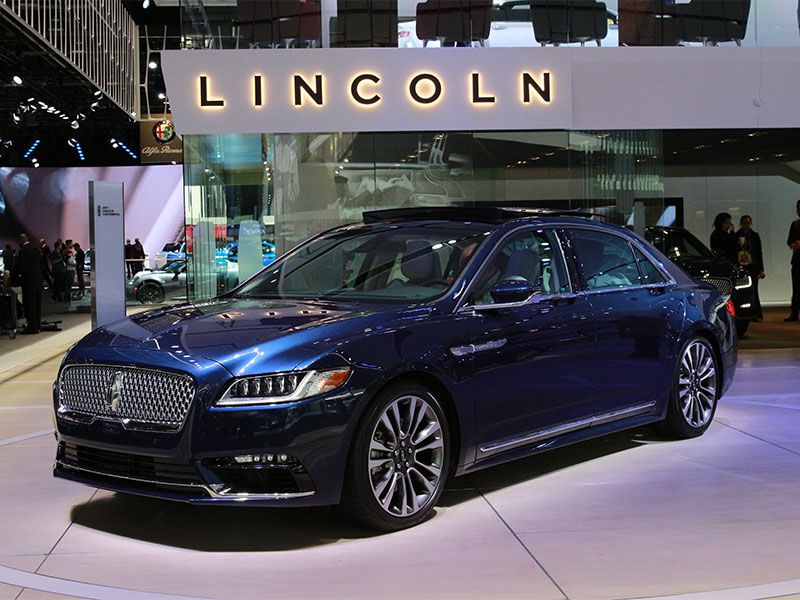 Photo by Aaron Gold
2018 Volvo V90
The Detroit Auto Show marked the first time that all of Volvo's new 90-series cars have been shown on a single stage, and for many Americans, Detroit will be their first look at the V90 wagon. Big wagons have always played a huge part in Volvo's history, but this one is something different, trading box-for-your-boxes practicality for a slick and sexy look that recalls Volvo's sleek coupes of the 1960s. Volvo wagons may be mommymobiles, but this one has a distinctly Mrs. Robinson sort of feel.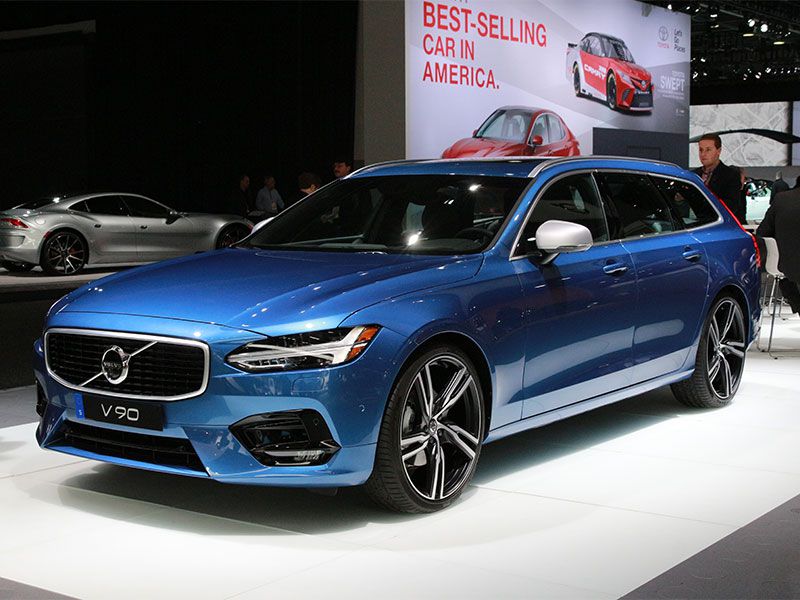 Photo by Aaron Gold
2018 Volvo V90 Cross Country
Volvo has been giving its wagons the Cross Country treatment, with higher ground clearance and more aggressive body trim, for several years now, and we love the way it translates to the new V90: It manages to look burly and sexy. New front and rear bumpers with gray and aluminum-colored trim vaguely suggest skid plates, and while the purists in us detest such visual tomfoolery, we must admit that they look pretty darn good on the V90. Given America's appetite for crossovers, we expect this car to be a strong seller for Volvo.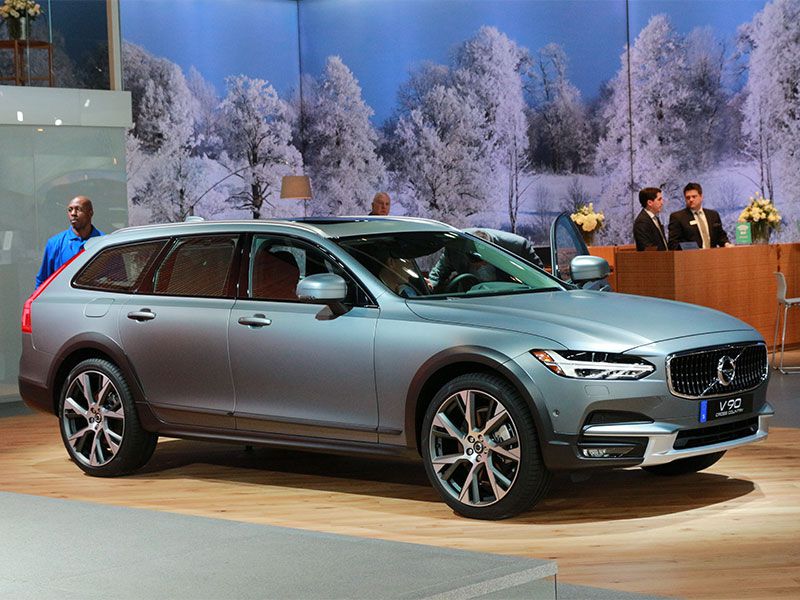 Photo by Aaron Gold
2017 GAC Trumpchi GA8
Is there a Chinese sedan in your future? If so, this might be it. The GA8 is one of four vehicles that GAC showed at this year's Detroit Auto Show (there was also an SUV, an electric car, and a coupe-ish SUV concept.) State-owned GAC claims they are ready to start selling cars in the United States, and they plan to build a research and development center here soon. The GA8 is actually pretty decent looking, a roomy four-door sedan with a tasteful leather-and-wood trim interior, though the dash has a Nissan-ish feel and the switchgear looks like it was borrowed from Hyundai.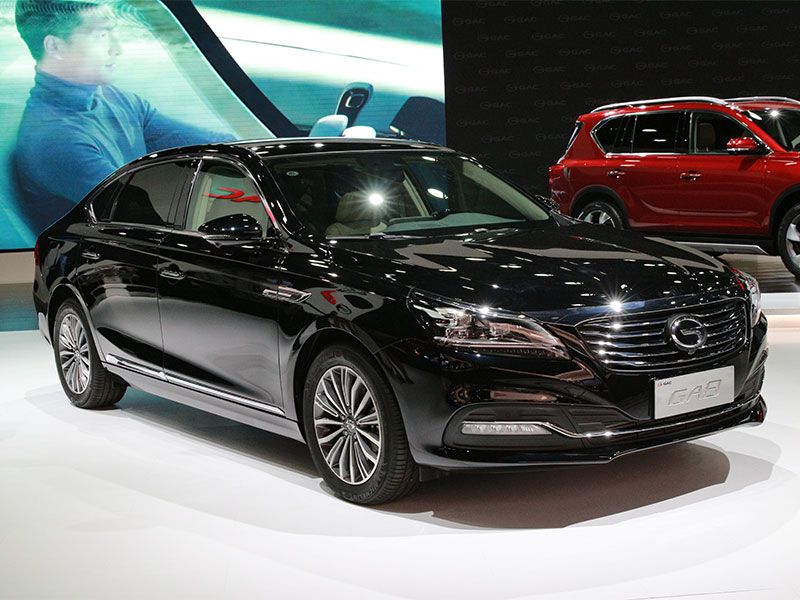 Photo by Aaron Gold
2018 Kia Stinger
No question, Kia's new Stinger was one of the stars of this year's Detroit auto show. This is Kia's first proper sports sedan, featuring rear wheel drive and a lovely hatchback body that recalls the Audi A7. Powertrains will include a turbocharged 2.0 liter four-cylinder engine and a twin-turbo V6, the latter shared with the Genesis G90 (Genesis is a division of Hyundai). This South Korean company has made massive improvements in their suspensions in the last few years, and if the Stinger is done right, it could be a serious sport-sedan contender.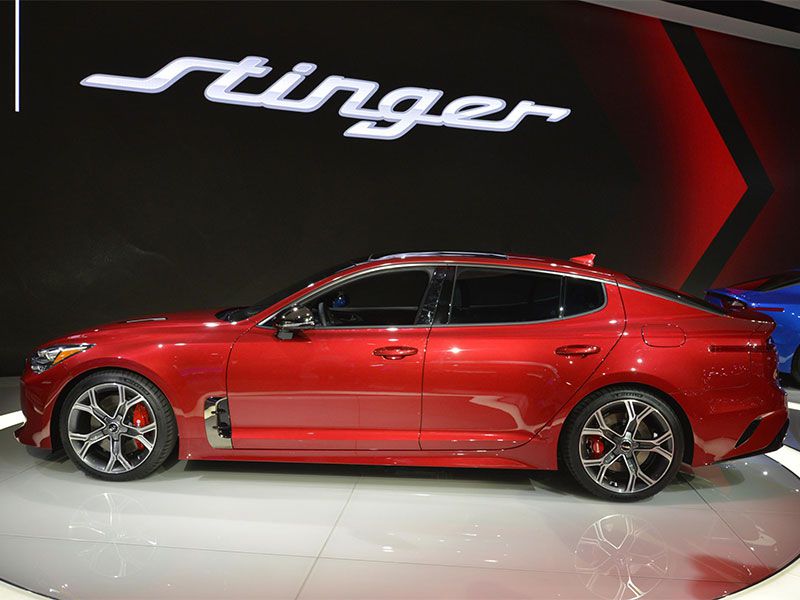 Photo by Newspress USA
2018 Lexus LS
The LS was Lexus' first car, and it remains the flagship model to this day—though to look at the current car, you might wonder if Lexus had forgotten about it these last few years. Turns out they've been hard at work on a new LS, and this is it. The shape looks like a cross between the old LS and a Porsche Panamera, and we're excited about the twin-turbocharged 3.5 liter V6, which puts out 415 hp and 442 lb-ft of torque. Lexus cars have taken a decidedly sporty turn these last few years, and we have high hopes that the new LS could (finally!) be a serious contender not only for the Mercedes S-Class, but for the BMW 7-series as well.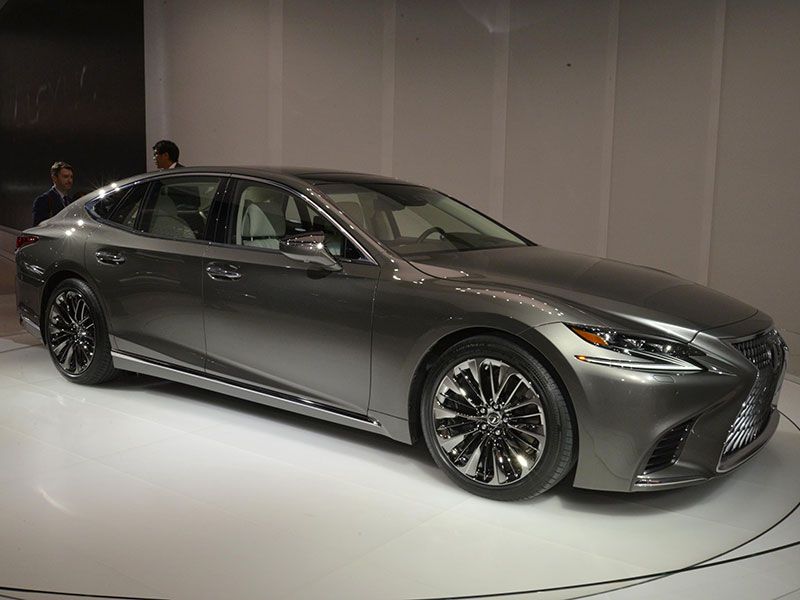 Photo by Newspress USA