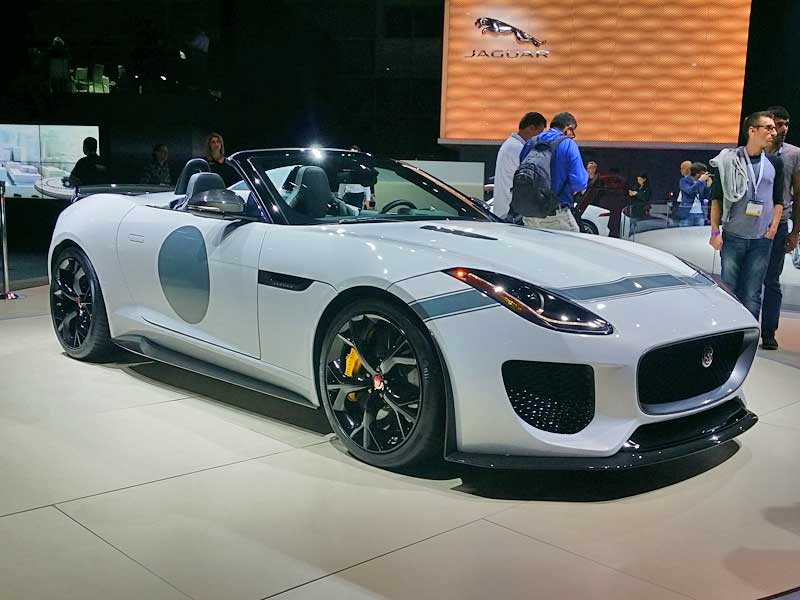 2014 LA Auto Show jaguar f-type convertible
Convertibles might make up for less than 1% of all cars sold but over half of them must live in Los Angeles so this year at the 2014 Los Angeles Auto Show, the newest unicorns of the auto industry will be on show. It isn't a huge list but it is a prestigous group.
Unveiled in Los Angeles: 2016 Mazda MX-5 Miata
The 2016 Mazda MX-5 Miata is the next-generation version of the world's most popular roadster. Although technical details concerning the MX-5 Miata have been few and far between, we do know a few things about the car: it's got a more aggressive design than ever before, it's going to be powered by a 2.0-liter, four-cylinder engine, and it will be available with both manual and automatic transmissions. There's as yet no word on whether the car will retain the power-retractable hardtop found on the current Miata.
 The Mazda MX-5 Miata is all-new for 2016.
Summer of 2015.
Pricing has yet to be released for the roadster.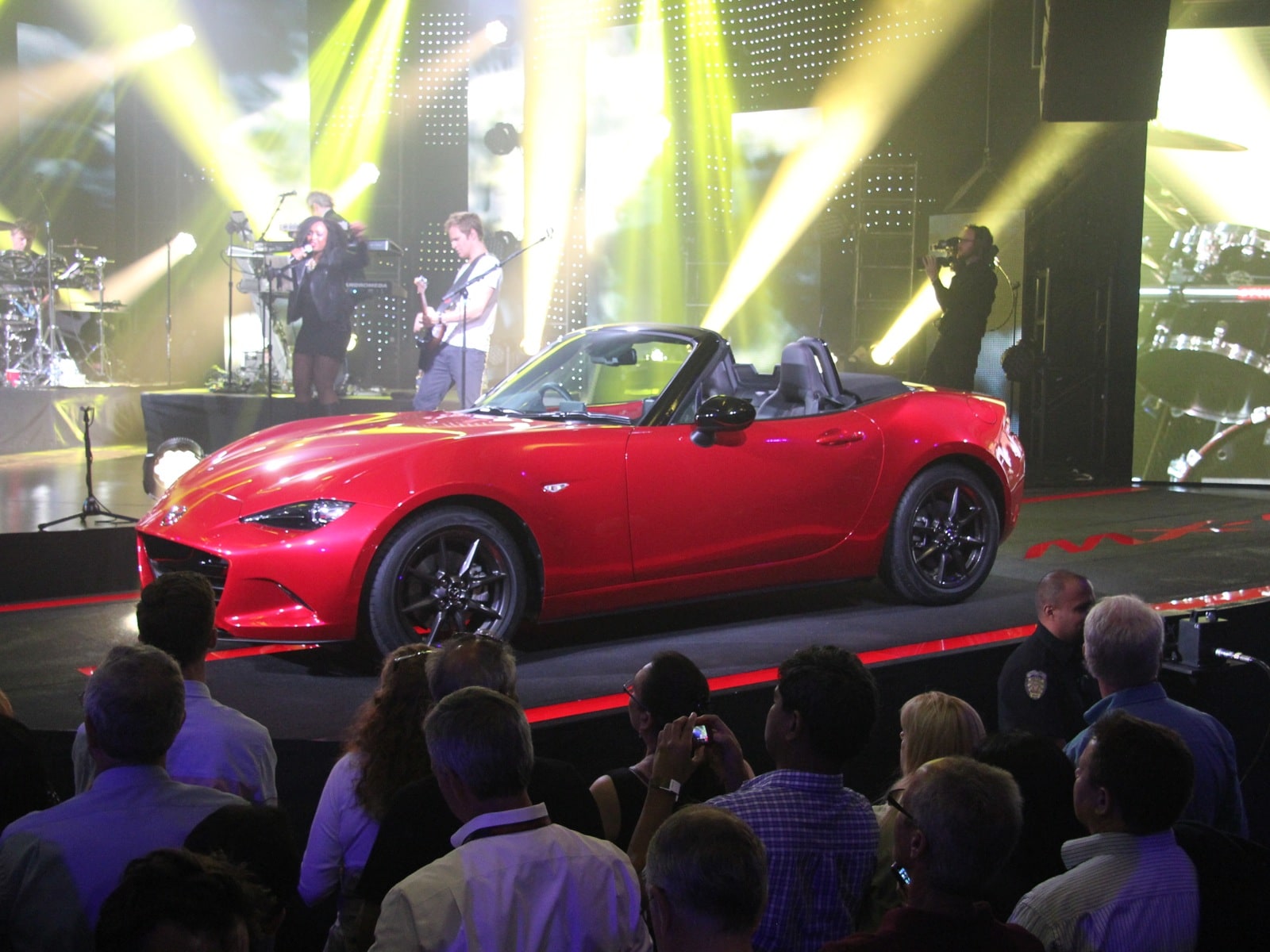 2015 BMW 2-Series Convertible
BMW's handsome new 2 Series Convertible bows, with pricing starting at $38,850 for the 2.0-liter turbocharged 228i iteration of the car. Power output is 240-horsepower and 255 ft-lbs of torque. All-wheel drive is offered starting at $40,650, and a more powerful M235i version of the car starts at $48,650. The M235i makes do without all-wheel drive, but runs a 3.0-liter turbocharged inline six, making 320 horsepower and 330 ft-lbs of torque. An eight-speed automatic is standard, though you can get a six-speed manual as an option for the M235i. The folding cloth roof is capable of cycling in 20 seconds—at speeds of up to 30 miles per hour.
It's an all-new model based upon the new BMW 2 Series Coupe.
The BMW 2 Series Convertible is expected to go on sale spring 2015.
Pricing starts at $38,850.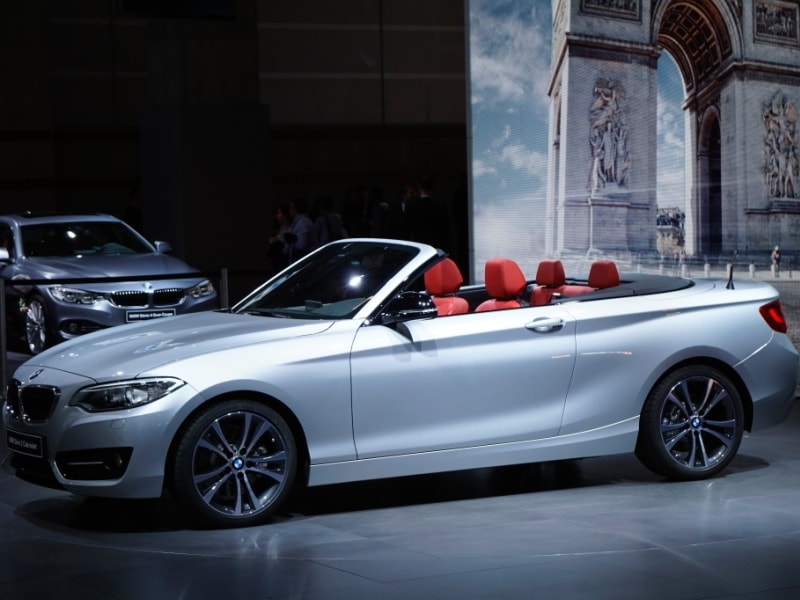 2015 BMW M4 Convertible
Just as in the BMW M4 Coupe, a twin-turbocharged inline six-cylinder engine producing 425 horsepower and 406 ft-lbs of torque with a 7,600 rpm redline powers the M4 Convertible. Transmissions are a six-speed manual or a seven-speed dual clutch automated manual with a launch control function. The rear drive Convertible features an active rear differential to maximize traction, and a carbon fiber reinforced plastic driveshaft. Its electro-mechanical steering system provides the multi-mode advantages of electronic steering, while preserving the mechanical feel enthusiasts appreciate. Three settings are available to the driver. The optional Adaptive M suspension system offers the same three settings; Comfort, Sport, and Sport +. Carbon brakes with gold calipers are offered as an option.
BMW M4 Convertible is an all-new model based on the new M4.
The model is on sale now.
Pricing starts at $72,500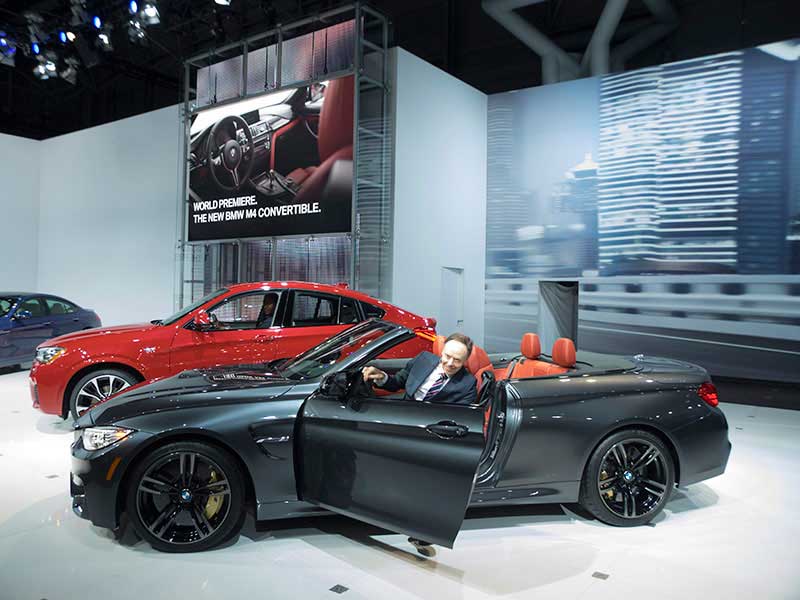 BMW 4-Series Convertible
New for the 2014 model year, the BMW 4-Series Convertible goes into 2015 with minor tweaks to an already delectable offering. Easily one of the most handsome folding hardtop convertibles on the market, it's harmonious of line, luxuriously outfitted, and still comes across as a no-nonsense driver's automobile. Power comes from a choice of two engines. The 2.0-liter turbocharged four fitted to 428i produces 241 horsepower and 258 ft-lbs of torque. The 435i gets a 3.0-liter turbocharged inline six with 300 horsepower and 300 ft-lbs of torque. An eight-speed automatic transmission and rear-drive are standard. All-wheel drive is an option. A variety of trim packages enables you to tailor the 4-Series more toward luxury or sport—your choice.
Bluetooth audio is now standard equipment; heated front seats are designated a standalone option
On Sale Now
Pricing starts at $48,750.
Photo by Megan Green
2016 Audi TT Roadster
While the overall shape remains the same, the new TT has more of chiseled appearance. Still though, the uniqueness of its groundbreaking styling comes through. At introduction, there will be two versions. A 230-horsepower, 2.0-liter turbocharged four-cylinder will power the standard TT. TTS gets a 310 horsepower version of the same engine with 280 ft-lbs of torque. The front-wheel drive TT offers all-wheel drive as an option, though it's standard for TTS. We'll also see a six-speed dual-clutch gearbox. There's a six-speed manual too, but we have no confirmation it will come to the States. Of particular note is TT's virtual cockpit; all instrumentation is rendered on a 12.3-inch digital display.
Pretty much everything, the 2016 TT will be an all-new model.
Audi's TT Roadster is expected in the spring of 2015.
Pricing has yet to be announced.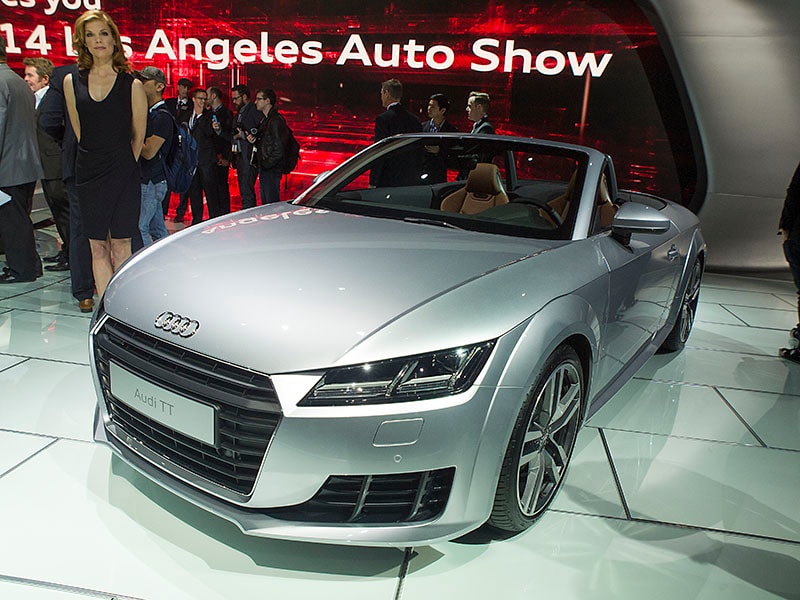 2015 Ferrari 458 Especial A
The A is for Aptera (which loosely translates into "open"). Reputed to be the last Ferrari road car powered by a naturally aspirated V8, the 4.5-liter powerplant makes 597 horsepower, 398 ft-lbs of torque, and boasts a stratospheric 9,000-rpm redline. This makes the rear-drive mid-engine convertible capable of a 0 to 60 of less than three seconds. A seven-speed dual-clutch automated manual handles transmission duties. Also reported to be the last iteration of the 458 ever offered, plans are for only 499 copies, so you're definitely looking at a future collectible. Oh, and if all of that isn't enough to sway you, there's also the fact the Speciale A is the fastest convertible Ferrari has ever offered—until the next one.
A convertible roof makes the 458 Speciale, even more special.
Sold out
Pricing started at $300,000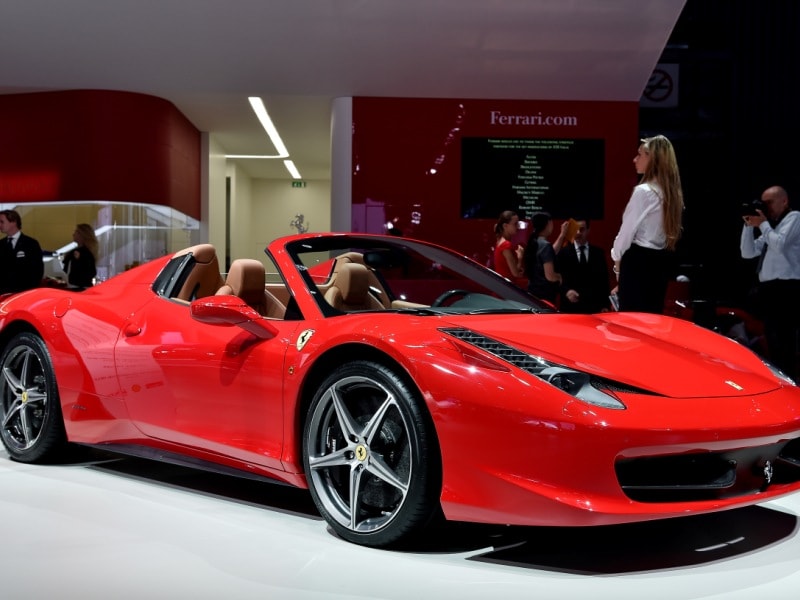 2016 Corvette Z06 Convertible
The extraordinary C7 Corvette, introduced last year as a 2014 model, was the most powerful standard version of the Corvette ever offered. Of course, when you start talking Z06, you're talking even more power as the supercharged 6.2-liter V8 makes 650 horsepower and 650 ft-lbs of torque, making this the most powerful Z06 ever. A rev-matching seven-speed manual transmission is standard, while an eight-speed automatic is an option. BTW, both transmissions have launch control functions. This option marks one of two Z06 firsts. All previous Z06 Corvettes used manual transmissions, and all were fixed-roof coupes. Corvette's adaptive suspension system is configured specifically for Z06 duty; along with larger brakes, wider tires, a carbon fiber hood, wider fenders, larger air vents, and a flat-bottomed steering wheel with carbon spokes.
All-new for 2015
Early 2015
Pricing starts at $83,000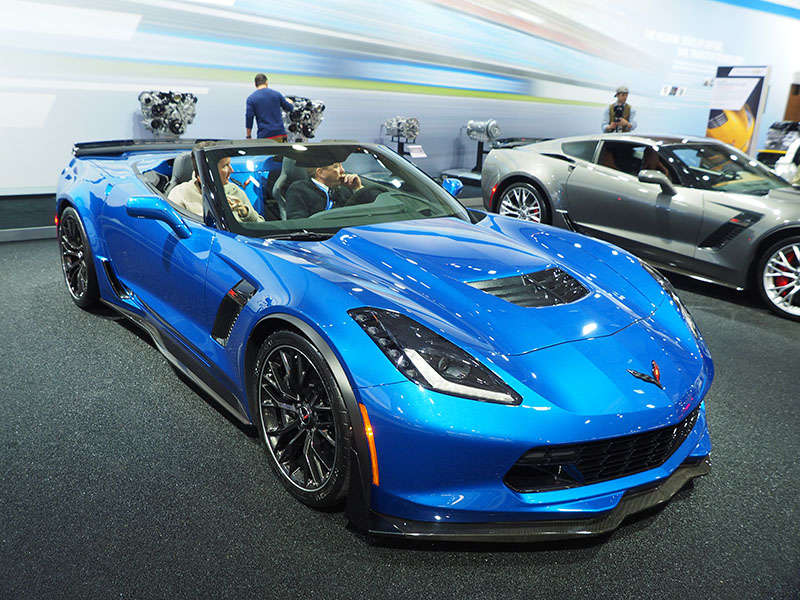 2015 Ford Mustang Convertible
An entire genre of performance cars gets its category name from Ford's iconic Mustang. The original pony car; an all-new iteration of the Mustang debuts for the 2015 model year in both coupe and convertible formats. Power comes from a choice of three engines. The base model gets a 3.7-liter V6 with 300 horsepower and 280 ft-lbs of torque. Mustang's new turbocharged 2.3-liter four-cylinder makes 310 horsepower and 320 ft-lbs of torque. The V8 option is a 5.0-liter with 435 horsepower and 400 ft-lbs of torque. All three can be had with a choice of a six-speed manual or a six-speed automatic transmission. Standard features include xenon headlights, keyless entry and ignition, cruise control, blind-spot mirrors, Sync voice control, and a limited slip differential.
Ford's Mustang Convertible is all-new for 2015
On sale now.
Pricing starts at $29,100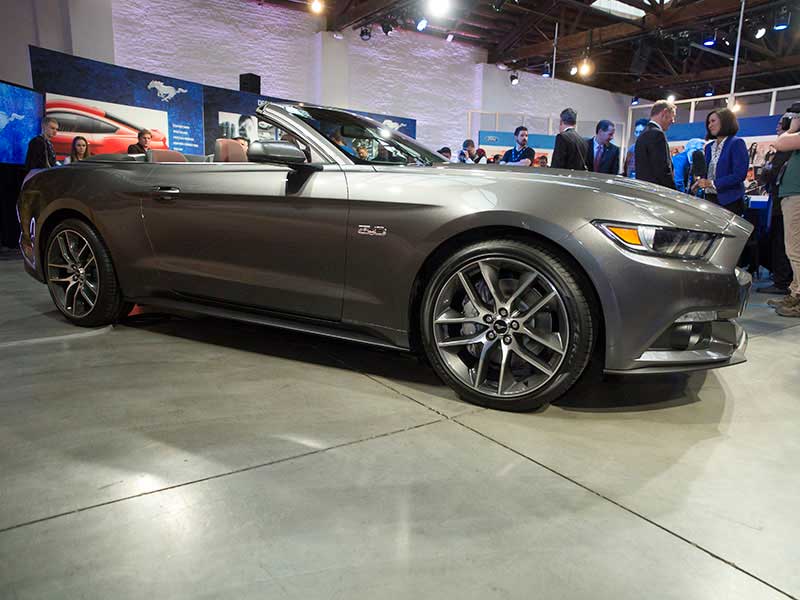 2015 Volkswagen Beetle Convertible
Largely carried over from the 2014 model year, Volkswagen's Beetle Convertible remains a singularly distinctive automobile. One of the happiest-looking cars on the road, a sunny day and Beetle Convertible can definitely keep the blues at bay. Power comes from a choice of four engines; a 170-horsepower, 1.8-liter turbocharged four with 184 ft-lbs of torque; a 210-horsepower, turbocharged 2.0-liter four with 207 ft-lbs of torque; or a turbocharged 2.0-liter diesel with 150-horsepower and 236 ft-lbs of torque. All are teamed with front-wheel drive. The 2.0 and the TDI are available with a 6-speed manual or a six-speed automated manual while the Base trim gets a 6-speed automatic.
The limited edition 2015 Beetle Convertible Classic features unique seat fabric, a navigation system, 17-inch Circle wheels, and SiriusXM Satellite Radio. Beetle Convertible TDI gets VW's new 150-horsepower, 236 ft-lb diesel engine.
On sale now.
2015 Beetle Convertible pricing starts at $25,345