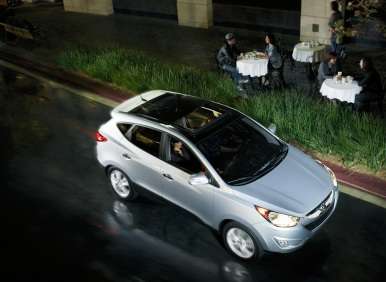 The 2013 Hyundai Tucson has gone from being one of the pioneers of the modern compact-crossover segment to one of the older players on the field, but it still makes a nice choice, especially for the kid-less, and it gets even a bit better for the new model year. Although Hyundai will continue to offer an unchanged entry version for the cost-conscious, it has added a few premium amenities to the mid-range GLS and high-end limited to both nudge them closer to the upscale side of the content spectrum and cover slight price increases.
More specifically, the GLS puts heated front seats, automatic headlights and fog lights on its list of standard equipment, while also seeing a $300 price bump and a new MSRP of $22,595. The Tucson Limited now opens at $25,445—a $450 increase over 2012—but features a proximity-entry system and push-button start.
Per the automaker: "Tucson packages these luxury comfort features with up to 32 mpg on the highway (EPA estimate) and a distinctive design making it a sophisticated CUV for active lifestyles, with a compact size ideal for singles and couples."
(And Hyundai did implement a modest $100 MSRP bump on the Tucson GL starter model, which will sticker at $19,245.)
Will these changes be enough to bring more Tucson customers through dealership doors? Click on through to the other side …
2013 Hyundai Tucson: Space, the Final Frontier
The 2013 Hyundai Tucson—as mentioned once or twice before on this site—is among the most compact of the compact crossovers, at least on the outside. It's only about 173 inches in length, making it about 5 inches shorter than the redesigned Ford Escape or Honda CR-V, and a bit more than 6 inches shorter than the all-new Mazda CX-5. On the other hand, most of that difference shows up in cargo room, with the Tucson actually offering more space for passengers than either the Escape or CR-V. Here's how Tucson compares against its fresher trio of rivals, showing front and rear headroom and legroom in inches, volumes in cubic feet, and cargo volume with rear seats up/folded:
Vehicle
Headroom
Legroom
Passenger Volume
Cargo Volume
Tucson
39.4/39.1
41.2/38.7
101.9
25.7/55.8
Escape
39.9/39
43.1/36.8
98.1
34.3/67.8
CR-V
39.9/38.6
41.3/38.3
101.5
37.2/70.9
CX-5
40.1/39
41/39.3
103.8
34.1/64.8
(These dimensions are for vehicles without moon- or sun-roofs, which reduce front-row headroom by about an inch across the board.)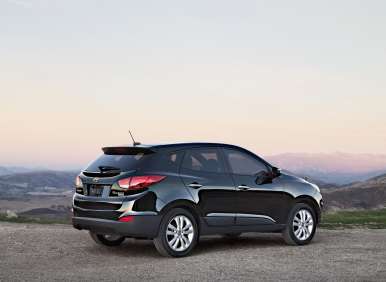 2013 Hyundai Tucson: The Challenge
Now, here's the challenge for the Tucson: It's true that the entry-level model has a strong price advantage against the other three, particularly since Honda and Ford don't offer any kind of stripped-down versions of their small crossovers. But when you start equalizing MSRPs based on content, that advantage starts melting away. Further, the Tucson's powertrain—usually a distinct benefit for Hyundai products—is showing its age. Here's another table, this time indicating the vehicles' output and EPA ratings in automatically transmissioned models with their standard setups:
Vehicle
Power (hp/lb.-ft of torque)
EPA grades (city/hwy./comb.)
Tucson
176/168
22/32/25
Escape
168/170
22/31/25
CR-V
185/163
23/31/26
CX-5
155/150
26/32/29
The Tucson does have a noticeably better power-to-weight ratio than the Escape or CX-5, and added to its nimble proportions, that probably delivers one of the more dynamic driving experiences in the segment. What it doesn't seem to be delivering, however, is sales. The six traditional mainstream automakers each had a small crossover/SUV that tallied at least five figures worth of sales in June, while the Tucson was good for just 4,231 deliveries—and trailed even the CX-5 by a few hundred sales.
The incremental changes to the Tucson for 2013 should help somewhat—and it remains a competitive transportation solution for crossover customers who don't put a premium on cargo space—but it will likely take until the vehicle is refreshed in the 2014 model year before it sees more than similarly incremental improvements in sales.