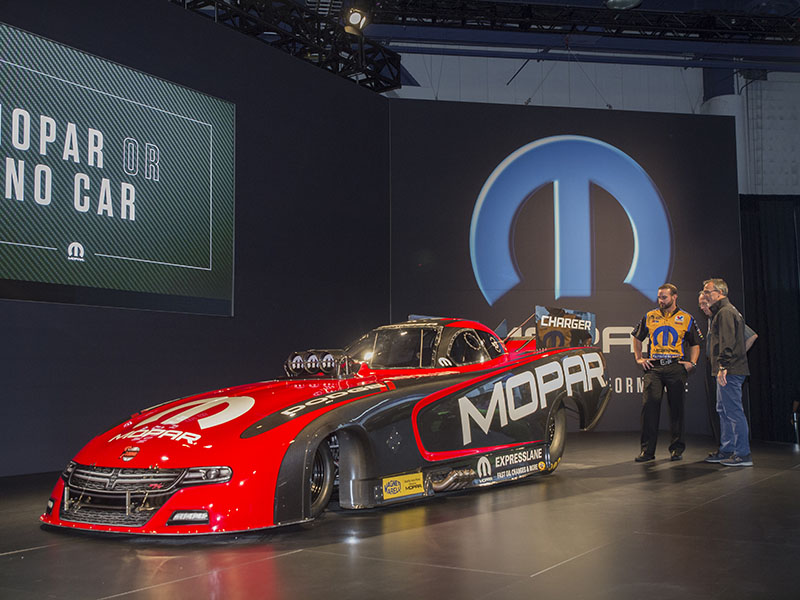 Dodge Charger Funny Car ・ Photo by Megan Green
Mopar is a significant presence annually at SEMA, and 2014 saw a considerable array of performance and specialty vehicles from the Chrysler range on the show floor. Every year on the first day of SEMA, Mopar begins their press conference at 4:26 pm in honor of the Chrysler 426 HEMI engine. This year, attendees were surprised by Mopar revealing a Dodge Charger R/T Funny Car, the result of a collaborative effort between Mopar, Dodge, and Don Schumacher Racing. Lighter than the current funny car that has won 68 national titles, the drag racer will begin competing in NHRA races starting in February 2015.
Dodge Challenger T/A Concept
Decked out in Sublime Green with 70's-inspired T/A graphics in matte black, the Challenger T/A Concept features an air-cooled 6.4 liter 392 HEMI engine, LED headlamps and coordinating matte black aluminum wheels.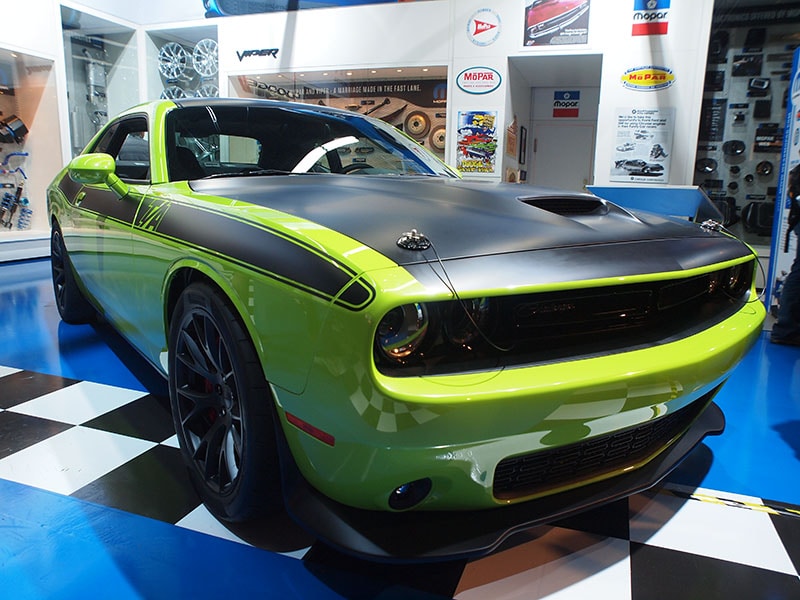 Photo by Megan Green
Chrysler 200S Mopar
The Chrysler 200S Sedan received a Mopar body kit with a rear valance and side sill extensions, as well as a big brake kit. Painted Phantom Black with a blue leather interior, a version of this concept will actually be offered in 2015.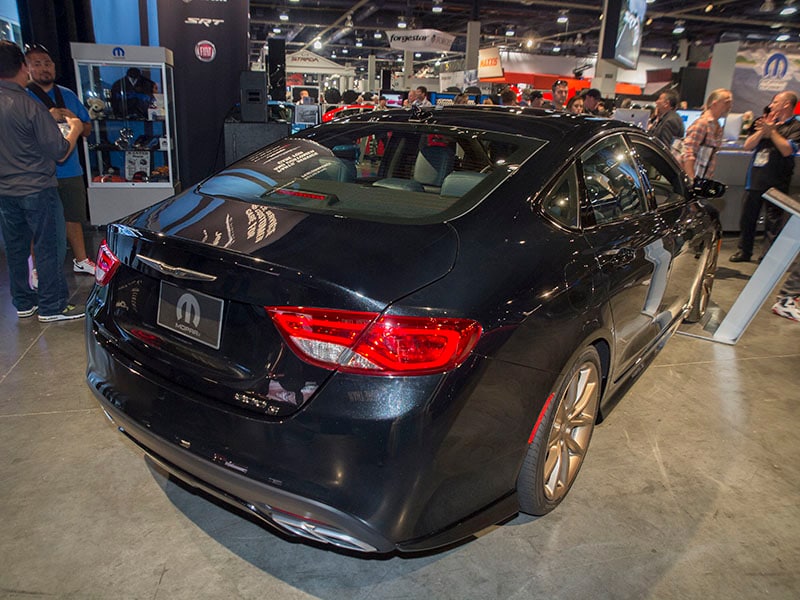 Photo by Megan Green
Dodge Dart R/T Concept
In brilliant orange the matte black performance hood belies a turbocharged engine. A rear spoiler, front fascia and grille texture round out the concept, with a pedal kit inside and an added brake kit.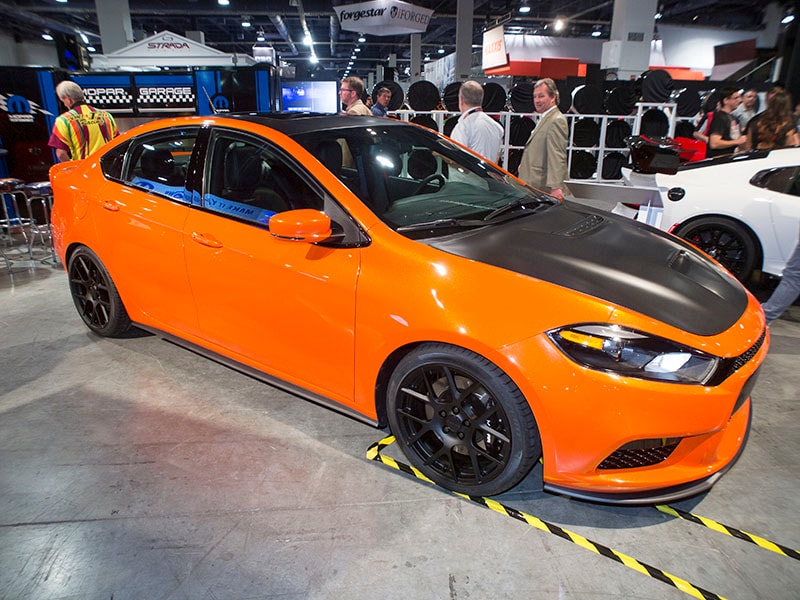 Photo by Megan Green
Fiat 500 Abarth Scorpion
Two-tone red and white inside and out, the Abarth Scorpion receives an all new cat-back exhaust as well as an exterior design package. The stitched Scorpion logo and leather interior will be part of future custom offerings for the Fiat Abarth from Mopar.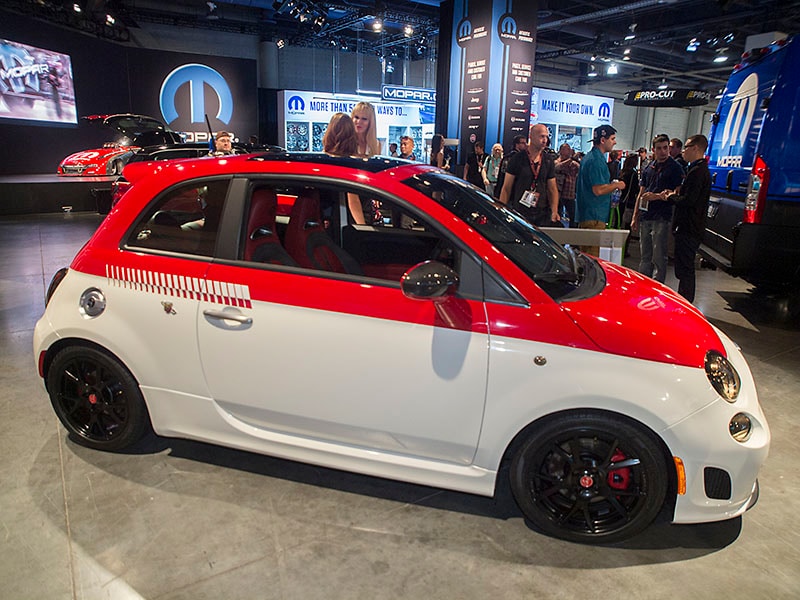 Photo by Megan Green
Fiat 500L Custom
Another Fiat in a long line of special edition Fiats, the 500L Custom is also two-tone in red and black. Many of the upgrades are aesthetic, and while lowered, the only other performance enhancements are the concept chin splitter and cat back exhaust.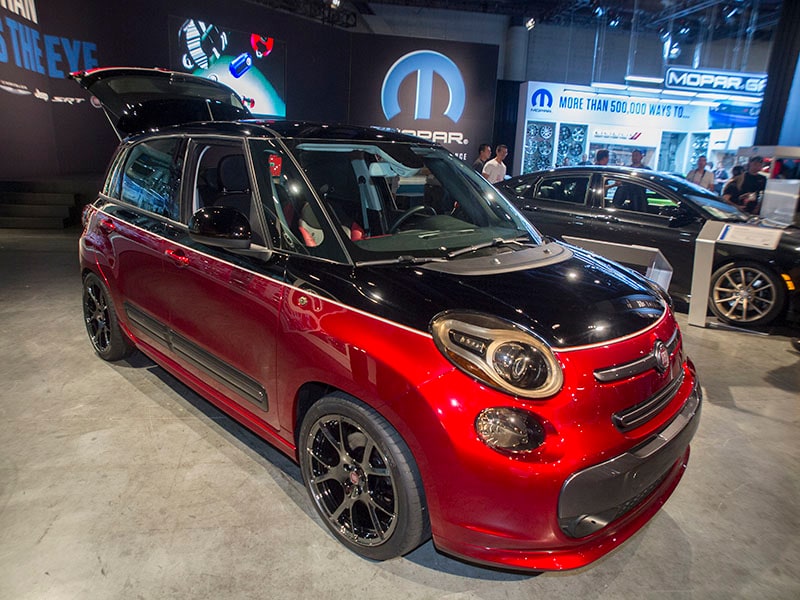 Photo by Megan Green
2015 Dodge Challenger SRT Hellcat
The Dodge Challenger SRT Hellcat generates a bombastic 707 horsepower from the 6.2 liter HEMI Hellcat V-8 engine. If you need anything else after that, it can get up to speeds of 199 mph, has real-time track data, a reconfigurable digital cluster, performance leather seats, and classic Challenger design cues are retained.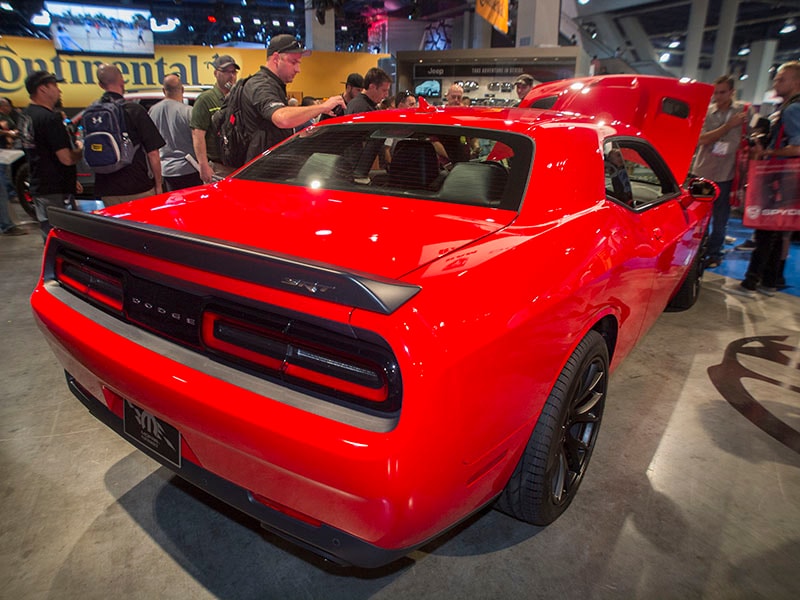 Photo by Megan Green
2015 Dodge Charger SRT Hellcat
If a sedan that can go a quarter of a mile in 11 seconds is more your speed, the Charger is also offered in Hellcat form. Requiring Brembo six-piston brakes, they are the largest brakes in the Chrysler line-up. It comes with two key fobs - pick the red fob for ALL the horsepower.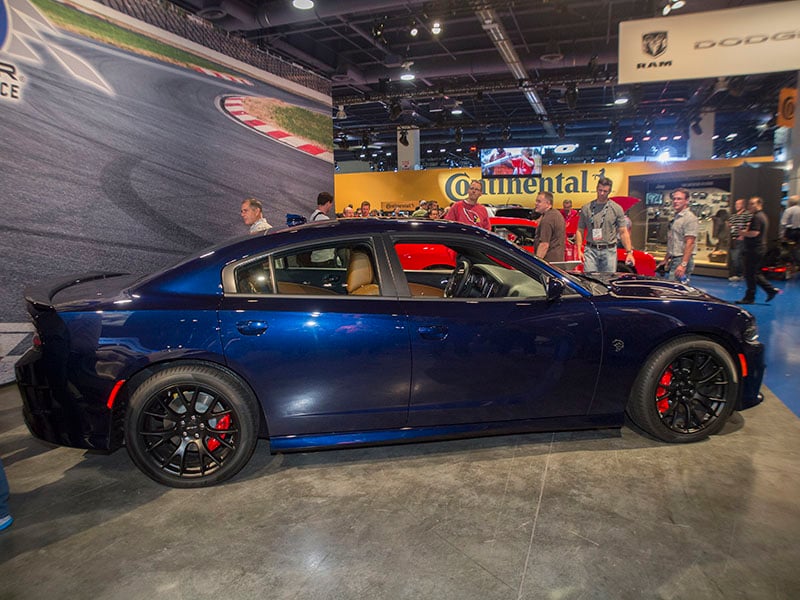 Photo by Megan Green
Dodge Charger R/T Mopar Concept
Still performance-focused muscle with a 5.7 liter HEMI V-8, the Charger R/T Mopar Concept is kitted out with a front splitter, a Mopar chin spoiler, decklid spoiler, and side sills.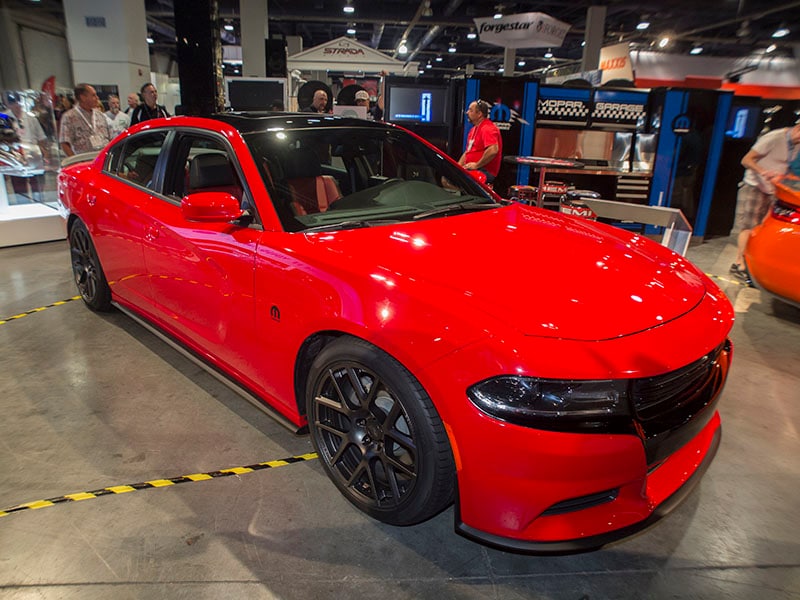 Photo by Megan Green
2015 Dodge Charger R/T Scat Pack
The Dodge Charger R/T Scat Pack's 6.4 liter HEMI engine churns out 485 horsepower, paired with an eight-speed automatic transmission. Available in ten colors, the Scat Pack is rounded out with a black spoiler and performance rear and front fascia, 20-inch polished aluminum wheels, and Scat Pack "Bee" badging inside.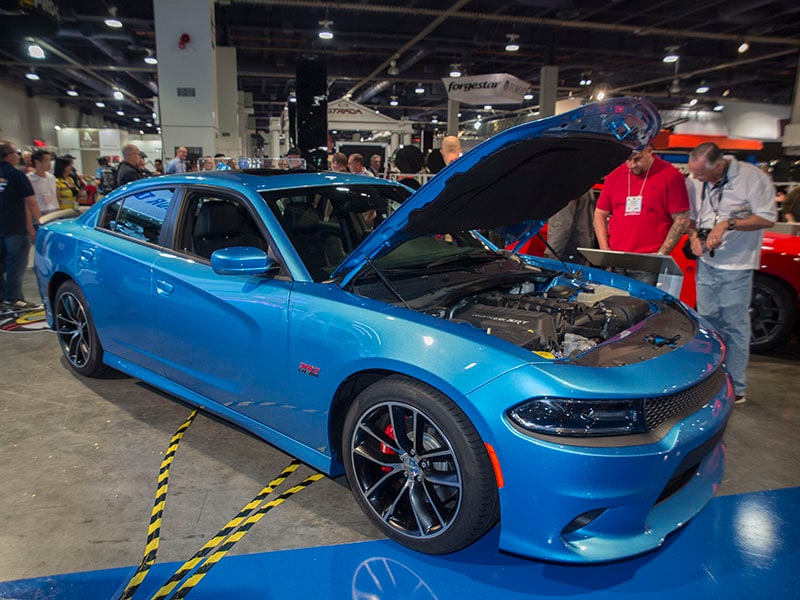 Photo by Megan Green
Jeep Renegade Frostbite
A refreshing white with blue grille, rims and side mirrors, the winter-focused Jeep Renegade Frostbite comes with a Ski roof rack, ski/snowboard carrier and snowboarder graphic, with all-weather mats and a cargo tray inside.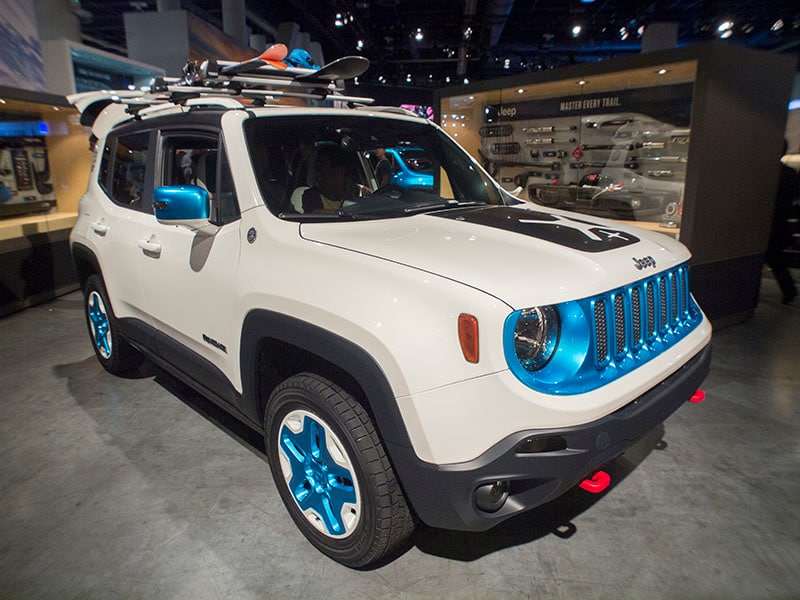 Photo by Megan Green