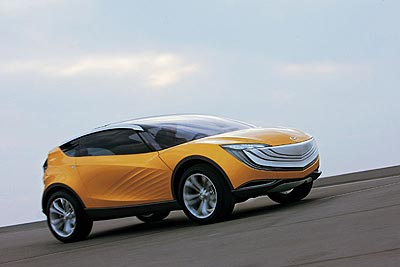 Mazda Hakaze Concept Preview – Geneva Auto Show: Starting with the Nagare Concept in Los Angeles, the Ryuga in Detroit and now the Hakaze by way of the Geneva Auto Show, Mazda has set out to define its future design direction as one that reflects an active lifestyle. Or science fiction, you be the judge. Either way, to that end the Hakaze Concept is a compact crossover built for Boomers with active lifestyles and featuring a removable glass roof, frameless windows, a flowing "sand dune" design and a cheshire cat grin of a grille.
What's Under the Hood
The nuts and bolts of the Hakaze are meant to promote Mazda's zoom-zoom reputation, and seem quite a bit like the MazdaSpeed3: a turbocharged version of the company's 2.3-liter four-cylinder engine mated to a six-speed sport transmission (MS3 is manual) and a torque nanny designed to engage at lift-off. The Hakaze also offers MacPherson struts up front.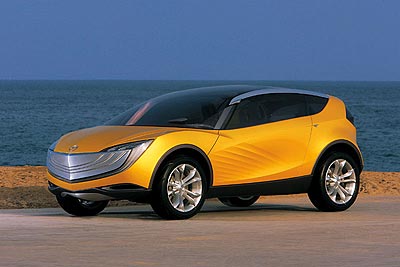 What it Looks Like
Designed to convey a theme of kite flying, the Mazda Hakaze is about the same size as a Mazda3 hatch, but with more of a flow to its sheetmetal, reflected in the absence of handles and protruding mirrors. Highlights include a removable glass roof which goes into a slide out compartment in the rear bumper and transforms the Hakaze from compact CUV into a four-seat open-air coupe. Up front, there's a large grille design that follows with the overall flowing theme of the concept, while in back there's a lighting system that emanates from the lower part of the rear window, and, according to Mazda, created the illusion of floating light. Elsewhere, the Hakaze features a high, swooping beltline much like the Mazda CX-7, and a steeply raked windshield.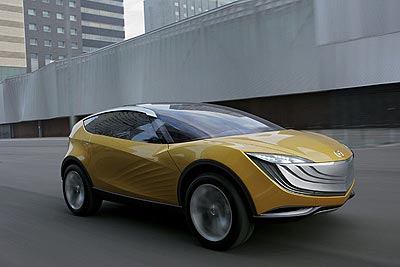 What's Inside
Inside, the Hakaze features a wrap-around console and four bucket seats. "Nagare is visible on the interior in the main surfaces, which are a combination of gently flowing volumes with edges that slowly fade away," says Jo Stenuit, assistant chief designer who, along with Masato Ogawa, lead designer from Hiroshima, designed Mazda Hakaze's interior. Mazda claims inspiration from a dune landscape, with a gentle flow of form in a natural manner. The instrument panel is asymmetrical with a strong focus on the driver, with a wrap-around cockpit. The interior is further enhanced by orange-lit controls on each side of the instrument panel. Other features include rearview and side cameras, and a steering wheel with a fixed center around which the rim and lower arms rotate.
Photos courtesy of Mazda