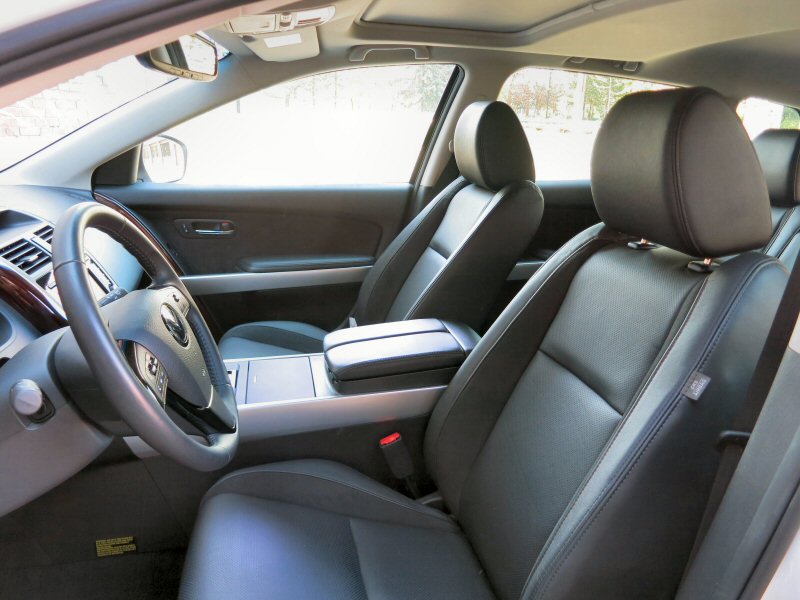 2015 Mazda CX-9 front seats ・ Photo by Benjamin Hunting
The 2016 Mazda CX-5 and 2016 Mazda CX-9 are both excellent crossover utility vehicles (CUVs). But that probably comes as no surprise because you've done the homework and made up a short list of possible purchases. But wait a moment: what if you're leaning toward one, but might be happy with the other? In one case, that extra space might be worth the extra cash. Or the smaller of the two might be just right, at a price that could mean more options. Let's compare them side by shiny side and see if we can make the picture any clearer.
Passenger Space
The CX-5 seats five. Let's assume the front quarters are spacious enough so we don't have to cite every last number. It's in the second row where things often get tight in compact vehicles. Rear legroom here is 39.3 inches (one inch more than the Honda CR-V), shoulder room is 55.5 inches, and hip room is 53.7 inches. The CX-9 seats seven. Legroom in the second row is 39.8 inches and 32.4 inches in the third row. Shoulder room runs to 58.7 inches and 56.9 inches respectively, while hip room is 56 inches and 43.7 inches. The second-row seats can recline a little, and it's easy to access the row behind. As is usually the case with seven-seaters, the third row is best suited for kids unless it's a short journey.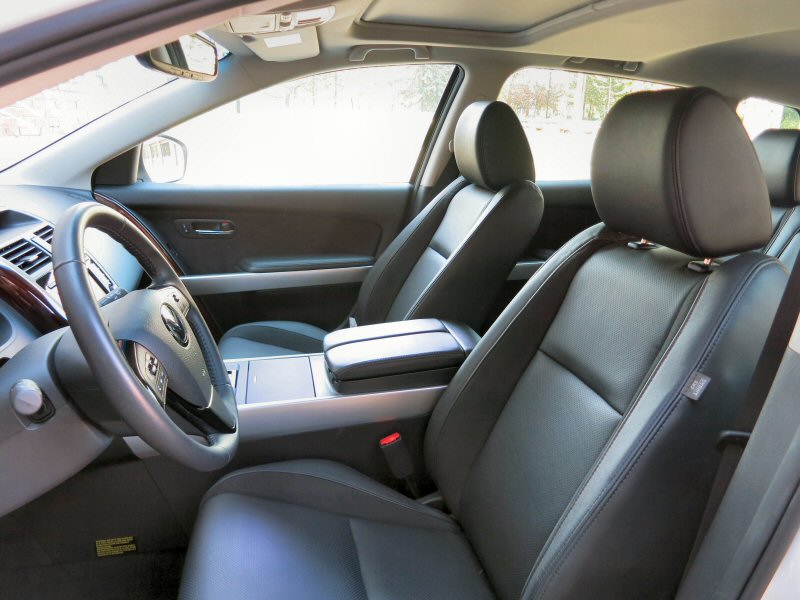 Photo by Benjamin Hunting
Cargo Space
CX-5: floor height is 27.6 inches off the ground. From floor to roof, it's 34.6 inches. With rear seats up, depth is 32.6 inches and width is 57.1 inches. Total volume with the rear seats up is 34.1 cubic feet; fold them down for a maximum of 64.4 cubes in the Sport and 65.4 in the Touring and Grand Touring trims. CX-9: floor height to the ground is 30.9 inches, floor to roof is 34.8 inches. Trunk length (with second and third-row seats up) is 19 inches — somewhat limited, but that's the price for decent second-row passenger space; with the third row folded, it's 48.9 inches. Width is 58.5 inches. Loadspace volume runs to 17.2 cubic feet with the third row up; fold them down to reveal 48.3 cubes, or fold the second row down as well for a total of 100.7 cubic feet.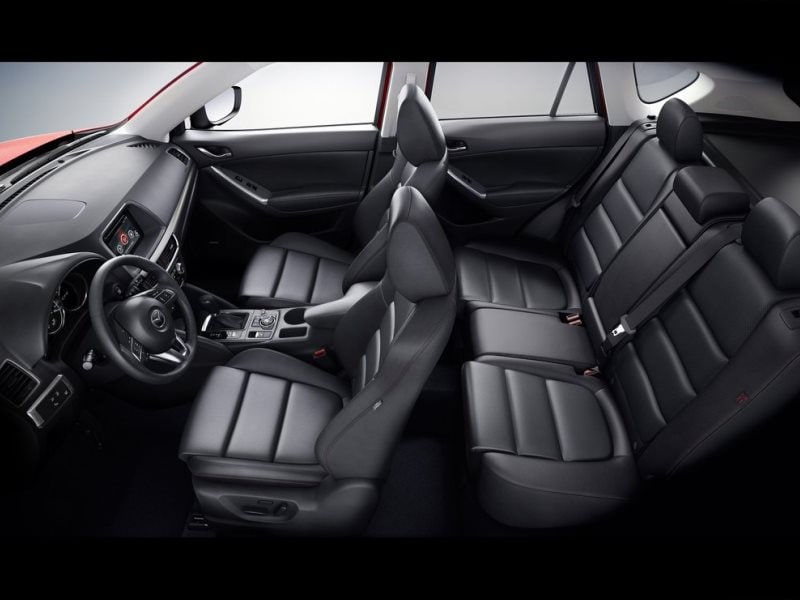 Trim Levels
Both CUVs come primarily as front-wheel-drive models, and both come in Sport, Touring, and Grand Touring trim levels. A CX-5 Sport rolls on 17-inch alloy wheels as standard, but to get the larger engine means going for at least the Touring trim. Which will also bring a 5.8-inch touchscreen display for the infotainment system. The CX-9 starts out with 18-inch alloys and Sport trim here is really well equipped, but like the 5, Touring brings those active safety features, plus leather upholstery. Grand Touring adds three memory settings for the power-adjustable driver's seat, power tailgate, rain-sensing wipers and 20-inch alloy wheels.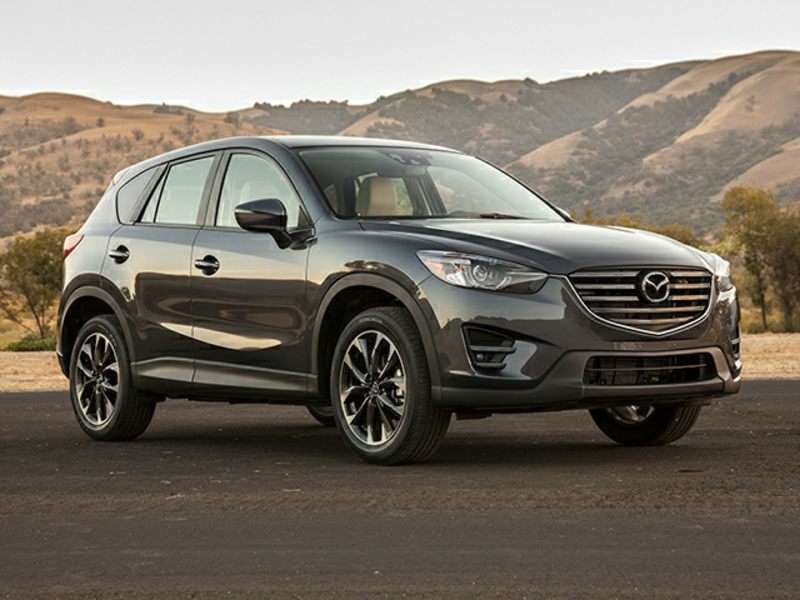 Options
In both models, the main option is all-wheel drive. In a CX-5 Sport, a rearview camera is optional, as is Bluetooth and 19-inch alloy wheels. It's worth looking at Touring or Grand Touring trim levels since their inventories of standard equipment are more generous and include extra safety features. The only other extra in a CX-9 Sport is a power driver's seat. It's not until we get into the Touring model that navigation, moonroof, upgraded audio system and a rear-seat entertainment setup become available. The Grand Touring model has a nine-inch screen.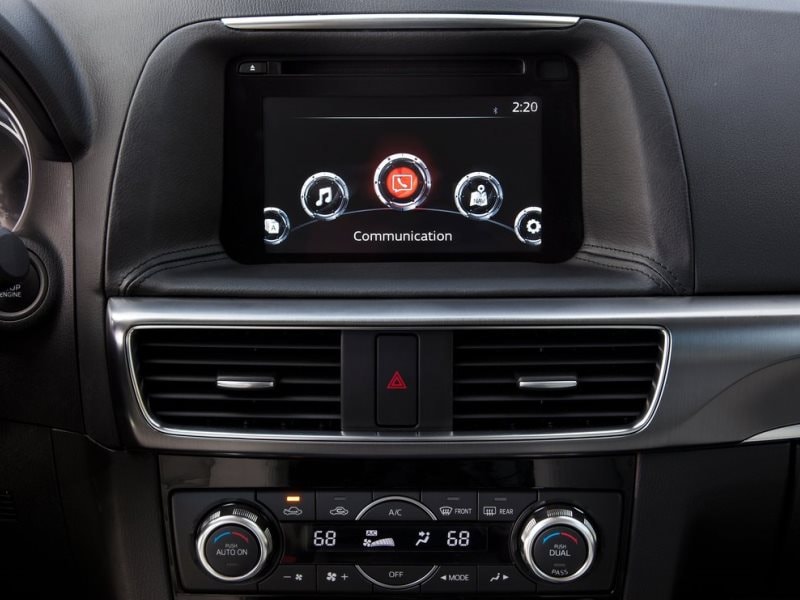 Safety
Side curtain airbags are standard in the CX-5, while radar-based cruise control, blind spot monitoring with rear cross traffic alert, and a self-braking function become available in Touring and Grand Touring versions. In National Highway Traffic Safety Administration (NHTSA) crash tests, the 2015 CX-3 won four stars out of five. It also performed well in the Insurance Institute for Highway Safety (IIHS) small front overlap impact test. Like its smaller sibling, the CX-9's extra safety features aren't available until Touring trim. It scored four stars in federal crash testing, but didn't do well in the IIHS small front overlap impact.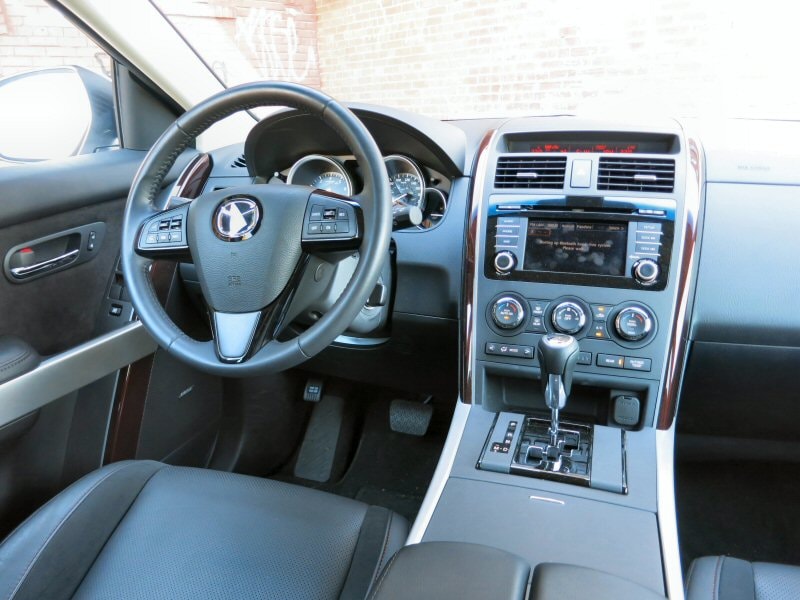 Photo by Benjamin Hunting
The Driving Experience
An entry-level CX-5 makes do with 155 hp and 150 lb-ft of torque from 2.0-liter four-cylinder engine, which is best described as adequate rather than fun. So the preferable choice might be to go for the 2.5-liter four and enjoy a more lively 184 hp and 185 lb-ft. Either way, at least the CX-5 has a chassis that deals with corners better than most rivals. A potential CX-9 buyer probably has fine handling low on the list of priorities, but it's still composed and capable, which is always a good trait to have. It can certainly deal with the energetic 273 hp and 270 lb-ft of torque dished out by its 3.7-liter V6 engine.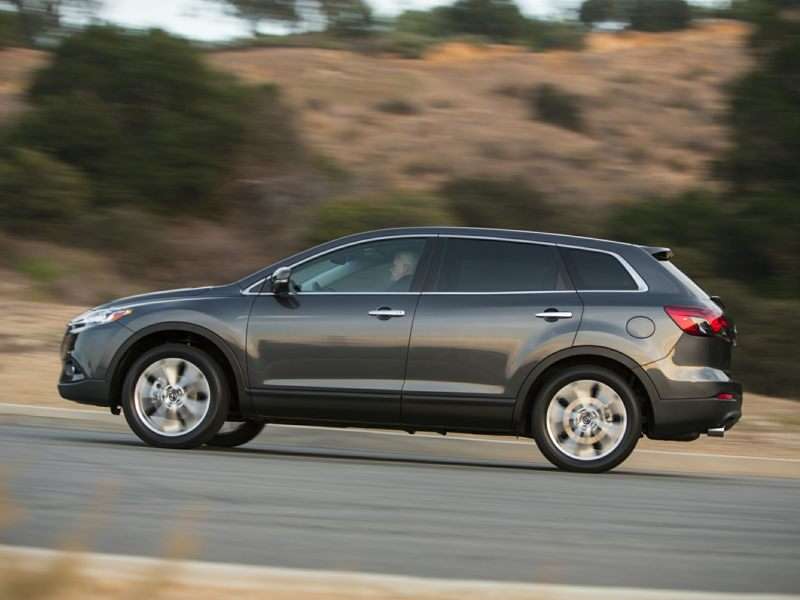 Photo by Mazda USA
Fuel Economy
The EPA puts the 2016 CX-5's consumption as 26 mpg city, 35 mpg highway and 29 mpg combined — that's for a front-drive version with the six-speed manual transmission. Using the six-speed automatic and front-wheel drive, it's 26/33/29 mpg. The all-wheel-drive version comes solely with the automatic transmission, and is rated at 24/30/26 mpg. The 2015 CX-9, meanwhile, runs to 17/24/19 mpg (front-wheel drive), or 16/22/18 mpg (all-wheel drive). On the thirsty side, but at least it takes regular 87-octane gas. The only transmission is a six-speed automatic.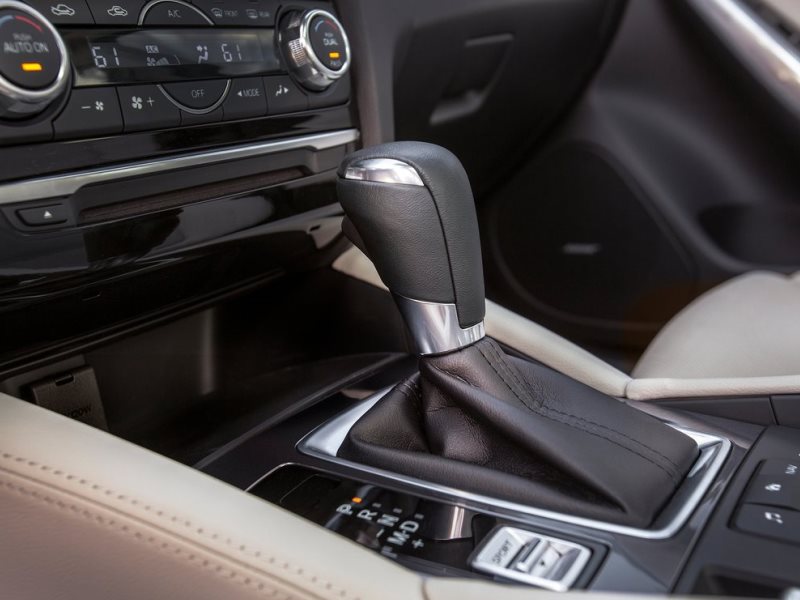 Price
A front-drive 2016 Mazda CX-5 begins at $24,075 (including $880 destination) for the Sport trim with an automatic transmission. The manual version costs a little less, but is anyone really going to buy a three-pedal model? Concerning the competition, there are cheaper rivals, but the main players (Honda CR-V, Toyota RAV4) are similar in price. The 2015 CX-9 starts at $30,775 (including $880 destination), which is in line with rivals like the 2016 Honda Pilot.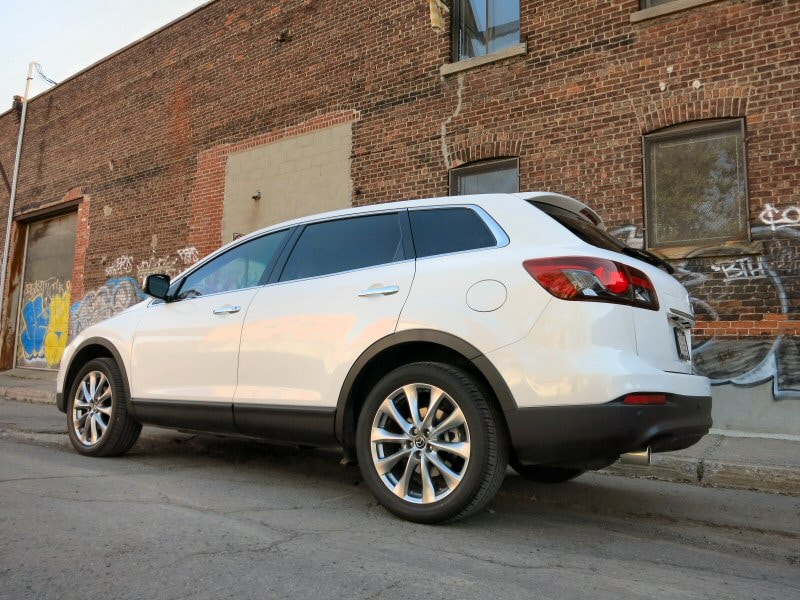 Photo by Benjamin Hunting
Resale Values
This is a bit of a moving target, but considering the CX-5 is rated as one of the best in its class, it's a safe bet that it will hold its value well. If car years are like dog years, the CX-9 is getting on a bit. Rivals are coming along with smarter tech and nicer cabin materials, so resale value should be more respectable than remarkable.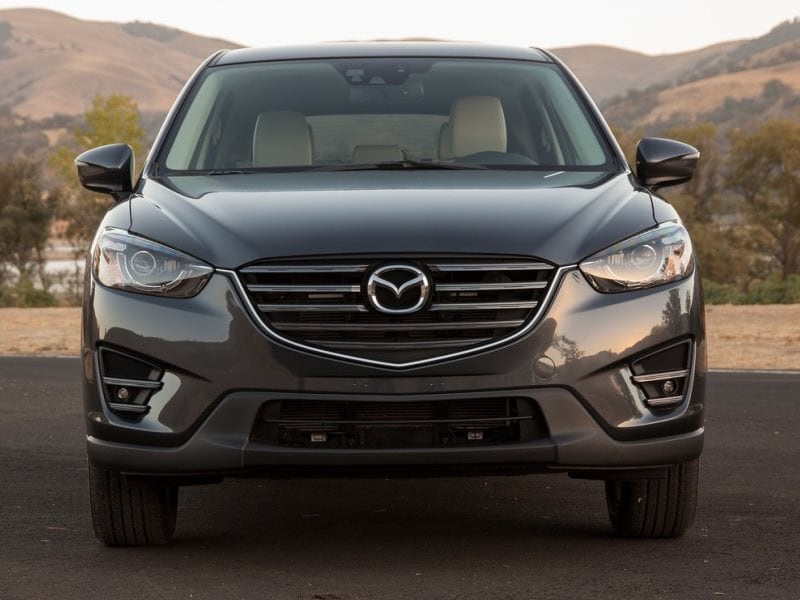 Decision Time
If it matters, the CX-5 can tow up to 2,000 pounds; the CX-9's maximum towing capacity is 3,500 pounds. It should also be noted that the CX-5 has slightly revised styling for the 2016 model year, while the CX-9 is due for an update soon. Sometimes people buy bigger vehicles than they really need, often out of habit. The CX-5 will be easier to park and easier on gas. If your rear passengers are below adult size and not that numerous, a well-equipped CX-5 could be just the ticket. There's no point in hauling around empty space that's not being regularly used . However, if road trips involving members of the soccer team are anticipated, you'll probably have to stretch to the CX-9. Although that's hardly a bad thing.