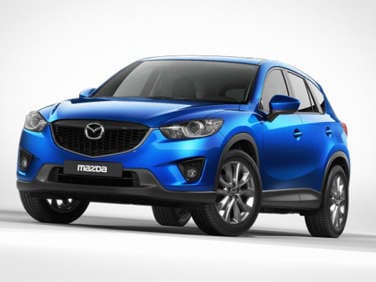 The award-winning Mazda CX-7 continued to do relatively good work in the small-crossover segment in August, sitting in sort of a third tier of vehicles that includes the Hyundai Tucson, Jeep Compass and Kia Sportage - all of which, including the CX-7, scored between 4,100 and 4,400 sales last month. The vehicle's growth rate has been strong as well, with August sales up 26.2 percent and year-to-date deliveries running 25.1 percent ahead of last year's pace—making the CX-7 the fastest-growing vehicle in the Mazda lineup for both periods. But while the CX-7 has clawed out an impressive sales niche for itself, with its swoopy style and zoom-zoom driving dynamics, it's still pretty much in the same place it was last year in the small-crossover sales hierarchy, since the other three vehicles mentioned above are enjoying double-digit sales increases, too.
Of course, the problem here is that the CX-7 doesn't quite fit in with that trio, since it's about 10 inches longer than each of them. Technically, I'd have to call the Mazda a compact crossover, at a bit over 184 inches, and put the Sportage, Tucson and Compass, all about 174 inches in length, into the subcompact crossover segment. But that's just me, and because the crossover segments haven't solidified the way the car categories have, customers cross-shop different-sized entries here in a way they don't do with different-sized cars.
Thus, when folks start shopping for a sporty-ish, light-on-its-feet crossover at a Mazda store—which would seem like a good place to start—they find only the CX-7. And as zoomy as that may be, it doesn't have the tight proportions of something like the Sportage, nor does it have the Kia's ability to top 30 mpg. It's a segment/niche/category that's been crying out for a Mazda entry—and the automaker has both heard that call and answered it, debuting the unsurprisingly named 2013 Mazda CX-5 at the recent Frankfurt Motor Show.
A Vision of Versatility
The CX-5 will be a notable new vehicle from Mazda for a number of reasons, including its rather daring approach to exterior design. Mazda has been putting a lot of focus on developing a single new design language for its lineup, and the CX-5 is the first vehicle to showcase the latest theme, called "KODO—Soul of Motion."
As applied to the new crossover, according to Mazda's chief designer Masashi Nakayama, "Our focus was on expressing a strong sense of vitality and agility. We looked at videos of cheetahs, their agile footwork and how they use their entire body as a spring to accelerate rapidly and change the direction instantly. They emanate great energy throughout their entire body. Inspired by their efficient yet beautiful movements, we aimed to push the SUV appearance to new levels with KODO design language."
Be that as it may, the CX-5 will certainly stand out from the crowd thanks to its curvaceous sheet metal, yet its overall shape is actually closer to that of a traditional crossover than the CX-7's is.
The CX-5 also will feature an interesting innovation in interior versatility with a second row of folding seats that splits 40/20/40, instead of the more usual 60/40. Mazda claims adults can fit comfortably into each of the "40" seats, thanks in part to "class-leading" rear-seat legroom, and that the "20" seat, when folded down, creates a highly usable cargo space even when those adjacent seats are carrying passengers.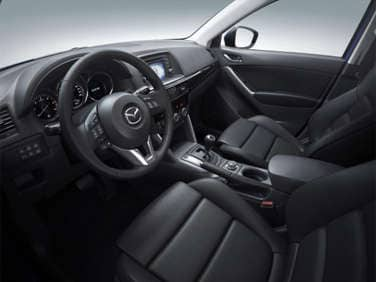 The New Essence of Mazda
But it's the CX-5's new powertrain—and how it fits into Mazda's recent attempts to redefine the brand's "Zoom-zoom" positioning—that's the big news from Germany. The bottom line is that the CX-5 will launch Mazda's "SkyActiv" powertrain technology, which boasts the world's highest compression ration (14:1) as well as the ability to crack the 30 mpg barrier—and that's on the EPA's combined cycle, not the highway test.
That's an impressive feat, yet it's clear from the CX-5's spec sheet that the vehicle will be relatively underpowered and overweight as compared to its competition. Again using the Sportage for comparison, the Kia relies on 176 hp to move less than 3,200 lbs. in most front-wheel drive configurations, while the CX-5's engine will make less than 165 hp and deal with a guesstimated 3,300 lbs. of crossover. This may not sound like an ideal recipe for fun, but it does fit in nicely with the traditional Mazda tactics used for its more explicitly fun-to-drive vehicles like the Mazda2, Mazda MX-5 Miata and even the Mazda RX-8.
All these products exemplify the old automotive saying that it's more exciting to drive a slow car fast than it is to drive a fast car slow, as they all have relatively low-horsepower engines and superior driving dynamics. It also happens to be exactly the route being taken with the CX-5, and now, because of the industry's focus on fuel efficiency, Mazda doesn't have to worry about making excuses for its products' lack of power.
If the Skyactiv system lives up to its billing, Mazda's only worry might be about making enough products to go around.