We take the all-wheel-drive Lincoln to Subaru country.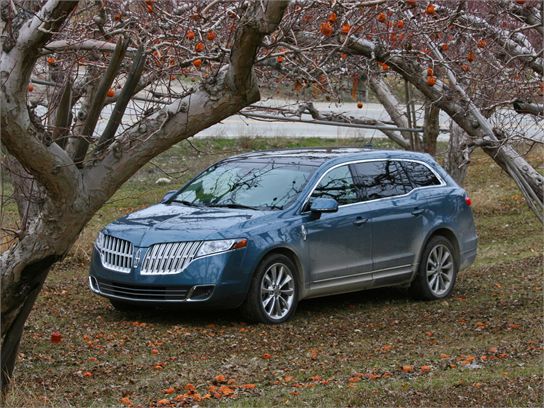 Lincoln station wagon. One can only imagine what kind of image those words create in your mind, but chances are they don't include a single guy on vacation…unless you're up-to-date with Autobytel's "Living With…" series. This is where we steer away from the traditional automotive review format and, instead, focus on how a vehicle lives up to the needs and expectations of busy, daily life. So, to put the 2010 Lincoln MKT to the test, I hopped a plane to Washington and spent a week with my girlfriend, documenting what it was like to take her extended family – including little kids and a trike – to the park, what kind of mileage the MKT offered during a trip over the Cascade mountains, and what her folks would think of this big-fanged domestic hauler when it rolled up their farm's gravel driveway. It was a fun-filled week, one that delivered more than a few surprises.
Photos by Thom Blackett.
Page 2
If you've traveled to either northern corner of the U.S., you understand the whole Subaru deal. Simply put: They're everywhere. Some would say they're like a disease – if you don't have one, surely you know someone who does. Not so coincidentally, my home-away-from-home for a week played host to three of these local favorites, each with well over 100,000 miles and prized as much as a newborn baby. Their owners looked at the MKT and suggested that I was driving "a wagon on crack," or the ride of choice for the school bully's mom. It would seem that my chrome-clad MKT would not only stick out like a pounded thumb, but would suffer the scorn of REI-shopping Outback drivers at every turn. Its $57,000 price tag definitely didn't help. But, as I soon discovered, twin turbos and cooled seats – for the first and second row – can have profound effects on people.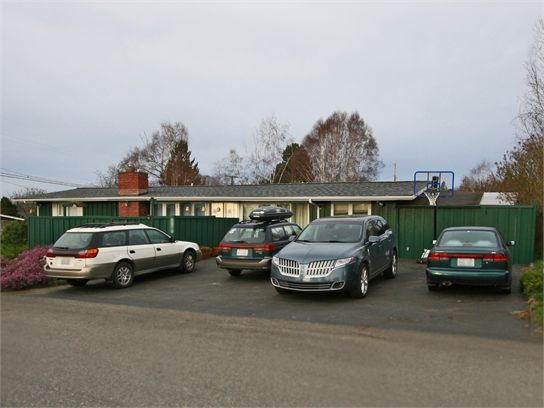 Page 2
To get in good with my editors, I should probably say that this trip was all about testing the 2010 Lincoln MKT. Truth be told, I was jonesin' for some time with a girl who lives on the other side of the country. With that said, you might understand why Priority 1 was date night, which included a drive to a local rocky shore for a long walk and spectacular sunset views. Yes, the nearby refinery created a malodorous stretch of beach, but love has no olfactory senses, people. Well, at least not during the courting phase. But back to the car. A Lincoln station wagon isn't necessarily the ideal date car, yet it was comfortable and quiet, making it the perfect spot for conversation. After watching the sun drop, and feeling temps do the same, triple-setting heated seats were put to quick use.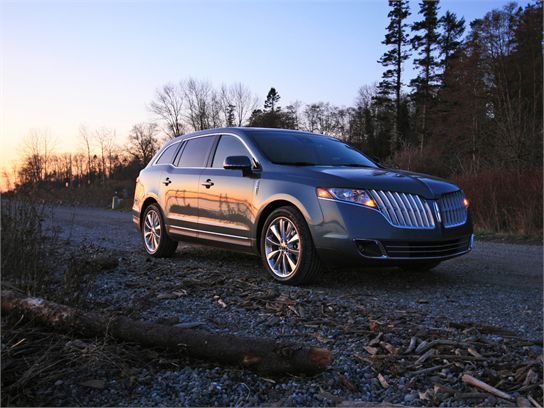 Page 2
Benny clearly liked the 2010 Lincoln MKT's massive sunroof. Actually, Benny liked how he could stand on the wide front center armrest and stick his head out of the sunroof. That particular feature doesn't fall into the family-friendly category, though the rear glass roof panel did provide a clear view of the sky and all that happened above us. The verdict's out on whether that was more entertaining for the kids or adults.
Passengers of all ages approved of the nifty cooler located between the second row's optional bucket seats. After attempting to drink a Vitamin Water slushy, I found the button that sets the temperature to cool or freeze. Consider that a lesson learned. My MKT test car also included sunscreens for the side windows, and a touch-screen navigation system with real-time weather information that helped us determine if we were headed into or out of rain (very handy when you're attempting to take kids to the park).
Page 2
Seizing the opportunity to test the 2010 Lincoln MKT's people-hauling capabilities, we packed the car with four adults and two youngsters. As fate would have it, the MKT I borrowed from Lincoln had the optional second-row bucket seat package, leaving us with room for six instead of seven. My front passenger was a dad who measures in at about five-foot-ten inches tall; with his seat properly adjusted, there was still gobs of room for second-row passengers, who appreciated not only the spacious accommodations, but also the center armrest, well-placed cupholders, and fancy footrests velcroed to the floor. The second-row seats can be automatically tilted and tumbled forward to facilitate access to the third row, which is where our smallest passengers resided. Jen, my resident Mom expert, noted that there was enough room for two child seats, but the narrow third row allowed the kids to easily reach and antagonize each other. Also, while the tots had sufficient space to be comfortable, the fact that they could kick the back of Mom's seat wasn't a selling point.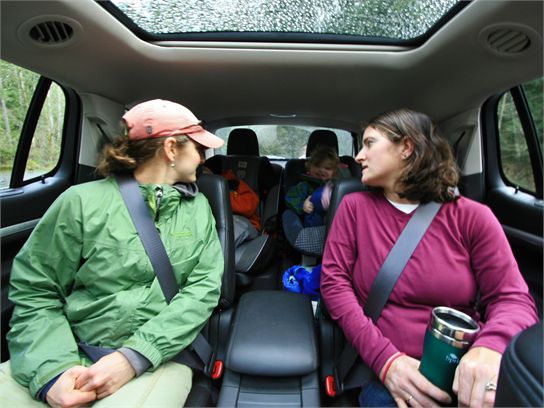 Page 2
I've heard this complaint from people like my sister, a mother of three growing kids: When you have and use a third row, there's not enough room to carry anything in what's left of the trunk. As I discovered with some help from Dakota the Border Collie, that's not always the case. With the third row in its upright position, the 2010 Lincoln MKT provides a deep storage well with space for groceries, toys, a large suitcase and small carry-on, or a four-legged companion who has that puppy-dog-eyes thing mastered.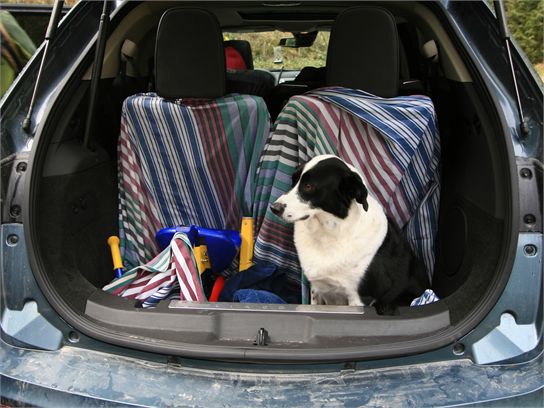 Page 2
Surprisingly enough, I spent the better part of a week in Washington state – during the winter – without experiencing a drop of rain. The rest of my working vacation wasn't quite so pleasant, but it did give me a chance to test out the 2010 Lincoln MKT in wet conditions. Rain-sensing wipers, an increasingly common feature, worked as intended, though I did need to select a higher speed when encountering a sudden downpour. From a handling perspective, traveling along the sloggy highway at speeds in excess of 65 mph didn't result in any hydroplaning or worries about loss of traction.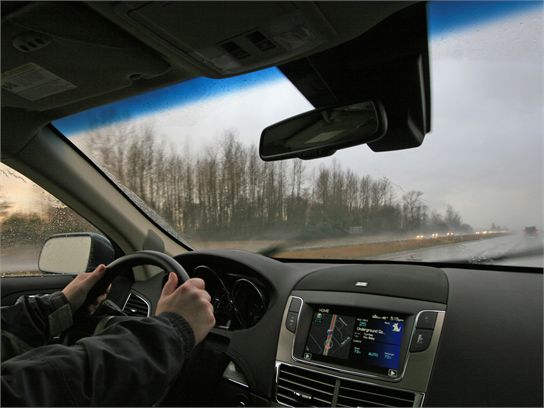 Page 2
Having spent a few days on the rainy side of Washington, my better half and I loaded up the 2010 Lincoln MKT for a trip over the Cascade mountain range to her folks' place on the eastern side of the state. As a chronic overpacker, I had a stuffed suitcase to take, and we had what seemed like dozens of empty Mason jars to return. Honestly, I felt a bit like a moonshiner driving my not-so-hot-rod Lincoln. The trip spanned about 300 miles each way, providing plenty of opportunity to exercise the MKT's optional 3.5-liter EcoBoost V6 and its twin turbos. As it turns out, 355 horses and 350 lb.-ft. of torque is more than enough to haul Lincoln's version of the Ford Flex up and over mountains with ease. Along the way, I tested the transmission's paddle shifters, and while they did let me change gears on my own (albeit with a slight delay), such a feature seemed a bit out of place in a $57,000 Lincoln wagon. More impressive was as-tested fuel economy that approached 21 mpg…not too shabby for a powerful, heavy family-hauler that I was able to fill with good ol' 87-octane gas.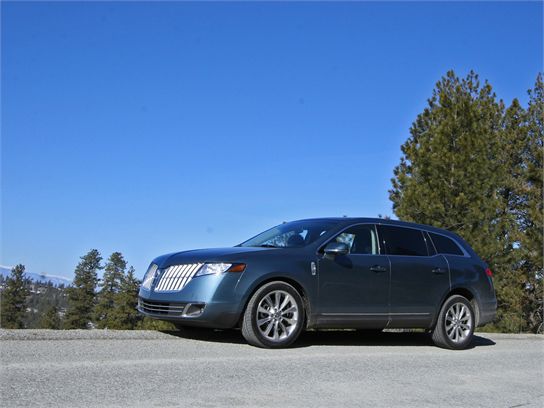 Page 2
Arriving at my girlfriend's parents' farm, I couldn't help but feel a bit like a city-slicker pulling up in my pricey Lincoln. Not only was it the only MKT in town, it was the only MKT I'd seen in all of Washington. Even the dirt on its flanks couldn't hide that fact. First reactions from Farmer Norm were not favorable: "It's a sissy car." "You'd have to babysit it if you took it to the mountains." Ouch. The idea of maintaining all of the 2010 MKT's electrical components and sensors was another point of contention. However, after an afternoon drive up into the local snow-capped mountains, impressions gradually started to warm, due in part to the comfortable and spacious interior, and the fact that the all-wheel-drive system prevented us from getting stuck. When asked to show what the MKT could do with a long, flat stretch of road, I was relieved to find the results met with a muted grunt of approval. It seems the MKT had at least been accepted. No word on whether I'll enjoy the same fate.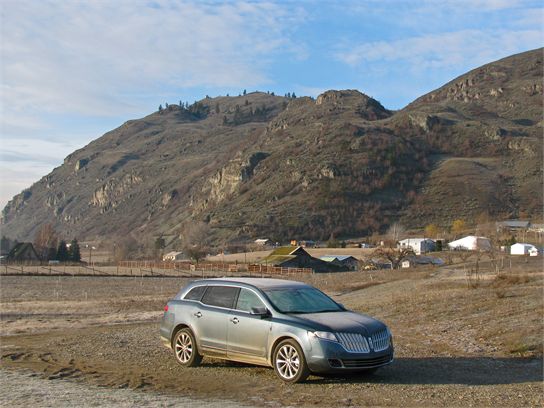 Page 2
While at the farm, I had the good fortune to eat great food, enjoy enlightening conversation, spend time with a welcoming family, and even take a few laps on an old John Deere. It was also my chance to see the semi-retired Volkswagen van that had been part of my girlfriend's younger years, and ultimately shuttled her around various parts of the northwest. Now parked just outside Norm's wood shop, I was told that this particular member of the family could be out on the road with little more than a bit of clutch work and some tires. The bees in the tailpipe just might have to relocate. If and when that day comes, I'll be among the first to volunteer for roadtrip duty. Until then, it's up to cars like the MKT to get the job done.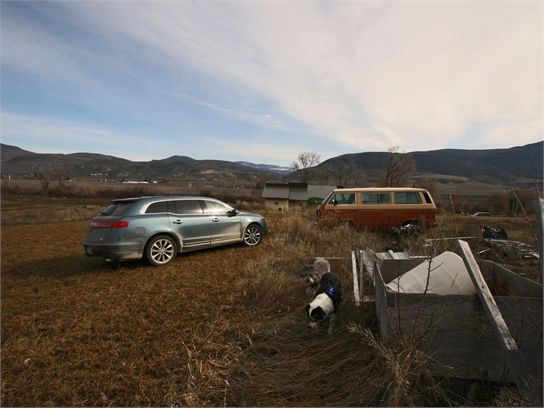 Page 2
If you're ever in Bellingham, Washington, I strongly suggest you check out Boomer's Drive-In. The burgers can't be beat, and if you hit the place around Thanksgiving time, you'll be able to try a pumpkin shake. Good stuff. We stopped by on one rainy night with the 2010 Lincoln MKT, fit the food tray to our window, and enjoyed some unhealthy grub old-school style. With glaring overhead lights, we had plenty of illumination, but the MKT does feature lit front cupholders that help you quickly find your road soda at night. The driver can change the color of that lighting, or as one of my passengers preferred, turn it off altogether.