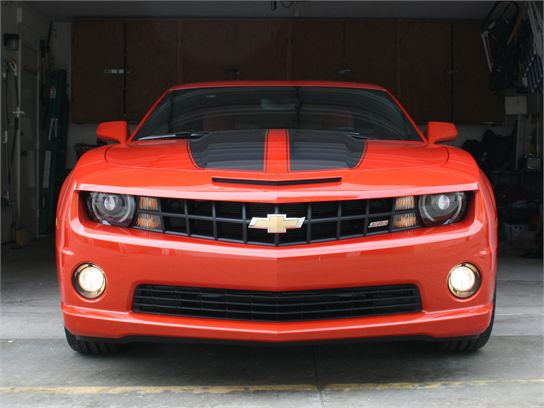 "Living With" is a series we hope to make a regular that tests vehicles in the context of your daily life, from the mundane (like sitting in traffic) to the minute (how is the Bluetooth?). It will also examine vehicles in the context of other perspectives (like what does our local valet think?) With that in mind, we've spent plenty of time daydreaming about muscle cars, but daydreams never involve things like parallel parking or loading boxes into a trunk. When we were offered the opportunity to live with the new 2010 Camaro 2SS (Inferno Orange on Inferno Orange!) for an entire week, we thought it was the perfect opportunity to kick things off with our very first "Living With."Photos and text by E. Darvick
Page 2
With a 6.2 liter, 400-horsepower engine, merging onto a highway can be done without fear -- except Camaro visibility is like driving in a broom closet, so you might have to stick your head out the window Ace Ventura-style to make sure nothing is approaching. Okay, so we're exaggerating a bit, but it is a concern. And while the vehicle is pretty large (15.9 feet long, 6.3 feet wide), steering is precise, so slotting into traffic is easy. If traffic stops short after a quick merge, massive Brembo brakes slow the vehicle like a short leash on a small dog.
Merge when and where you want with confidence, but pay careful attention to blind spots.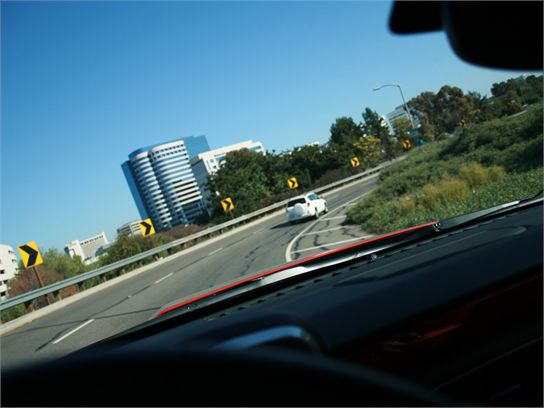 Page 3
The first time we tried to park the Camaro in our garage, we had to shift back and forth into reverse gear a couple times, and we got out of the vehicle twice just to make sure we weren't backing into our neighbor's garage opposite ours. It's a bit difficult to judge where the front of the vehicle is due to the long hood, and the tiny rear window makes backing up a guessing game you hope you never lose. The vehicle has a turning circle of 37.7 feet; for reference a Chevrolet Tahoe has a turning circle of 39.0 feet and a Chevrolet Aveo has a turning circle of 33.0 feet.
We would trade a cupholder, the auxiliary gauges, and 5 horsepower to get rear-sonar or a backup camera.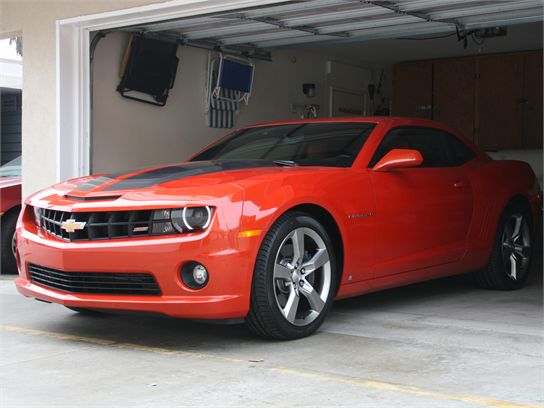 Page 4
The very first comment left went something like this, "Hot Damn!" We also got a "Can you drive it to Boston?" (Answer: no). Many amateur comedians were curious if it "transformed", and one friend exhibiting a prior knowledge of muscle cars asked, "I'm sure it hauls, but is it responsive?" (Answer: Yes). There were also plenty of thumbs ups to go around. If we had been standing in the parking lot of a dealership we probably would have interpreted the crowd noise as a giant "Buy it!"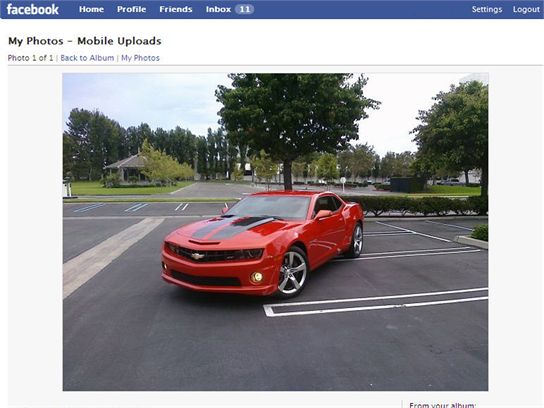 Page 5
Chris definitely had to channel his inner contortionist to squeeze into the back seat, but once he was back there he remarked that the "seats were very comfortable" although his "knees were forced into the front seat." While he wasn't too bothered by the leg room, hard acceleration did cause his head to hit the low-sloping roof, which forced Chris to keep his head down for most of the trip. Note that the Chevrolet Camaro is a four, not five person, vehicle. There is no rear center seat. Chris said the maximum amount of time he would spend in the backseat was one hour.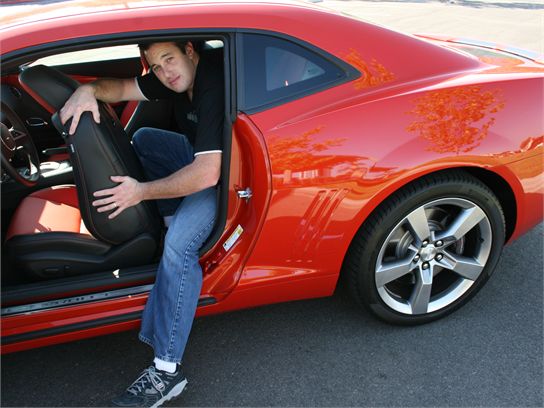 Page 6
If the trunk opening was an indicator of the size of the trunk, the Camaro would probably fail this test. That said, if you can maneuver whatever it is you're looking to store past the opening, the trunk itself is surprisingly both wide and deep (11.3 cubic feet). With respect to golf clubs, assuming you take any drivers out first, you'll have no problem fitting two golf bags horizontally in the trunk, and if you fold the back seats flat into the passenger cabin, you could probably even fit three vertically.
Be it golf bags or grocery bags, the Camaro has more room than you would expect -- assuming you can fit everything through the trunk opening.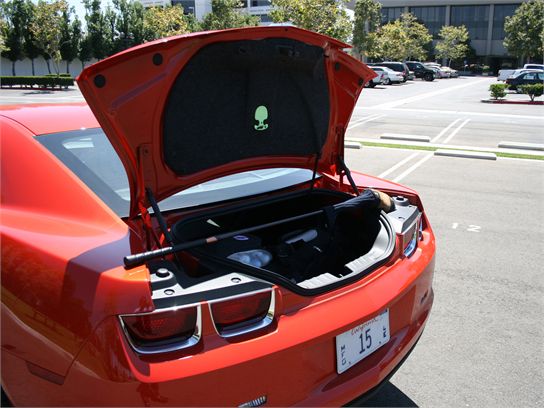 Page 7
We found the seats in our vehicle to be perfectly comfortable during our eye-rolling stint in LA Fourth of July traffic, and while there is no lumbar adjustment, we never felt we needed it. Even a full day behind the wheel didn't leave us feeling any aches. The air conditioning was annoyingly loud even on a low setting, and was accompanied by a high pitched whine noticeable when the vehicle was at rest. The Brembo brakes are wonderful for slowing the Camaro down from high speeds, though in stop and go traffic they grip hard and quick, so remain wary of tail riders driving too close to your bumper.
While we'd much rather drive the Camaro on open roads, if you happen to get stuck in traffic or spend long hours behind the wheel, you won't be punished for it.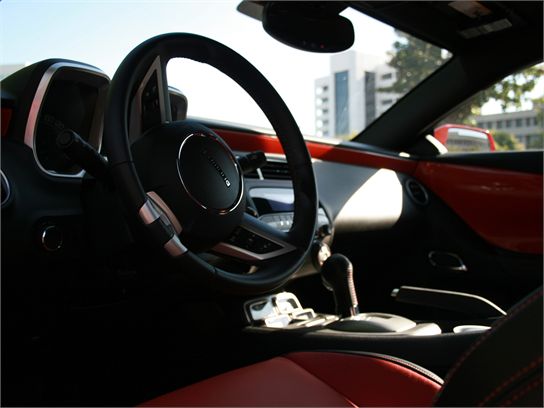 Page 8
Depending on where gas prices go, and your own financial comfort, you might find your self saying "Wish I had got the V-6." We averaged 15.6 miles per gallon over 520 miles of mixed driving, though the vehicle is rated at 16 city / 25 highway. It's not that we didn't love the 400 horsepower from the V-8; believe us, our right foot is currently going through withdrawal. It's just that we just know the V-6 Camaro with 300 horsepower is plenty fast too, and we averaged 23 miles per gallon when we drove one (for comparison, it's rated at 18 city / 29 highway with an automatic). Consider too that the V-8 is optimized to run on premium fuel though it runs without issue on regular fuel too.
If you are on the fence about the V-8, you won't be disappointed with the smaller V6. That said, if the above isn't a huge concern for you, by all means hop in an SS. At a starting price of $31,040 it's a great value.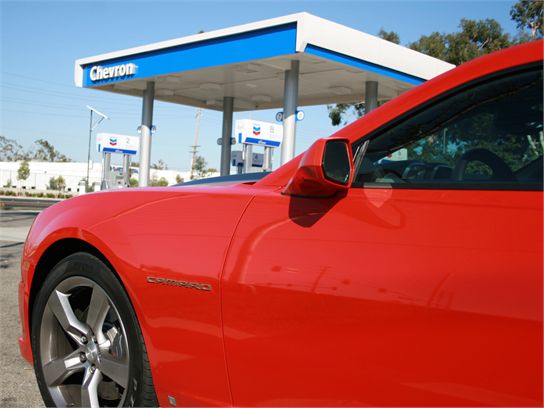 Page 9
It took us exactly one minute and nineteen seconds to pair our phone to the vehicle's standard Bluetooth system, without the aid of a manual. It was an extremely intuitive process. At highway speeds recipients of our phone calls could tell we were calling from a car, but remarked the call quality was good with minimal outside road noise. While the system allows you to store pre-defined and voice-activated numbers, we would like to see a system that imports and recognizes contacts directly from your phonebook.
Simple, easy to setup, and above all, no "can you hear me now?"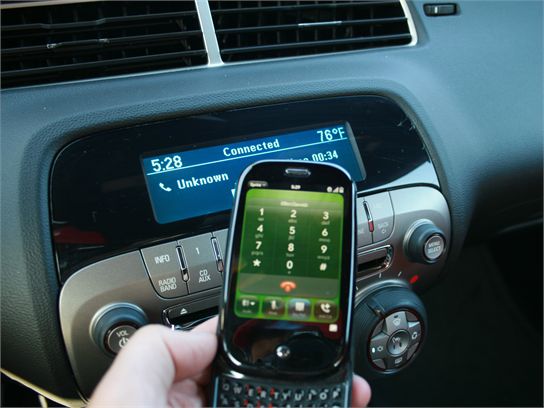 Page 10
The Camaro 2SS comes standard with a 245-watt Boston Acoustics 9-speaker sound system. We found the clarity to be quite crisp, even at higher levels, and the bass could be heard from about 25 feet away from the vehicle if that's how you like making your presence known (because unfortunately the exhaust note isn't going to do it). The USB hookup worked with both an iPod and an iPhone, and there is an auxiliary jack too if you need it. The head unit was easy to use and controls simple navigate, though we should note if you want to replace it with something aftermarket, it's going to take a lot of custom work as the stock unit is highly integrated with the heating, air conditioning and ventilation controls.
If you are looking at a Camaro that doesn't have the Boston system standard, we say go for the upgrade, it's well worth it.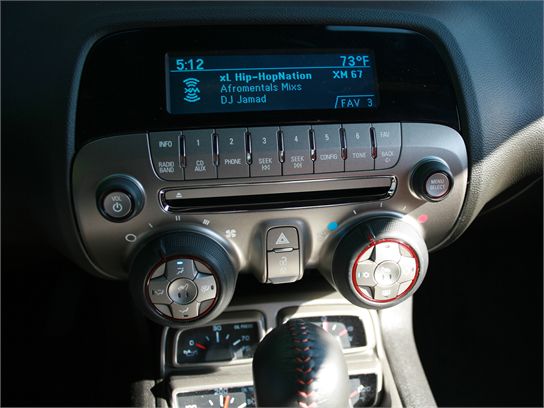 Page 11
It doesn't take an expert to tell you the Camaro isn't a family car, but there are plenty of parents out there who would love just an ounce of justification to buy one, so here goes. Using the LATCH system, our tester was able to install a car seat in one minute and nineteen seconds (albeit sans screaming kid). He remarked due to the cramped space, installation was awkward, and the lack of a center rear seat made him a bit nervous as he likes the option of placing a child away from the vehicle sides. That said, the Camaro does come with child seat-friendly rear curtain side airbags (as opposed to chest mounted), and our tester said the driver proximity to the rear seat was a plus. As an aside, there wasn't a kid we drove by that didn't drop their jaw, point, or yell "Bumblebee!" when they saw the Camaro, so this car will win major points from your kids even if it isn't the most convenient option for transporting them around.
Those in the car seat and stroller stage probably should look elsewhere, 4-years old and above could work (but only if you had a more capable option for a second vehicle).