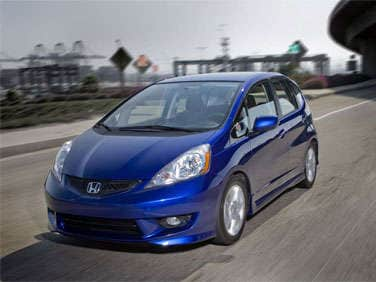 Hatchback cars in 2013 are making a comeback, with several manufacturers having introduced new editions of these practical vehicles over the course of the past couple of years.  Most hatchbacks - with the exception of a few high end models - fall into the compact or subcompact segments and are aimed at buyers who want the additional utility offered by this type of body style but who don't want to drive something too big or unwieldy like an SUV.  Hatchbacks have also traditionally been based on sedan platforms, although there are an increasing number of stand-alone hatchback cars in 2013 that forge their own path.
Let's take a quick look at 10 hatchback cars that are available for the 2013 model year.
Hatchback Cars For 2013 - 01 - 2013 Subaru Impreza
The 2013 Subaru Impreza hatchback is notable for being the only vehicle on this list to offer standard all-wheel drive.  The Subaru Impreza hatchback delivers 22.5 cubic feet of cargo space between the rear seatback and the liftgate - equivalent to that of a large sedan - and this figure expands to 52.4 cubic feet with the rear row folded forward.  Under the hood, the Impreza's 2.0-liter, four-cylinder engine delivers 148 horsepower and is matched with the choice of either a five-speed manual tranny or a continuously-variable automatic.  Fuel mileage for the frugal Subaru is listed at 25-mpg around town and 34-mpg on the highway.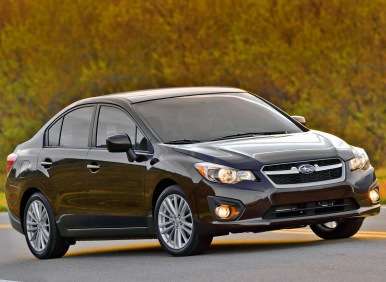 Hatchback Cars For 2013 - 02 - 2013 Toyota Matrix
The 2013 Toyota Matrix is another hatchback that can be had with all-wheel drive, but unlike the Impreza it is only available as an option - and only when the vehicle's 2.4-liter, 158 horsepower engine is ordered.  Those who choose to remain with the 132 horsepower, 1.8-liter four-cylinder unit that is provided free of charge with the Toyota Matrix will enjoy front-wheel drive, along with the choice of either a five-speed manual or a four-speed automatic transmission (2.4-liter models add an extra cog to the autobox and maintain the same five-speed manual base transmission).  Fuel mileage for the entry-level Matrix comes in at 26-mpg in city driving and 32-mpg during highway cruising, and the compact car can handle up to 49.4 cubic feet of cargo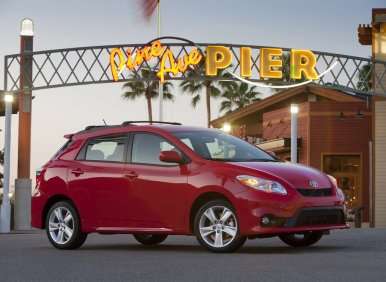 Hatchback Cars For 2013 - 03 - 2013 Honda Fit
The 2013 Honda Fit falls into the subcompact hatchback category but it has drawn legions of fans due to its 'Magic Seat' feature that gives it the ability to carry almost as much cargo space as most compact hatches.  The Honda Fit's very configurable interior adds up to an exceptional 57.3 cubic feet of total space, along with the ability to slide in eight-foot planks thanks to a folding front passenger seat.  From a fuel economy perspective, the Fit's 28-mpg city and 35-mpg highway ratings are made possible by its 1.5-liter, four-cylinder engine, which delivers 117 horsepower.  A five-speed manual transmission is standard with the Honda Fit, while a five-speed automatic (that gains steering wheel-mounted shift paddles when the car is ordered in Sport trim) can also be selected.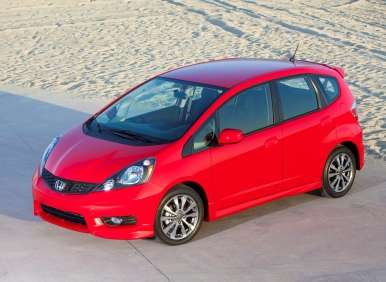 Hatchback Cars For 2013 - 04 - 2013 Kia Rio
The 2013 Kia Rio 5-Door is a budget-friendly subcompact hatchback that is designed to provide a healthy level of equipment at a price that will appeal to first-time car buyers.  The Kia Rio's EX and SX trim levels stand out from a features perspective, with the latter including a stiffer suspension and a sportier appearance package (along with upgraded interior bits).  50 cubic feet of interior storage space make the Rio a practical daily driver, and the vehicle's 138 horsepower, 1.6-liter four-cylinder engine is also good for fuel economy figures of 30-mpg in stop and go driving and 36-mpg when outfitted with the available Eco package.  Transmission choices for the Kia include six-speed manual and automatic units.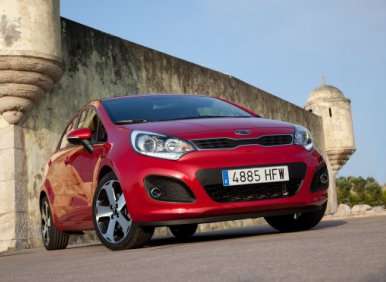 Hatchback Cars For 2013 - 05 - 2013 Mazda MAZDA2
The 2013 Mazda MADA2 is another entry-level subcompact that makes a play for hatchback fans who require their rides to deliver better-than-average handling.  Like most Mazdas, the Mazda Mazda2 is gifted with a chassis that has been tuned for fun despite boasting an inexpensive entry price.  Acceleration from the hatch's 100 horsepower, 1.5-liter four-cylinder transmission is unimpressive if yoked to the optional four-speed automatic, but its five-speed manual allows it to feel a bit more lively as well as post fuel mileage figures of 29-mpg city and 34-mpg highway.  Folding down the MAZDA2's rear seat introduces 27.8 cubic feet, which places the Mazda near the back of the pack when it comes to practicality.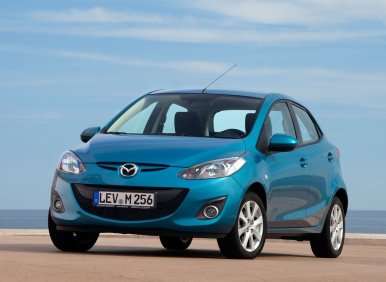 Hatchback Cars For 2013 - 06 - 2013 Fiat 500
The 2013 FIAT 500 is a styling exercise that has captivated the attentions of thousands of subcompact hatchback buyers looking for a little retro flair to park in their driveways.  The Fiat 500 is a lightweight vehicle that maximizes its interior space in offering up to 30.2 cubic feet of total cargo room.  This figure, like the MAZDA2, doesn't compare well against several other members of its class, but its 9.5 cubic feet of 'trunk' space with the seats up is laudable for such a small automobile.  The 500's 101 horsepower, 1.4-liter base motor delivers timid acceleration (and fuel mileage of 31-mpg city and 40-mpg highway), although a turbocharged version of this engine can be found in the 135 horsepower Turbo model and the even sportier Abarth delivers 160 horses from a re-tuned version of the Turbo's mill.  Transmission choices for the Fiat include a five-speed manual and a six-speed automatic.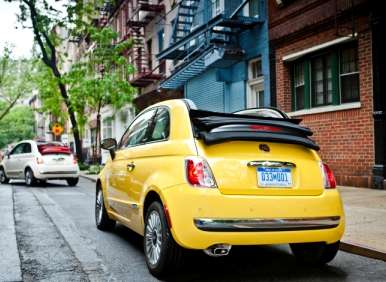 Hatchback Cars For 2013 - 07 - 2013 Hyundai Elantra GT
The 2013 Hyundai Elantra GT replaces last year's Elantra Touring, and in doing so it modernizes the most practical compact car available from the Korean brand.  51 cubic feet of total cargo space immediately set it apart from the Elantra sedan, and the Hyundai Elantra GT also sits on a more nimble platform than its four-door sibling.  The Elantra GT's 1.8-liter, four-cylinder engine can be counted on to provide 148 horsepower, and in EPA testing the Hyundai turned in fuel mileage figures of 27-mpg in city driving and 37-mpg on the highway.  A six-speed manual transmission is included with the base model Elantra GT, while a six-speed automatic can be added as an option.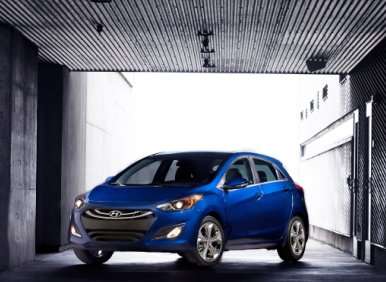 Hatchback Cars For 2013 - 08 - 2013 Ford Focus ST
The 2013 Ford Focus ST is the newest member of the hot hatch fraternity, a compact car that can be counted on to provide blazing performance in a straight line as well as exceptional handling and extroverted styling.  The affordably priced Ford Focus ST is motivated by a 2.0-liter, turbocharged four-cylinder engine that in stock form pushes out 252 horsepower and 270 lb-ft of torque.  A six-speed manual transmission is the only gearbox available with the Focus ST, and fuel mileage for the juiced-up hatchback remains a respectable 23-mpg around town and 32-mpg on the highway.  When it's time to haul a set of track tires behind the vehicle's front seat's, the Ford is there with 44.8 cubic feet of total available cargo space.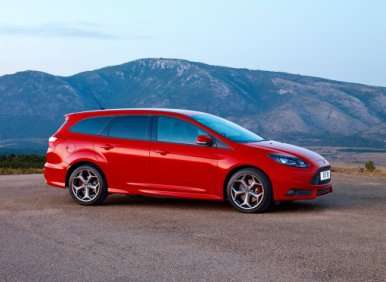 Hatchback Cars For 2013 - 09 - 2013 Volkswagen Golf
The 2013 Volkswagen Golf has long been a compact hatchback favorite due to its perceived upscale interior quality and smooth ride.  The Volkswagen Golf also offers a pair of engine options, starting with a base 2.5-liter, 170 horsepower five-cylinder mill and moving up to a 2.0-liter turbodiesel four-cylinder that is good for 140 ponies and 236 lb-ft of twist.  The base unit can be had with the choice of either a five-speed manual or six-speed automatic transmission, while the diesel Golf TDI provides the option of a six-speed manual or a six-speed dual-clutch automated manual transmission.  Fuel mileage for the TDI shows as a lofty 30-mpg city and 42-mpg highway, and the useful little hatchback can swallow up to 46 cubic feet of cargo.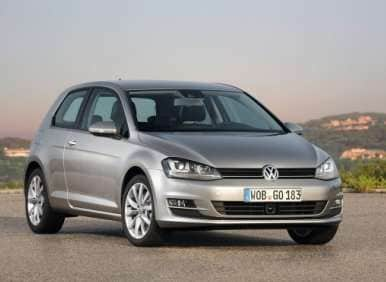 Hatchback Cars For 2013 - 10 - 2013 Toyota Prius C
The 2013 Toyota Prius c has the distinction of being the sole hybrid entry on this list of hatchback cars for 2013.  The subcompact Toyota Prius C is a bit more fun to drive than the larger Prius hatch, and its 99 horsepower hybrid setup (which consists of a battery-powered electric motor paired with a 1.5-liter four-cylinder gas engine) returns 53-mpg in stop and go driving and 46-mpg on the highway via a continuously-variable automatic transmission.  34 cubic feet of total cargo space lurk inside the Prius C thanks to its folding rear seat, and 17 cubic feet are available with that same seat locked in the upright position.